ABOUT GARAMANTIS
Who we are, how we work, what we do
We Not Only Strive to Exceed Our Clients' Expectations, But to Surpass Ourselves with Every Single Project.
It's virtually a miracle (no pun intended) that what you're looking at right now isn't some kind of programming code. Or a dismounted processor unit. Because we're nerds, and we're tinkerers. What gets us going are "those new transparent LED panels from China", it's saving your interactive trade show booth at the very last minute, and it's creating an interactive installation that so far only existed in your imagination.
We build new prototypes faster than you can type the word "prototype" correctly. And often they emerge into products as‑yet unseen on the market. Like, for instance, our patented Multi‑Touch Table with the highest resolution currently available. But that was yesterday. We're already on to something new …
If we were forced to describe ourselves in code: DNA
Deliberately dynamic: Our team is lean and compact, and so are our procedures and communication pathways. That is why we do not only enrich your project with the necessary flexibility, but with due "chop‑chop" as well.
Notoriously inquisitive: The more elaborate and complex the technical implementation, the more intense the sparkle of delight in our developers' eyes.
All tried and true: We just can't keep our hands off novel technologies. This is why we test und evaluate them early enough to be ready right on time for your project.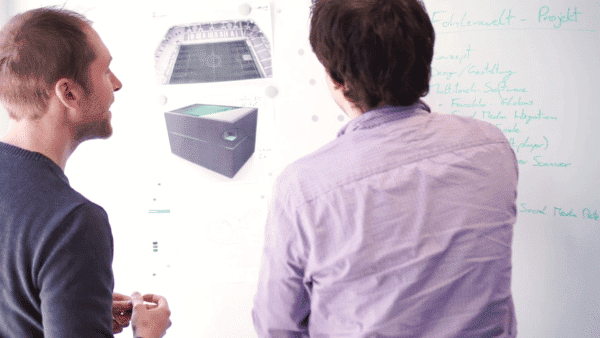 Just Like Our Installations: Interactively, Smoothly, and with Heaps of Fun.
Our cooperation with you is as little standardized as our products are. We take hold of your hand right from the start , and we'll only let go once you simply cannot lay off our interactive installation anymore. At the beginning we'll provide a realistic assessment of how your project might eventually look, given the budget and time available. On the way there we keep enough flexibility for possible adjustments. Also, our boss has a reputation of lending a hand himself in setting up the showroom. We simply stay there with you until everything works as it should and you are fully satisfied. Maybe that's the reason why so many of our clients return for follow-up projects.
Why customer satisfaction with us is a default setting:
Personal and immediate advice: For the sake of simplicity, you're assigned your own permanent contact person at Garamantis. For the sake of efficiency and fun, however, you're always free to get in touch and collaborate with our developers and designers yourself.
Clear words, clear expectations: We only take on projects that we actually can bring to completion. So, if you ask us to make the impossible happen, we'll frankly tell you that it won't work. But we do achieve a fairly good approximation of the virtually impossible.
At eye level with our suppliers: We always aim for close and straightforward contact with our suppliers – from metal worker to carpenter. This is why we've set up our network directly here in Berlin.
How does the fun get into our products?: Just as entertaining and playful as our creations is their development process. And we're happy to share this with our customers if they like.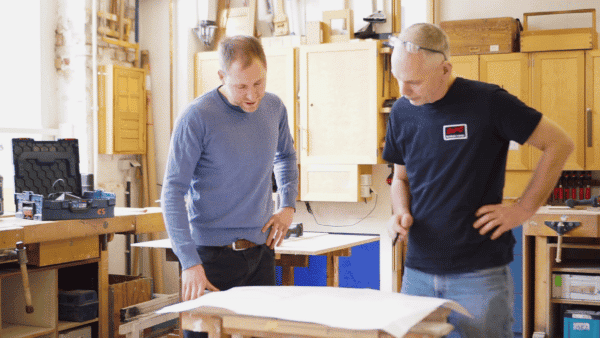 We solder, design, and program thrill right into your target group's heads.
Multi‑touch tables, Augmented Reality, interactive display cases – and that's just a blink of our portfolio. Keep your eyes open for more! We conceive, develop, and design unique interactive worlds around your product, your brand, or your experience. We make complex subject matters look like a piece of cake (and your content look terrific). With custom-made technological innovations, with high-quality design, and –admittedly– always with the same outcome: trade show visitors, clients, investors, and staff with their mouths agape.
Why you might as well close the browser tabs on our competitors:
Fascination at a fixed price: Although surprises are an integrate part of our business model, that doesn't count for bad ones. Thanks to a fair dose of experience, foresight, and inventiveness, before the project starts we set a price that until completion remains as stable as your product's quality and delivery date.
Unique user experience: We don't provide a run‑of‑the‑mill, garden variety construction kit that gives you the options to change your logo and call a support hotline. Instead, you have to think of use more as a top-secret lab that cooks up an appearance guaranteed to surprise. As the Q to your James Bond, or the Alfred to your Batman. Only without all the hoodlums, havoc, and hassle. From us you'll get an interactive installation that meets your expectations 100 %– from branding to hardware to ninja star –oops, – to user‑interface.
A knack for design: Contrary to cliché, we do not only think in "0"s and "1"s. We think in seamlessly recessed displays, flawless surfaces, and in clear, luminous interface designs.
Service to lean back on: We provide you with the full package – conception, technical planning, product and interface design, hardware, software development, training, and maintenance. In summary: full-service from the get-go to the WOW. Everyone who doesn't feel relaxed now, please read on.
High‑involvement service:You want to design your interface yourself? Or contribute your own company's hardware? No problem. Grab yourself a nerdy coffee pot from our kitchenette and become part of our workshop!
Preprogrammed thrill: If you want to offer something so far unheard of to your clientele, why not use features and technologies you yourself have never heard of? Stop googling for the next invention shortlisted for an award, but, with our help, start creating your own.
Punctuality down to a pixel: We hesitate to admit that we engage in an affectionate relationship with our products bordering on the pathological, but, well … fact is: our brainchildren always end up beautiful and special. And they arrive at the estimated due date. Always!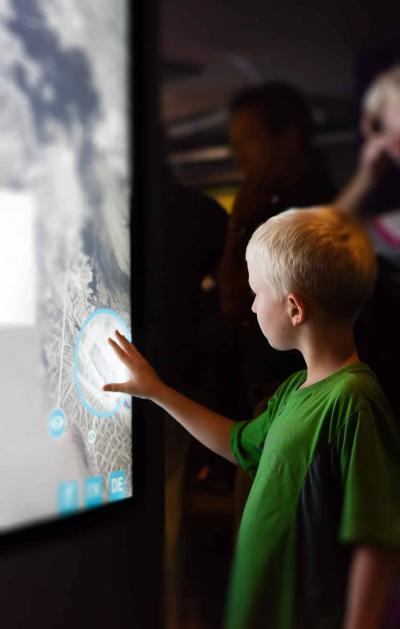 If you're still wondering whether to collaborate with us or not, why not turn for answers to those who've already done so? We're happy to put you in contact. Or pay us a visit in our showroom, no strings attached. On that occasion, we'll also gladly demonstrate our fully automatic coffeemaker to you.
Free Consultation
Are you interested in interactive exhibitions and technologies?
We are happy to advise you, free of charge and without obligation. (+49 30 55144669)
Free Consultation
[/fusion_title]
Are you interested in interactive exhibitions and technologies?
We are happy to advise you, free of charge and without obligation. (+49 30 55144669)
[/fusion_builder_column][/fusion_builder_row][/fusion_builder_container]
Garamantis GmbH from Berlin was identified by DDW "Die Deutsche Wirtschaft" as one of the 3,000 German companies in trend and growth markets.
Through the use of new technologies, virtual environments are created in which the interface between art, creativity and technology becomes visible. The Berlin-based company Garamantis has been working on exactly this interface since 2014, offering solutions for immersive exhibitions and interactive showrooms in which visitors can become part of a virtual environment and interact with it.

Garamantis – immersive Lösungen für die Kultur- und Kreativwirtschaft
Their complex, multimedia concepts not only shine through originality and simplicity. They also stand out due to great technical know-how.
A small team develops customized and innovative solutions to communicate complex interrelationships to a large number of customers. One of their vehicles is the interactive table, but the Garamantis team also designs virtual exhibitions and immersive projection rooms without any real furniture.

Garamantis zählt zu den "kreativsten Köpfen Deutschlands"
Some of the prominent players in the market are Box Light Corporation, DigaliX, eyefactive GmbH, Garamantis GmbH, HORIZON DISPLAY, LLC, IDEUM, Intermedia Touch, MARVEL TECHNOLOGY (CHINA) CO., LTD, MMT GmbH & Co. KG., and TableConnect. Interactive table providers are focusing on new product development, which, in turn, would help in increasing their market presence.

Study "Interactive Tables Market Size, Share & Trends Analysis Report"

More and more companies are discovering the benefits of digital presentation aids. Especially at trade fair appearances, the know-how of his company is in demand, according to Elias. Particularly large corporations have long since adopted old-fashioned forms of advertising such as flyers or cardboard displays. Rather, solutions are needed that make a business model or a product tangible.
Wenn Besucher auf Dinojagd gehen
The Garamantis team developed technical innovations every year during its recent history, making it a name in the trade show and event industry.
Fünf Jahre interaktive Technologien made in Germany
Garamantis designs interactive installations right at the interface between humans and technology, amongst them, for instance, an interactive display case that can be used, to give just one example, in museums.
Interview mit Garamantis-Gründer Oliver Elias