The most interactive multitouch table on the market
Not Only Recognizes the Sign of the Times, but People and Objects Too!
Together we build an experiential world around your product, your company, or your event – conception, hardware, and software included. We adapt the multitouch-table's design exactly to your wishes and needs, and your customers, trade show visitors, and guests won't be able to keep their hands off it.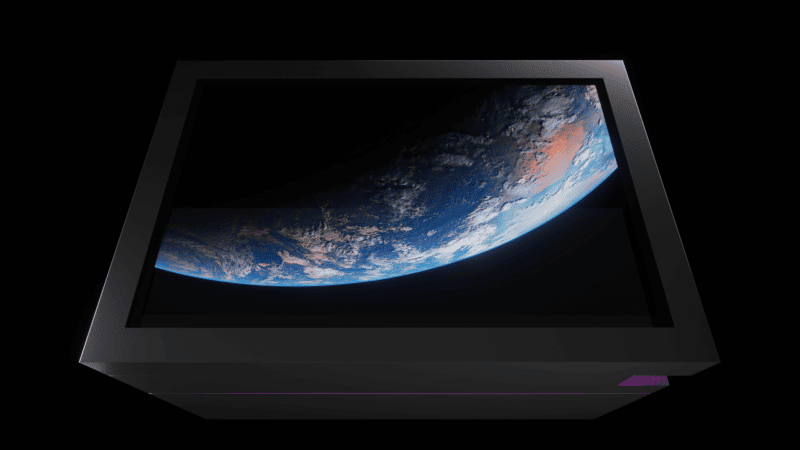 Ultra HD touchscreen
Don't show just a vague outline of your vision – present it crystal-clear in 4K resolution. And to as many people as possible – no problem with a touch-sensor that can handle up to 80 parallel touch inputs (which also makes it suitable for capacitive object recognition).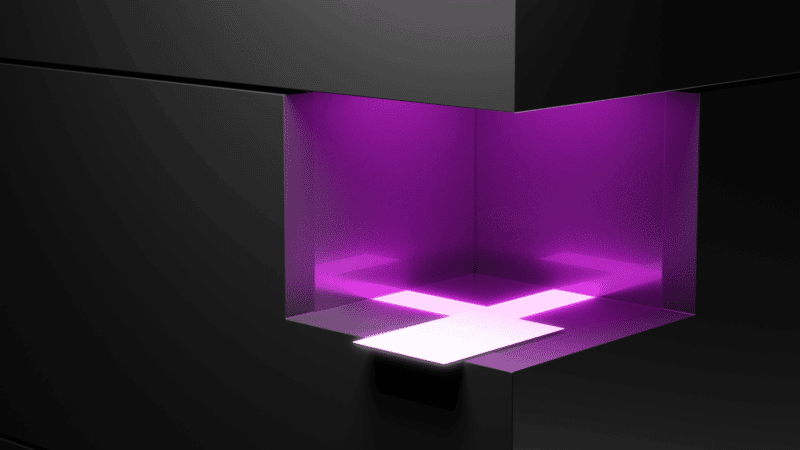 Object recognition
Whether it's an info flyer, a business card, or a product sample – the table identifies objects by means of its built-in camera and presents matching content on its screen. The tabletop can also interact with products or object markers.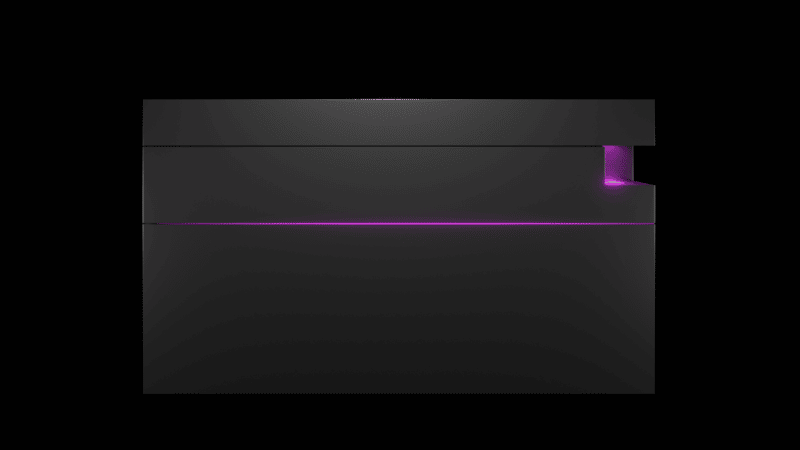 Inviting LED-lights
Our multitouch-table actively beckons your target group – shining out in your corporate design color scheme. The only ones likely to get bored by this over time are your staff members.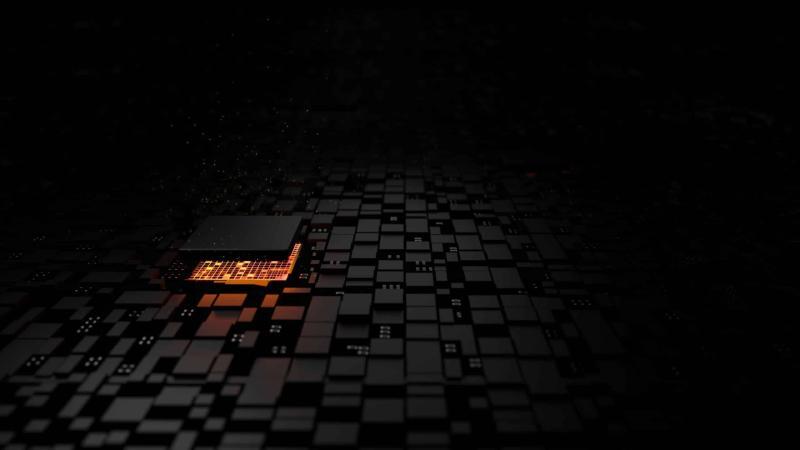 High-end PC
no stalling here – the high-performance PC and its graphic board facilitate a smooth, jerk‑free 3D multi-touch experience.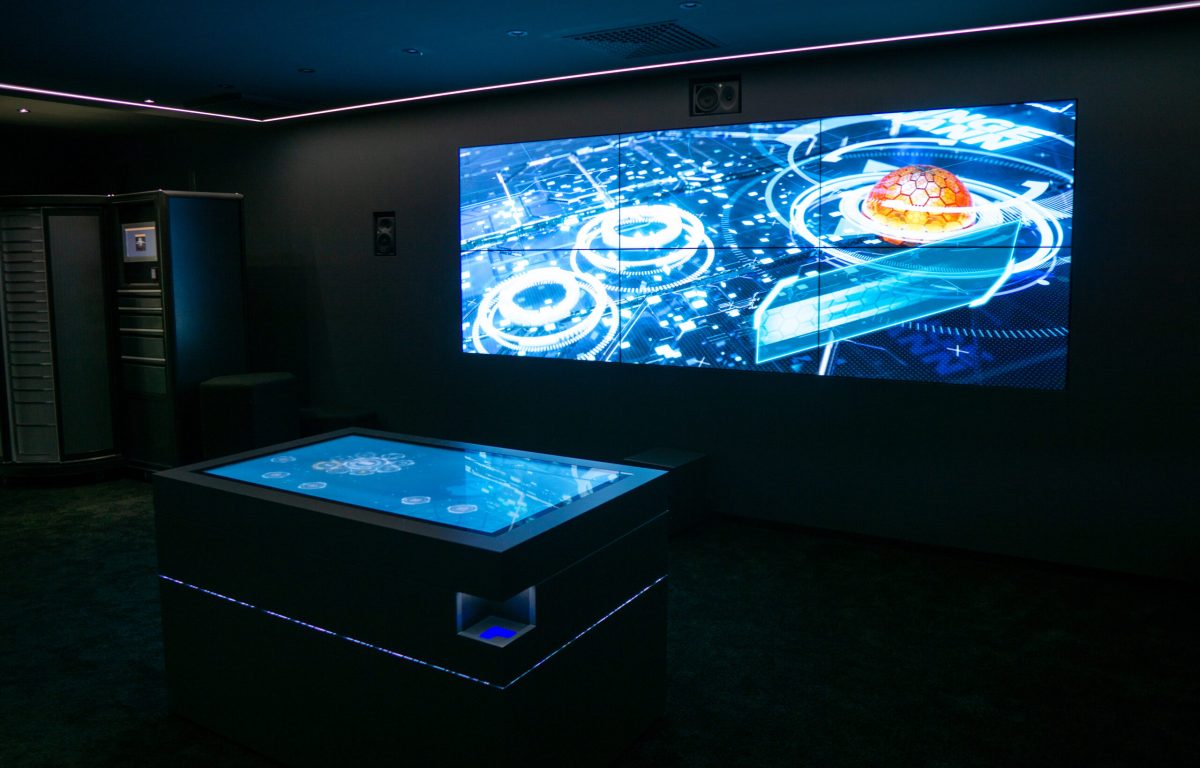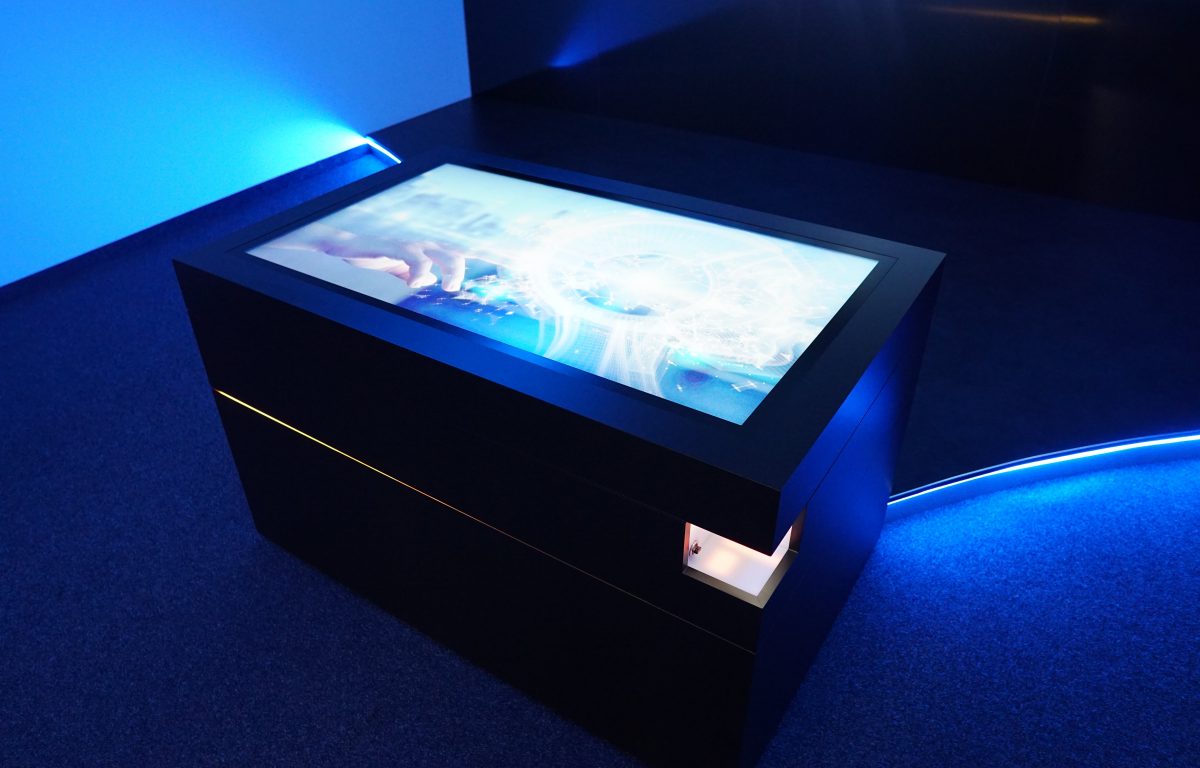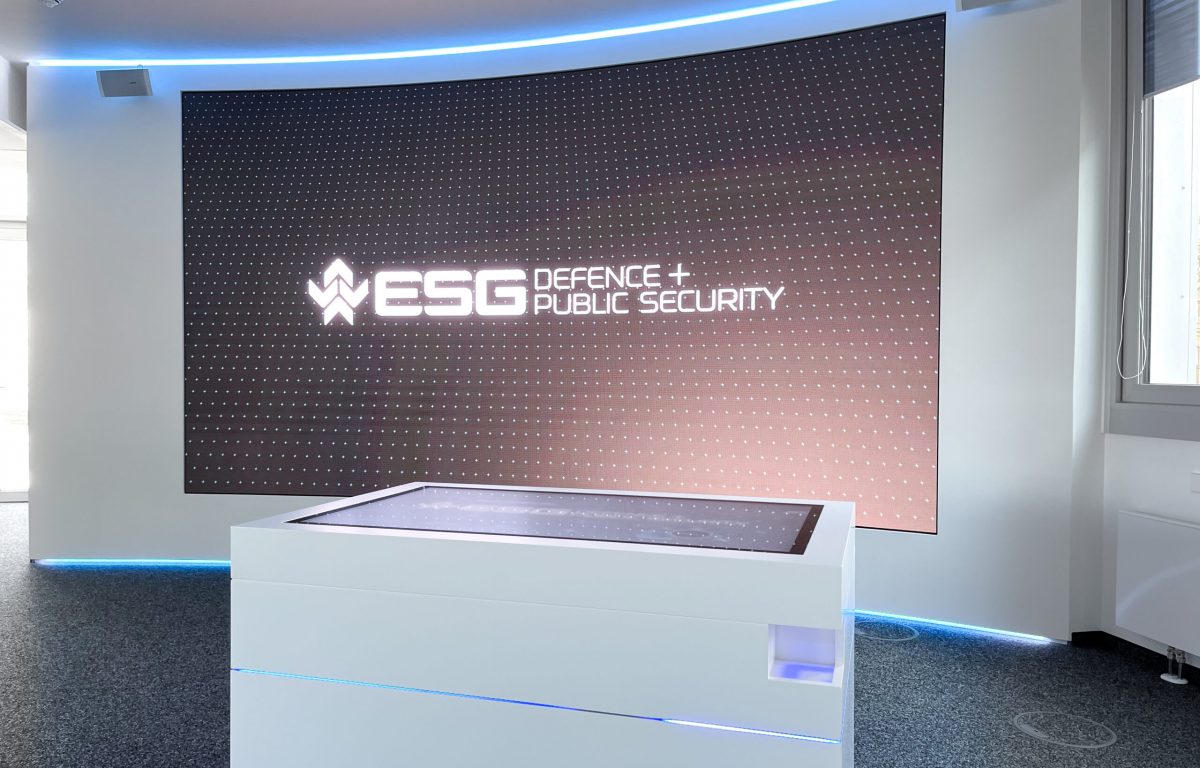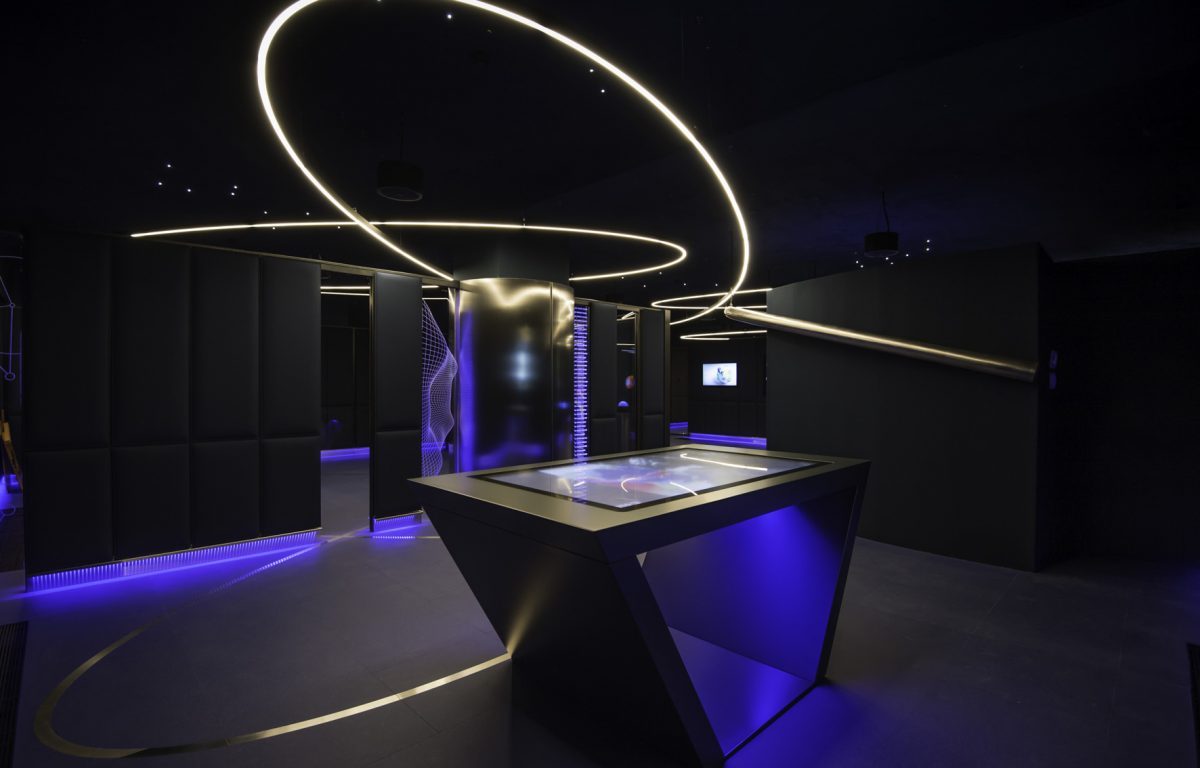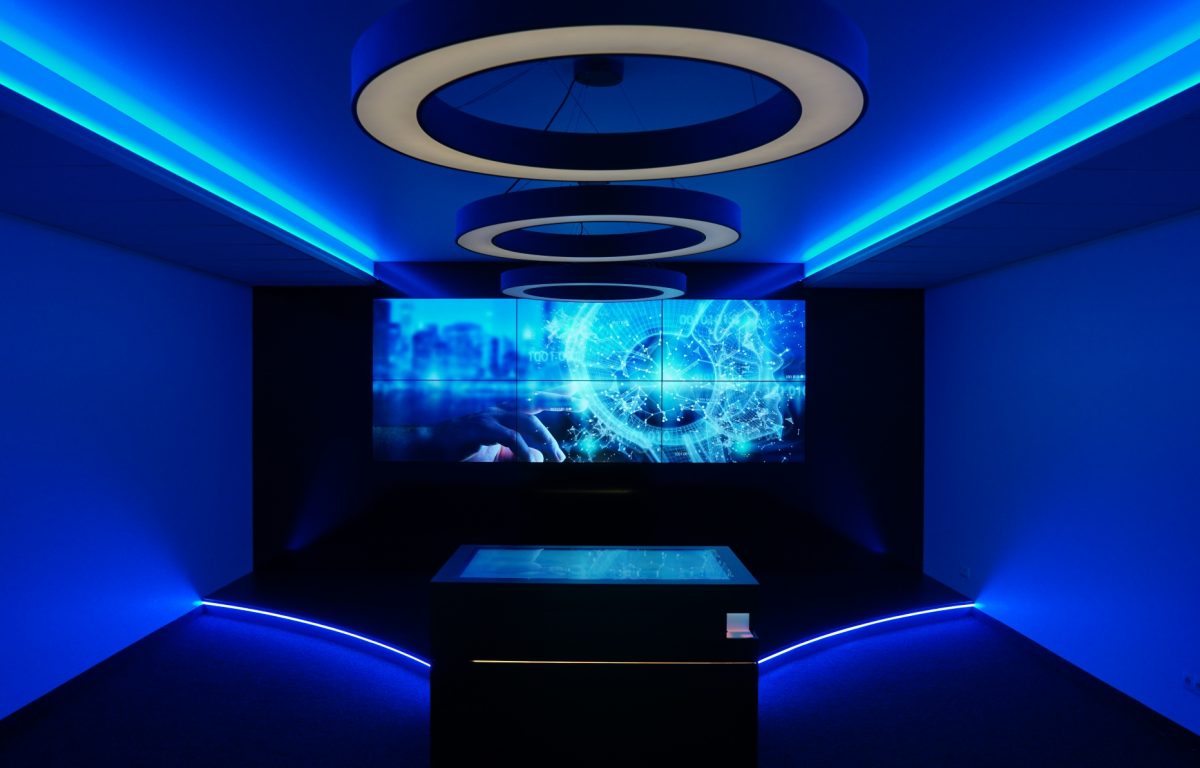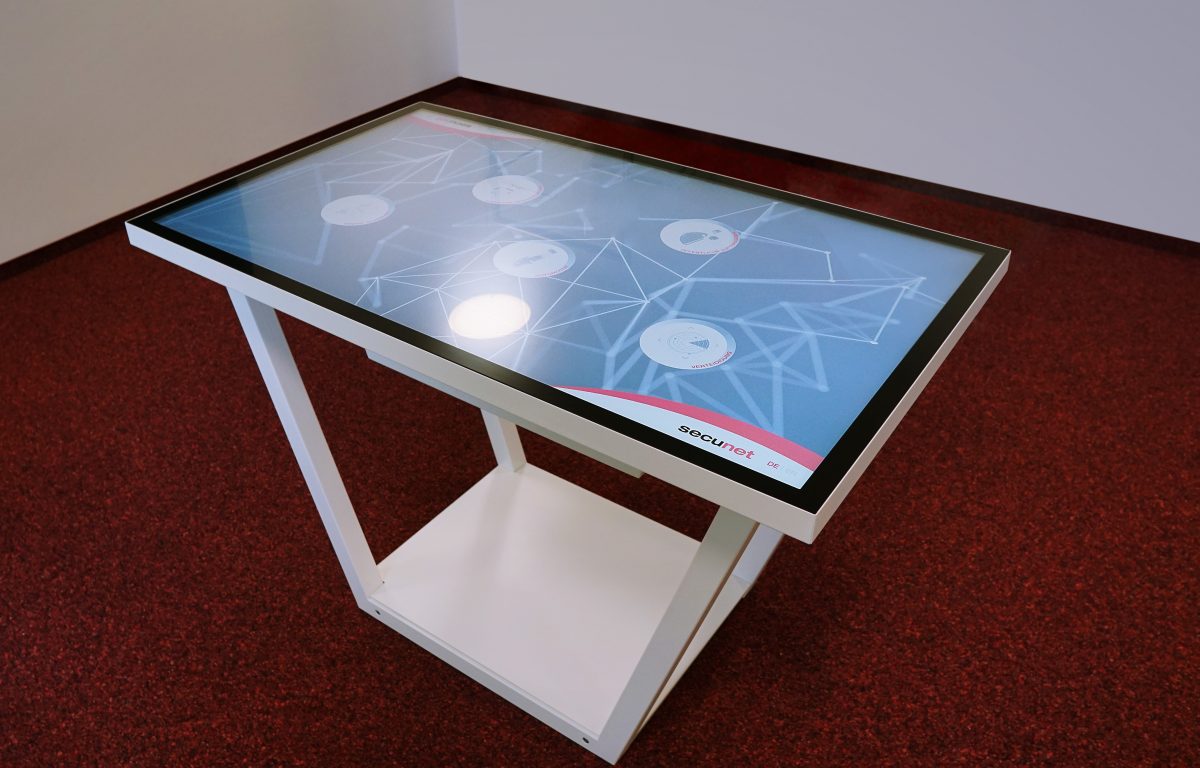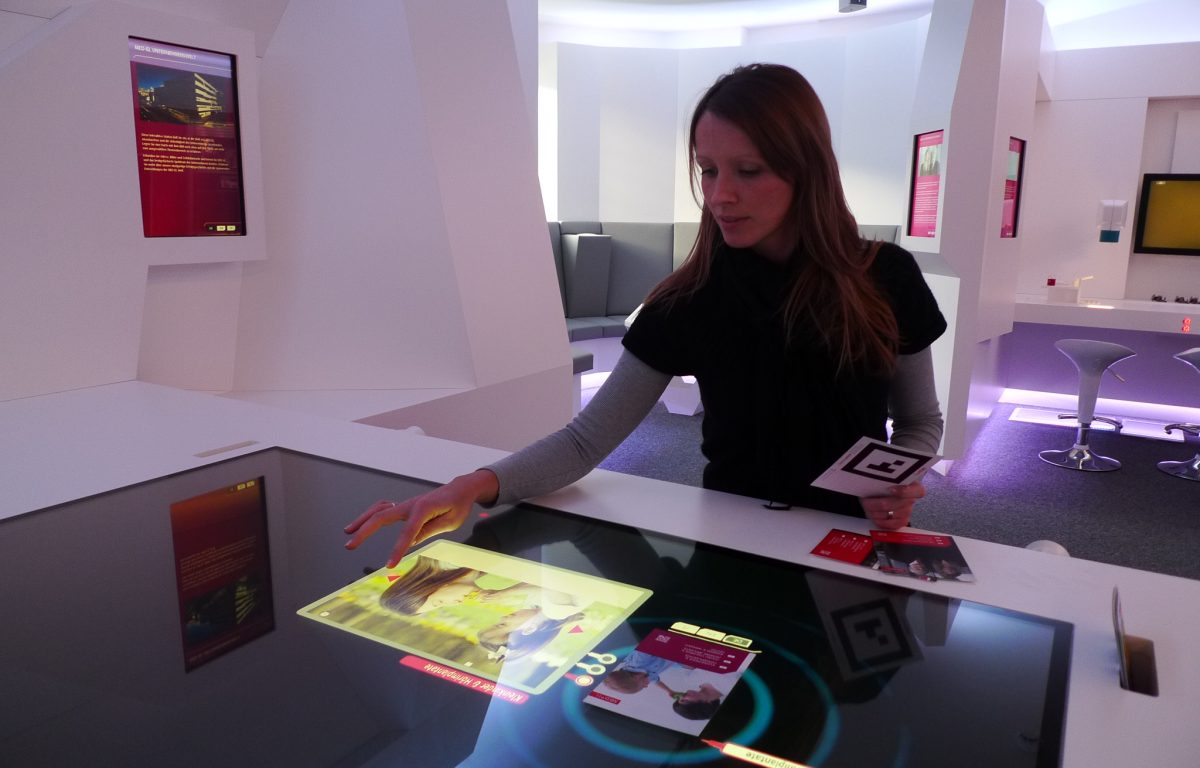 STRIKING
Its shape, design, and LED lighting make this table impossible to miss.
SMARTER
The table recognizes objects like products, print-flyers, business cards, and many more.
PROACTIVE
Thanks to its person sensor, the table registers people already from a distance and addresses them proactively.
QUALITY
The most sophisticated high-quality hardware components the market has to offer. 4K resolution, 80 parallel touch inputs, dedicated graphics card, etc.
Multi-Touch Table Configuration
The way to get your own custom-made multi-touch table in 7 easy steps
You contact us – by phone, email or chat.

 We give you free and non-binding advice and offer helpful suggestions concerning your multitouch project.

You receive a detailed offer and a project schedule from us.

Based on your corporate design and briefing, we make sketches and create software mockups.

We integrate your content (images, text, videos, documents) into the CMS.

We keep you updated during the agile software development process.

We set up the multi-touch table at your premises and train your staff.
Free advice
Sie interessieren sich für interaktive Technologien oder Multitouch-Lösungen? Wir beraten Sie gerne, kostenlos und unverbindlich. (+49 30 55144669)
The implementation of our ideas and the cooperation with Garamantis was fun for our entire team. No request and no change request was too much and we felt understood even without many words. The final result and the visualisation of our projects made possible was successful. We are already looking forward to the trade fair visits with our new companion.
A very committed, sympathetic team that does its best to find and implement an optimal solution. Many thanks for the good advice, the good quality, and the reliable implementation of our multimedia table. A clear recommendation!

We are thrilled! Garamantis' interactive tables help us to present our products and solutions in a straightforward and intuitive way. Despite the short lead time, the timely completion of the project was at no point at risk – collaboration on the highest level with on-target planning and execution. We're confident to have found in Garamantis a high-level partner. Follow‑up projects are already in planning.
Once again, I very much appreciated the uncomplicated and professional cooperation with the Garamantis team on this project. In joint coordination, a product was planned, developed, programmed and manufactured on schedule that was always up to the tough everyday touring, even in changing weather conditions. Not least, the support after delivery, which was always available at short notice, helped me and my team to ensure that both customer and user were equally satisfied and that the table was always well frequented.
The multi‑touch table as a part of the BMZ's trade fair appearance at ITB 2017 was a complete success. The interactive map of the world helped to rapidly attract visitor's attention to the fair stand.
The multi-touch table by Garamantis has turned out to be an absolute crowd puller. Especially in the diverse range of a fair a welcome attraction for the exhibition stand of the Federal Government. The applications realized on the table were performant. For short-term requests for changes and additions, the Garamantis team responded creatively and quickly. I look forward to upcoming projects with colleagues from Garamantis.
Working with the Garamantis team was both inspiring and constructive. The team was very competent and always had the right solution to my many questions and requirements. The whole package has absolutely convinced me!
The collaboration with Garamantis was refreshingly uncomplicated and perfectly target-oriented. We as an agency provided the contents and ideas, and Garamantis consummately put them into practice and developed the matching design. Our client was very pleased with the result and, with the multitouch table, had a real highlight to show at his trade fair presence.
For the Long Night of Museums 2017 Garamantis designed an interactive application that thrilled both the museum's visitors and it's staff. Despite the very short lead time this project was a complete success from start to finish – technologically, design‑wise and organizationally speaking. The collaboration was totally uncomplicated and I am looking forward to further projects with Garamantis in the future.
The "Initiative Mittelstand" ("Initiative for MSE") awards the Innovation Prize IT 2017 to particularly innovative IT solutions of high benefit to medium-sized enterprises. In this category, the expert jury grants the award to Garamantis for their multi-touch scanner table. The prize-winning product has convinced the jury and counts among this year's Innovation Prize IT winners.