The interactive showcase for product presentation
A Classic Case of Putting Yourself on Display – If It Weren't for the Multi-Touch, Audio and LED Features.
Those who think it impossible to turn even the head of Queen Nefertiti have never tried one of our interactive display cases. With mere swipe gestures, exhibit, monitors, and lighting can be rotated, scrolled through, and adapted. Not just for a museum is that a good thing to have, but for your Point of Sale, for trade shows, conventions and events as well. Present the crown jewel among your exhibits in minute detail without having to hand it over to the world. Or explain how your innovative product works more vividly than any influencer on YouTube can. We make sure your story is told the way it deserves – in terms of concept, software and, of course, in your corporate design.
Crystal-clear reasons in favor of our Interactive Display Case:
Clear view on your exhibit piece: Unlike conventional digital display cases, ours doesn't use monitors, but fully transparent non-reflecting multi-touch glass. And because your customers and visitors keeping their hands off it would be somewhat counterproductive it also features a grease-repellent surface.
Interactive turntable: With swipe gestures your clients can move the exhibit on the turntable, intuitively and without time lag. Any reservations they might have dissolve in the shine of the turntable's encouraging LED lighting.
Atmospheric 360° panorama: Embed your product in its natural habitat or recount its manufacturing process in a few scroll gestures – on both our high‑resolution screen in the background and its smaller companion at its side. And even if it's still all just double Dutch (or Greek, for that matter) to your visitors, they can conveniently change the language with just one touch.
Dynamic lighting: No matter how your clients look at it, your product will always look at its best. Our dynamic spotlights interactively adapt to its current orientation and, in combination with the monitors, provide for a harmonious lighting concept.
Audio guide: Those unwilling to read the writing on the wall (or monitor) ... may at least heed the call. Our interactive display case offers two ways of explaining or accentuating your exhibit acoustically: either via integrated speaker system or by transmission to the user's smartphone.
People sensor: Don't bother to check whether your display case is getting enough attention – it'll take care of that all by itself! By means of light effects or automatic orientation of the turntable, it invites its potential users and encourages them to step a little closer.
Flexible handling: To make sure your pleasure with your display case is long and lasting, you can alter and update content by yourself. Not only is this highly cost‑effective, but very easy as well, thanks to our cloud-based CMS.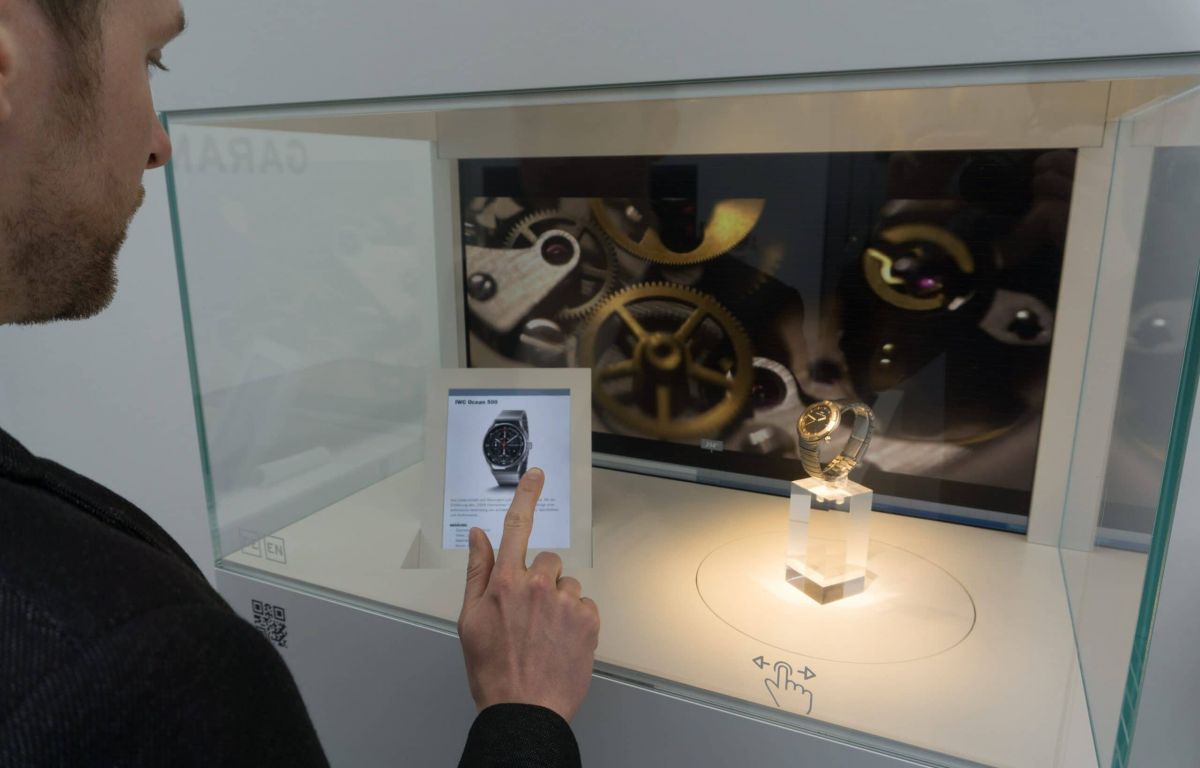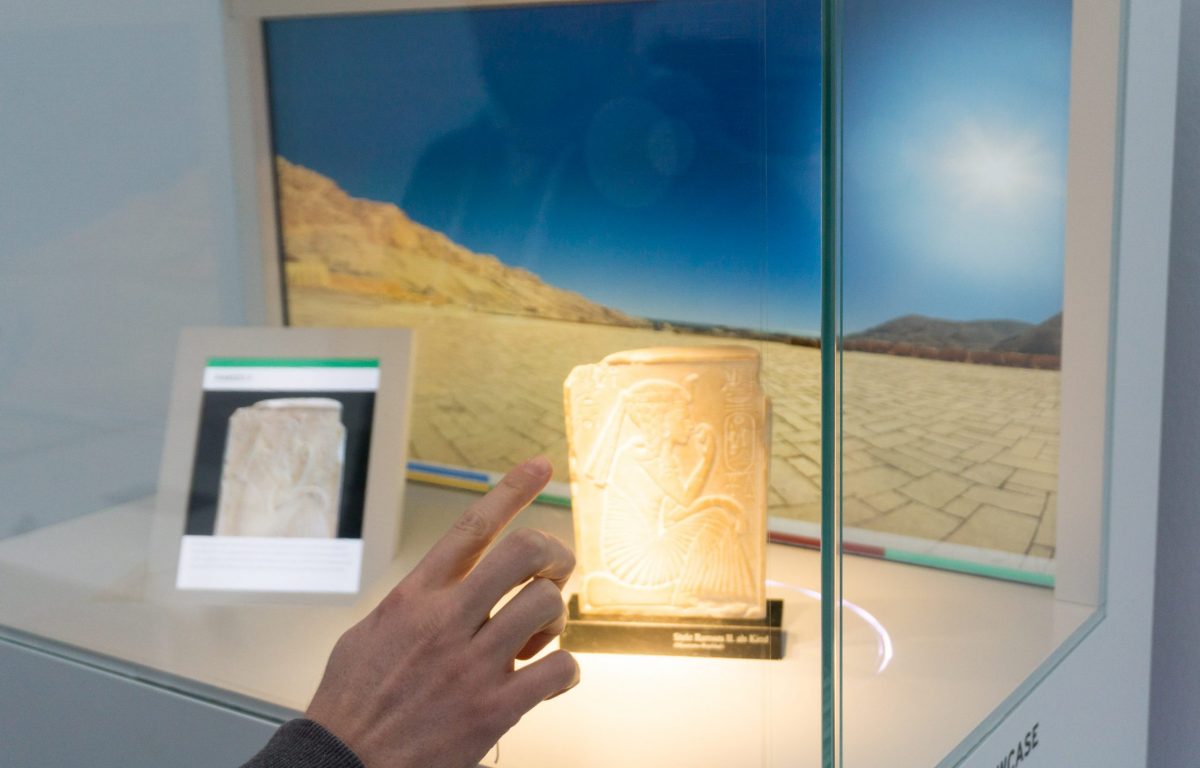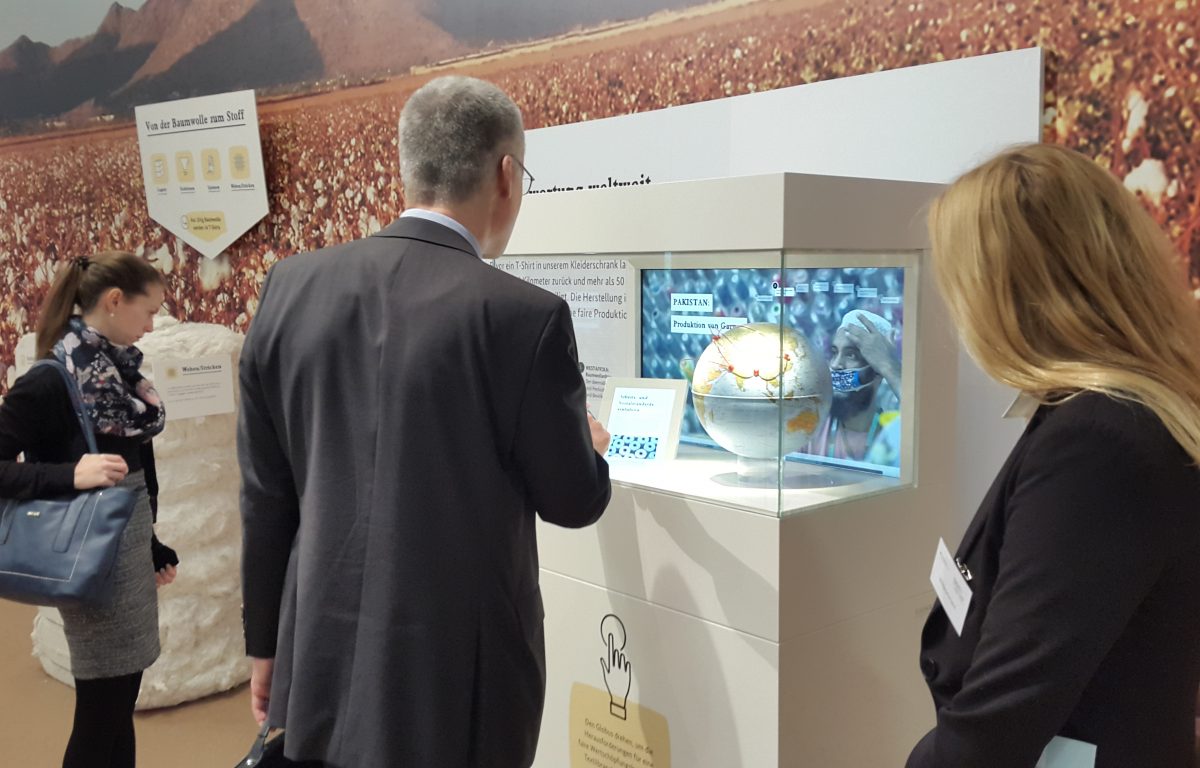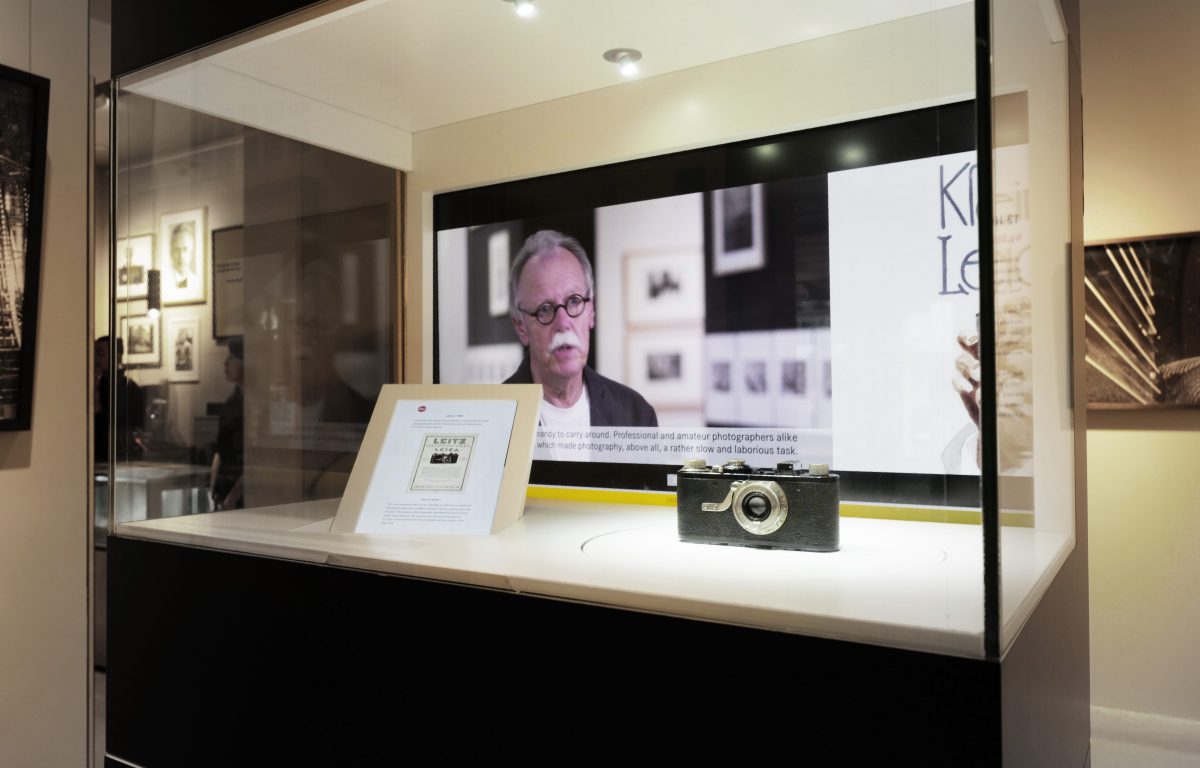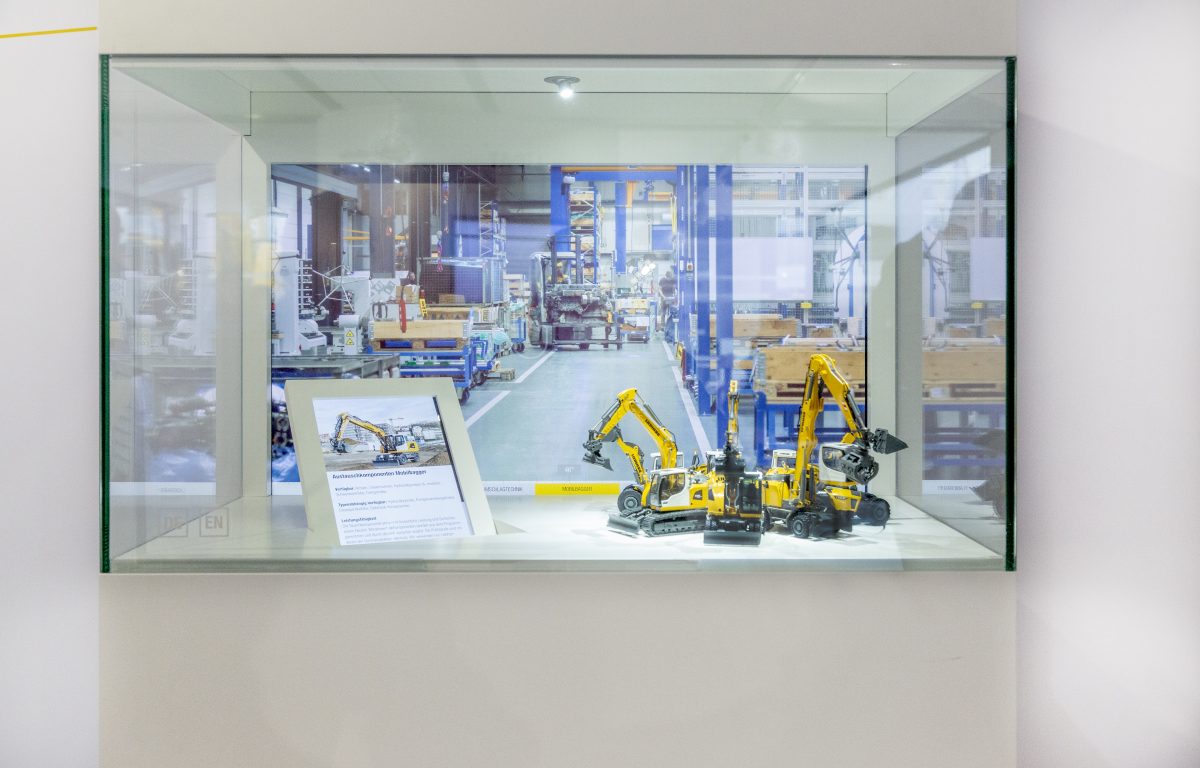 WORLDWIDE NOVELTY
This display case for the first time affords crystal clear view on the product and at the same time offers full multi-touch functionality.
INTERACTIVE STORYTELLING
Visitors explore your products step by step on their own terms, while the display case supports your story.
FLEXIBLE CONTENT
"Product of the Month" or "tech novelty" – update all digital content fast and easy via CMS.
INDIVIDUAL DESIGN
Size, shape, and integrated hardware of the display case are always individualized according to your corporate design and overall concept.
Interactive Display Case Details
The way to your custom-made interactive display case in 6 easy steps
You contact us – by phone, email or chat.

We give you free and non-binding advice on the presentation of your merchandise and offer helpful suggestions concerning your project.

You receive a detailed offer and a project schedule from us.

We work out a concept for the optimal configuration best suited for your purpose. In some cases, your products may require a special build, in others, the standard version is sufficient.

We put the concept into practice, integrate your digital content (images, text, videos, documents) into the CMS and design a customized presentation for your display case.

We assemble and set up the interactive display case at your premises and train your staff.
Free Consultation
Are you interested in interactive exhibitions and technologies?
We are happy to advise you, free of charge and without obligation. (+49 30 55144669)
The tech start-up Garamantis has developed a new system that allows customers to interact with products via gesture control at the shop window. The new system is being used for the first time at the Landmark Shopping Center in Hong Kong.
Gesture control enables new immersive experiences at the POS and is therefore becoming increasingly popular. The Berlin start-up Garamantis realized a touchless shopping experience on 21m² with laser-based sensor systems. Customers can use gesture control not only to control digital signage systems but also interactive 360-degree turntables.
A conventional vintage showcase usually dictates that the guests cannot touch and interact with the rare and expensive antiques, but with Garamantis' interactive display cabinet, you can have the cake and eat it too. By allowing guests to remotely interact with the vintage camera, guests could learn a lot more about the camera's history, while being able to view it from all angles!
The glass showcase combines multi-touch technology, interactive screens and direct interaction with the exhibited object. Handy: The digital content can be edited by the operator himself.
Product presentation 4.0
Our product, an intelligent control unit, is technically complex and requires intensive explanation. In Garamantis' interactive display case, we were able to put it on view in an attractive fashion and at the same time comprehensively explain all its functions to the viewer. The display case was a high-quality experience for our visitors. It enjoyed a lot of attention, and many people interacted with it.
Now the company, launched only in 2014, has revolutionized the concept of a classic presentation display case. The once-passive observer becomes an active user and interacts intuitively through the transparent multi-touch glass with the exhibit.
The interactive showcase by Garamantis, which responds differently to horizontal and vertical touches on the clear multi-touch glass.
Please touch
The interactive display case by the Berlin based company Garamantis is a world premier. By touching the glass you can explore the exhibited object and learn about its history.
Ein spielerischer Zugang
The "Initiative Mittelstand" ("Initiative for MSE") awards the Innovation Prize IT 2017 to particularly innovative IT solutions of high benefit to medium-sized enterprises. In the category "hardware", the expert jury rates the interactive showcase by Garamantis with "BEST OF 2017". The rated product has convinced the jury and is within the top flights among this year's Innovation Prize IT participants.
Overall, very remarkable and interesting technologies that can improve the shopping experience considerably. Via already ingrained behavior patterns, like touching or controlling with swipe‑gestures, the customer triggers information on the product or "experiences", but one can also design further product descriptions and explanations in that way. It remains to be hoped that the use of these technologies in the retail industry will increase in the near future.
Mit Multitouch- und interaktiver Technologie das Einkaufserlebnis steigern
The display case demonstrated state-of-the-art museum technology and excited the Austrian museum community with its elegant design and intuitive user interface. In this way a lot of additional information on and around the object on display becomes available to the visitor, in the best sense of the expression "modern museum storytelling"