Interactive Showroom
For All Those Who Want It All: The Full Package Immersive Digital Showroom Experience
We sympathize with you. Because much as we love every single one of our interactive installations, linking them up with each other has an even greater appeal. So, let's put our heads together and design your very own trip through space and … oh, well …the perfect time, immediately at your company headquarters! Which means, your visions' very place of origin. Why not share them right there? And why not funnel them into an interactive, multimedia experience, set within an experiential background designed to thrill your stakeholders? The answer to these (admittedly rhetorical) questions is – you guessed it: there is no good reason why not – in an interactive showroom.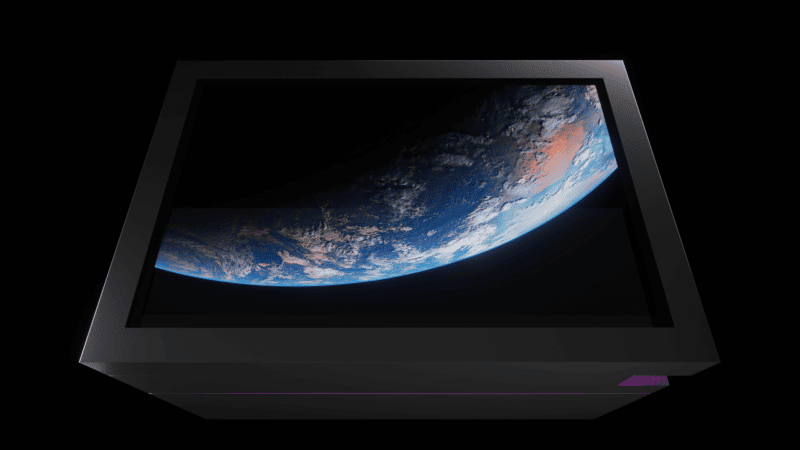 Multi-touch Scanner Table
Accessible from all sides, a multi-touch table makes an excellent central hub for your showroom. There, your visitors can travel through your corporate history along an interactive timeline, they can explore project sites across the globe, or they can playfully browse through your product portfolio in an impressive 3D environment. In presentations for larger audiences, you simply swipe the content from there to a monitor-wall.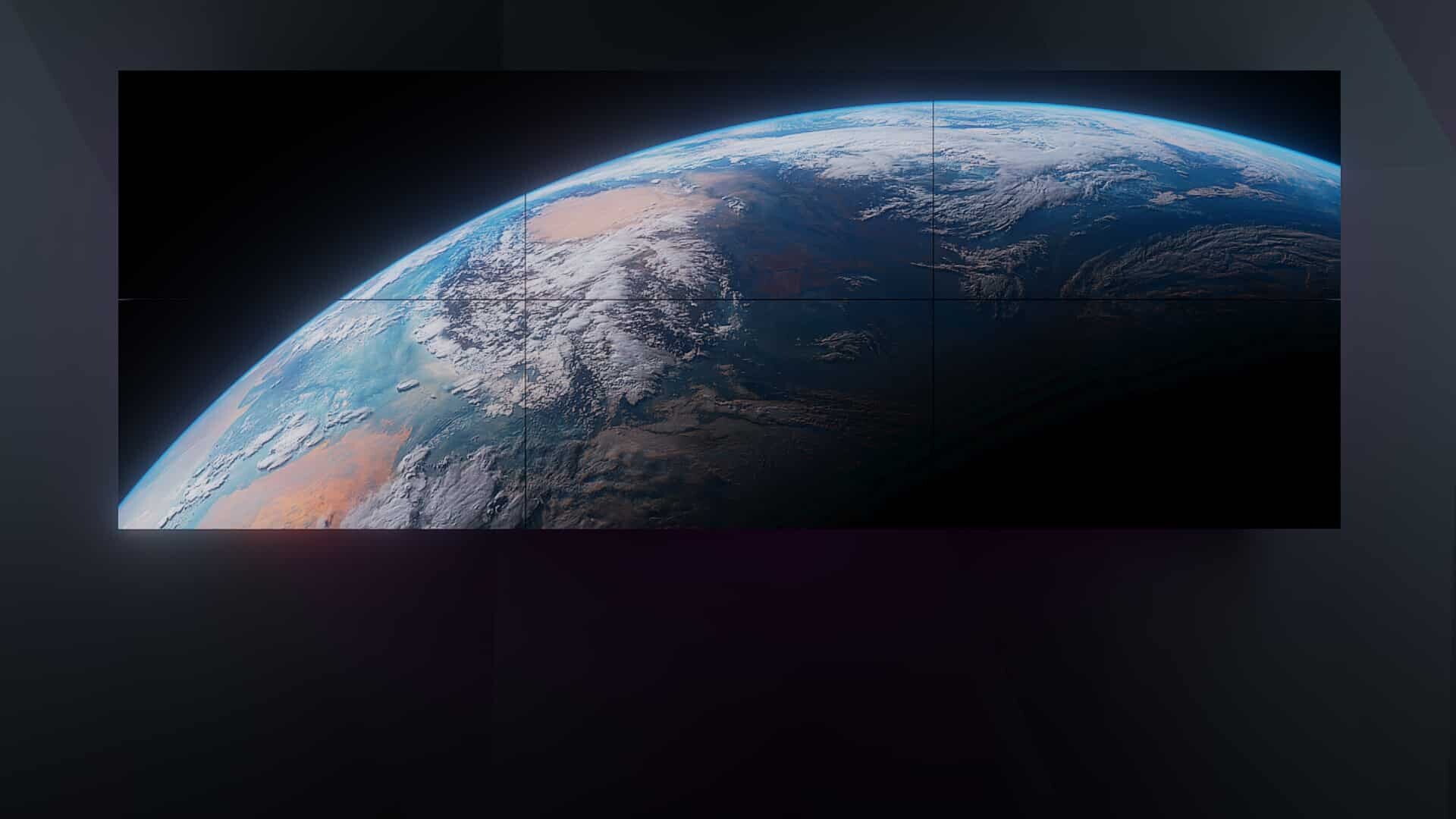 Monitor/video wall
The 'bigger picture' within your content reveals itself the moment it is displayed in ultra-high resolution on the vast expanse of this luminous monitor wall.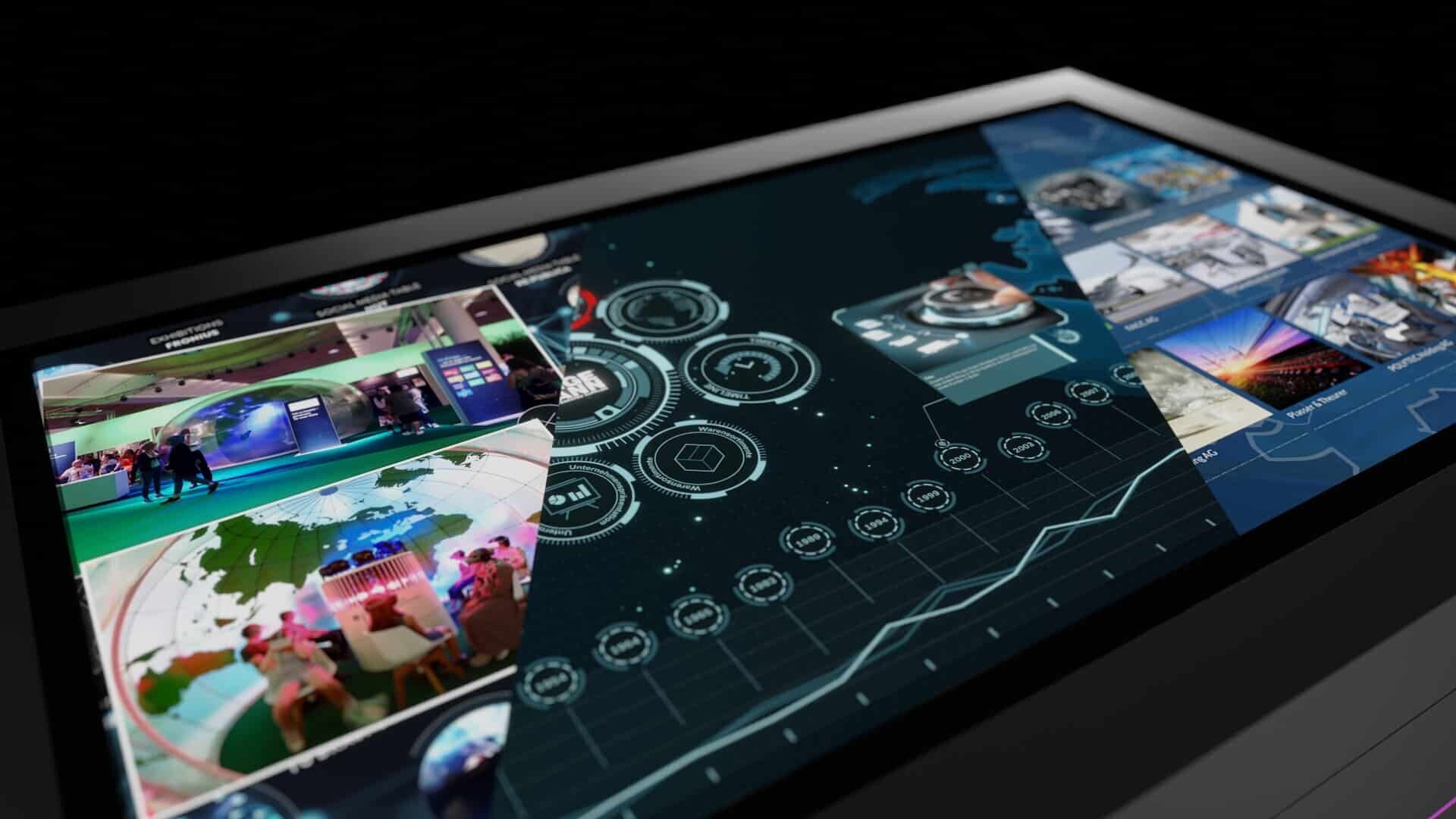 Multi-touch Software
Do you like PowerPoint presentations? Neither do we! This is the reason why our multi-touch software is their exact opposite: dynamic, intuitive, collaborative and, first and foremost, pretty to look at. Furthermore, your content is not restricted to the confines of a linear presentation. Instead, you can spontaneously select the right content relevant to your train of thought and the line of argumentation you're pursuing.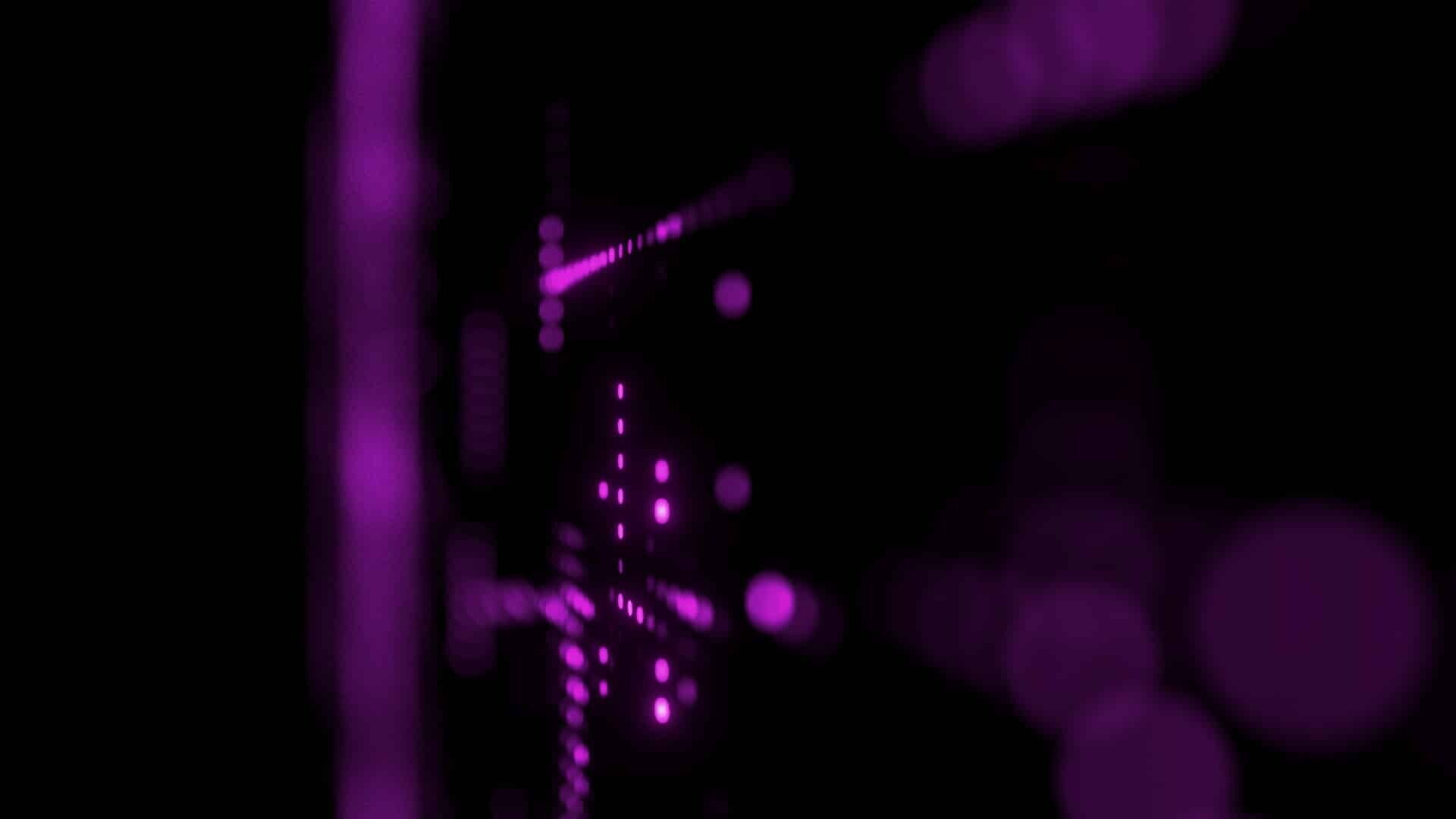 Immersive AV Technologies
Thousands of individually dirigible high‑performance LEDs unite into one big, stunning interactive lighting system, suitable to convince not only your visitors' eyes, but their ears as well – thanks to an integrated dynamic surround sound system.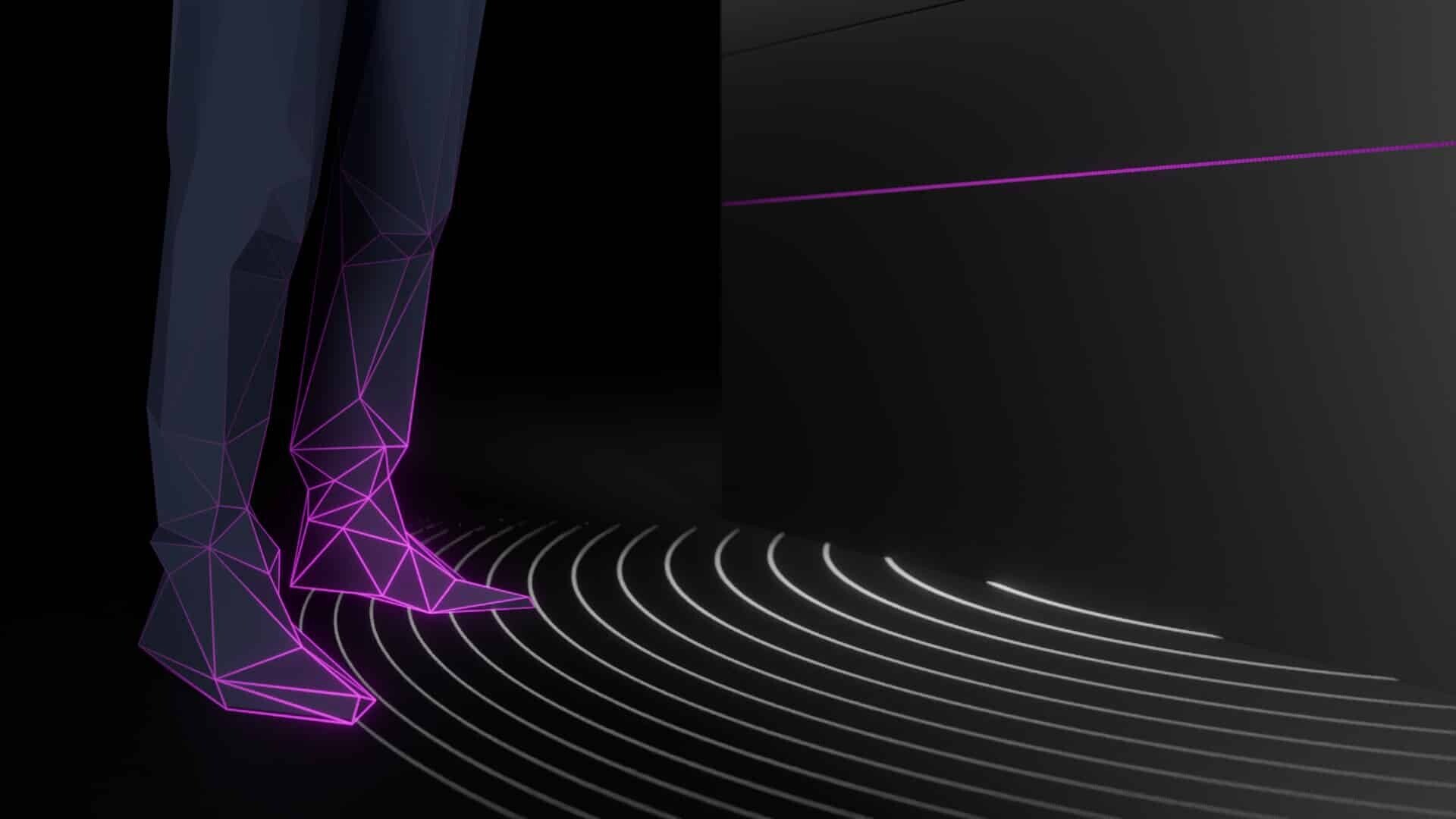 Person sensor
The perfect host: due to its laser-based sensor technology, your showroom is always aware of your (or rather, its) guests' position and automatically launches the matching content, exhibits, and visual/sound effects.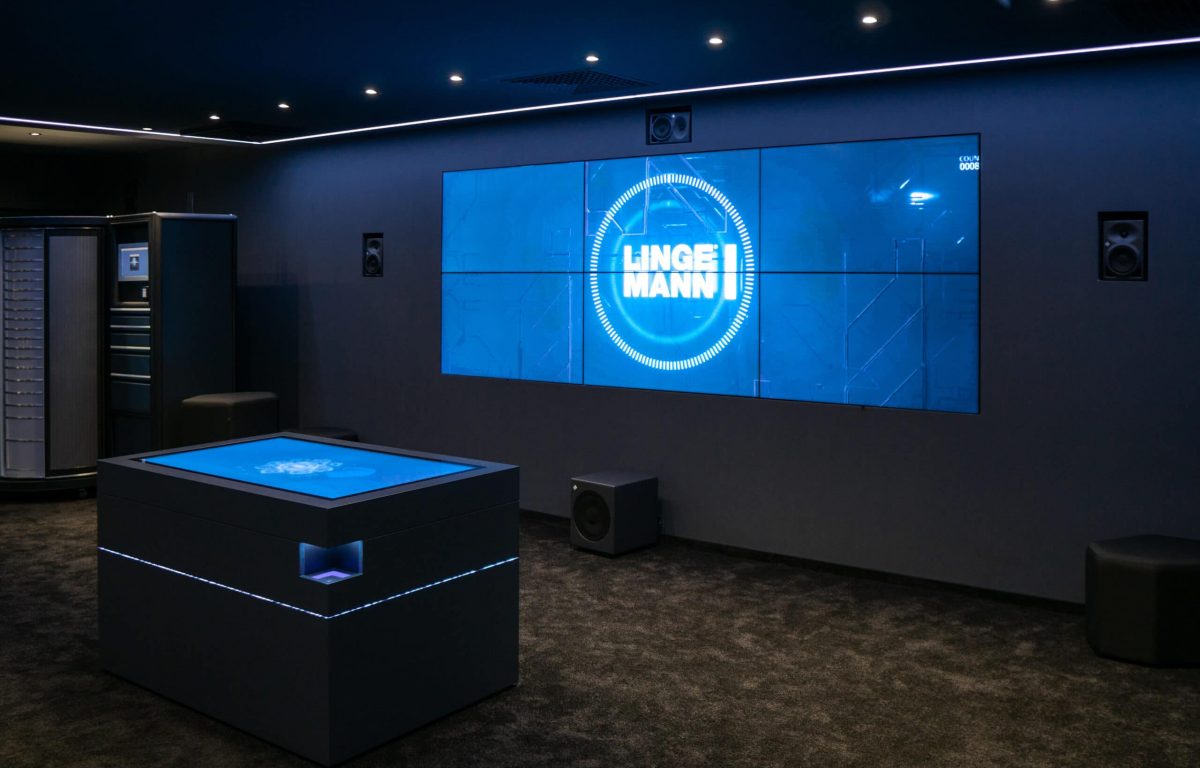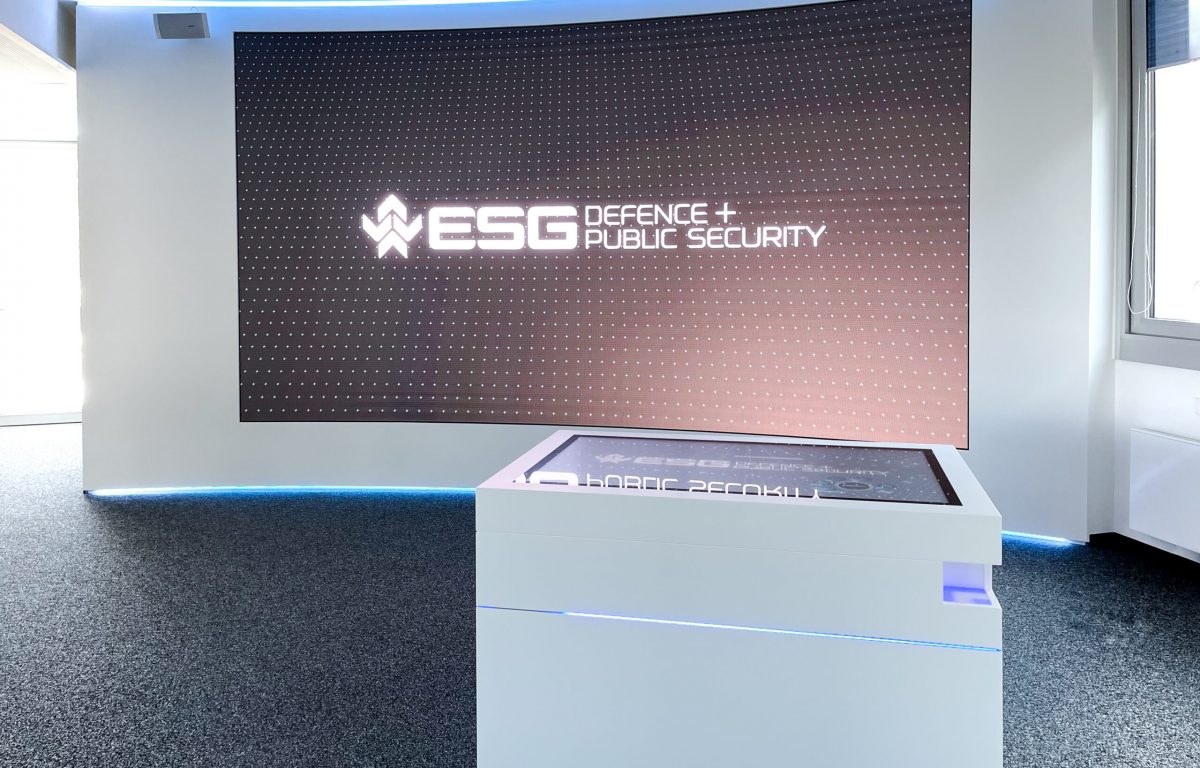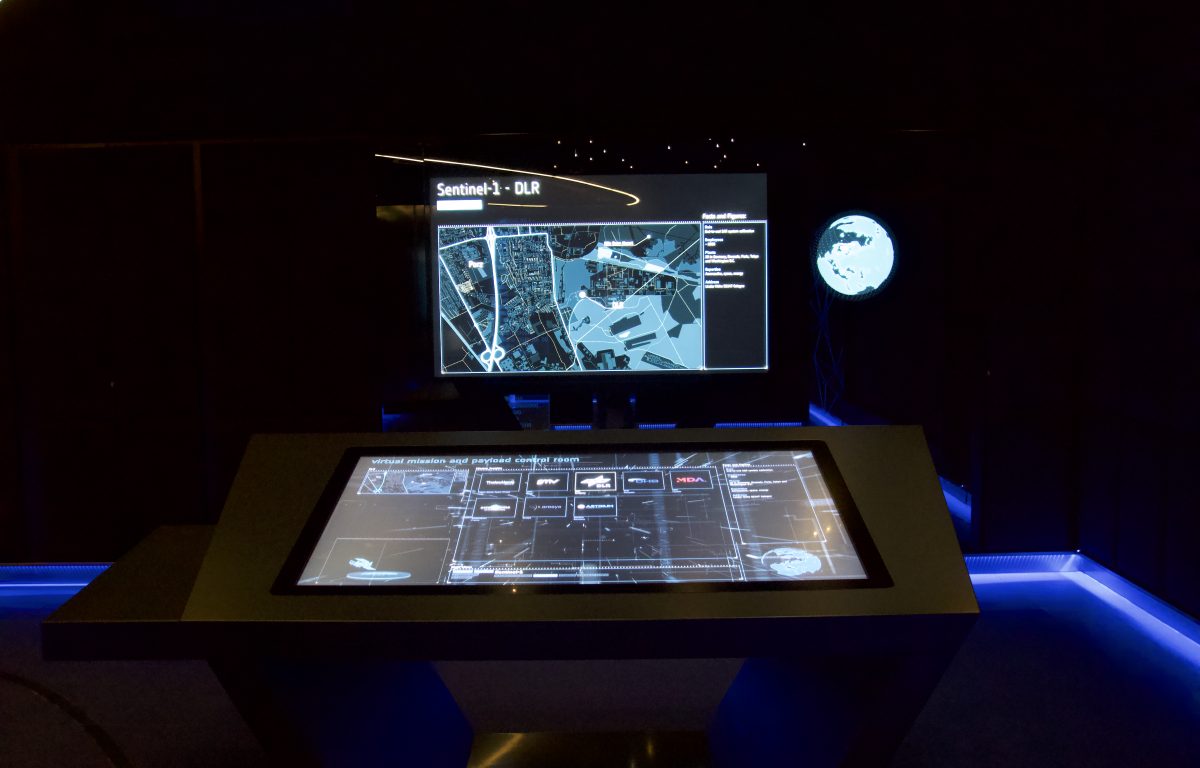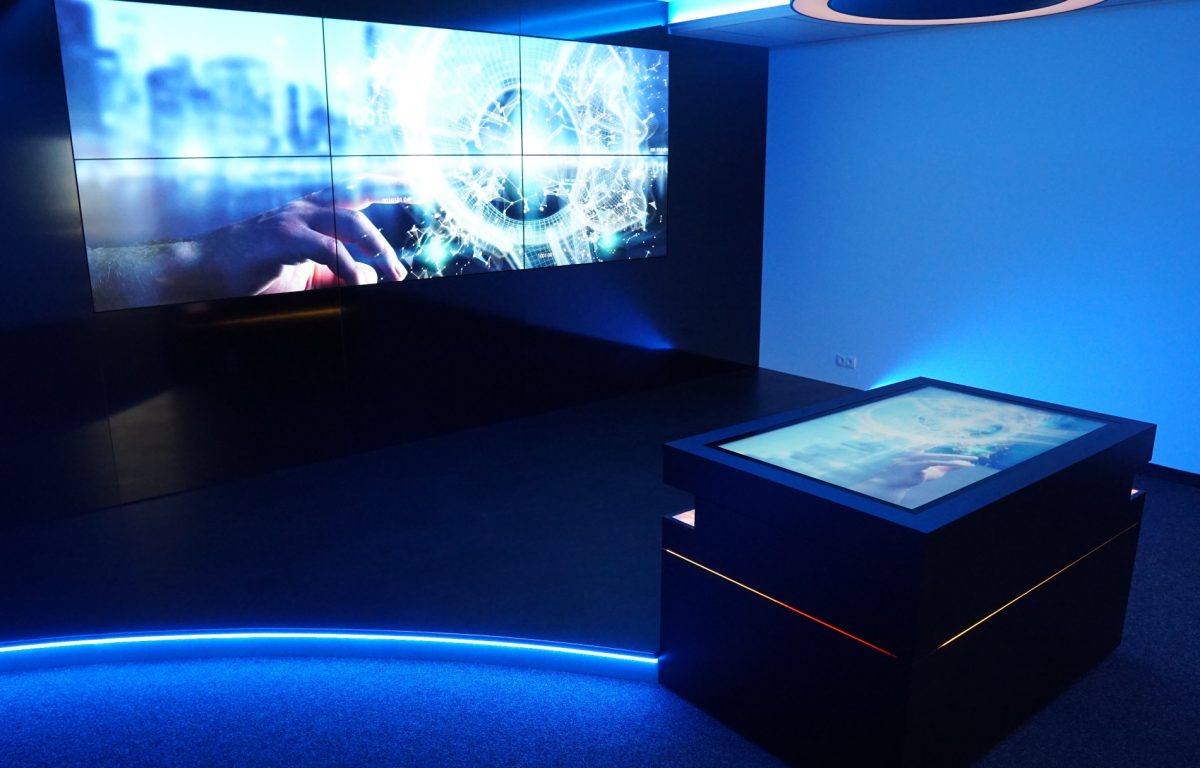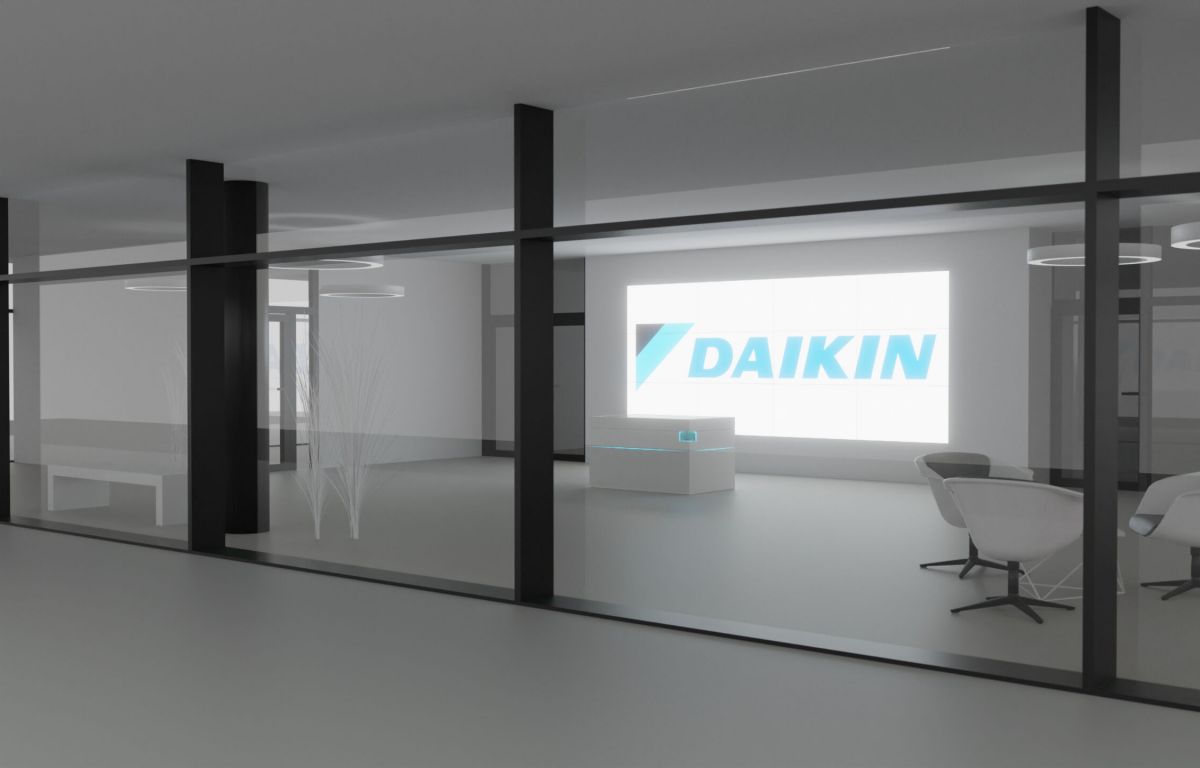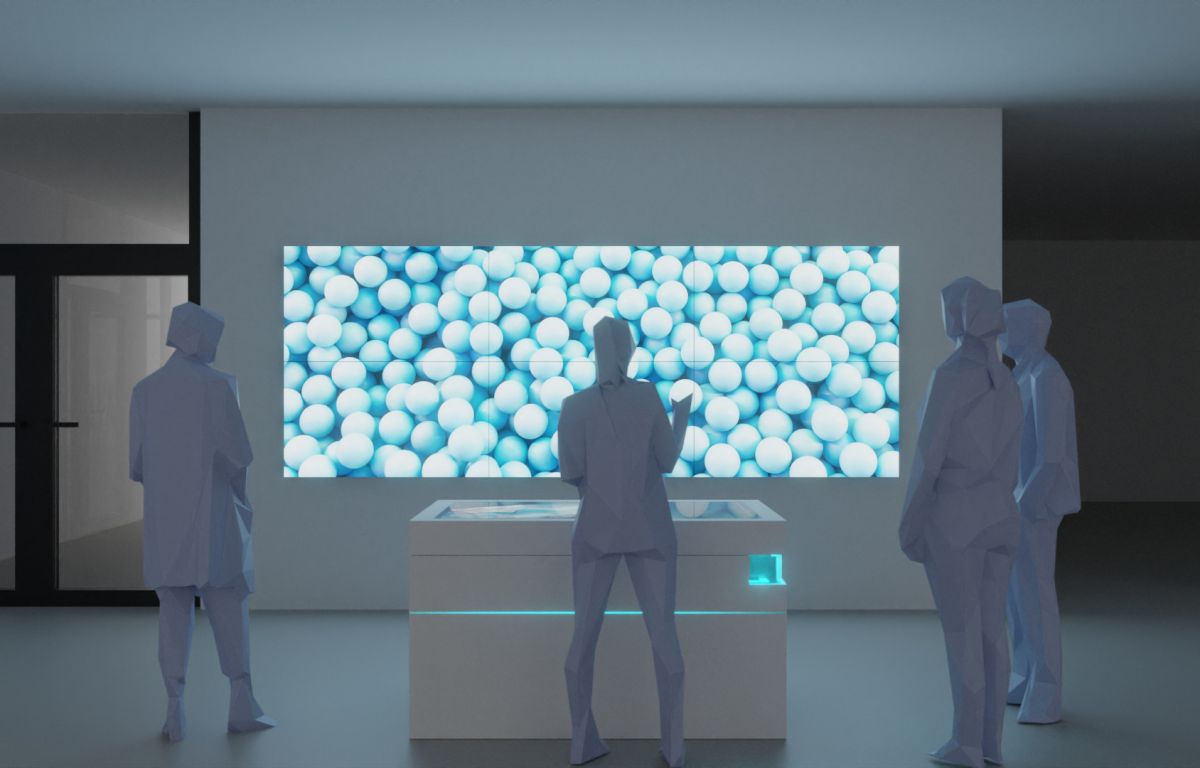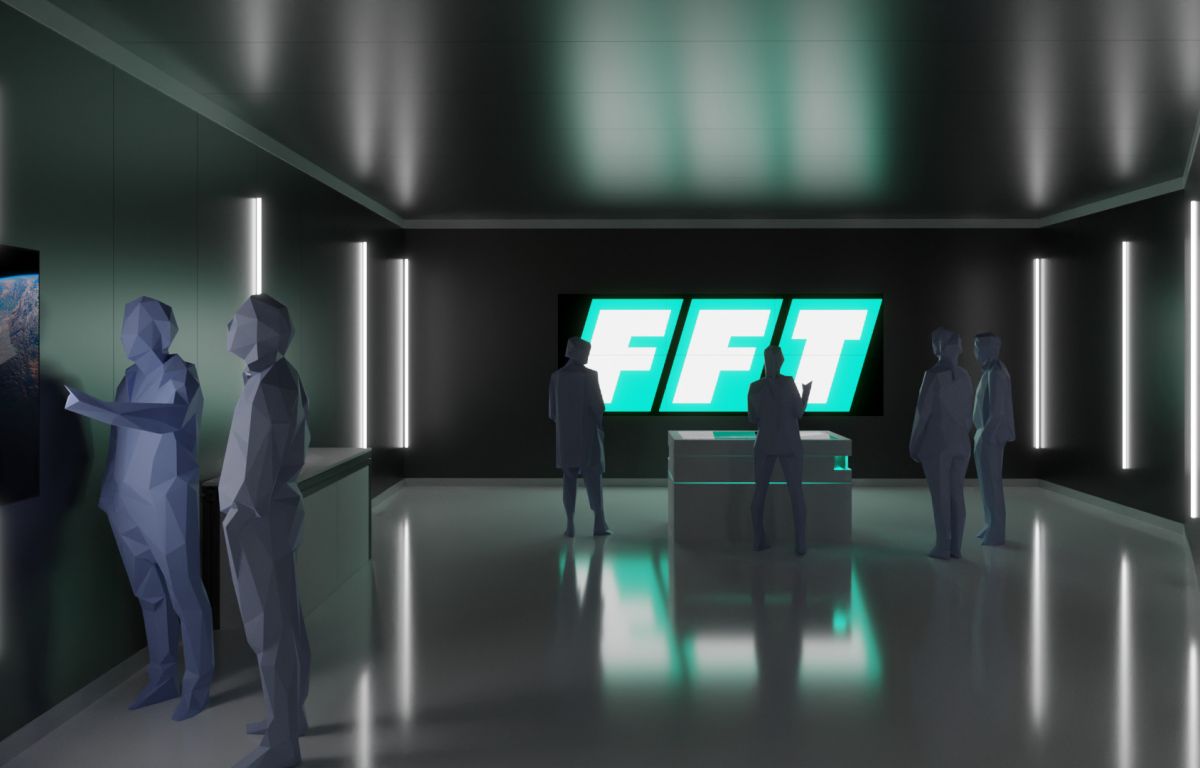 Sustainable
let your potential clients and stakeholders delve into your brand universe, 24/7 and 365 days a year
Profitable
a cleverly designed and well-organized showroom constitutes a profit-generating hub within your company – you can increase lead generation, turnover, and employee satisfaction by means of an interactive exhibition that is fun for everyone concerned.
Safe
adherence to hygiene and social distancing guidelines as well as privacy – you have everything you need to vouchsafe a relaxed experience for your visitors.
Your "Wow!"
is where our standards are set. We only leave you (and your new showroom) to it if and when you are fully satisfied and thrilled. This is why we also do not save on striking effects and impressive interactivity options.
Complete Solution: Interactive Showroom
From How to Wow in Time-Lapse
Brainstorming: during multiple video conferences we discuss your wishes and assess your requirements. Based on that we can then present to you suitable pre-existing existing solutions that can be adapted to your needs. We offer this consultation to you free of charge with no strings attached.
Offer: we work out a detailed offer. The schedule and budget plan listed there on our part is binding.
Conceptualization: we devise and present to you a detailed concept including renderings, technical planning, and basically everything else it takes to launch right into implementation.
Work in progress: pretty early on we can begin with the upload of content to the CMS. We keep you informed on all things concerning the design and software-development. In that you have the possibility to give feedback or intervene at all times, because some of the best ideas always come in travel.
Logistics and installation: we deliver the interactive technology to your premises and install, test, and hand everything over in a way that, from now on, our assistance in any way whatsoever becomes obsolete. Unless you need us for another project, of course.
By that time, "Wow!" is going to be a fixed part of your vocabulary and a term commonly heard in relation to your showroom.
Free advice
Sie interessieren sich für interaktive Technologien oder Multitouch-Lösungen? Wir beraten Sie gerne, kostenlos und unverbindlich. (+49 30 55144669)
In Garamantis we have found the perfect partner for showroom design. They are gifted with a DNA that allows them to convey everything to do with digital showrooms in a customer-effective and positive way. Their designs are vivid and interactive. They create an atmosphere so dense that clients literally submerge themselves in their digital solutions. Whatever they create is characterized by their service oriented approach. At all times, the collaboration with them was dependable and based on mutual trust. In my opinion, Garamantis is THE top partner when it comes to modern showrooms!
With the »Procurement Future« showroom, Garamantis has set new standards in B2B product presentation for Lingemann GmbH. With this multimedia showroom, industrial customers can put their processes to the test using model concepts.
The 75 year history of Lingemann stands for the courage to embrace change. With this vision in mind, we decided to demonstrate our step towards Industry 4.0 to our clientele by using state-of-the art technology. With Garamantis we managed to achieve this goal and already have thrilled one or the other client. Lingemann being a pioneer in the industry, we not only want to convey factual content to our professional clients, we also aim to give them a live impression of how our BOOST. products are going to change their workflows.
Garamantis was a creative and reliable partner for our project. From the idea to the conception to the finalisation – the cooperation was professional, uncomplicated and pragmatic at all times. The multi-touch table is the highlight in our showroom at the company headquarters as well as at various trade fairs. We look forward to further cooperation in the future.
The objective of our project was to make Artificial Intelligence and human-machine communication in the energy sector both accessible and tangible. In order to achieve this, we apply Garamantis' multi-touch technology in our showroom. The collaboration with Garamantis is characterized by their creativity, pragmatism, flexibility and commitment and thus to us has been greatly enjoyable. Even last-minute requests for changes or modifications were duly realized, resulting in a successful and excellent outcome of our project. We are thrilled and looking forward to the future collaboration on further scenarios for our showroom.
Our request for an interactive presentation of our portfolio, ranging from satellite design and engineering to a detailed explanation of the application projects, has been met by Garamantis in the form of a monitor wall in our showroom in Frascati in an optimal fashion. Thanks to the multi-touch presentation software, we are now able to convey our projects and missions to visiting international delegations in the best possible way. We are looking forward to the next projects in cooperation with Garamantis and Ars Electronica.