Interactive brand worlds at the PoS
Innovative ideas for the digital upgrading of sales locations
Stand out from the crowd: interactive solutions for your store or point‑of‑sale
For a stationary local shop to stand its ground as a viable alternative to e‑commerce and online trade and even attract new customers, the exploitation of the full potential digitalization has to offer is highly recommended. Various ways of interactive product presentation give customers a considerably better understanding of a product and its features. Their playful and intuitive occupation with an object of merchandise increases their interest in the product and hence their willingness to buy it, and you want your customer to remember the purchase as an experience of a special kind. The benefits of innovative and interactive product presentation at a PoS are, for instance:
playful and exciting approach to your products

optic and haptic buying incentives

 interactive ways of product presentation and configuration

exceptional equipment for a flagship store
Increase your customers' readiness to purchase: interactive product presentation at your store
Shop window: a customer's first contact with your store is a crucial point. The storefront window hence must arouse a potential buyer's interest enough for him or her not to pass by, but enter instead – or at least linger for a moment to have a closer look. This is exactly what an interactive storefront window can achieve by attracting people's attention from afar and piquing their curiosity.

Merchandise presentation: Items just lying around on the shelves are in themselves not particularly appealing to any potential buyer. Many customers, though, first like to be left alone to browse through the goods on sale and inspect them closer. This is where you can score by offering them comprehensive information on your product: interactive display cases and multi-touch terminals allow them to retrieve descriptive and persuasive product information in a way you yourself can design and optimize, down to the last detail.

Product selection and configuration: It is not very likely that you will be able to keep each and every product in all its possible variations and configurations on stock at all times. You can still make the entire product range available to your customers to browse and playfully explore – and with a higher user involvement and better user experience than in an online store. Shopping walls and "magic mirrors" combine the best of online and offline at your PoS for your clientele.

Shopping experience: When it comes to the innovativeness of a PoS, consumers' demands nowadays by far exceed the mere purchase of goods – the time they spend in your store and the act of dealing with the products on sale itself should hence have all characteristics of a truly extraordinary experience. Enhance the quality of your customers' stay by means of interactive gaming terminals and innovative technologies they will enjoy trying out and exploring!
Full Service: we turn your store into an eyecatcher
Garamantis expands your PoS with specifically selected interactive highlights and develops custom-made prototypes, e. g. for your flagship store. No matter what the details of the project are – we take care of conception, technical planning and implementation. You can rest assured that in the end the software matches your targeted customer group as perfectly as the CMS matches your products and procedures. In the scope of a full-service custom-made solution we are happy to collaborate with any third party of your choice, for instance an agency or a professional shop-outfitter.
Interactive solutions for retail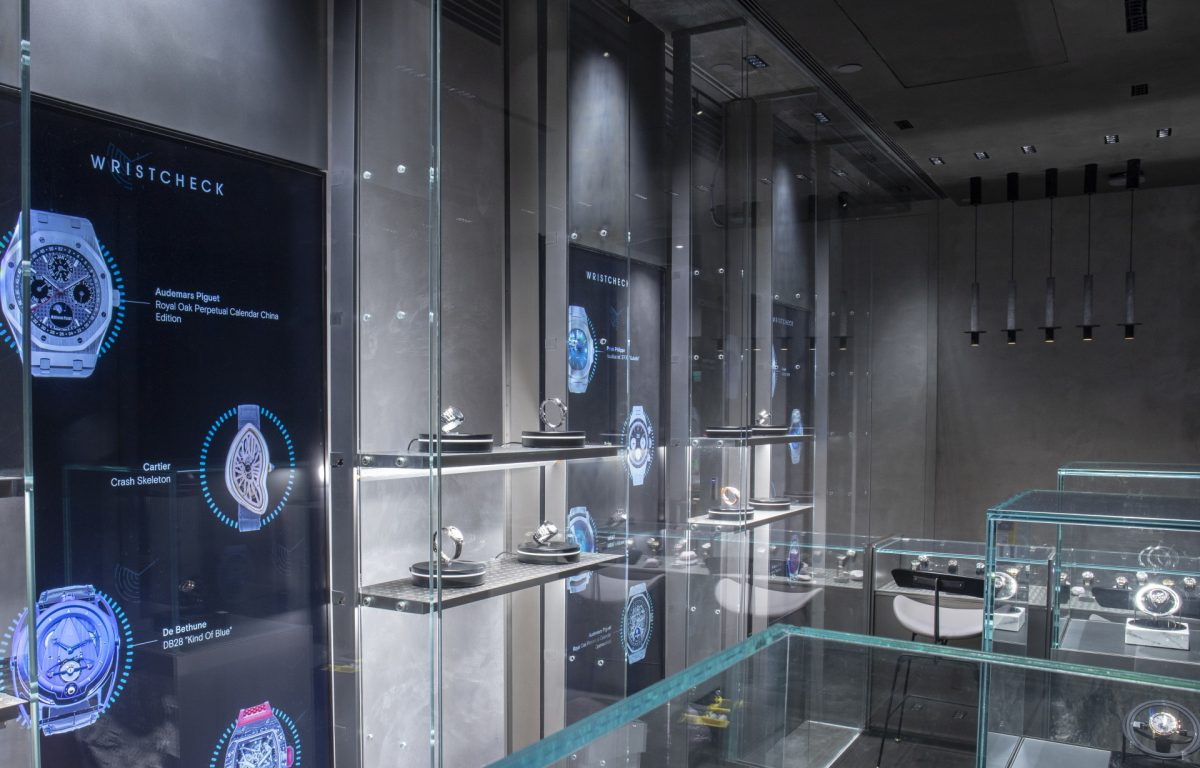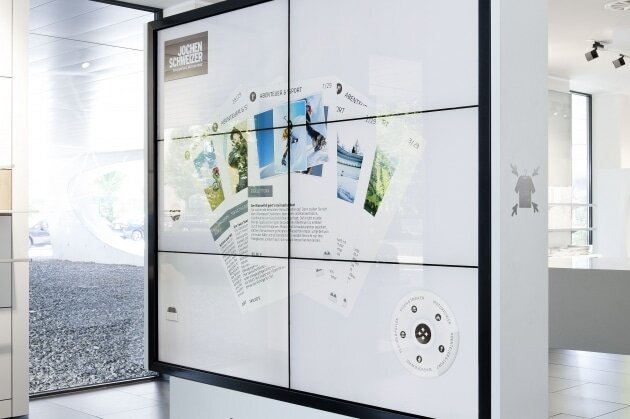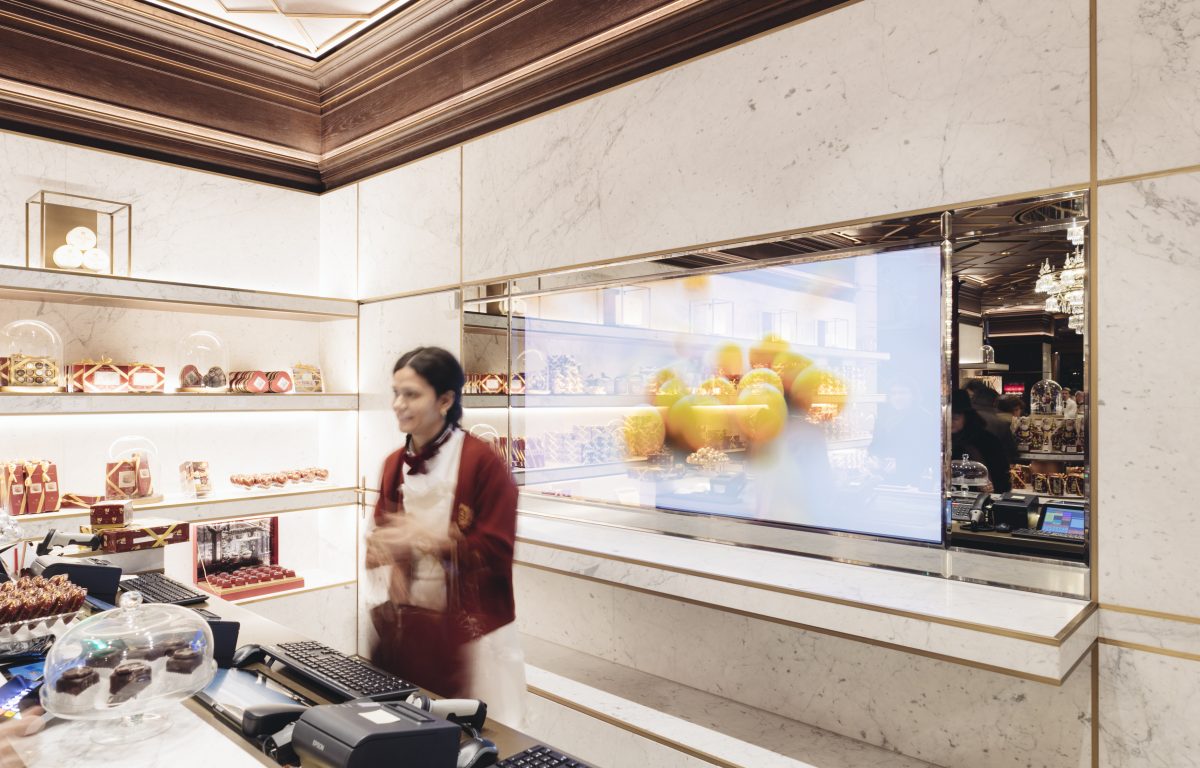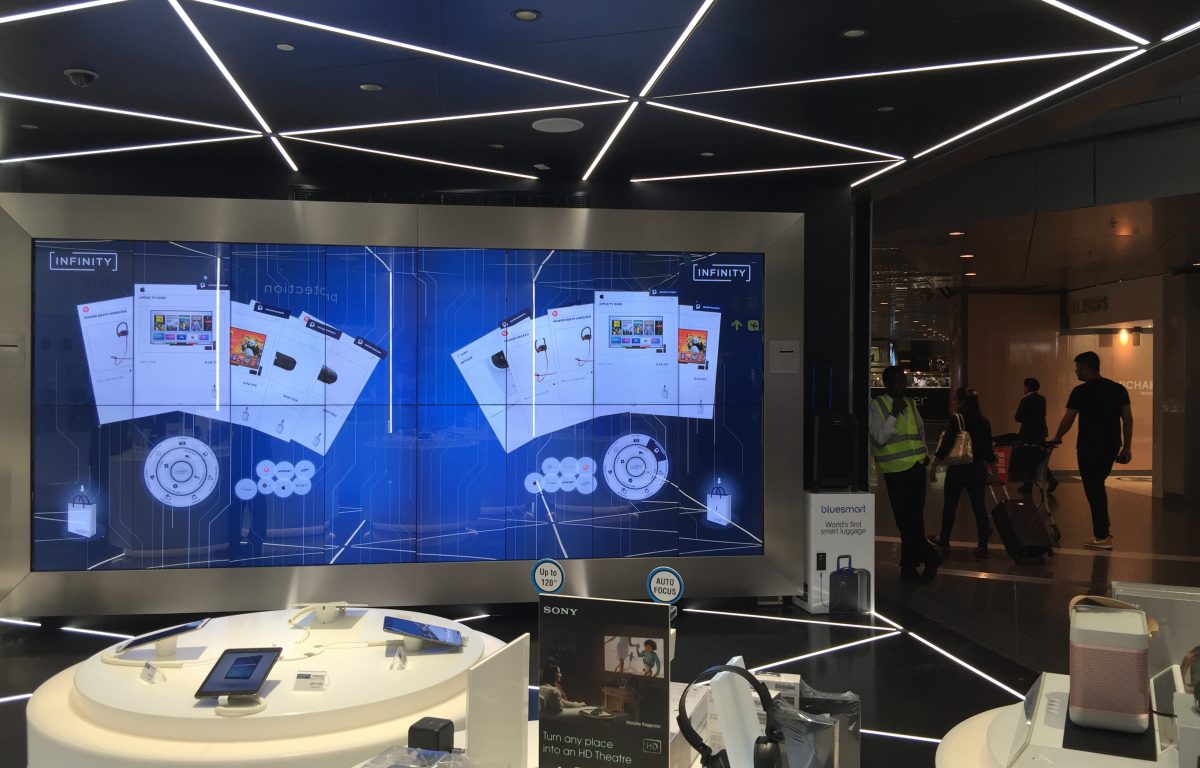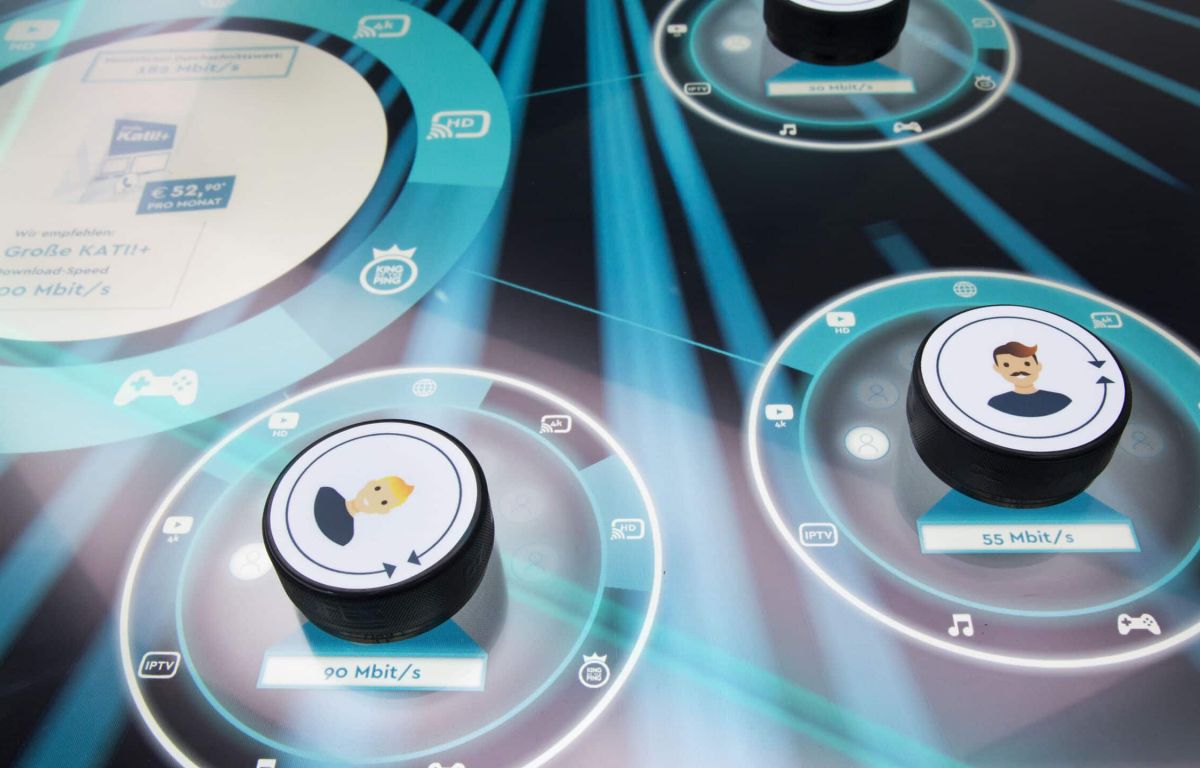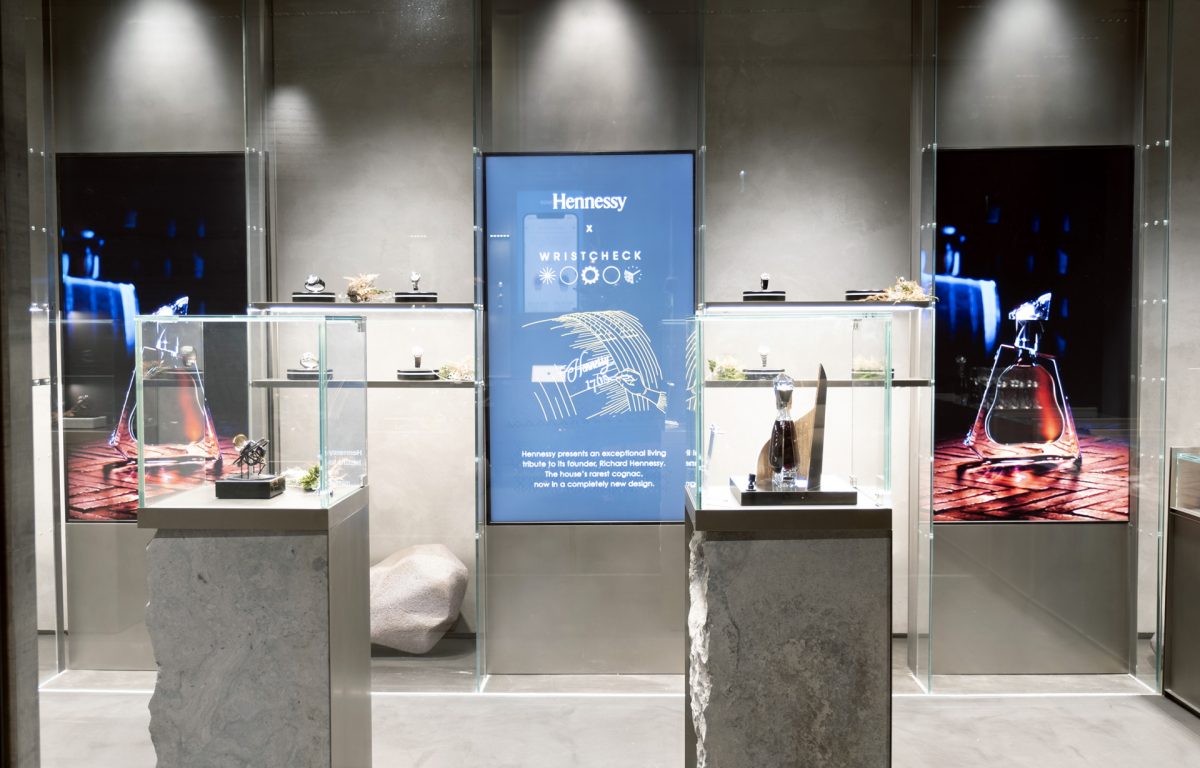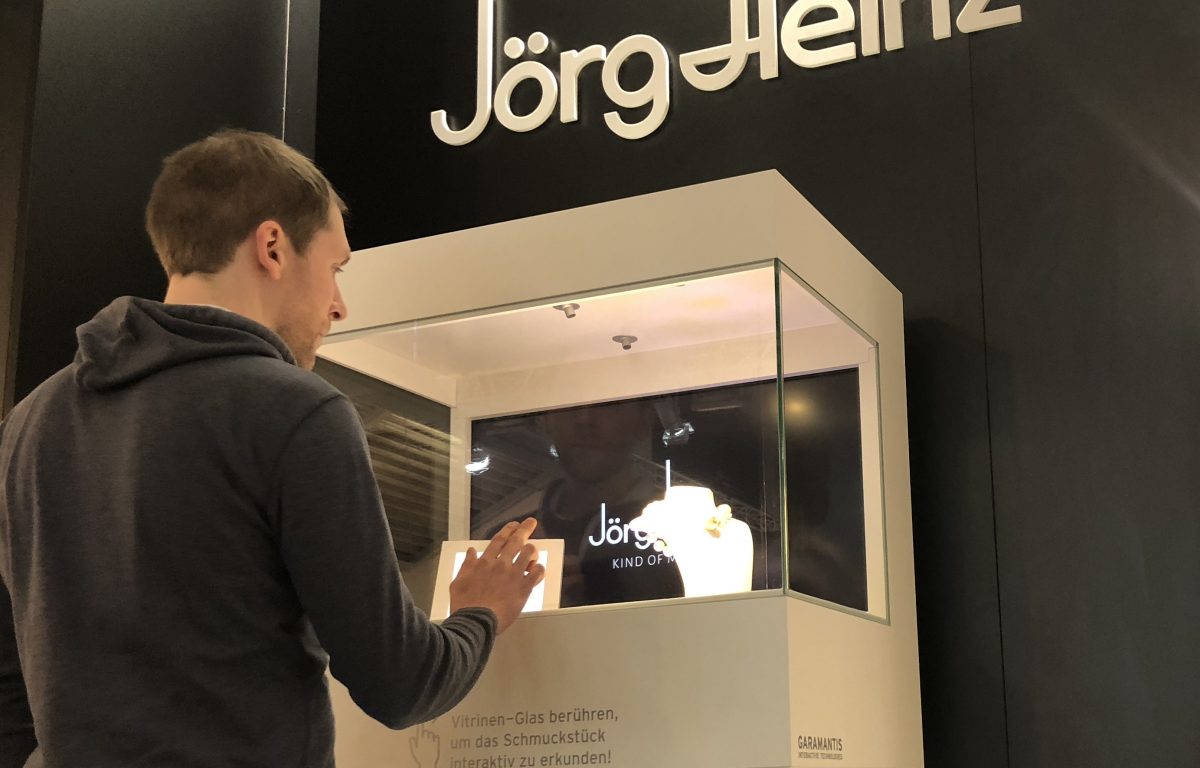 Setting the scene for products and persuading customers – our interactive PoS solutions
Garamantis provides customized solutions with matching tailor-made software for virtually any product, store, or PoS. Here are just a few examples of possible use cases to inspire you and give you an idea of the practical implementation.
Interactive shop window
create attention and tell stories
An interactive window display is activated through the presence of spectators: it reacts to the movements and behavior of potential customers. With the help of laser systems and ToF cameras that cover a pre-defined area in front of the interactive storefront window and are linked to its control unit, the following effects become possible:
mannequins or products set on a turntable turn towards the spectator 

interactive digital signage screens are activated and respond to the customer's movement by displaying animated content 

the digital content displayed in the interactive window adapts itself to the respective viewer's gender, age, and other features
By integrating touch-foils, multi-touch screens or light curtains into the shop-window control, even more interactions from the outside become possible for a potential buyer:
turning, moving and altering the products on display 

interaction through smartphone and social media integration

 24/7 selection, configuration and purchase of products, even outside of business hours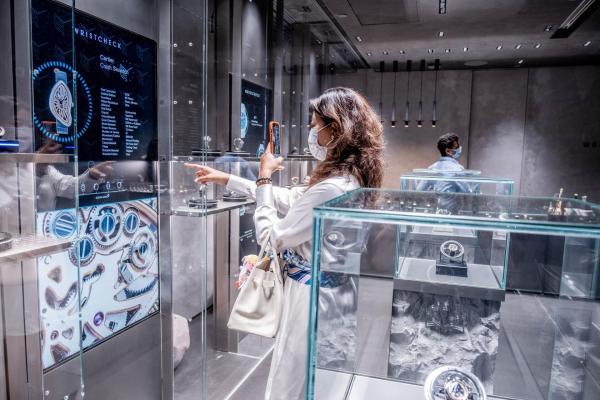 Multitouch Shopping Wall
draws all eyes on you and your products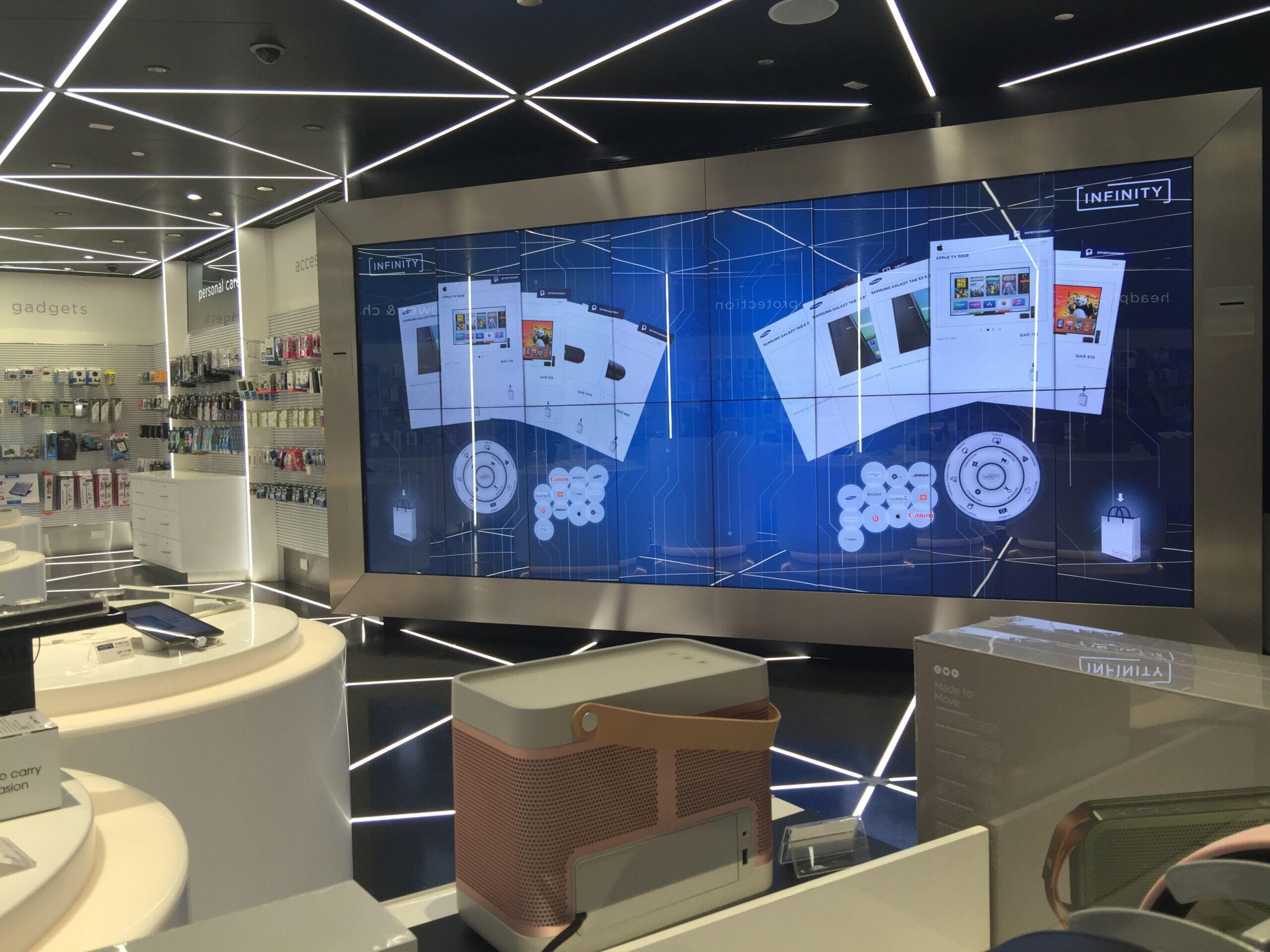 The beneficial effects of a real multi-touch wall with custom-made software for your shop are:
eyecatcher effect even from the outside through size and luminosity

display of product-related animated content and video footage in idle mode

interaction and action for one or more customers at the same time

automatic product recognition (optical or RFID)

self‑service information, configuration and purchase

integration into your online store, inventory management software or employee information system
interactive display case
set the perfect scene for new arrivals
The interactive display case designed by Garamantis allows unique ways of product presentations your customers have never seen before. They can thoroughly familiarize themselves with the object on view even without touching it. They can have a look at it from all sides and every angle, change and configure it by simple touch-gestures on the display-cases clear multi-touch glass while being provided with useful additional information weaved together into a cunningly designed storytelling composition. This interactive cabinet showcases your most important product in an unprecedented, interactive, and fun way.
people sensor attracts potential customer's attention

keeps your product both at the center stage and safe from harm

interactive options via vertical and horizontal swipe gestures and virtual buttons

turntable and dynamic lighting with five spotlights

multilingual, audiovisual product presentation

simple exchange of content through web-based CMS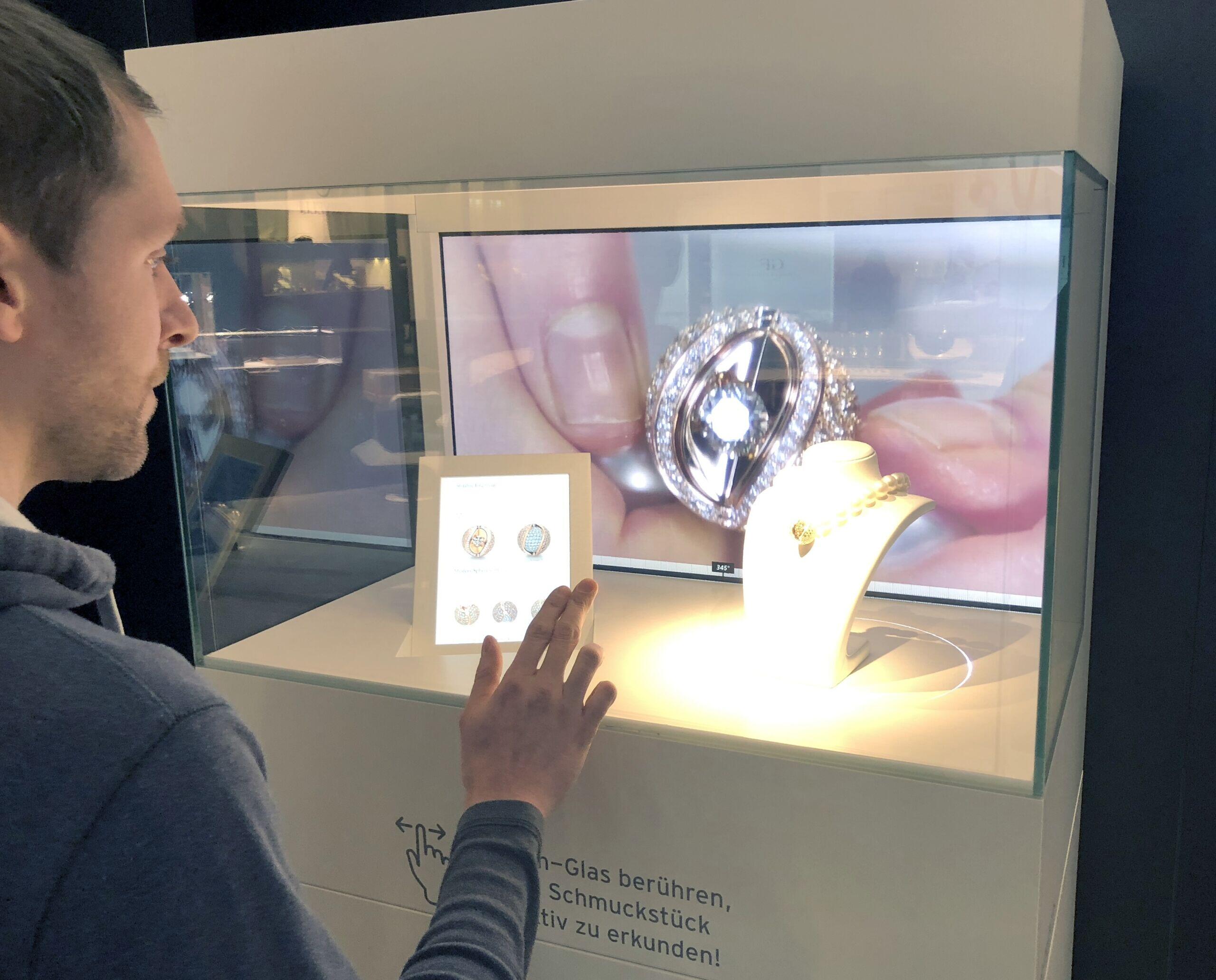 multi-touch table
discovering and customizing products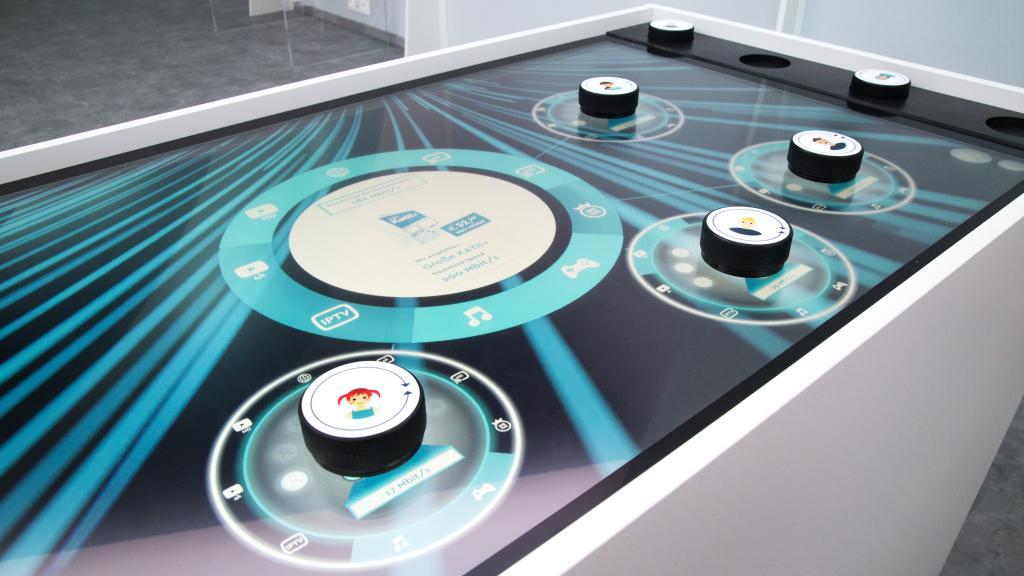 There is virtually no end to the possibilities offered by an interactive counter equipped with multi-touch features and object recognition technologies. A table like this one can provide a potential buyer with every information on every single product, for instance in the form of videos, images, fact sheets, or operating instructions. And what's more, it can autonomously initiate the sales talk, or just keep the waiting customers entertained, and it:
can recognize individual products or other objects, and combine them in a meaningful way

can configure and individualize products

features an integrated shop‑function as well as an interface to external systems

offers autonomous distribution of multimedia information on products

can attract customers with special offers or raffles

provides entertainment and games directly related to your business
Free advice on interactive brand worlds and PoS experiences
Benefit from our experience and be inspired by successful digital store concepts.
We will be happy to advise you individually and without obligation.
Gesture control enables new immersive experiences at the POS and is therefore becoming increasingly popular. The Berlin start-up Garamantis realized a touchless shopping experience on 21m² with laser-based sensor systems. Customers can use gesture control not only to control digital signage systems but also interactive 360-degree turntables.
A conventional vintage showcase usually dictates that the guests cannot touch and interact with the rare and expensive antiques, but with Garamantis' interactive display cabinet, you can have the cake and eat it too. By allowing guests to remotely interact with the vintage camera, guests could learn a lot more about the camera's history, while being able to view it from all angles!
The glass showcase combines multi-touch technology, interactive screens and direct interaction with the exhibited object. Handy: The digital content can be edited by the operator himself.
Product presentation 4.0
At the PoS, the futuristically designed, interactive installations are a crowd puller: they make people curious, arouse the interest of customers and invite them to find out more about an article or an offer. Descriptive products can be presented in an attractive way, for example in an interactive display case. An integration in the shop window enables customers to shop 24 hours a day at the digital POS of the stationary retailer.
"Omnichannel total"
With Garamantis we were lucky to win a professional partner for our Retail Experience Lab. Their technologies and solutions are very innovative and creative, and never cease to thrill our clients. Within no time, together we have developed a concept for the interactive wall. The realization went swiftly, and the ongoing support is extremely service‑ as well as customer‑oriented.
In the LIWEST theme store, Garamantis' multi-touch table is a central element. Garamantis have handled the complex task of finding a way to interactively configure the product best-suited to the individual client's household in an extremely professional way. Besides the air hockey game at the multi-touch table, the entire store is equipped with the Garamantis CMS and hence allows customers the highest flexibility. Due to the tight on-site schedule, everyone worked full-steam; but Garamantis, as usual, always kept a cool head and remained focused. That's the way to enjoy collaboration!
Now the company, launched only in 2014, has revolutionized the concept of a classic presentation display case. The once-passive observer becomes an active user and interacts intuitively through the transparent multi-touch glass with the exhibit.
Building a bridge between tradition and new media while at the same time paying humble reverence to the brand Sacher was a lovely project, which we had the chance to realize together with Garamantis. Garamantis is a reliable partner when it comes to implementing creative solutions for very special requirements, like for instance our diorama installation. The underlying software and CMS are so flexible that within a few minutes, a new animation can be added to any given window in the diorama. In this way, customers can easily configure the diorama's supply with new animations by themselves.
Overall, very remarkable and interesting technologies that can improve the shopping experience considerably. Via already ingrained behavior patterns, like touching or controlling with swipe‑gestures, the customer triggers information on the product or "experiences", but one can also design further product descriptions and explanations in that way. It remains to be hoped that the use of these technologies in the retail industry will increase in the near future.
Mit Multitouch- und interaktiver Technologie das Einkaufserlebnis steigern
References