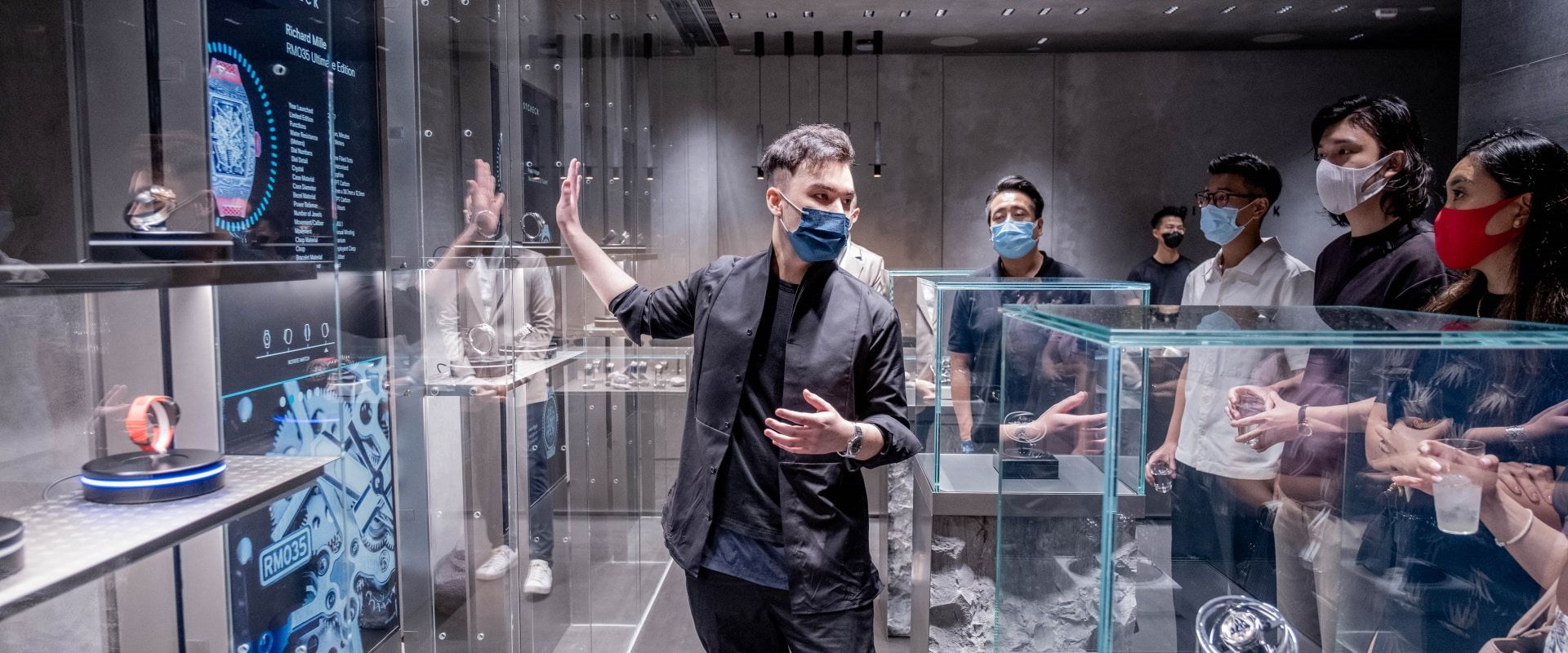 Wristcheck Experience Hong Kong
Next‑Level Shop Window for Watch Enthusiasts and Fans of Interactive Technologies
If anyone knows what the time has come for, it must be the watch collector, founder, entrepreneur, and influencer Austen Chu. Dubbed by the New York Times "The Nerd Who Learned His Stuff", we simply, but proudly refer to him as our client. With his brand Wristcheck he intends to conquer the Asian market for pre-owned luxury wristwatches. And he already is setting new standards in presentation – with a gesture-controlled display window made by Garamantis.
Luxury for Millennials: A Trustworthy Platform for Watch Aficionados
Austen Chu first rose to prominence with his Instagram account horoloupe, which in the end earned him a cooperation with the renowned Swiss watch manufacturer Audemars Piguet. He has since started to pursue his own agenda with his online platform wristcheck.com, where he presents high‑end visual material, exciting background stories and, of course – watches for purchase and sale. With this he provides access to the luxury segment for the next generation of watch collectors and seems to have hit a nerve with it:
In the summer of 2021 Chu opened the Wristcheck Experience in Central Hong Kong. Right in the middle of the famous LANDMARK shopping complex among Louis Vuitton and Tiffany's, a unique in-store experience for the lovers of high-end quality wristwatches is currently emerging. But it is not only watches that are going over the counter there; instead, a space for the exchange of knowledge and trivia within the community and for enjoyment and relaxation is created.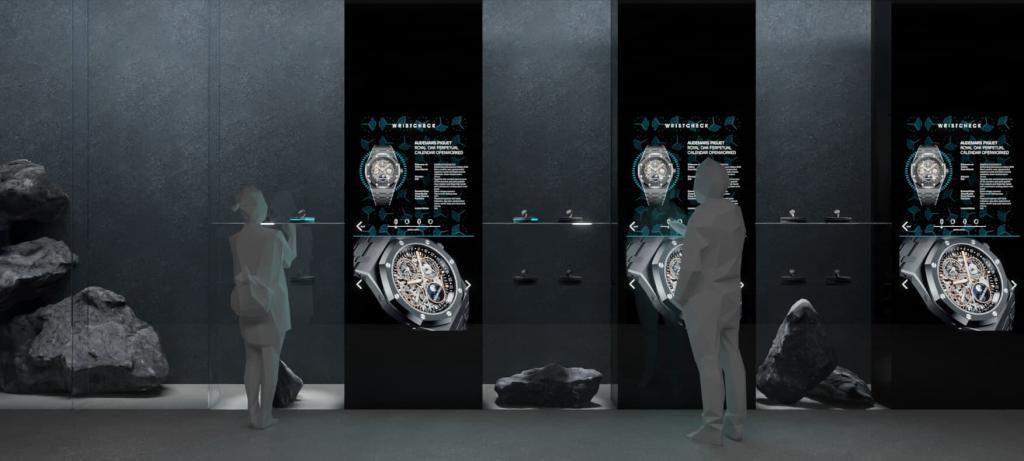 It Is About Time for Innovation: Touch‑Gesture Exploration of Luxury Timepieces
The central element of the Wristcheck Experience consists in a 7 m (23 ft) wide and 3 m (10 ft) tall interactive display window designed by Hong Kong's very own architects and interior designers Studio MLKK. Framed by rough natural stone arrangements and three interactive screens, this display case's experiential space presents up to 12 watches on interactively responsive turntables. Those can be activated individually through touchless gestures just in front of the window's glass panel and the watches thus can be rotated freely by 360 degrees. An atmospheric lighting concept and additional screens positioned next to the exhibits present these coveted timepieces in detail, which makes it conceivably easy for customers and store consultants alike to delve into the watches' unique intricacies.
Garamantis's Contribution: A Shop Window Which Has Long Since Outpaced Its Pedestrian Description
Conception and realization of all interactive elements come straight from our Garamantis Lab. Gesture control throughout the entire glass surface is achieved by means of LIDAR systems. Those are lasers rotating extremely fast and, in the process, detecting the tiniest of movements in their surroundings. The interactive turntables are controlled through MQTT, a network protocol designed for IoT machine-to-machine communication. This may sound very dull and technical at first but is nothing of that sort – on the contrary, it facilitates immediate and smooth rotation and LED highlighting of the watches currently activated.
Software and CMS by Garamantis enable easy and effortless exchange, recombination, and rearrangement of the watches and all other elements on display in the window. Both display-case control and content of the digital screens can easily be updated via the backend's web interface. Through this CMS, the position of each turntable, and which area in front of the glass panel is LIDAR-scanned accordingly, can be defined. This high extent of interactivity and flexibility turns the traditional storefront window intended merely to be looked at into a state-of the-art display to be marveled at.
Innovation Starts With Finding Novel Ways in Development and Implementation: A Trip to Hong Kong via TeamViewer
As Covid-19-related travel restrictions precluded entry to Hong Kong for non-citizens, also the on-site installation of the technical components was a first. We shipped the pre-configured hardware to Hong Kong, where the architects from XLMS trouble-free installed and integrated it according to our detailed documentation manual. Remote access, as well as an identical test setup in our Berlin Lab, allowed us to optimally accompany and support the rollout process.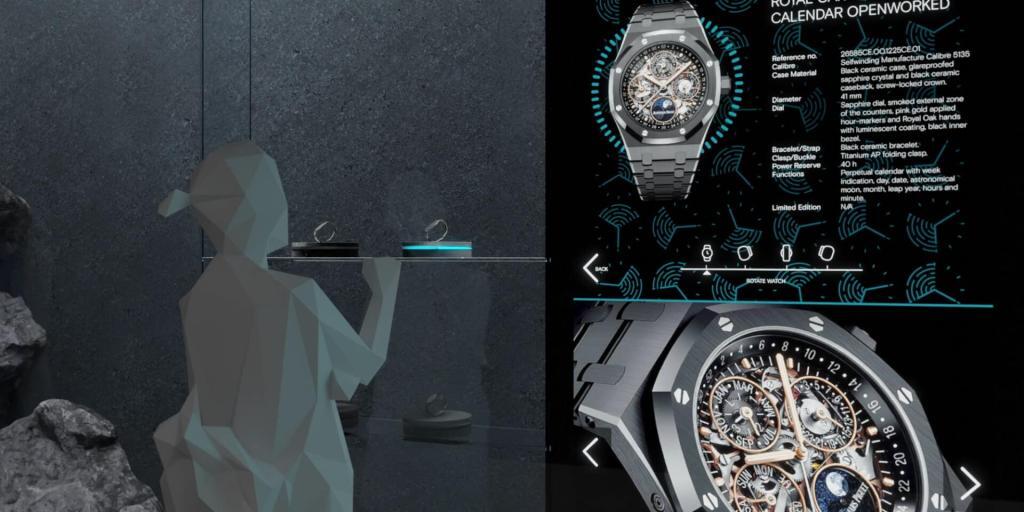 All's Well That Ends Well – Except Now You Want to Have Your Own Showroom, Too?
Together we can create outstanding experiential spaces also for your clients and customers.
There is no off‑the-rack "one-size-fits‑all" showroom solution – what the ideal showroom looks like is different for every company or organization. We join forces with you in finding out how best to thrill, inspire, and excite your target audience(s). Make an appointment now for a non-binding consultation with our showroom experts and let yourselves be inspired.
concept renderings: Garamantis; photos: Wristcheck; video editing, post-production and motion design by mindconsole Berlin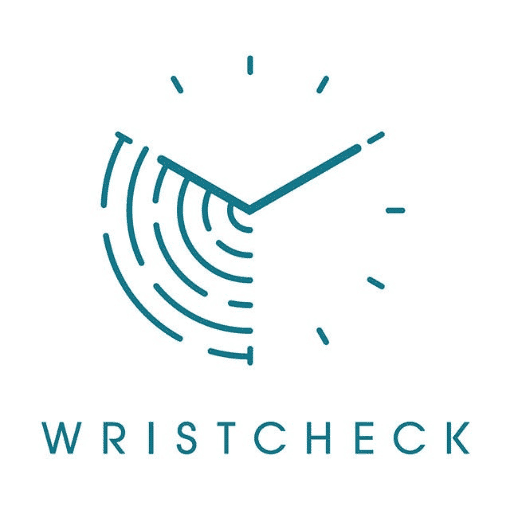 Wristcheck
Project facts
Client: Wristcheck Exchange Limited
Context: Wristcheck Experience Hongkong
Implementation time: 12 weeks
Finishing date: September 2021
Interactive shop window at the POS
Touchless control on entire glass surface
3 interactive screens
12 interactive turntables for product presentation
web-based CMS for content and control