Corporate Showroom
Present companies innovatively, design showrooms interactively
Present your business innovatively, future-oriented and multi-media enhanced
Impress your company's visitors, clients, and investors with a unique interactive installation. Multi-touch tables and other interactive elements offer countless possibilities of optimizing your business's  image cultivation.
One of the crucial points of contact between a potential client and a company consists in the personal on-site meeting – the first impression often has an impact on the entire business relationship to follow. Your products or services as well as your company as a whole should hence be presented in a way that is both straightforward and innovative at the same time.
Trust the experienced experts at Garamantis with your interactive showroom project or your corporate exhibition – we realize your project with the help of cutting-edge technology guaranteed to "wow" your visitors.
Brand world, showroom or corporate exhibition – customized solutions for your target groups
An increasing number of brands create for themselves their own spaces where they can be experienced authentically and become tangible – there is a steady trend towards corporate museums, brand worlds and showrooms. Garamantis specializes in accompanying projects like these, starting out from the first tiny idea and only ending after their  final completion. For example:
You want to create an interactive showroom at company headquarters, which not only presents the range of the product portfolio in an innovative way but also manages to surprise and fascinate visitors.

You want your next staff event to be participative and integrative. At the same time, the latest technology should be used in order to widen your employee's horizon and open their minds to new ideas.

You are looking for a gripping and lifelike way to present your company's history, without even the slightest semblance of museum tedium. What you need are interactive stations and exhibits that bring your brand and its history to life.
Full Service: realization of customized solutions for your company
In the past ten years our staff members have equipped and accompanied a multitude of interactive projects in widely varying sizes. Starting from the lease of a multi-touch table for an event up to the realization of a full-blown corporate exhibition, we meet the client's individual requirements and maximize the desired effects. We stay at your side from the planning phase of a project until  its completion and implementation, in whatever way you want and need. In a full-service project, we are happy to take care of everything.
The implementation period for small-sized installations like a multi-touch scanner table is about eight weeks – larger projects with many parties/people involved take longer, depending on their size. In any case, we adapt to your requirements and work proactively towards opening day.
Brainstorming: Benefit from our expertise and experience and let yourselves be inspired – our non-binding offer covers all details, including a schedule with milestones.

Conception, design and planning: We develop and refine your initial idea until it is ready for realization, identifying and avoiding any potential pitfalls at an early stage in the process. This is the sound basis for a swift and speedy implementation.

Software development, preparation of content, realization: We merge concept, software and hardware into an integrated interactive installation. Constant feedback loops keep you in control and give you the opportunity to intervene at any point.

Rollout and implementation/integration: We install and test all components on-site at your premises, and we're only satisfied if you are thrilled!
Conveying corporate values, making brands tangible, sharing visions: convince others by means of interactive installations and digital media
Don't spend a lot of time explaining in theory what your company has to offer, let your business partners and clients experience it for themselves instead – with an innovative installation tailored exactly to your business. Present yourselves as a modern company that lives and breathes the digital transformation – for instance at roadshows, company anniversaries, and staff events.
Consistent with the respective target group and occasion, we take up your topic and your message and mould it into a customized interactive installation. We love new ideas and challenges as much as we love sharing our practical expertise with you.
Interactive theme world: diving into a company's history through the multi-touch table
A multi-touch table with individualized software offers virtually endless ways of supporting your objectives. For instance, a multi-touch table designed by Garamantis facilitates:
insights into your product's manufacturing process as well as its specific properties by means of high‑resolution videos, 3D models and interactive storytelling

an immediate experience of corporate history, e.g. on company anniversary festivities – with an interactive timeline, staff member profiles and digitized documents

reduction of the degree of complexity of a service or product – by way of infographics, network graphics, and explanatory animations

control of an entire showroom including lighting and sound control and activation of additional exhibits via touch-surface

new interactive options via motion or gesture control and voice control

object recognition of product and material samples (for instance by means of capacitive or  optical sensors and RFID technology)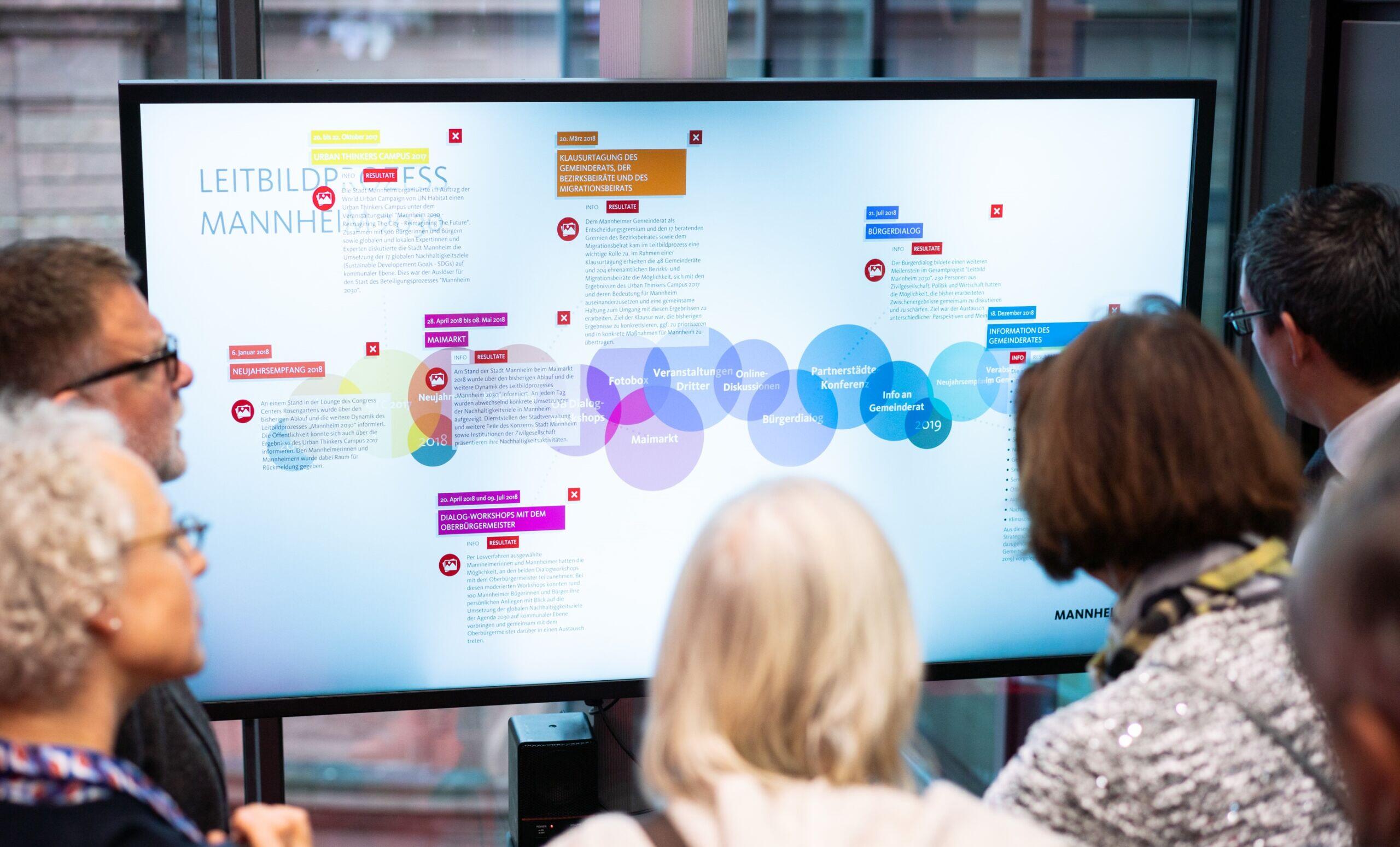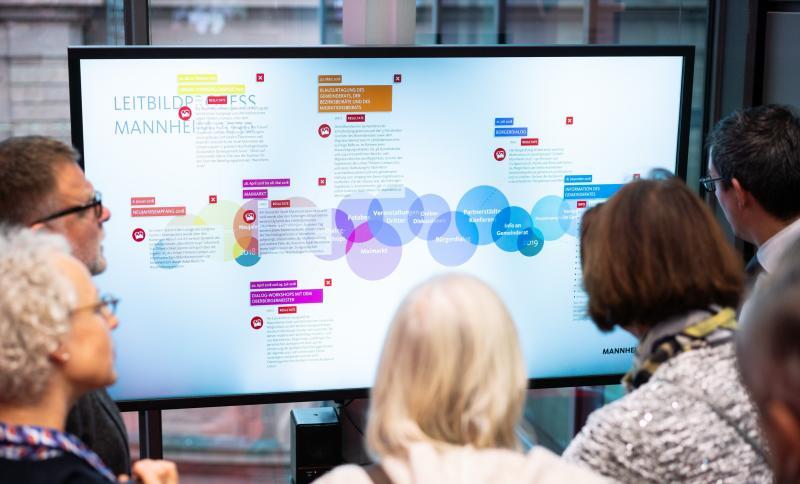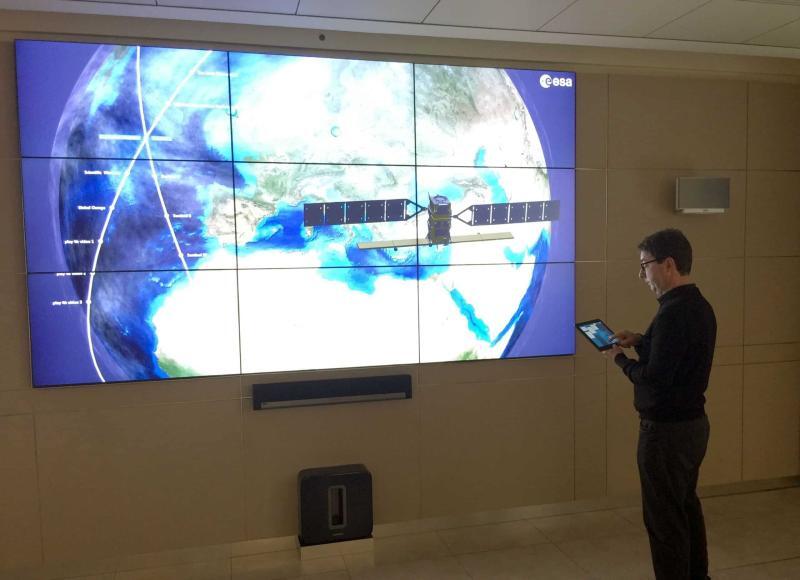 Perfect for presentations meant to address visitor groups and investors – the multi-touch wall
One of the key functions of every company showroom consists in a convincing guided presentation of content to the respective audience. You should, however, make sure not to bore your guests with a PowerPoint presentation on a TV monitor, but rather look for ways to already thrill them with the form of presentation itself. You can control a multi-touch wall integrated into your showroom not only via touch-gestures or a connected laptop computer, but also from a distance via tablet pc or smartphone. In showing your content, you're not restricted to a fixed sequence of slides, but instead you can activate or deactivate any content at exactly the right moment, and the content is interactive. The multi-touch wall's extremely high definition and luminosity highlights the virtues of your products and services in an appropriate fashion.
Active, not passive: have a multi-touch display case present your new product
The multi-touch display case is a true worldwide novelty in the field of interactive product presentation and is ideally suited for showrooms. With touch-gestures on the case's clear glass surface, the user can control and move the object on display from the outside,  and in doing so experiences multimedia interactive storytelling. All we need in order to take care of your product's optimal digital presentation that's guaranteed to amaze your customers is some information on the item itself.
The multi-touch display case is not only suitable for the presentation of commercial goods, but also for:
models and miniatures

– the objects are spotlighted and digitally magnified on additional monitors

location of corporate branches and/or projects

– the locations can be marked on a revolving globe, and additional information on the respective countries is shown on extra screens

awards and prizes

– they are kept safe inside the display case, where multimedia features highlight the item appropriately and provide further explanations

business processes and services

– they can be illustrated and clarified sequentially by means of the display case, with the user himself setting the pace and the order of information.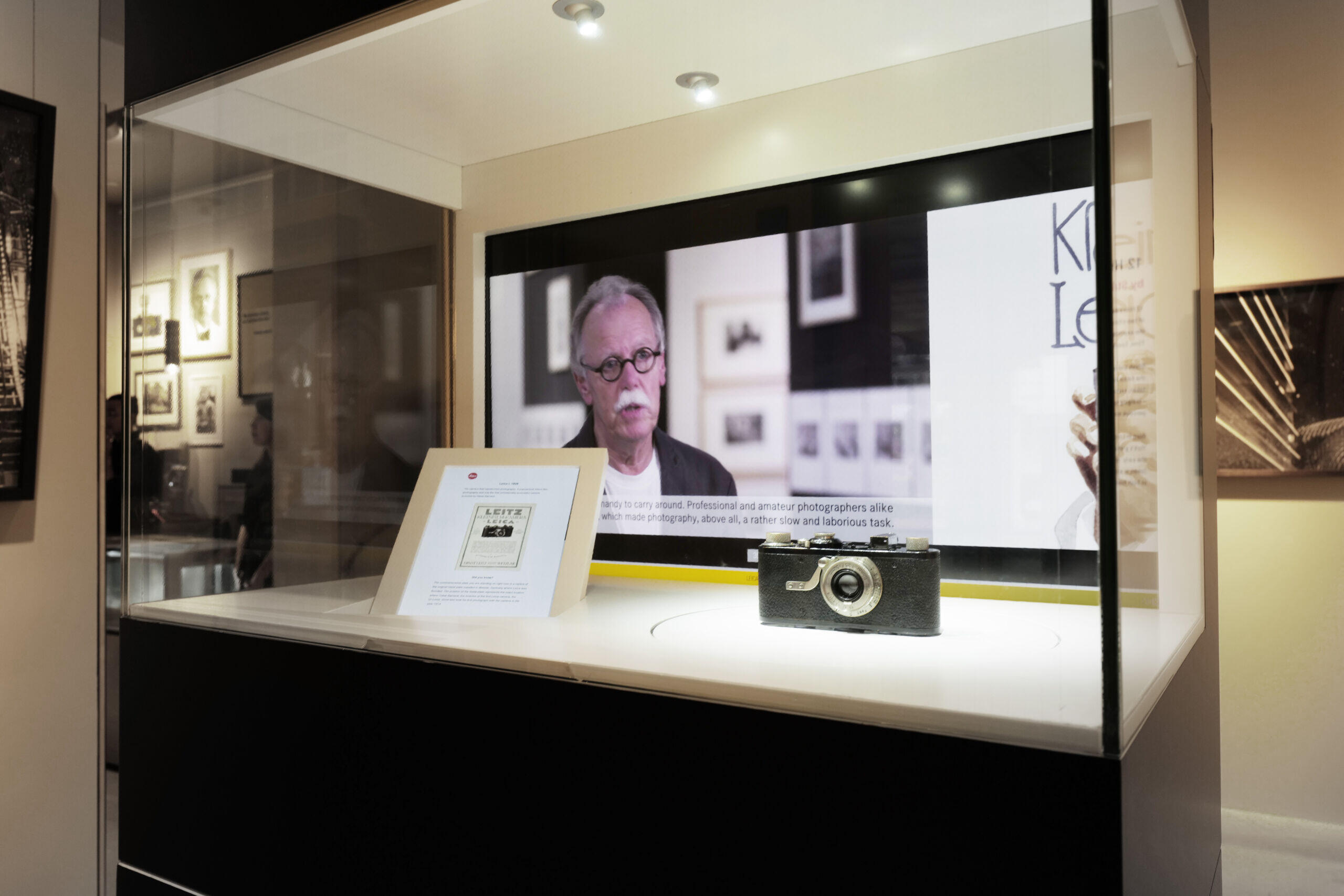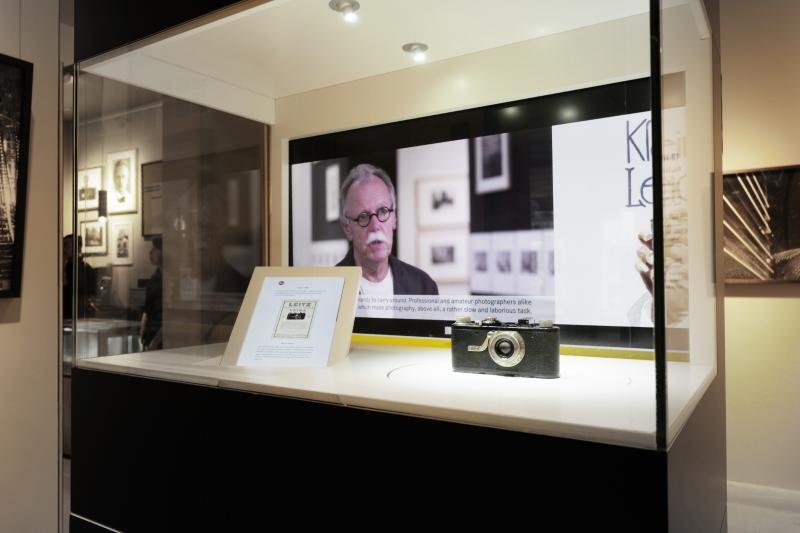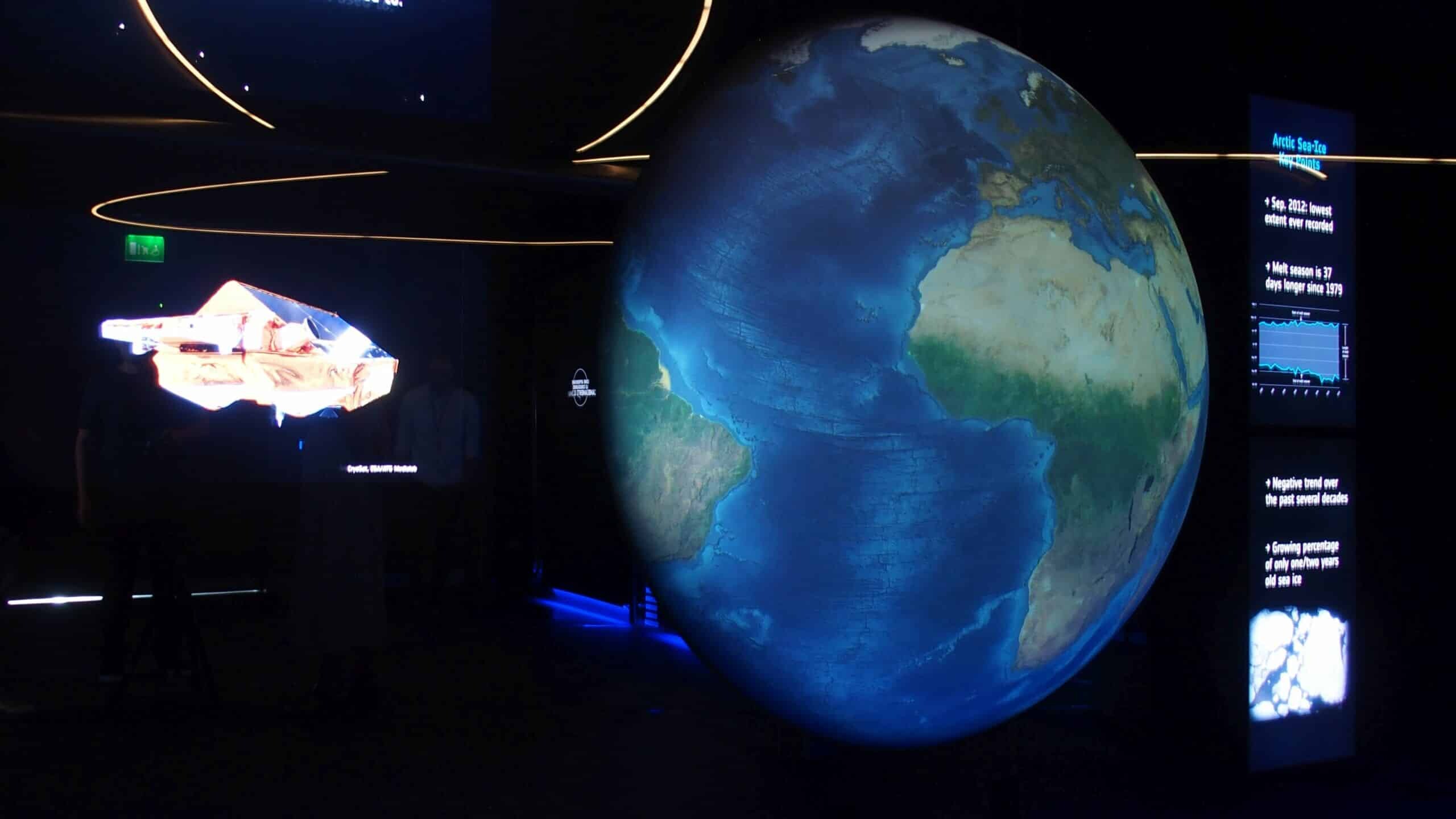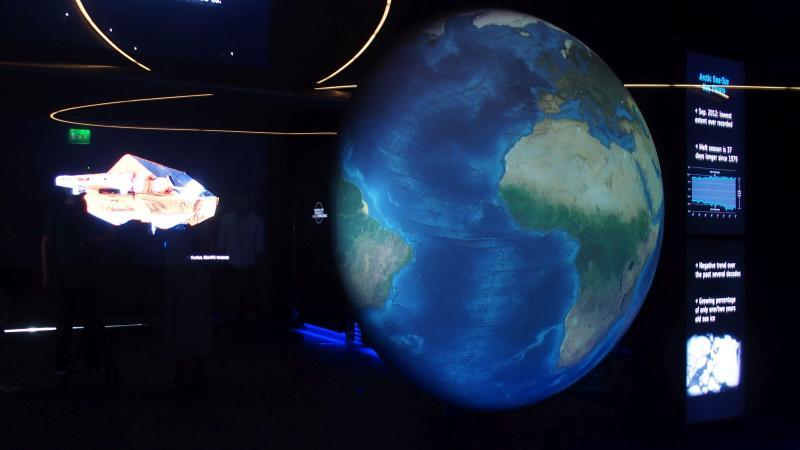 An exciting new world of digital and analog work: underlining business activities and USPs with the help of an interactive projection
What is your business about, and what are the key benefits and advantages for your clients? Get to the heart of your USPs with an impressive large-scale interactive projection that combines analog print material and a custom-fit installation with multi-touch features. Upon touch, the interactive wall tells a matching multimedia story and interacts with its users. It not only convinces by means of the content it shows, but also surprises with the"magical" interactive capabilities of a seemingly solid wall.
Discover VR's new possibilities for your business: planning and inspecting new premises by means of Virtual Reality
Virtual Reality offers a maximum of intensity for the human senses. Your customers immerse themselves completely in the virtual environment, and the slightest movement of their heads or a shift in focus is immediately fed back realistically to the optic nerve. Thanks to wireless VR headsets, visitors can move around freely and use their hands to pick up virtual objects. In short: you as a company are fully in control of the design of your potential clients' surroundings and the way they perceive them. For example, in a VR you can demonstrate your machines or business projects, or you can let clients configure, assemble, inspect and test your products interactively.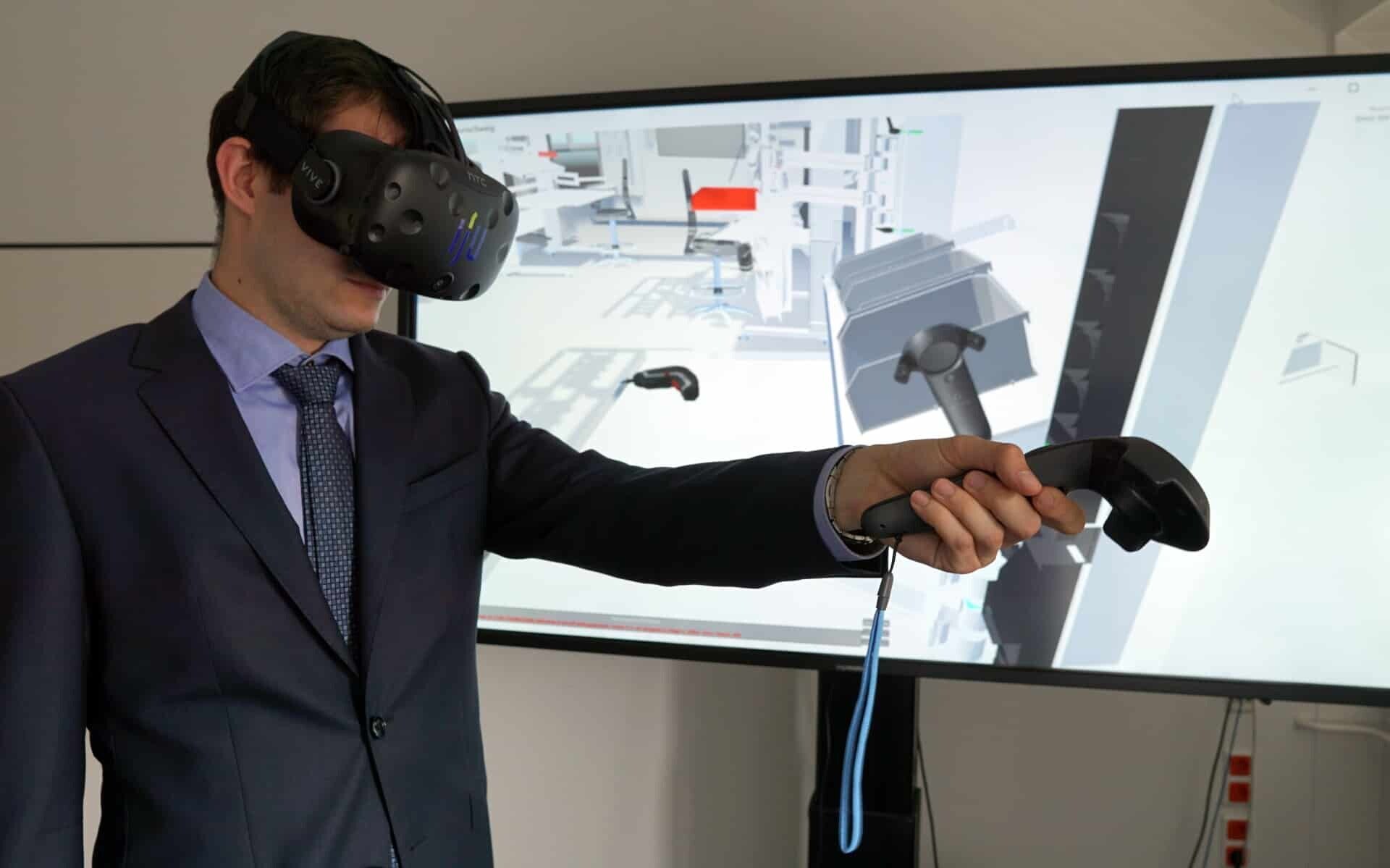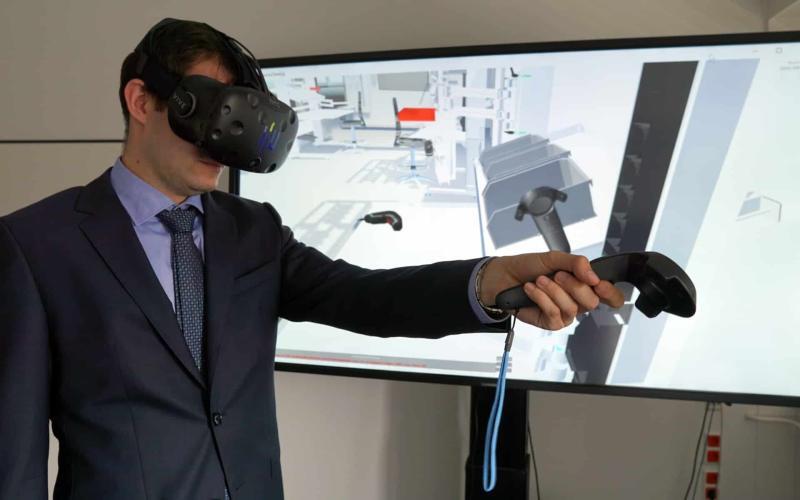 Free consultation on interactive corporate showrooms
Benefit from our experience and be inspired by successful showroom concepts.
We will be happy to advise you individually and without obligation.
The centerpiece of the showroom is a Garamantis multitouch table networked with a screenwall and Lingemann's IoT solutions. Thanks to an integrated people sensor, the table enters into a dialog with visitors and presents the current product portfolio.

Time for a new spin! Rotating multi-touch screens together with augmented reality offer an immersive communication experience, for example for the real estate industry, trade fairs and events.
The 360 degree application of Garamantis offers an impressive insight into our building project and invites visitors to digitally explore the EUREF-Campus Dusseldorf. Whether potential tenants, project participants or interested parties, the intuitive touch screen operation enables an individual virtual tour, where background information can be called up if required. The innovative rotating screen is ideally suited as a presentation medium for a future project such as the EUREF-Campus Dusseldorf.
From the initial idea, to the development of a concept, to the realization of customer installations, Garamantis is a reliable partner with whom Ars Electronica Solutions always enjoys working together. If creativity, professional competence and charm come together, the positive result is already preprogrammed!
"150 years make a good start!" This was the motto of the year to celebrate our bank's 150thanniversary. For us as a modern real estate bank right in the middle of a digital transformation process, Garamantis have developed an interactive application that managed to depict our history, to visualize changes taking place in the world of work in a playful way, to venture a look into the future, and to provide a digital guest book at the same time. All of that rolled into one in the form of a multi-touch table which was designed according to our specifications and demands. Its roll-out during our jubilee celebration was a huge success and a real eyecatcher for all our guests. A big Thank You to everyone at Garamantis for their great ideas and the perfect and relaxed implementation!
The ESA Φ Experience has been a top-level project we had the chance to put into collaborative action. Particularly important in this context was a mutual pre‑testing of all the target hardware's applications in an interim review together with the client. For keeping the schedule, Garamantis' input was of the utmost importance. During the on-site implementation, Garamantis always lent a sympathetic ear to any requests for modifications and were constantly by our side with advice and support. The outcome achieved by this amazing project team who mastered even the most difficult situations sure doesn't have to hide!
Working with the Garamantis team was both inspiring and constructive. The team was very competent and always had the right solution to my many questions and requirements. The whole package has absolutely convinced me!
The objective of our project was to make Artificial Intelligence and human-machine communication in the energy sector both accessible and tangible. In order to achieve this, we apply Garamantis' multi-touch technology in our showroom. The collaboration with Garamantis is characterized by their creativity, pragmatism, flexibility and commitment and thus to us has been greatly enjoyable. Even last-minute requests for changes or modifications were duly realized, resulting in a successful and excellent outcome of our project. We are thrilled and looking forward to the future collaboration on further scenarios for our showroom.
Relevant, individual, diverse – behind the interactive newsroom lies the technology of Landau Media. Through their media monitoring customers have access to all German-language newspapers, magazines, TV channels, social media channels, RSS newsfeeds and radio stations – just to name a few sources. Using predefined keywords, an algorithm filters out the relevant content for each customer.
Interaktiver Newsroom: So wird aus der Informationsflut relevanter Content für dein Unternehmen
A newsroom used in corporate communication needs applications for crossmedial visualization of content and news streams and for planning and producing new content, while ensuring a 360 degree view on all the different media channels. With their professional multi-touch technologies, Garamantis have created the perfect implementation of all those requirements for our customers. For each and every user in the field of corporate communication and marketing, Garamantis develops the exactly fitted interactive newsroom solution – ranging from entry-level to high-end and flexible as well as modular. We're thrilled!
References