Showroom
We plan, design and realise your interactive corporate showroom
Your Innovative and Immersive Product and Brand Universe
Imagine being able to share your enthusiasm for your business at the touch of a button. Imagine being able to convince your target audience of your products and services with all their senses. Now imagine an empty room and fill it with everything you think you need to do just that. You probably already know where we're going with this: the global trend towards interactive corporate exhibitions, showrooms and immersive brand universes continues unabated.
But it takes more than four walls to create a showroom, and the design, planning and implementation can be more challenging than expected. Unless, of course, you are already an expert in the field because it is part of your daily business – in which case, welcome to Garamantis!
Our Daily Business – Showroom design example:
Interactive showroom or corporate exhibition – we specialise in full-service excitement
From on-site interactive product displays to innovative presentations of your company's history, we have over a decade of experience in conceiving, designing and implementing bespoke showroom solutions for audiences of all shapes and sizes. Preferably – because it is most efficient – from start to finish:
Provisional, non-binding rough concept: Benefit from our experience and contact us for free inspiration and advice. We will provide you with a detailed quotation, including a time schedule, a rough concept of the interactive stations and, of course, a cost estimate.

Detailed concept, design and planning: We give your ideas a solid foundation. This includes a detailed needs analysis, as well as the definition of target audiences, objectives and hardware. We work with everyone involved in the project to develop a concept for the content, design and technical features that will help you avoid potential pitfalls at an early stage. From there, we create a project plan that you can really rely on.

Software design, content adaptation, implementation: We fuse concept, software and hardware into an integrated interactive exhibition. Regular feedback loops allow you to intervene at any stage of the process. The implementation phase for smaller installations – such as a multi-touch scanner table with monitor wall – typically takes 8 to 12 weeks, while larger showroom projects involving many people take longer. Either way, we adapt to your requirements and work autonomously and expeditiously towards the grand opening day.

Rollout / Integration: We install and test everything on site and we are not completely satisfied until you are absolutely delighted! To ensure you get the most out of your showroom and all its interactive components, we provide not only a customised Content Management System (CMS), but also training, technical support and maintenance.
Corporate showroom design - examples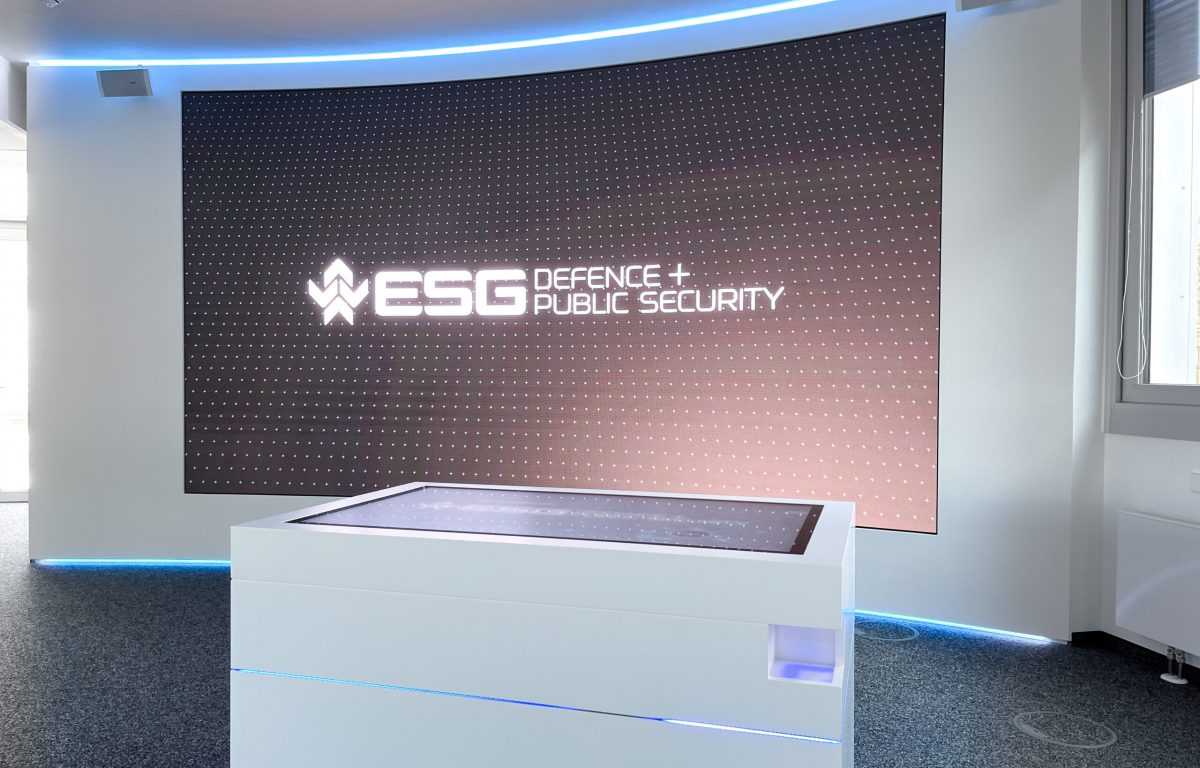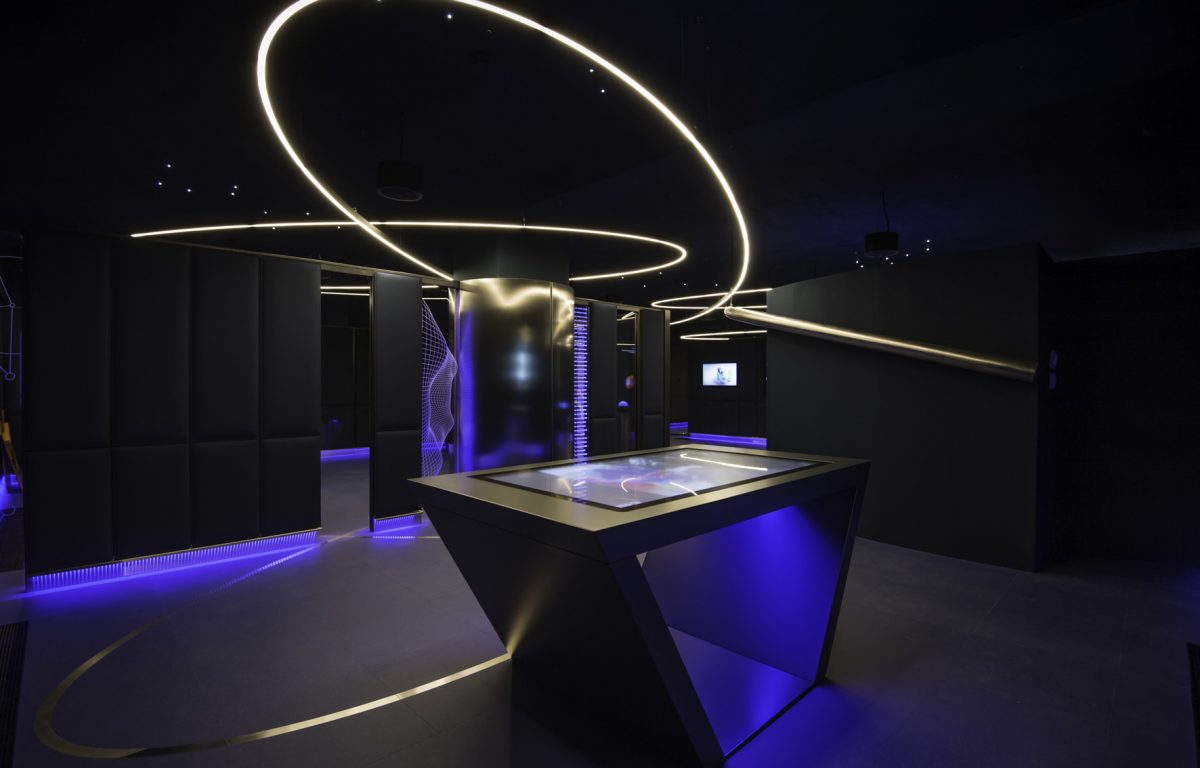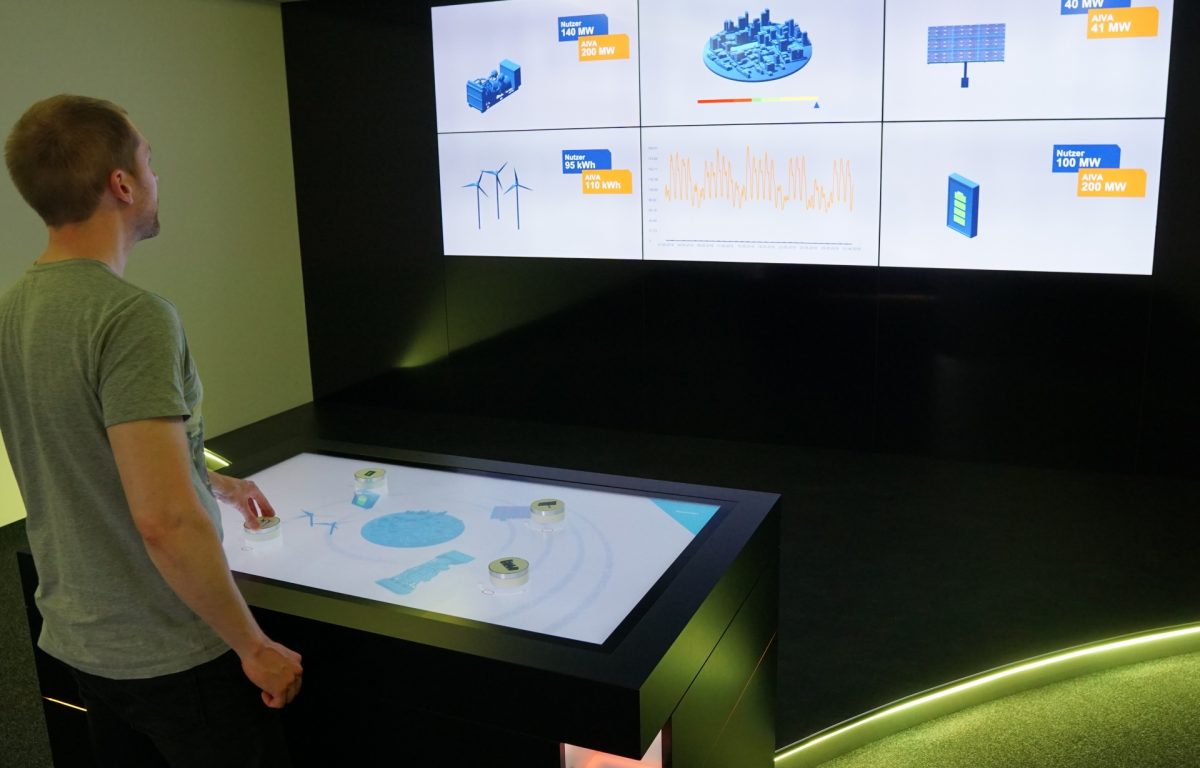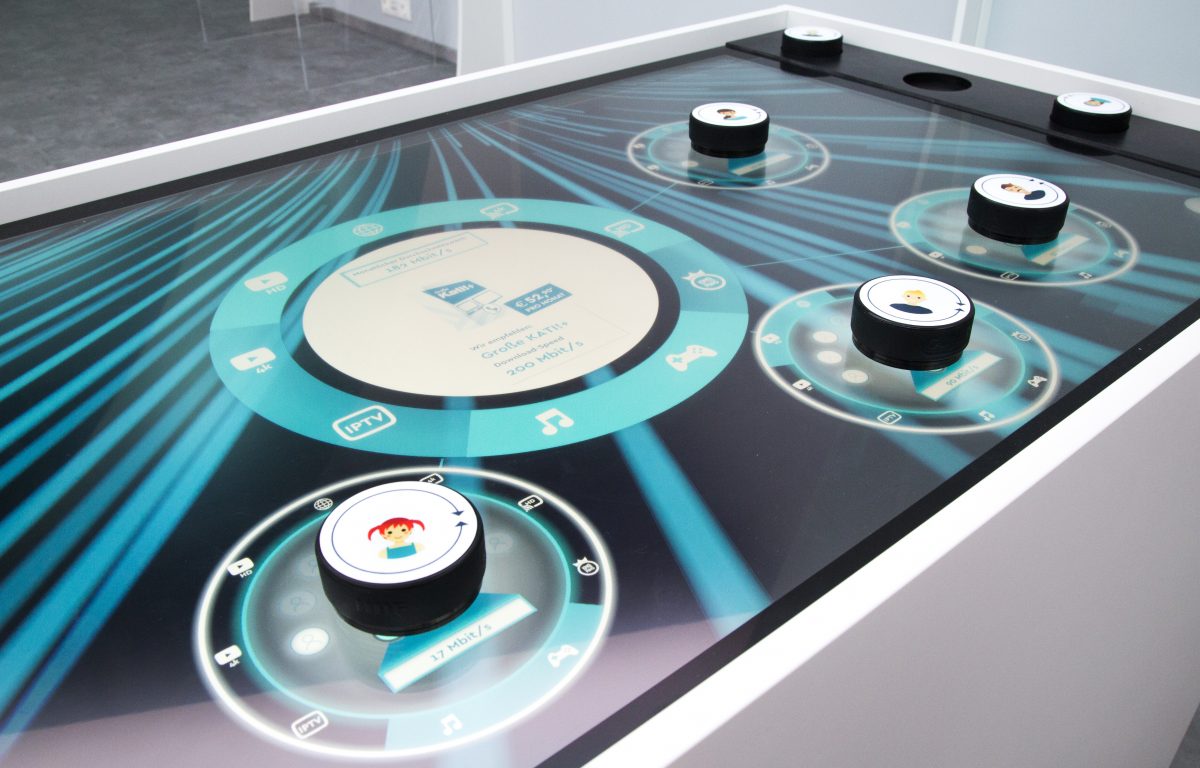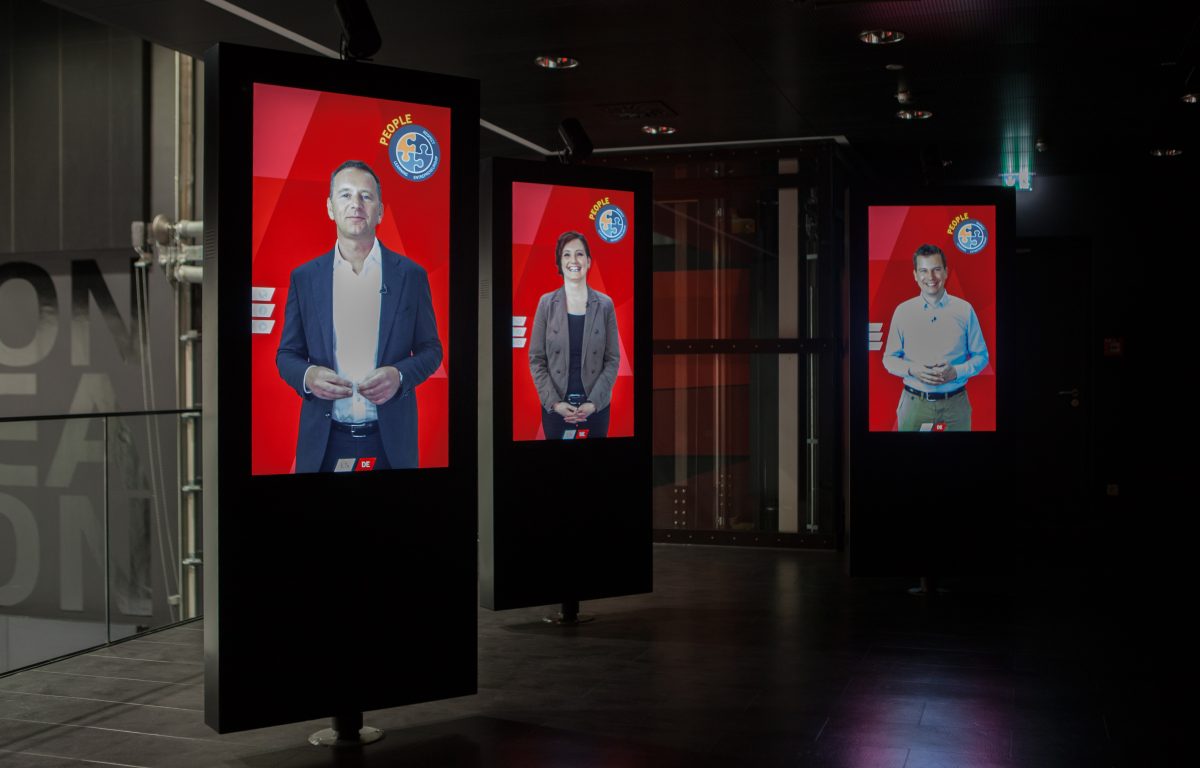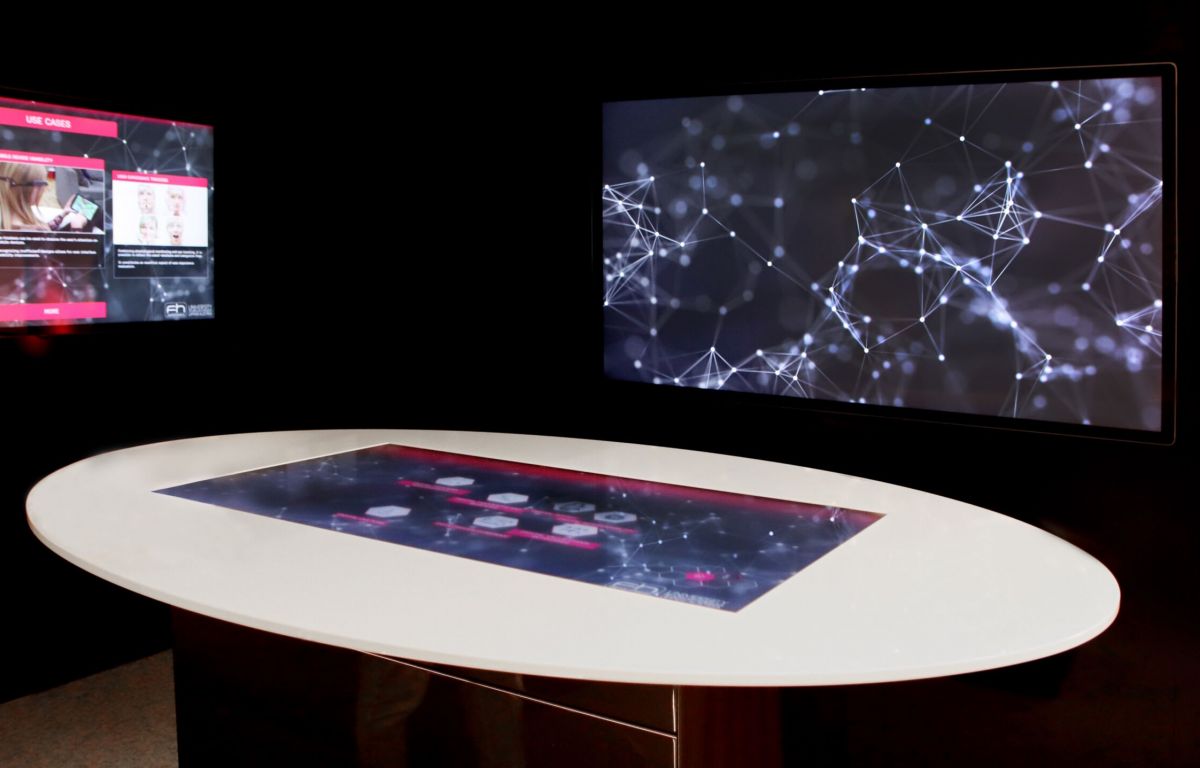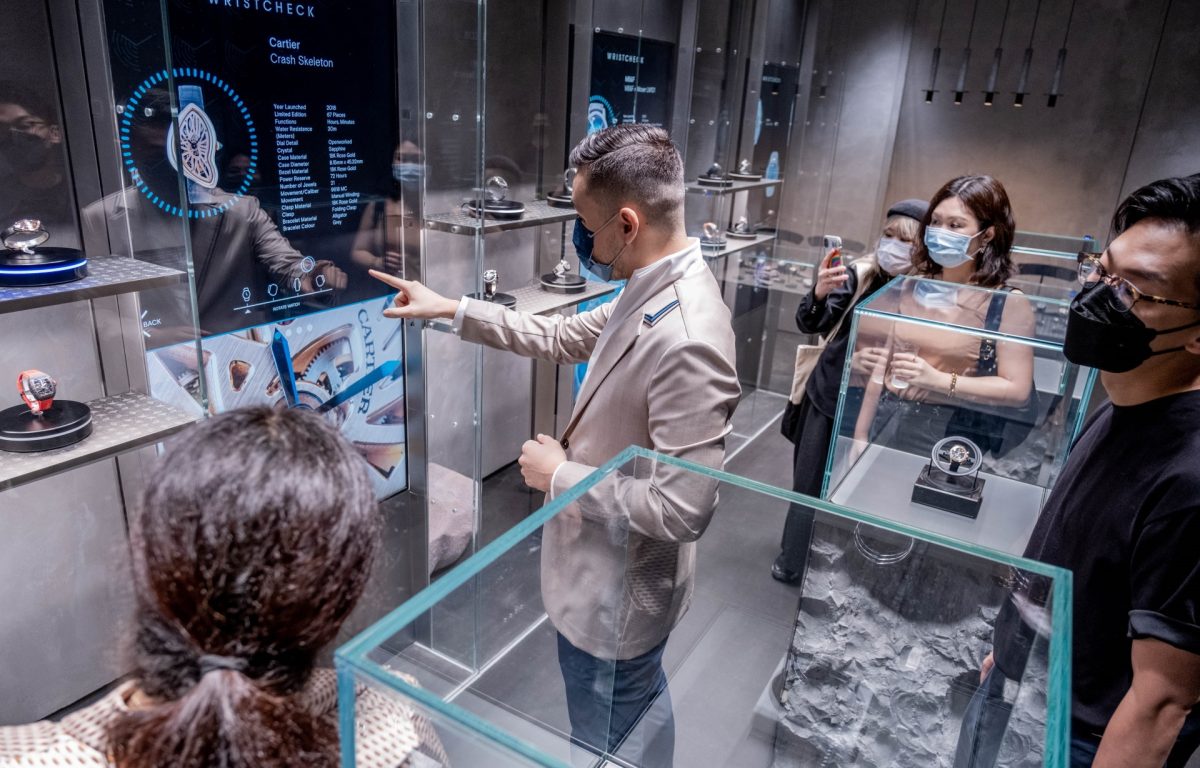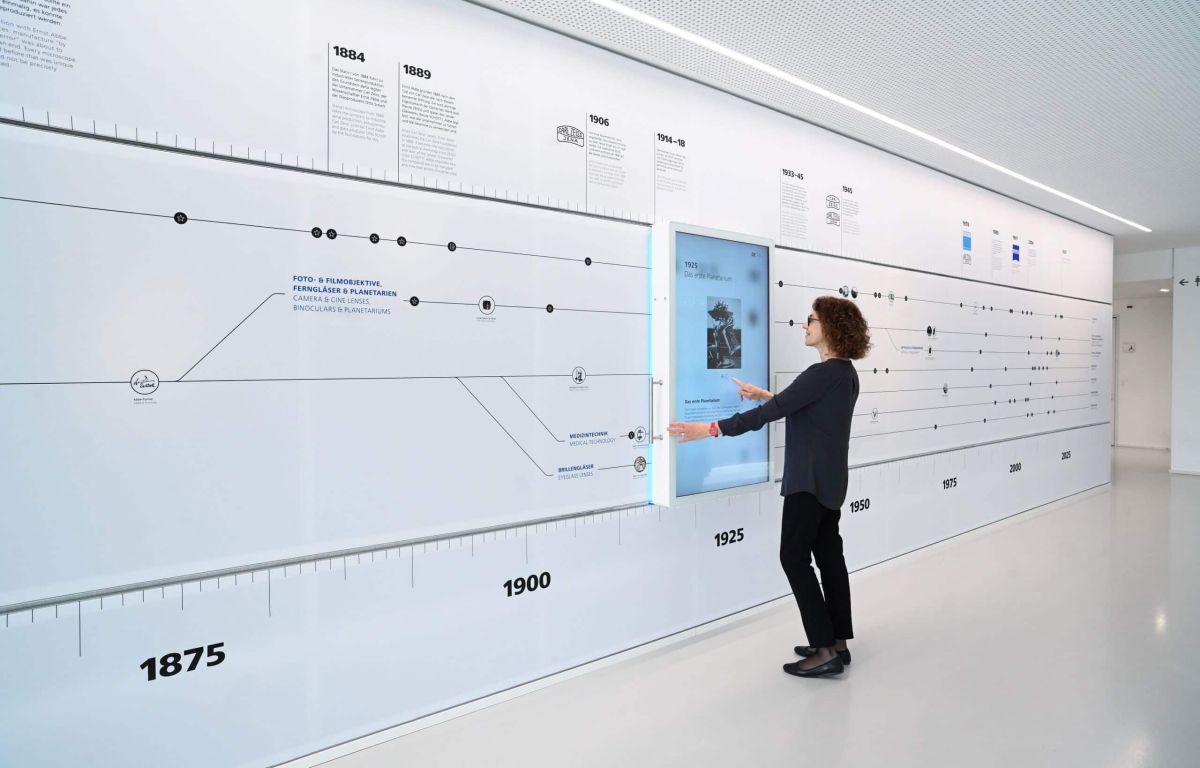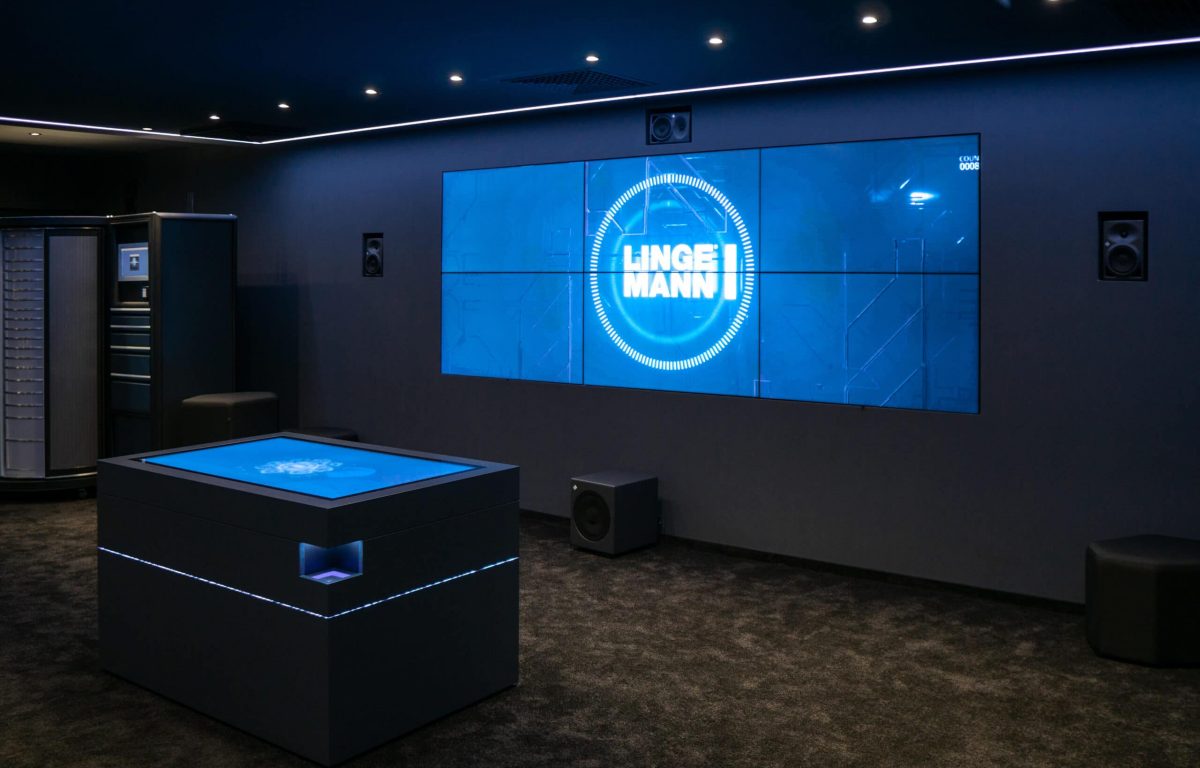 A showroom's range of applications: interactive stations and use cases
A little less conversation, a little more (inter)action please!
Don't just explain your business, turn it into an experience – with an innovative exhibition tailored to your company's history, target audience and themes. Below you will find an overview of the stations and installations that are best suited to your needs.
Multi-touch table
Storytelling for all senses and different occasions
The possibilities for presentation and branding offered by a multi-touch table with customised software are virtually endless. Metaphorically speaking, it is the Swiss army knife of interactive stations, except that its multi-touch software was conceived and designed in Berlin, Germany. With classic features and unique solutions:
animations,  3D models, and interactive storytelling

, e.g., for insights into manufacturing processes and workflows or into your products' particular features and qualities.

 

interactive timeline, staff portraits, and digital documents,

for instance for telling your corporate history or for anniversaries and jubilees.

 

infographics and explanatory animations,

e.g., for making complex subject matters and products more accessible and easier to grasp.

scanning and representation of your products and samples,

e.g., by means of capacitive or optical recognition and RFID technology

motion or gesture control and speech control, person sensor

for additional modes of interactivity

full showroom control, including lighting and sound system and activation of additional peripheral exhibits via touch-surface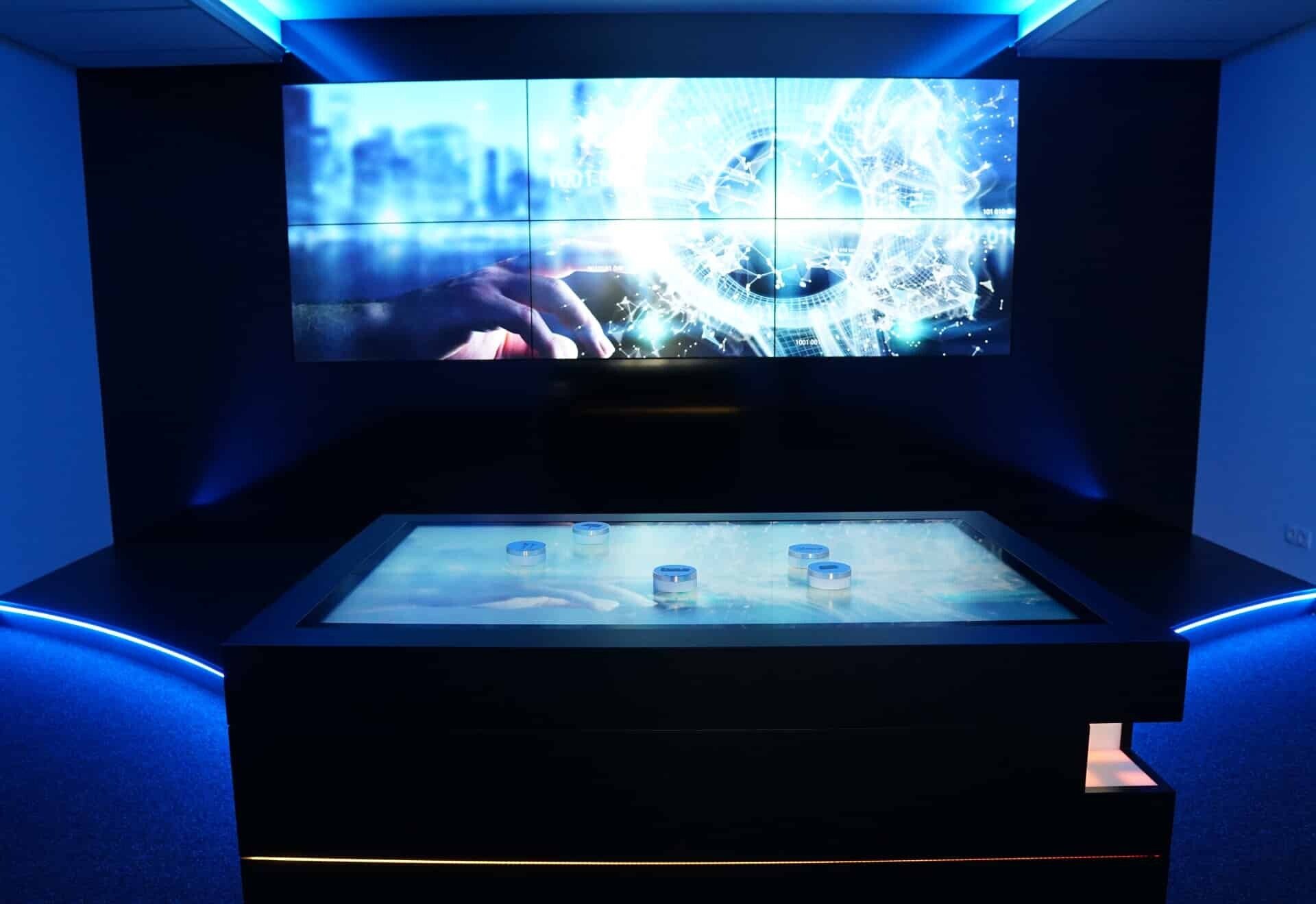 Multi-touch wall
Your best choice for presenting your big endeavors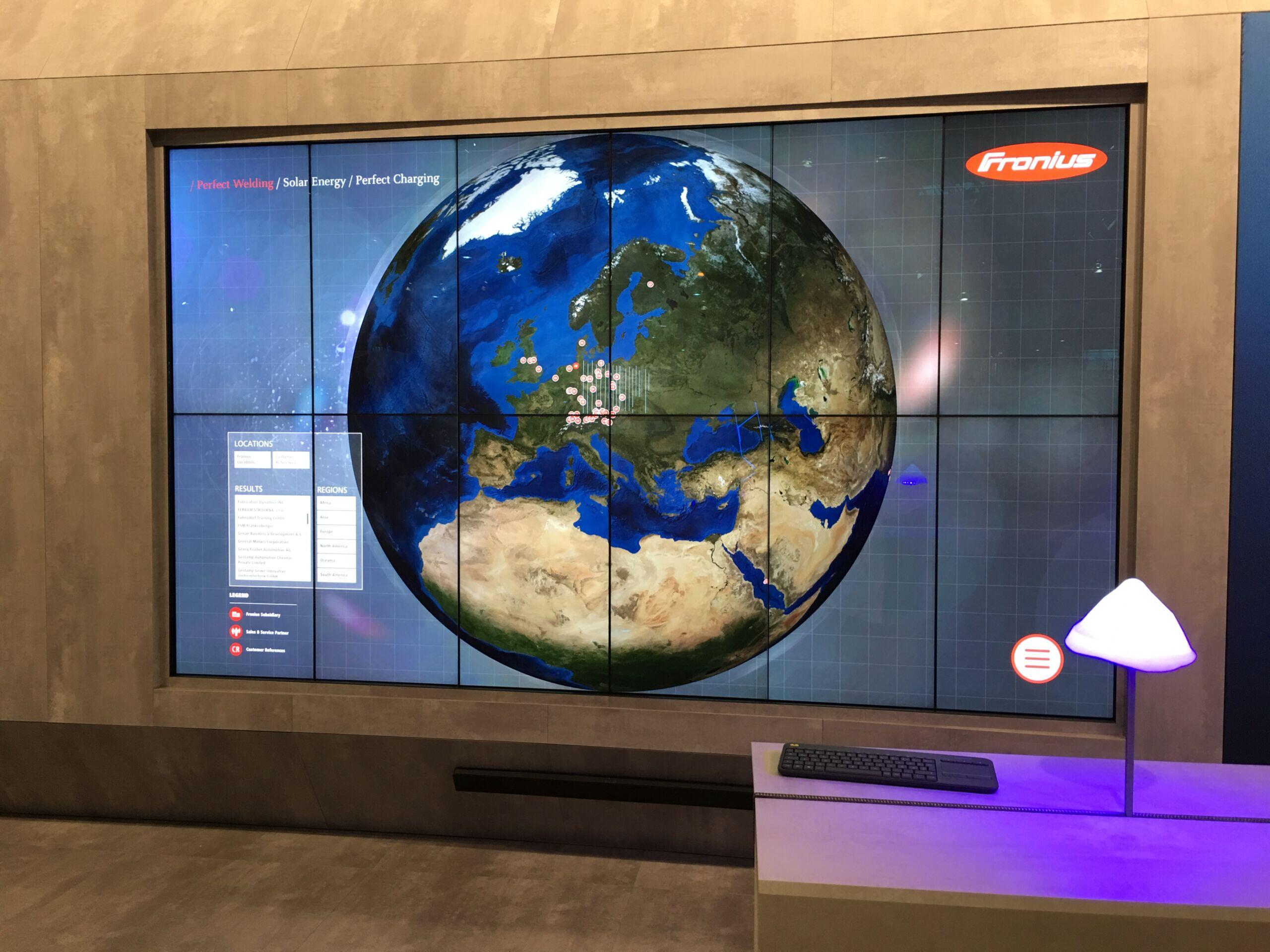 If your motto is "Think big!", why not show this to your visitors and investors not only in, but also by your business presentation – not with a PowerPoint on a TV monitor, but with a high‑resolution multi-touch wall in your showroom.
control

with gestures, touch or via tablet PC

flexible flow

instead of fixed

sequence: interactive and spontaneous selection and retrieval of content for each occasion

extremely

high resolution and luminosity
in combination with a multi-touch table for use in presentations for group audiences
Interactive display case
A surefire presenter for your products
This interactive display‑case is at least as innovative as the products it can display. Visitors can control the objects on display by touching the clear glass panels of the showcase, while at the same time triggering multimedia storytelling content. Whatever object or product it holds, you can easily and conveniently replace it at any time using the web-based CMS. In our experience, you won't want to replace this display case any time soon. This interactive presentation tool is not only suitable for products, but for many other things as well:
models and miniatures

are highlighted

spot-on and magnified on the additional monitors for up-close inspection.

company sites/branches and/or project sites

can be mapped on a rotatable 3D globe. The additional monitors then show detailed information on the according sites/countries.

trophies, awards, and medals

are kept safe from harm within the display case, with a maximum of accessibility at the same time through multi-media explanation.

business processes, workflows, and services can be described and explained sequentially by and through the display case, and it's the users who decide on the sequence and the pace.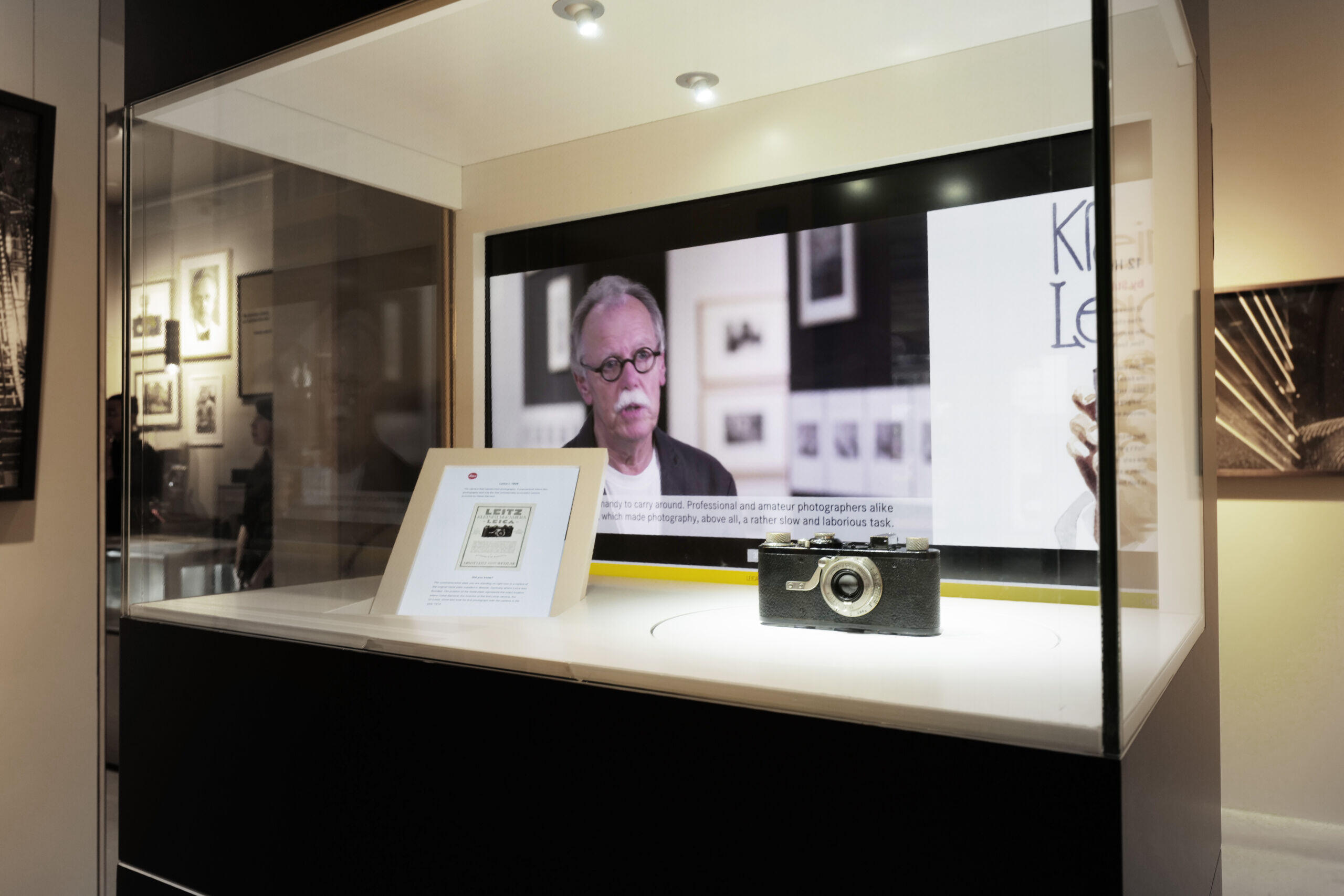 Interactive projection
Analogue AND digital – employing the best of both worlds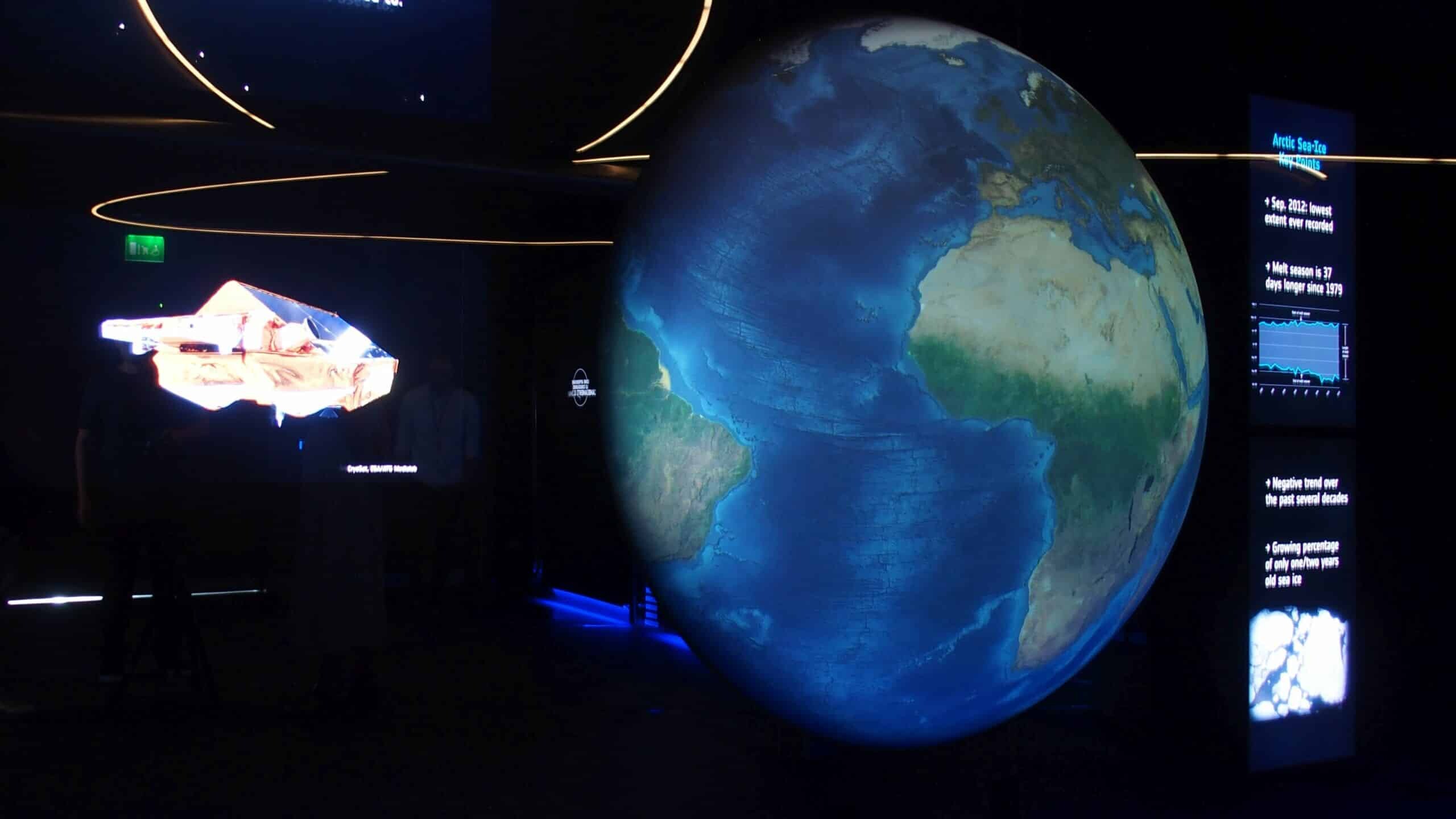 Bring a flowchart, infographic or mind map to life! Thanks to large interactive projections, you can digitally extend and augment an analogue chart or illustration with appropriate content and information, quickly and easily via multi-touch. When touched, this interactive wall launches into multimedia storytelling and interacts with its users. As well as the content itself, installations like this are fascinating for the unexpected 'magical' interactivity of a solid wall.
Virtual Reality
The fastest way of travelling to another place
Virtual Reality offers the highest level of intensity and immersion for the human senses. Your clients and customers are completely immersed in the virtual environment: the slightest head movement, every change of perspective is translated into realistic visual feedback in real time. Thanks to wireless VR headsets, users can move around freely and place their hands on virtual objects. In short, VR gives you and your company complete control over the layout and design of your prospect's environment. For example, you can use VR representations of the machines or products you sell, or you can let your customers interactively configure, test and explore your goods.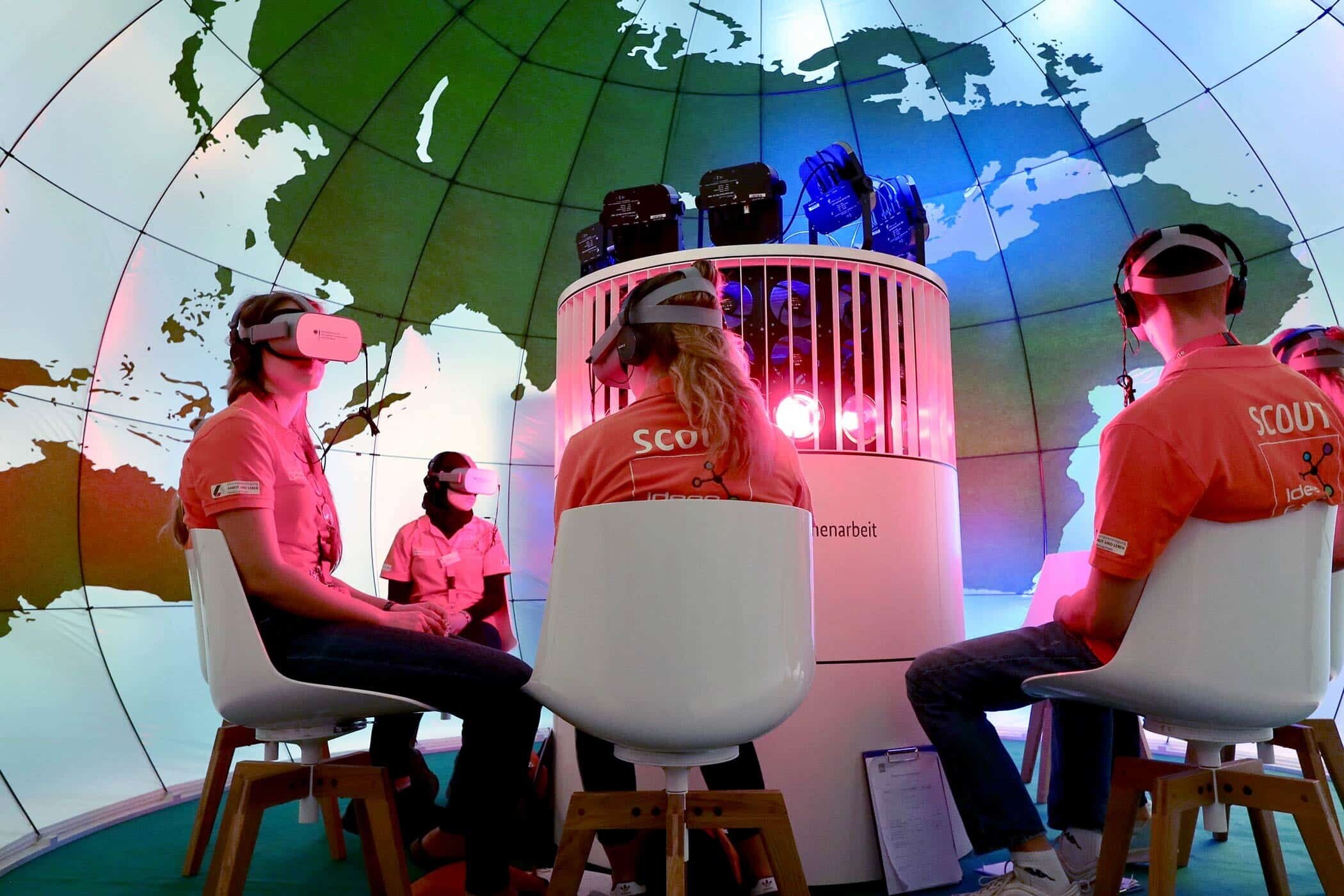 Multi-touch rotating screen
Your window into another world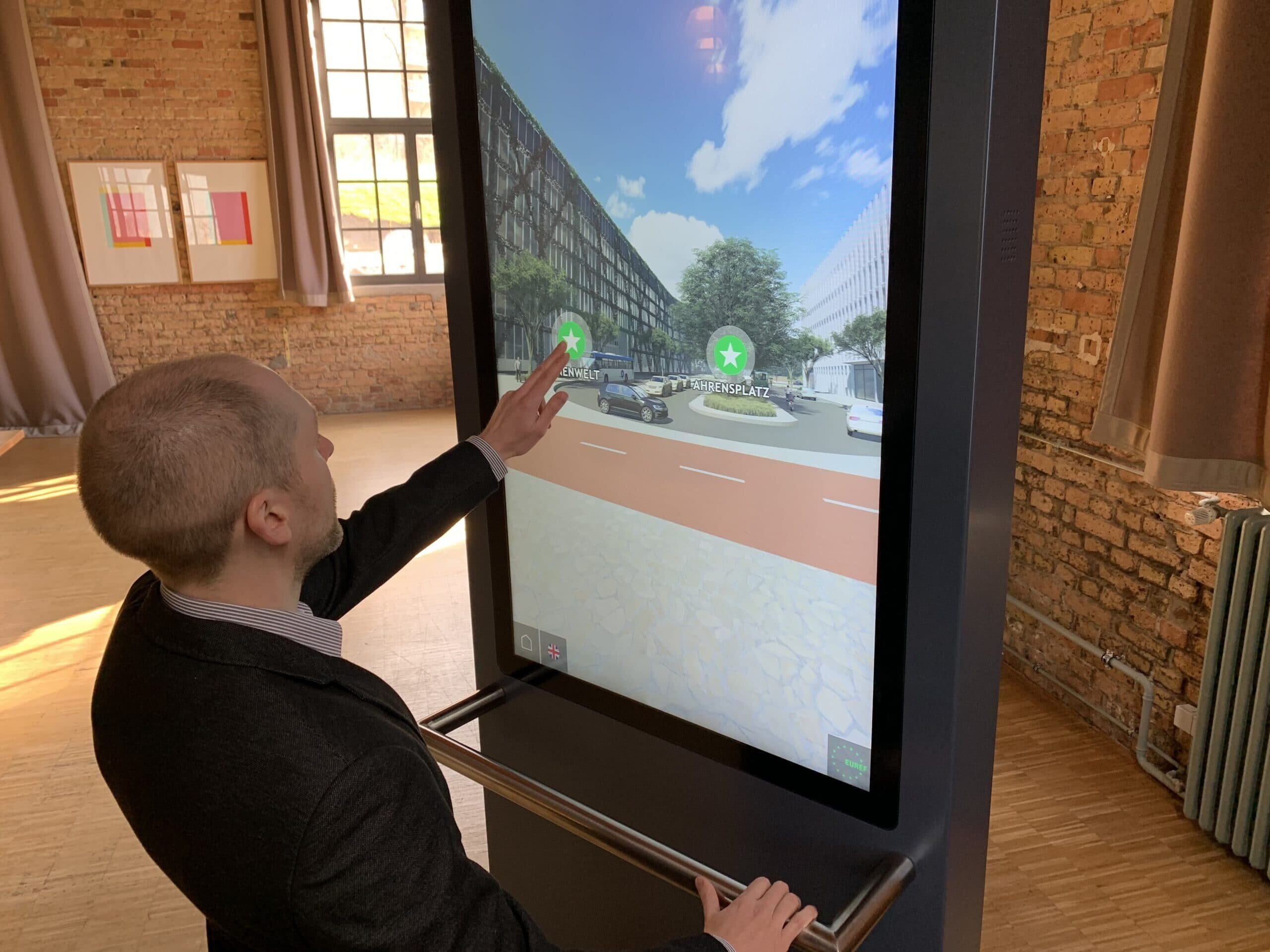 A multi-touch monitor with free 360° rotation gives your visitors a full view. Virtual environments, for example, without the need for a VR headset. Or to distant locations, such as a live feed from your factory half a world away.
Placed in the centre of your showroom, this multi-touch rotating screen can also be used as an augmented reality surface to display additional information about your product display.
How-To Showroom
If all this in you has provoked the unsurmountable desire to go build your own unique showroom from those amazing components RIGHT NOW, well – welcome to our world! Or better yet, to our own Berlin showroom, where we'll be happy to give you a live demonstration of each of those components and other technologies, as well.
For now, what you mainly care about in a showroom are its costs, implementation time, and success factors?
We have summed up all our knowledge and expertise in our whitepaper "Successful Planning and Realization of Corporate Showrooms – An Instruction from How to Wow"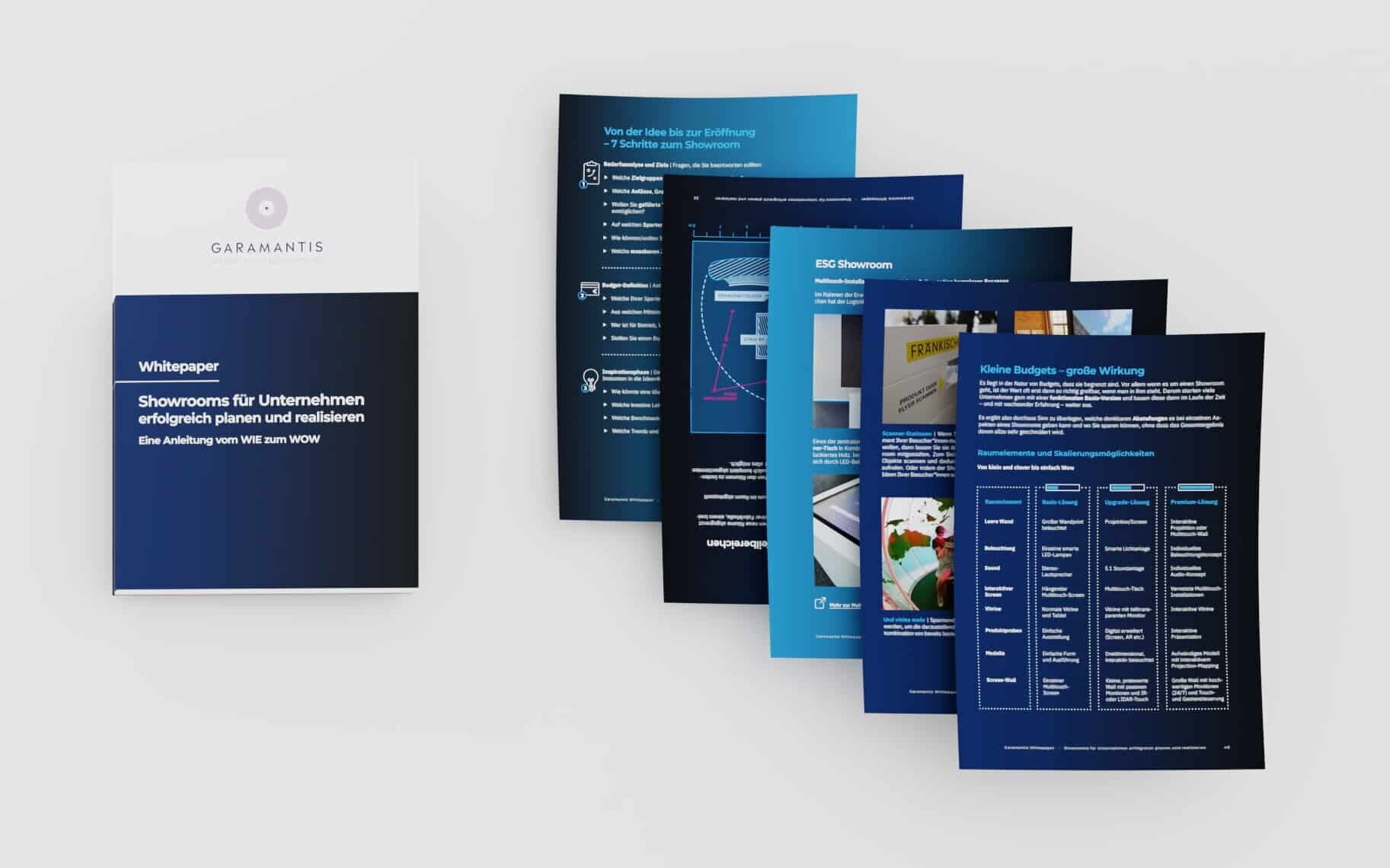 Free consultation on interactive corporate showrooms
Benefit from our experience and be inspired by successful showroom concepts.
We will be happy to advise you individually and without obligation.
TITAN Business Award 2023 – Gold Winner

Interactive B2B Showroom for FFT Production Systems wins gold in the category "Marketing – Best Brand Experience – B2B"
We were looking for a solution to present our wide product range in an easy-to-understand and appealing way. Garamantis have expertly realized our idea of visualizing a city's different industries on the multi-touch interface. With its modern design, the table is one of the highlights in our new Daikin Innovation Center. We are looking forward to our future cooperation!
In Garamantis we have found the perfect partner for showroom design. They are gifted with a DNA that allows them to convey everything to do with digital showrooms in a customer-effective and positive way. Their designs are vivid and interactive. They create an atmosphere so dense that clients literally submerge themselves in their digital solutions. Whatever they create is characterized by their service oriented approach. At all times, the collaboration with them was dependable and based on mutual trust. In my opinion, Garamantis is THE top partner when it comes to modern showrooms!
The straightforward visualization and attractive illustration and presentation of products and services in the complex context of production engineering is a challenge. Garamantis have helped us to achieve exactly that in our new showroom, in order to make our content available to clients and interested parties in a harmonized, interactive, and intuitive experience. From the get-go, all members of the Garamantis team with their down-to‑earth, easy-going yet targeted demeanor provided professional support and assistance, resulting in a genuinely pleasant cooperation throughout the entire project.
With the »Procurement Future« showroom, Garamantis has set new standards in B2B product presentation for Lingemann GmbH. With this multimedia showroom, industrial customers can put their processes to the test using model concepts.

The 75 year history of Lingemann stands for the courage to embrace change. With this vision in mind, we decided to demonstrate our step towards Industry 4.0 to our clientele by using state-of-the art technology. With Garamantis we managed to achieve this goal and already have thrilled one or the other client. Lingemann being a pioneer in the industry, we not only want to convey factual content to our professional clients, we also aim to give them a live impression of how our BOOST. products are going to change their workflows.
As soon as visitors enter the showroom, their position is detected by a lidar laser system. The integration of digital products from Lingemann, for example a smart C-parts dispensing system, is also part of the room concept. This involves, for example, wirelessly networked open fronted storage bins or vending machines that are connected to a central ordering system via IoT protocol.
Garamantis was a creative and reliable partner for our project. From the idea to the conception to the finalisation – the cooperation was professional, uncomplicated and pragmatic at all times. The multi-touch table is the highlight in our showroom at the company headquarters as well as at various trade fairs. We look forward to further cooperation in the future.
The centerpiece of the showroom is a Garamantis multitouch table networked with a screenwall and Lingemann's IoT solutions. Thanks to an integrated people sensor, the table enters into a dialog with visitors and presents the current product portfolio.
The multi-touch rotating screen from Garamantis was designed for the multimedia mediation of construction projects. This allows the viewer to interactively explore objects in the form of panoramic views on the high-resolution bright Ultra-HD monitor (4K) with a 360-degree rotation around the vertical axis.

Time for a new spin! Rotating multi-touch screens together with augmented reality offer an immersive communication experience, for example for the real estate industry, trade fairs and events.
The 360 degree application of Garamantis offers an impressive insight into our building project and invites visitors to digitally explore the EUREF-Campus Dusseldorf. Whether potential tenants, project participants or interested parties, the intuitive touch screen operation enables an individual virtual tour, where background information can be called up if required. The innovative rotating screen is ideally suited as a presentation medium for a future project such as the EUREF-Campus Dusseldorf.
Our collaboration with Garamantis on the interactive exhibition of 100 years of corporate history has been smooth and efficient as usual. Based on our concept, within no time several individualized installations, complete with central CMS, were realized, set-up, and rolled out in Vienna. Our heartfelt thanks go out to the entire Berlin team!
From the initial idea, to the development of a concept, to the realization of customer installations, Garamantis is a reliable partner with whom Ars Electronica Solutions always enjoys working together. If creativity, professional competence and charm come together, the positive result is already preprogrammed!
"150 years make a good start!" This was the motto of the year to celebrate our bank's 150thanniversary. For us as a modern real estate bank right in the middle of a digital transformation process, Garamantis have developed an interactive application that managed to depict our history, to visualize changes taking place in the world of work in a playful way, to venture a look into the future, and to provide a digital guest book at the same time. All of that rolled into one in the form of a multi-touch table which was designed according to our specifications and demands. Its roll-out during our jubilee celebration was a huge success and a real eyecatcher for all our guests. A big Thank You to everyone at Garamantis for their great ideas and the perfect and relaxed implementation!
The ESA Φ Experience has been a top-level project we had the chance to put into collaborative action. Particularly important in this context was a mutual pre‑testing of all the target hardware's applications in an interim review together with the client. For keeping the schedule, Garamantis' input was of the utmost importance. During the on-site implementation, Garamantis always lent a sympathetic ear to any requests for modifications and were constantly by our side with advice and support. The outcome achieved by this amazing project team who mastered even the most difficult situations sure doesn't have to hide!
Working with the Garamantis team was both inspiring and constructive. The team was very competent and always had the right solution to my many questions and requirements. The whole package has absolutely convinced me!
The objective of our project was to make Artificial Intelligence and human-machine communication in the energy sector both accessible and tangible. In order to achieve this, we apply Garamantis' multi-touch technology in our showroom. The collaboration with Garamantis is characterized by their creativity, pragmatism, flexibility and commitment and thus to us has been greatly enjoyable. Even last-minute requests for changes or modifications were duly realized, resulting in a successful and excellent outcome of our project. We are thrilled and looking forward to the future collaboration on further scenarios for our showroom.
Relevant, individual, diverse – behind the interactive newsroom lies the technology of Landau Media. Through their media monitoring customers have access to all German-language newspapers, magazines, TV channels, social media channels, RSS newsfeeds and radio stations – just to name a few sources. Using predefined keywords, an algorithm filters out the relevant content for each customer.
Interaktiver Newsroom: So wird aus der Informationsflut relevanter Content für dein Unternehmen
A newsroom used in corporate communication needs applications for crossmedial visualization of content and news streams and for planning and producing new content, while ensuring a 360 degree view on all the different media channels. With their professional multi-touch technologies, Garamantis have created the perfect implementation of all those requirements for our customers. For each and every user in the field of corporate communication and marketing, Garamantis develops the exactly fitted interactive newsroom solution – ranging from entry-level to high-end and flexible as well as modular. We're thrilled!
References