ideas trade fair booth
Convince and Thrill A Trade Show Audience
Visitor magnet multi-touch: more professional contacts by means of innovative concepts for your trade fair appearance
You're looking for an innovative and up-to-date way to present your business and your products on the upcoming trade show? An interactive installation triggers the trade fair audience's interest and curiosity and, due to their active involvement, remains in users' memory for a long time to come. With a well-conceived combination of your content with cutting-edge technology, you achieve:
more potential customers at your trade fair booth

fast and easy launch into sales conversation

visitors' longer time of stay at your booth thanks to its multi-touch interactivity

stronger visitor involvement through interaction
Cool trade show activities: let your interactive trade fair booth do the work for you
In combination with a Garamantis multi-touch solution, the trade show booth you already have becomes a sure-fire self-propelling marketing professional. Already from a distance, multi-touch walls and interactive projections draw people's attention to your booth. As soon as they approach, visitors are detected by sensors and then greeted by a multi-touch table or an interactive display case. All interactive installations actively encourage them to touch or playfully interact with your products. For instance, a user puts one of your products on the multi-touch table and immediately is offered matching videos, images or additional information to browse and explore with touch gestures. The table then proceeds to recommend other relevant products, and it can even ask the visitor to present his business card. Furthermore, the table assists booth personnel in the interactive presentation and promotion of goods. All content, such as 3D models, infographics or video clips, is just one touch away.
Multitouch zieht Messebesucher an, es können mehrere Personen gleichzeitig interagieren, spielen oder sich informieren (10 Gründe für Multitouch-Technologie auf Messen)

Durch den Einsatz von Objekterkennung steht Ihr Produkt immer im Mittelpunkt. Der Besucher zeigt dem Tisch einfach einen Flyer, eine Produktprobe oder sonstigen Gegenstand und erhält sofort die passenden Inhalte und Aktionen zur Auswahl.

Multitouch-Software ermöglicht es dem potenziellen Kunden, Produktvielfalt spielerisch kennenzulernen und bleibt dem Kunden so im Gedächtnis.

Neuartige Technologien wie Virtual Reality-Umgebungen oder die weltweit einzige interaktive Vitrine mit klarem Multitouch-Glas begeistern und ziehen Messebesucher in ihren Bann.
Full service: we put your ideas into practice
We take care of your entire interactive trade show project – comprehensively and proactively – an additional agency's service is not necessary. In the course of 2 to 3 months, we accompany you through all stages of development, every step of the way to success.
Brainstorming and rough conceptual outline: How (well) does your previous trade fair concept work, and what are the improvements you'd like to achieve? What are your target audience's characteristics, and what digital content will they most likely respond to? What is the best way to communicate, convey the message and make it stick? We'll gladly help you to find answers to all these questions in a free and non-binding consultation, and then draw up a custom-fit proposal.

Conception and design: We conceive and design every detail of the installation and create sketches and mockups for your consideration and approval. In this step we also establish which content exactly (videos, images, texts, documents etc.) should be included in the final product.

Hardware integration and software development: We build the hardware and develop the software to be a perfect match for your individual target group. The agile development process involves several feedback loops in which we keep you updated on the project's current status. We also harmonize the cloud-based CMS with your particular content.

On-site installation: We assemble and set up the finished installation on the desired date and train your staff in its usage. Only if you're a 100 percent satisfied we consider the project complete: from now on, you're going to promote your business by means of a top-notch, world-class multi-touch installation.

Support, maintenance and servicing (optional): You don't want to worry about technical aspects in the years of operation to come? Our support team is ready to help you and your staff in case of any further questions or issues – via phone, email or remote access.

 Everything else you'll be able to handle yourself, with a maximum of flexibility and independence: you can update and change your multi-touch installation's content anytime via convenient web interface.
Eye-catchers at trade shows appeal to your potential customers!
Benefit from our years of experience in the creation of innovative trade fair concepts and their successful implementation. For each and every project we develop a unique individual concept. Here are some examples of possible applications to inspire you.
Fernwirkung und Aufmerksamkeit – interaktive Messewände mit Projection Mapping
Großflächige Projektionen sind aus der Ferne gut sichtbar und haben das Potenzial, die Aufmerksamkeit der Messebesucher in besonderer Weise auf sich zu ziehen. Interaktive Messewände können zudem beim Benutzer Überraschung und Neugier erzeugen, wenn er feststellt, dass er die Messewand durch seine Bewegungen und Gesten beeinflussen und mit ihr interagieren kann.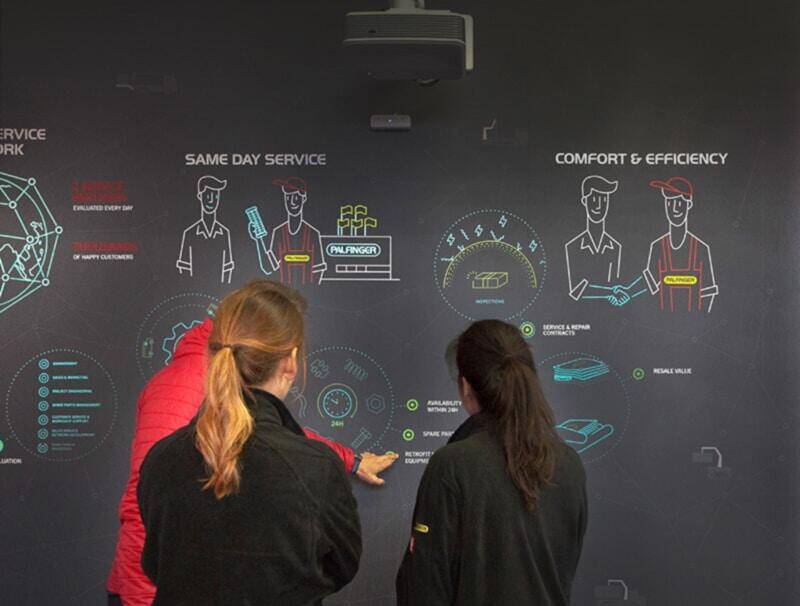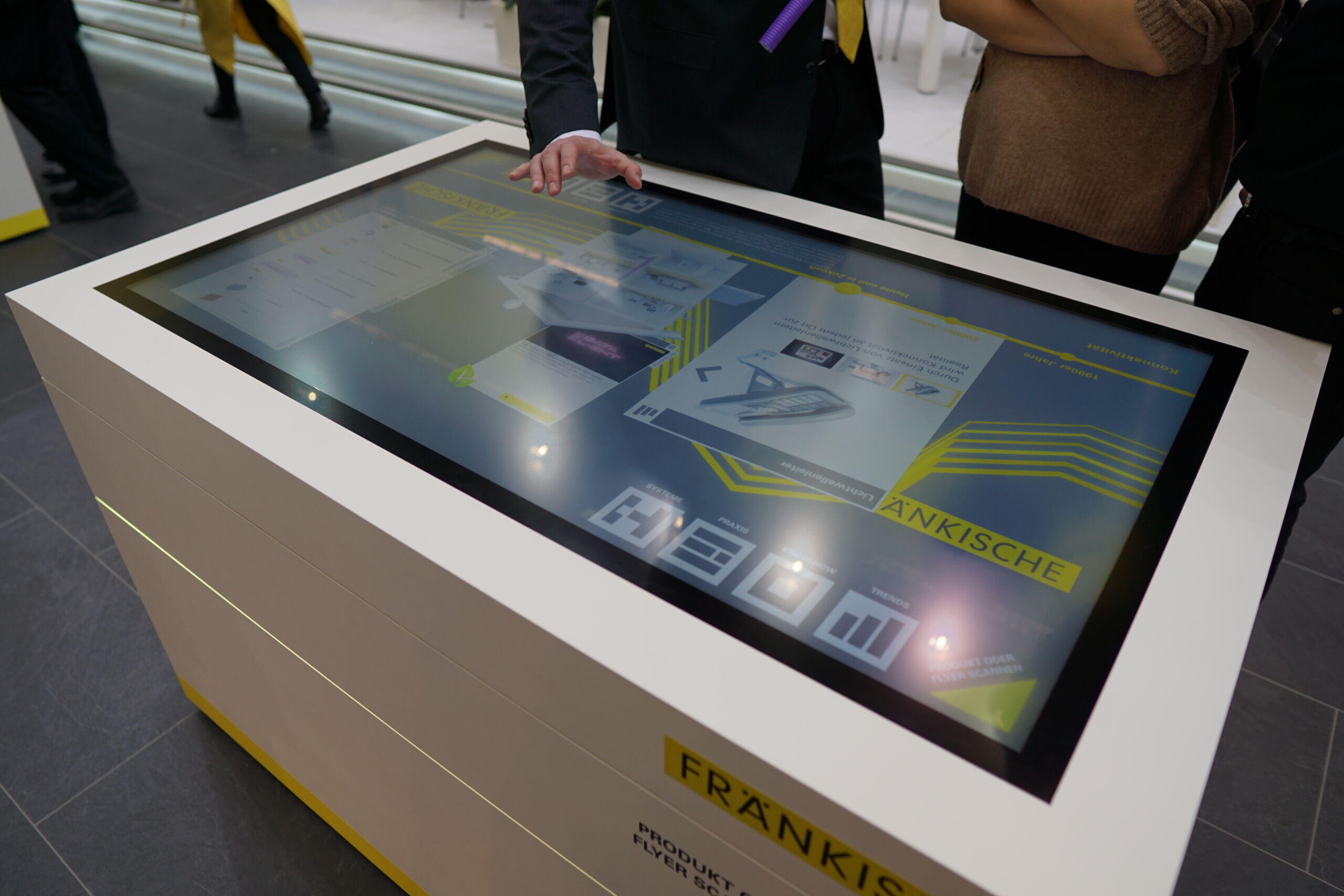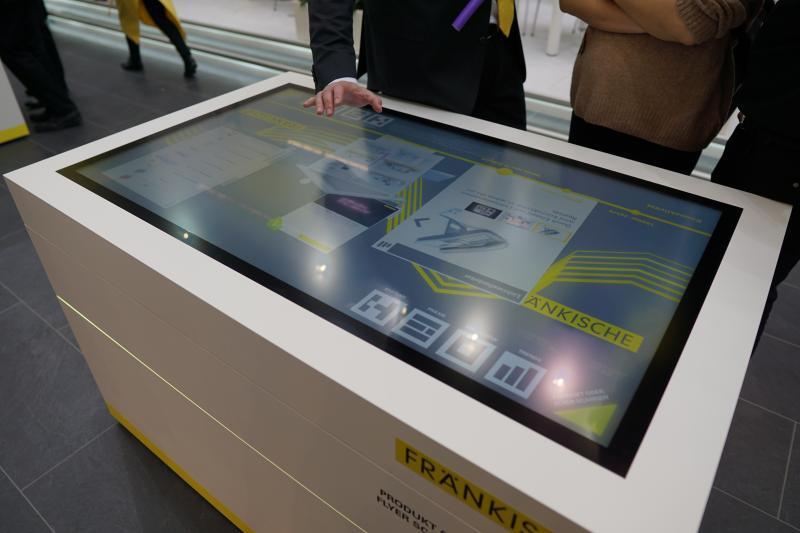 Ziehen Sie Messebesucher an – wie Ihr Multitouch-Scanner-Tisch Kontakte knüpft
Ideale Unterstützung für Ihren Messestand bietet der Multitouch-Scanner-Tisch mit seinem integrierten Personensensor. Er tritt proaktiv in den Dialog mit den Besucherinnen und Besuchern und bittet sie beispielsweise um die Visitenkarte oder das Vorzeigen eines Flyers oder einer Produktprobe vom Stand. Sogleich präsentiert der Tisch das Produktportfolio Ihres Unternehmens und startet auf erfrischende Weise den Dialog.
Darf es etwas mehr sein? Die vielgestaltige Erlebniswelt der Multitouch-Wall
Die Multitouch-Wall ist alleine aufgrund ihrer Größe ein Eyecatcher. Über nahezu beliebig konfigurierbare Formen und Größen können zahlreiche Messebesucher gleichzeitig in die Produktwelt Ihres Unternehmens eintauchen und darin interagieren. Präsentationen an Ihrem Stand können direkt an der Wall oder per Tablet gesteuert stattfinden. Selbstverständlich können wir die Wall auch mit anderen Multitouch-Stationen Ihres Messestands koppeln.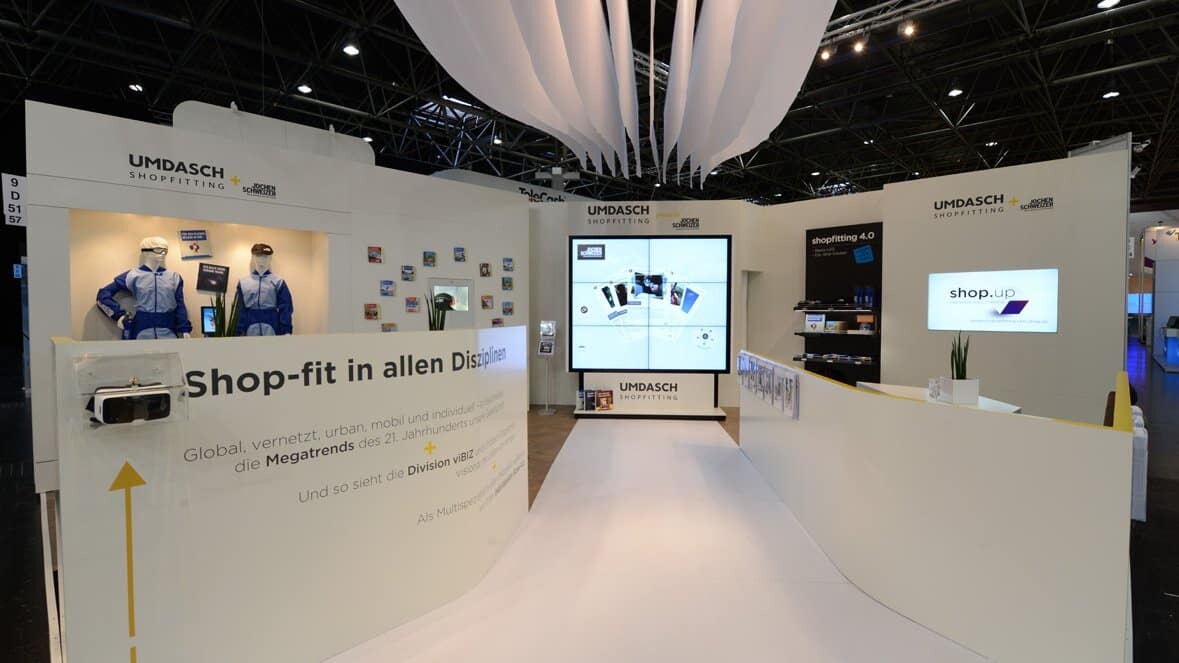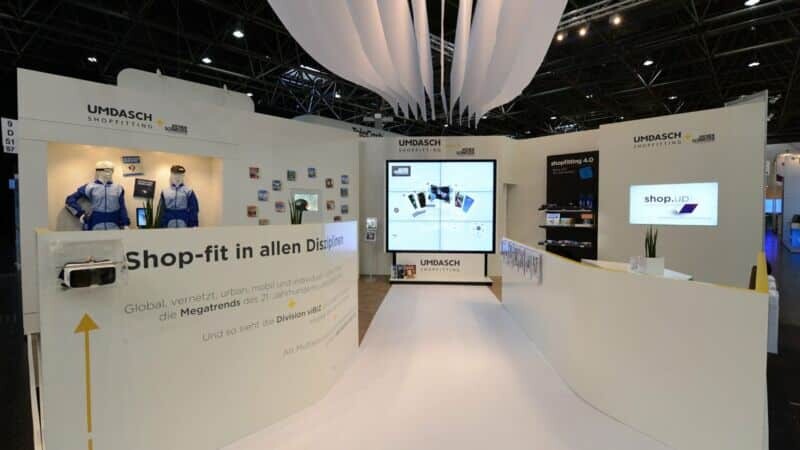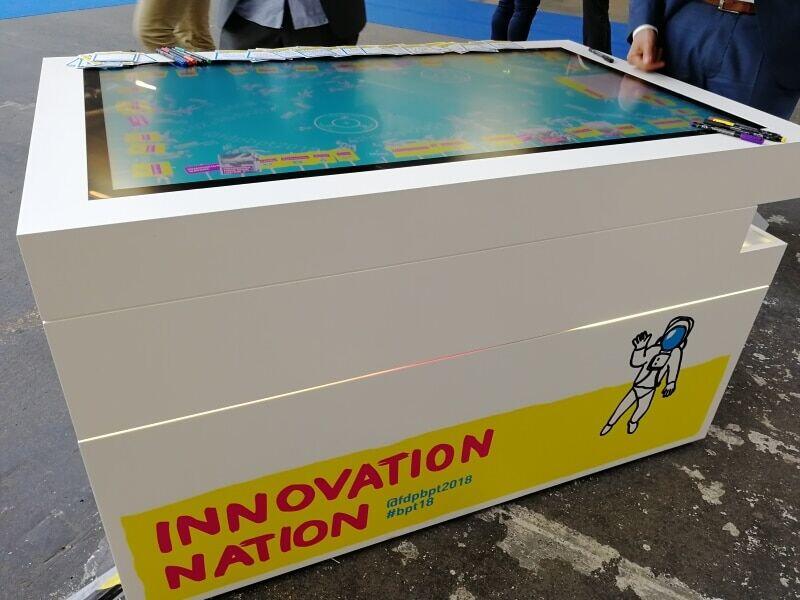 Ihre Besucher als digitale Multiplikatoren – mit dem Social Media-Tisch
Auch für Ihren Messeauftritt sollten Sie sämtliche Kommunikationskanäle nutzen. Die Besonderheit am Social Media-Tisch ist, dass Messebesucher über die Scanfunktion des Tisches Ihre Inhalte in Sozialen Medien teilen können. Der Tisch ist zugleich Infopunkt, interaktive Station und Social Media-Hub – er wird Ihre Besucher begeistern.
Setzen Sie Neuheiten gekonnt in Szene – mit der einzigartigen interaktiven Vitrine
Kernmerkmale neuer Produkte, Herstellungsprozesse o.ä. können für potenzielle Kunden greifbar und erlebbar gemacht werden: Die weltweit einzige interaktive Vitrine mit klarem Multitouch-Glas beherrscht perfektes Storytelling und verblüfft Ihre Kunden mit neuen Interaktionsmöglichkeiten. Wie alle Installationen von Garamantis, ist auch die Vitrine mehrsprachig.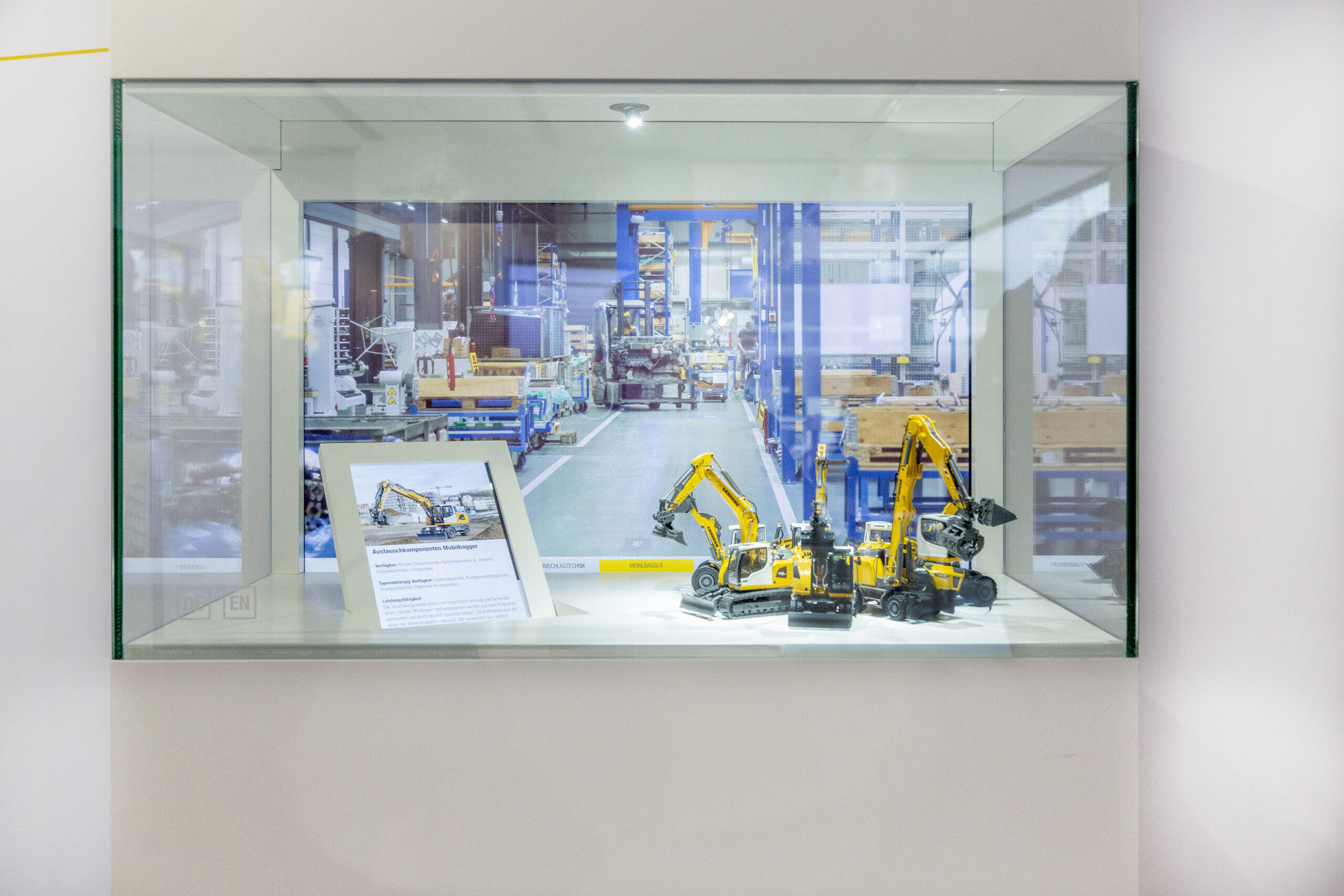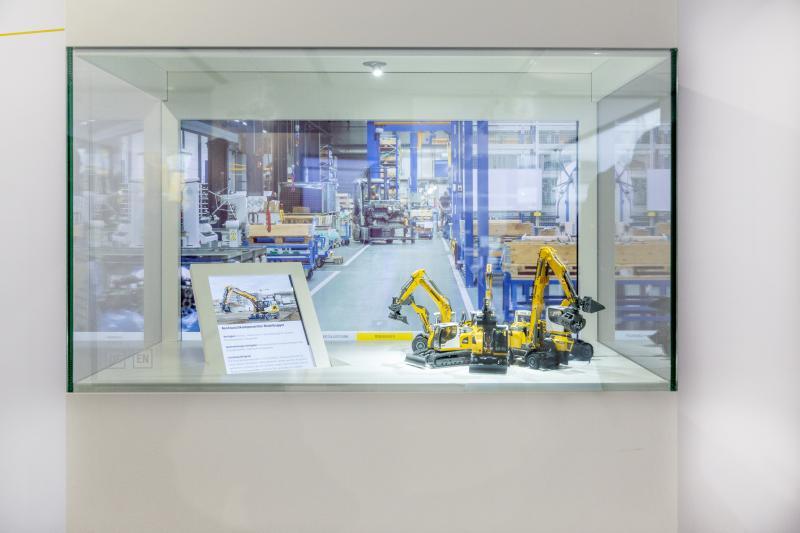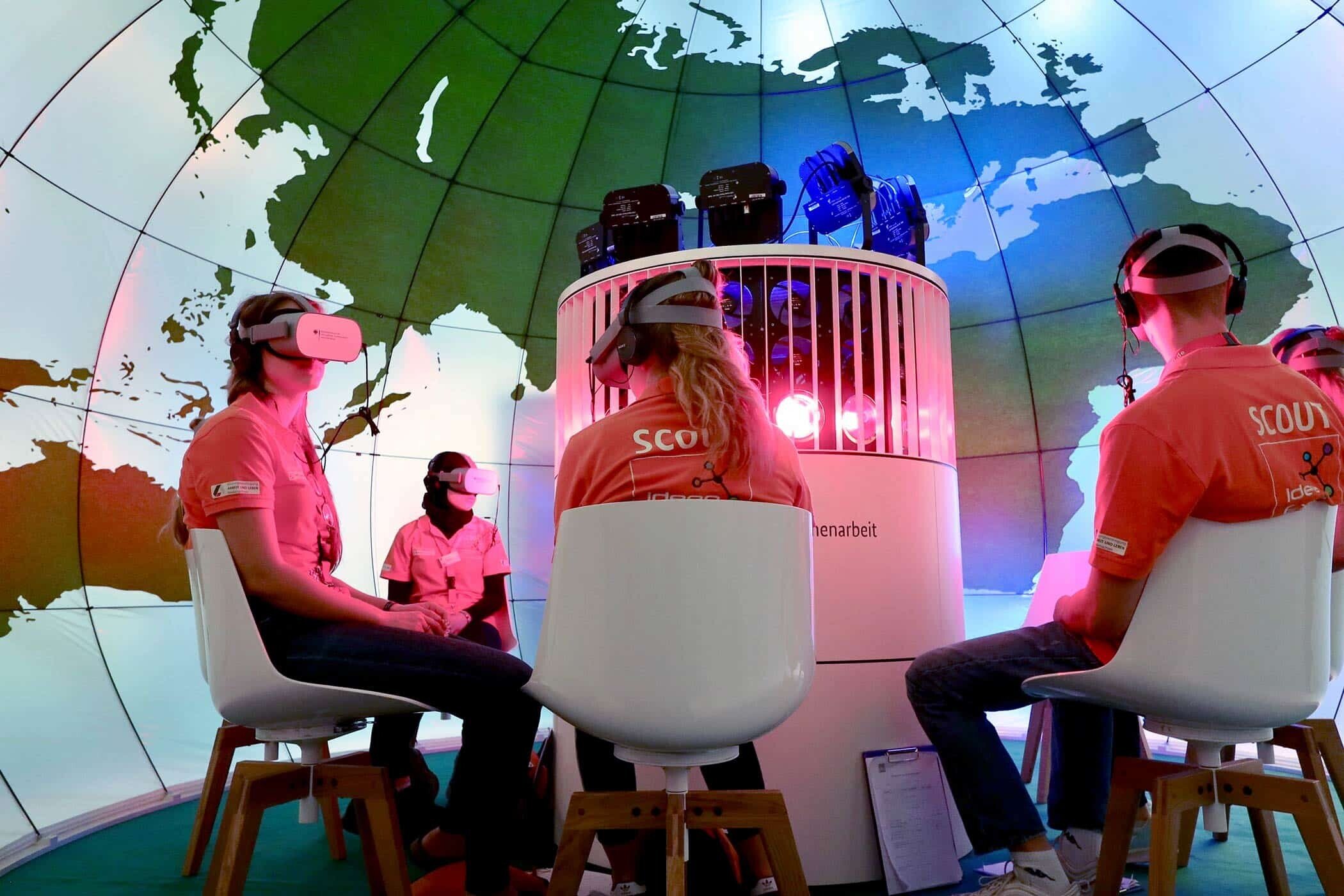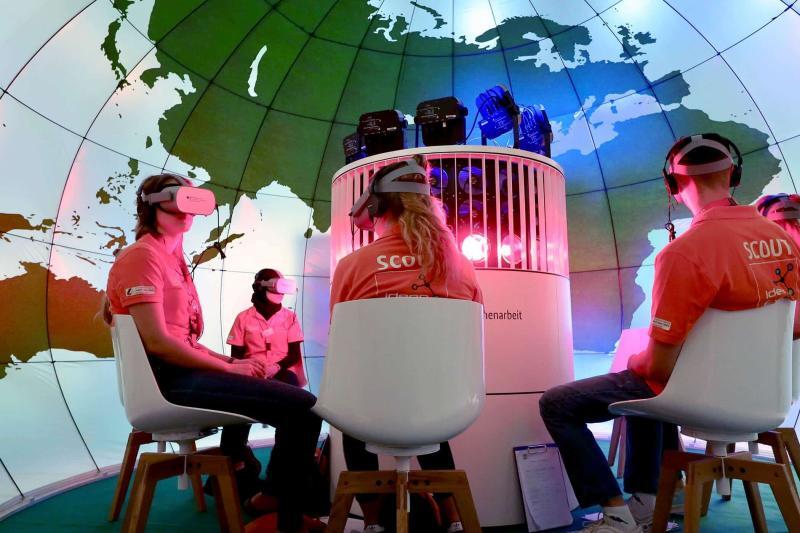 Lassen Sie Besucher Ihre Produkte mit individuell designter VR-Software hautnah erleben
Virtual Reality-Umgebungen gehören zur Königsklasse interaktiver Messe-Erlebnisse, da sie den höchsten Grad an Immersion bieten. Doch selbst teure Hardware überzeugt nicht von alleine. Es kommt auf die Inhalte und Aktionsmöglichkeiten der VR-Software an. Diese schaffen erst die Erlebniswelten, die beim Besucher in nachhaltiger Erinnerung bleiben. Erfahrung und ein gutes Konzept sind der Schlüssel zum erfolgreichen Praxiseinsatz von Virtual Reality auf Messen und Events.
Sprechen Sie uns mit Ihren Wünschen und Vorstellungen für einen interaktiven Messestand an. Wir haben sowohl die notwendige Erfahrung als auch die passenden Technologien, um bereits zur nächsten Messe einen interaktiven Eyecatcher für Sie zu realisieren.
Stay informed of new Projects
Are you interested in interactive projects and new technologies? We are happy to inform you via newsletter from time to time.
To break the norm of car show, car marques have to integrate various interactive elements to better engage their would-be customers. At Isuzu, they managed to find new fans with Garamantis' multi-touch interactive surface where visitors could physically draw their ideal truck design and have it scanned and digitized into the virtual truck of their creation. The Garamantis team was swift and efficient in creating and optimizing the content for us. The end product is nothing short of being flawless and engaging, kudos to the Garamantis Team!
At the Green Week, visitors to the stand of the Federal Ministry for Economic Cooperation and Development can travel to Madagascar via virtual reality in a "climate dome", where the consequences of global warming can already be clearly felt.
Klimawandel hautnah
In a 360-degree video, visitors were given an insight into the living conditions and challenges of the local people via VR glasses. They not only saw and heard how the inhabitants of the African island state dealt with climate change, but also felt the heat and dry air in the steppe, or the cool ocean breezes on the coast.
Am eigenen Leib
The multi‑touch table as a part of the BMZ's trade fair appearance at ITB 2017 was a complete success. The interactive map of the world helped to rapidly attract visitor's attention to the fair stand.
Up to now, VR has been difficult in the event context, as it usually only offers experiences for individuals. The climate dome allows several people to immerse themselves in virtual reality at the same time.
Erlebniswelten 4.0 – Interaktive und multisensorische Installationen auf dem Vormarsch

The collaboration with Garamantis was refreshingly uncomplicated and perfectly target-oriented. We as an agency provided the contents and ideas, and Garamantis consummately put them into practice and developed the matching design. Our client was very pleased with the result and, with the multitouch table, had a real highlight to show at his trade fair presence.
For long-term projects like this one it is paramount to have reliable partners on board who also possess the necessary flexibility. In Garamantis we not only have such a partner, but at the same time an important creative idea giver in many a difficult project phase. From the first collective brainstorming right until the rollout at the trade fair, Garamantis always provided advice and support, and they never let the fun fall by the wayside to boot.
References