interactive trade fair stand
Three magic words for a spellbinding appearance: digital, multimedia, interactive
Attention Through Innovation: Increase Your Trade Show Contacts With Multi-Touch Technologies
Of course, exhibitors at a trade show are usually screaming for attention, but there is a more subtle way to successfully attract an audience: with a visitor magnet that captivates through innovation. And makes people curious about all kinds of content. One that not only informs, but also engages – with multimedia interactivity. This is the best way to leave a lasting impression on your visitors – not with a lot of noise, but with quiet wonder.
Innovation creates curiosity: more potential customers at your stand
Digital presentations are fun: an easy start to an informative consultation and sales pitch
Interactivity makes curious: visitors stay longer at your stand
Conversation makes you likeable: positive impact on your corporate image
Interactive storytelling makes it memorable: stronger visitor involvement
Touching? You bet! All our installations are completely resistant to disinfectants – so only the fun of the experience is contagious.
Best practice: Interactive booth with multi-touch table and screen wall
Let Your Interactive Trade Fair Booth Work For You
Combined with Garamantis' multi-touch solutions, your existing exhibition stand will be a sure-fire success. Multi-touch walls and interactive projections attract visitors to your stand from a distance. Sensors can detect approaching visitors, who are then greeted by a multi-touch table or interactive display case. All installations are interconnected and invite hands-on and playful interaction with your products.
Interaction between people and technology: multiple users can interact, play and access information at the same time.
Object recognition: Visitors present a flyer, product sample or other object to the table and are immediately presented with matching digital content and activity options to choose from.
Multi-touch software allows your prospects and customers to playfully familiarise themselves with your products and automatically associate your brand with a positive experience.
For example: When a visitor places an item – such as a product sample – on the table's multi-touch surface, the table immediately displays related videos, images and additional information, which can then be explored with touch gestures. The table also suggests other matching products. What's more, it supports and assists stand staff with interactive presentations – all digital content, such as 3D models, infographics or videos, is just a touch away. And for added convenience, the table can automatically prompt visitors to leave their social networking details, such as their business cards or LinkedIn profile.
Full Service: Excitement In An All-Round Carefree Package
We take care of your interactive exhibition project. Either in conjunction with your PR agency or completely independently, we will guide you through all the necessary development steps over the next 2 or 3 months to ensure a successful exhibition:
Brainstorming and rough concept: how well does your preexisting trade fair concept work, and where do you see as yet untapped potential? What target audience do you want to reach, and which content do you intend to use for that purpose? How can your message be optimally conveyed and anchored in your visitors' minds? We are happy to answer all these questions in a cost-free and non-binding consultation and then create a custom-fit offer.

Conceptualization and design: we devise a detailed concept for your trade fair booth and develop designs and mock-ups for further consideration. We also take stock of the content already at hand (videos, images, text material, documents, etc.) and determine which content still should and/or can be produced within the allotted timeframe, if necessary.

Hardware integration and software development: we integrate the interactive hardware into your exhibition stand and develop an individualized multi-touch software tailored specifically to your target audience. And we do all this in an agile way. Which for you means there will be several feedback loops in which we present to you the preliminary results to reflect on and, if applicable, include your ideas and suggestions in the next development round. Speaking of agility and flexibility: we also tailor our cloud-based Content Management System exactly to your content.

On-site installation: we complete your interactive trade show elements by the desired delivery date and conduct on-site trainings for your staff. Only if you are a hundred percent satisfied, we consider the project complete.

Support and maintenance (optional): you can upload and update the content of your multi-touch installations via CMS web interface any time and thus have maximal independence and flexibility. If, however, you do not want to spare one thought on your installations' technical aspects in the following years to come, our support team is always available to answer questions and solve problems – by phone, by email, or by remote access.
Ideas for innovative exhibition stands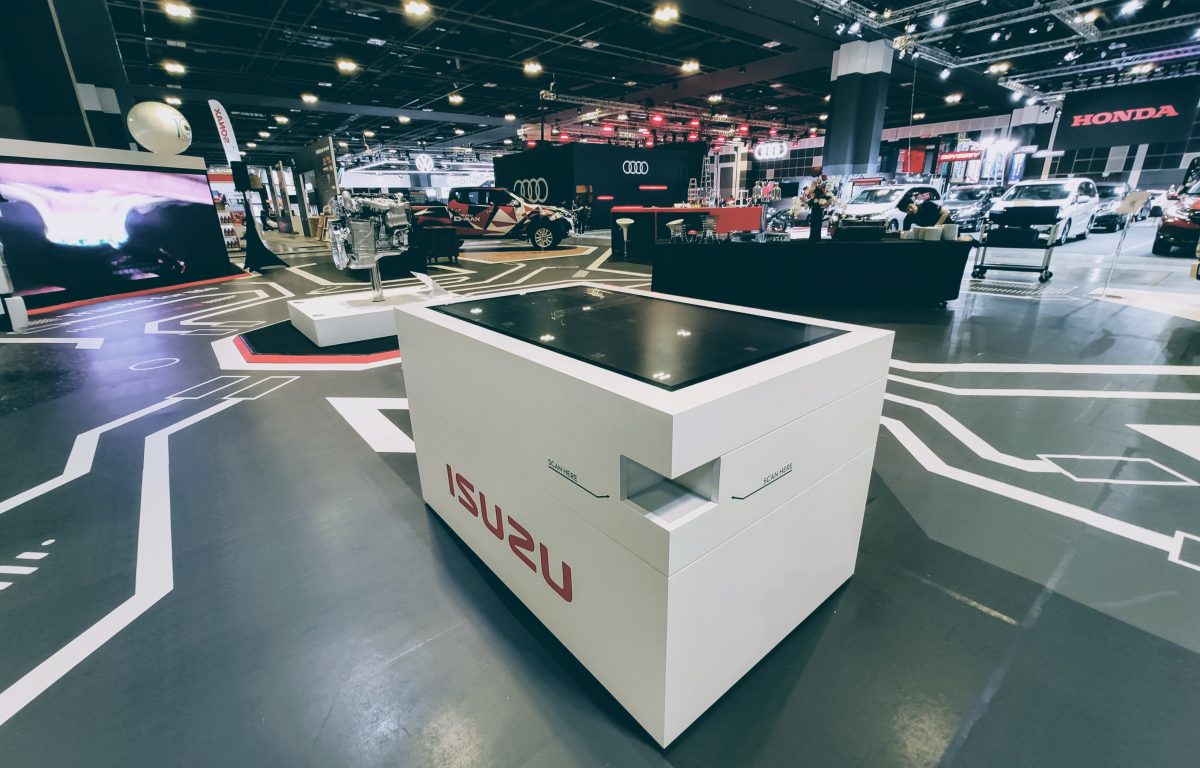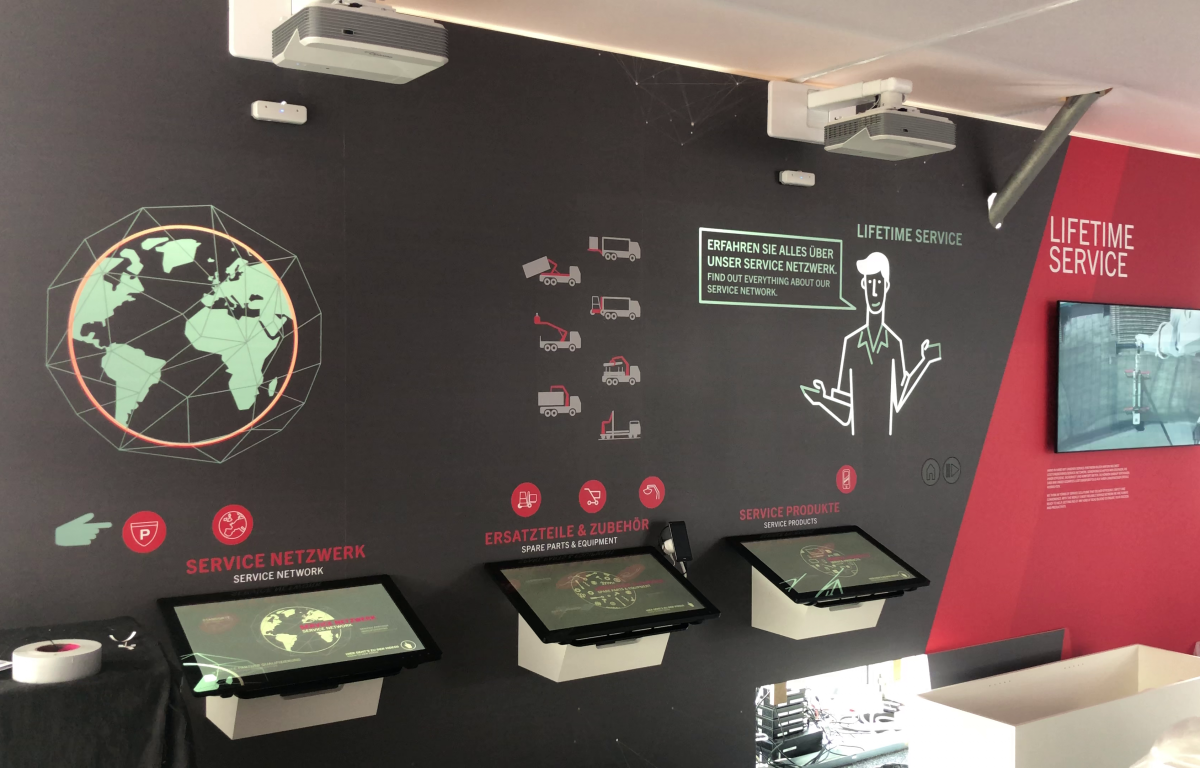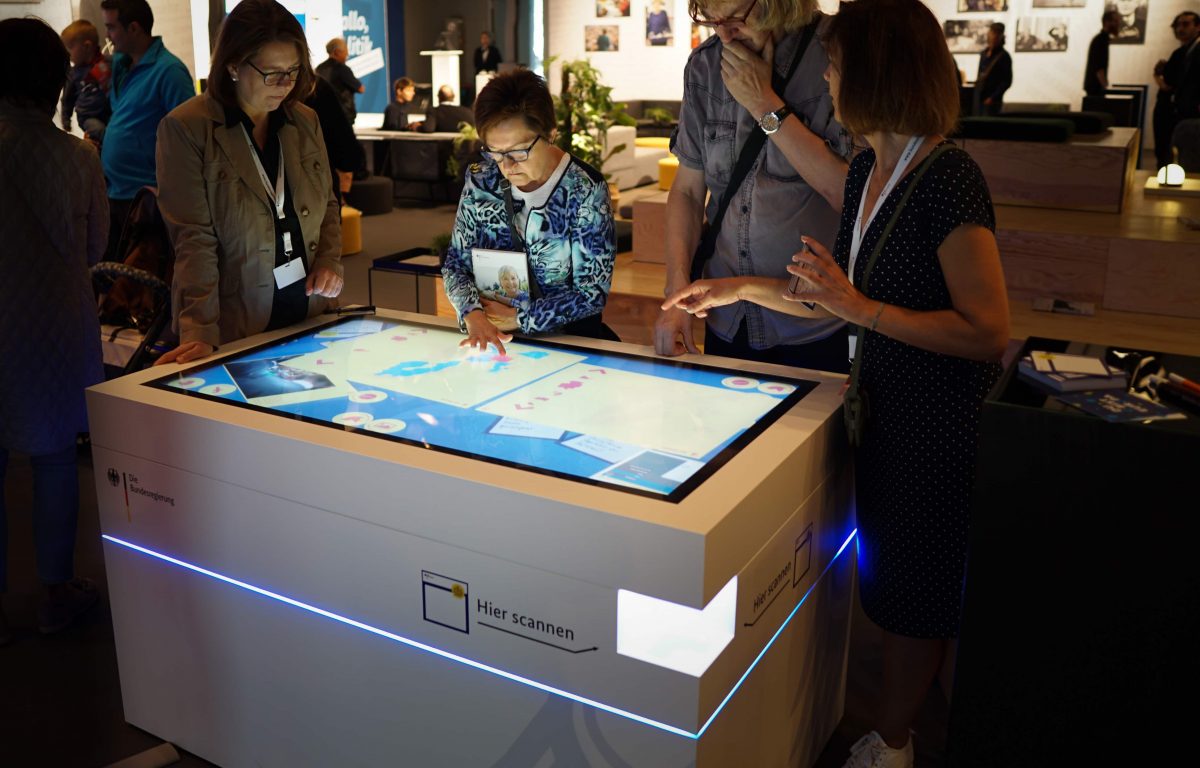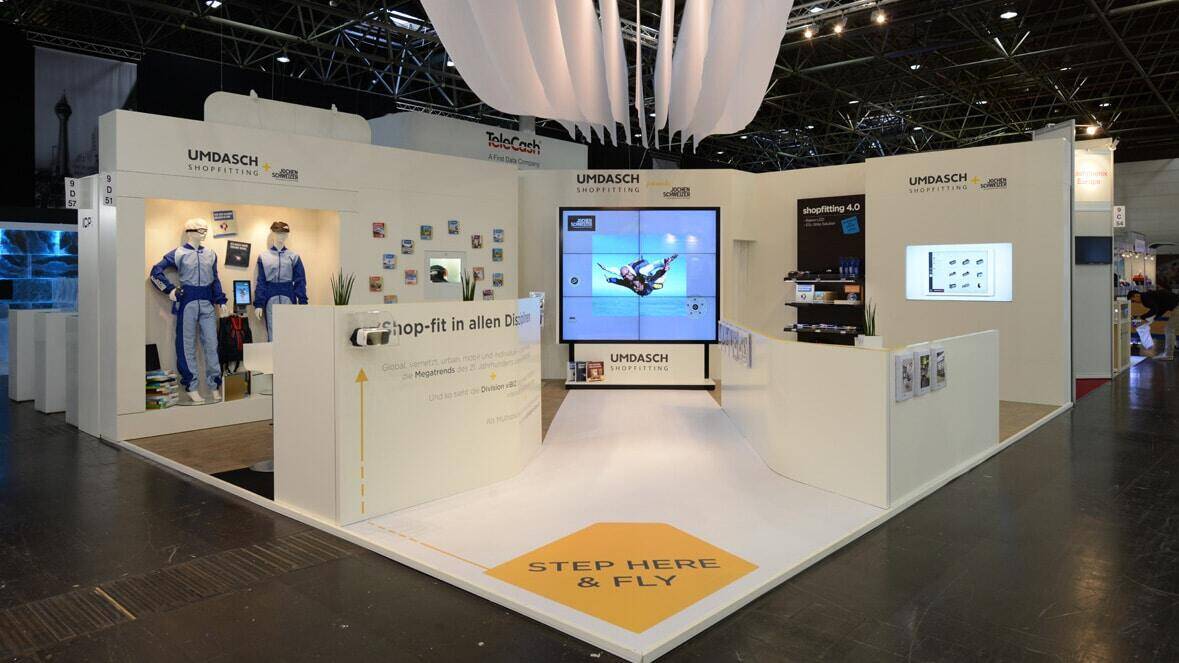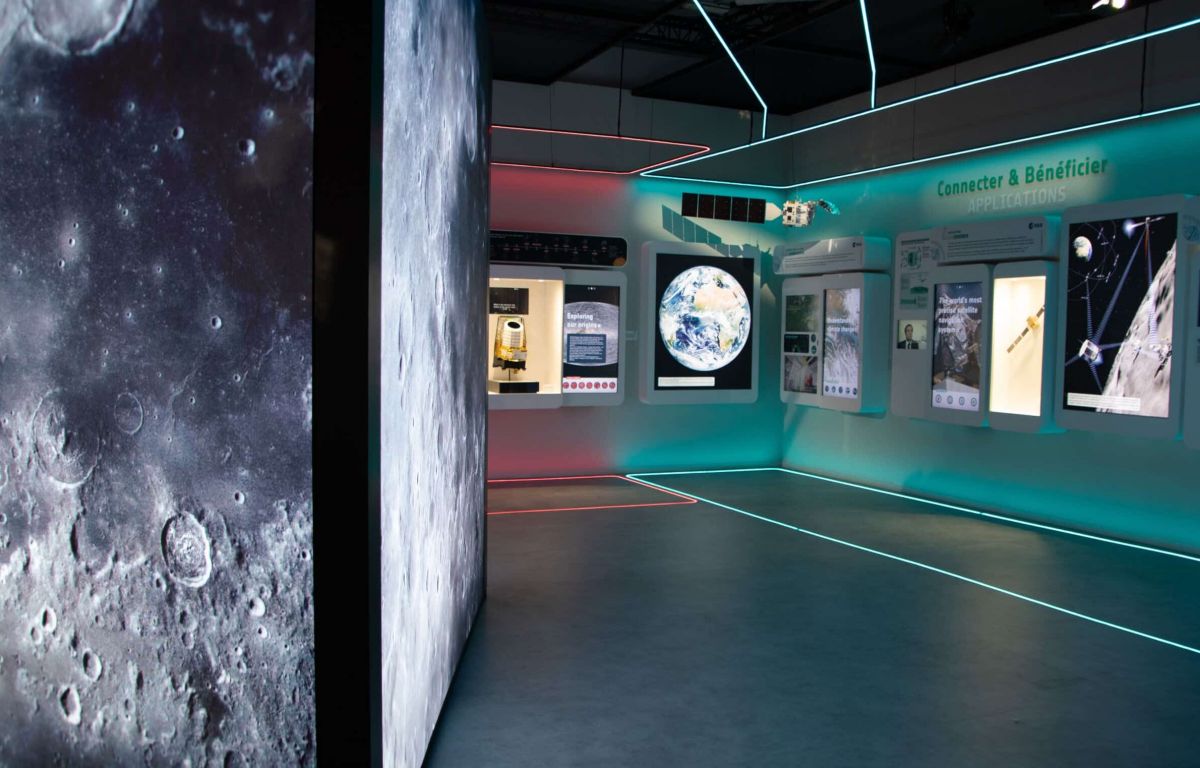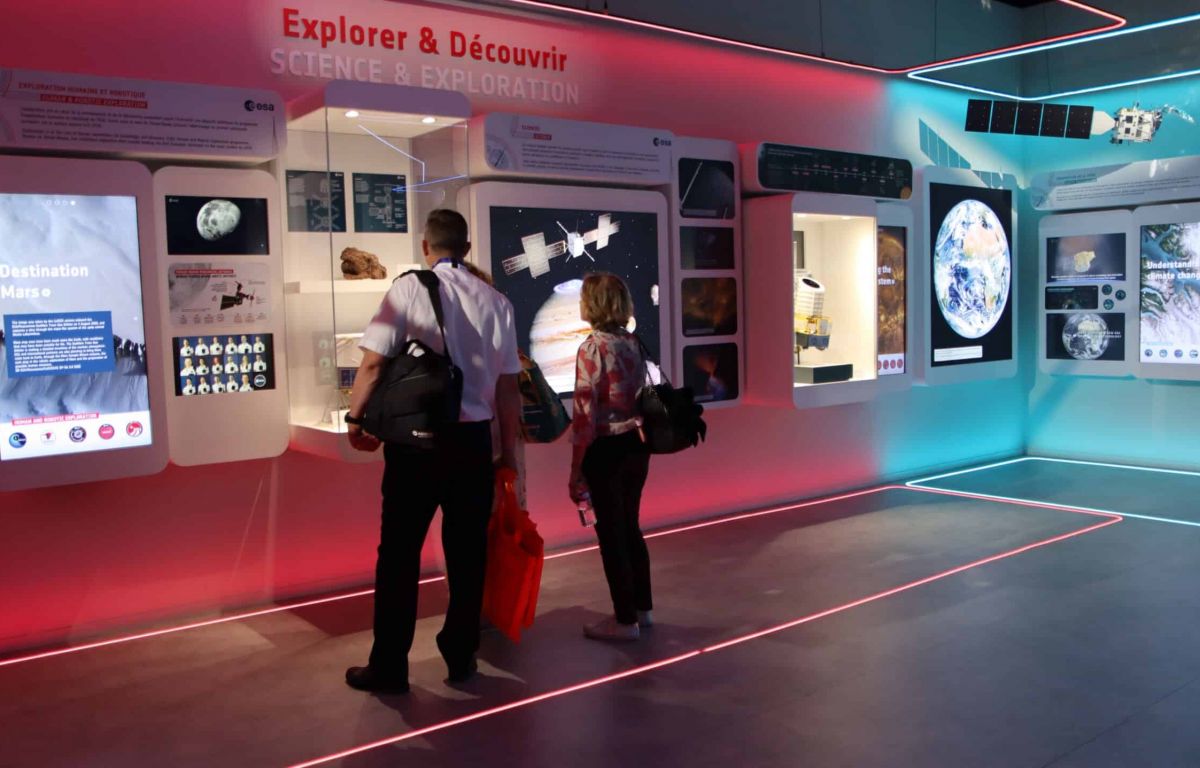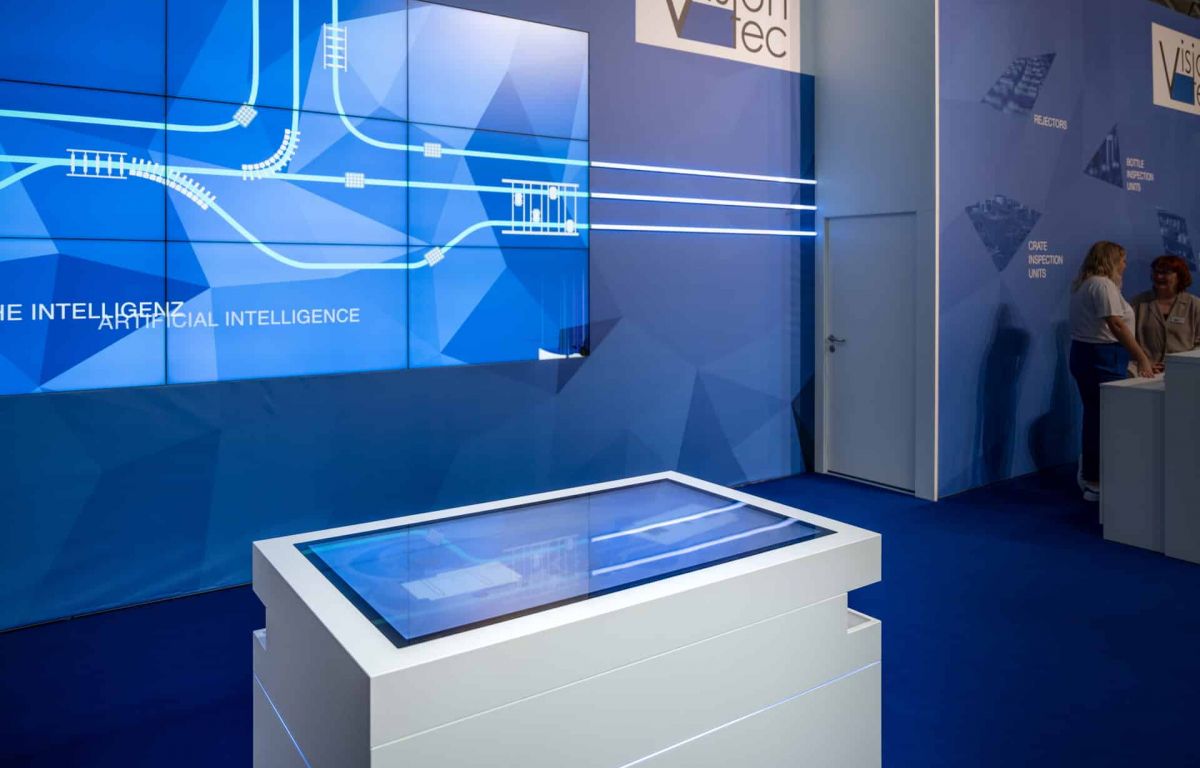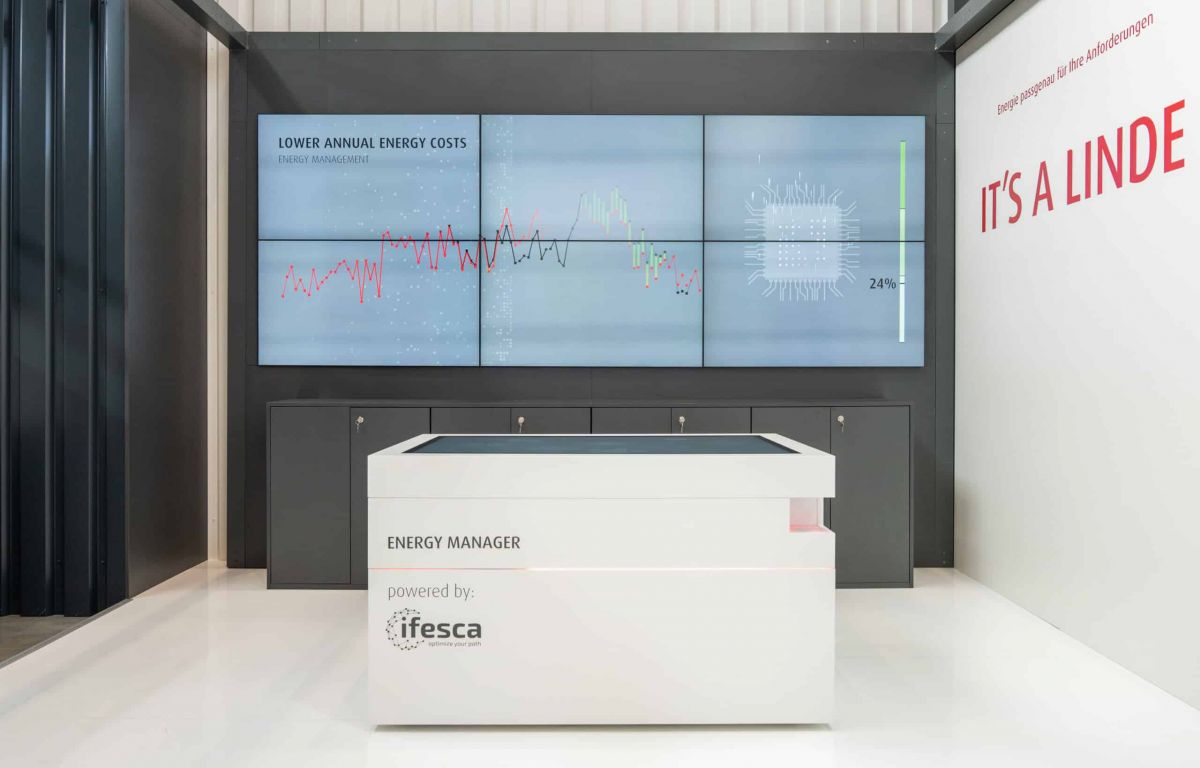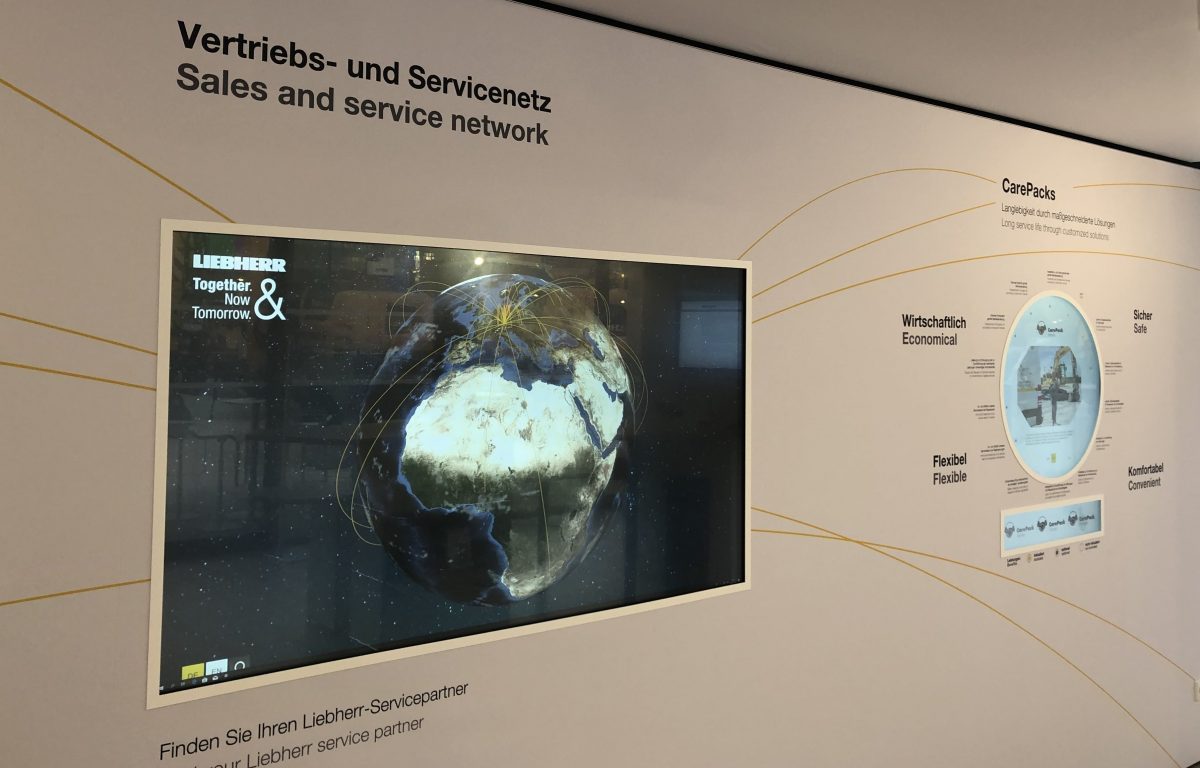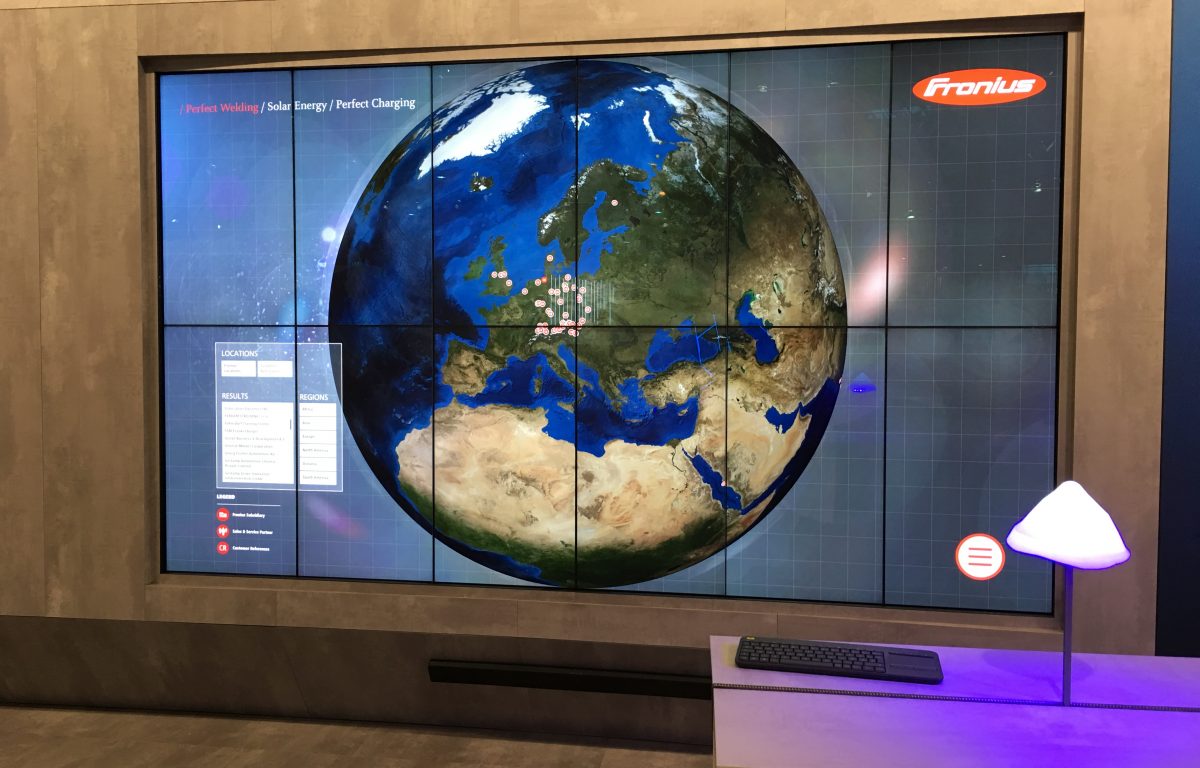 Trade Fair Eyecatcher: Installations With A Special Allure
Thanks to our many years of experience, we can efficiently design and implement tailor-made interactive installations for exhibitions and events. Using tried and tested tools as well as innovative and unprecedented features. You can scroll down through our selection of tried and tested installations for your exhibition or take a closer look at our interactive solutions.
Multi-touch Wall
You have big plans for the trade show? Let your visitors know!
Simply put, a multi-touch wall at a trade show is an eye-catching feature. Large numbers of visitors can immerse themselves in your brand world and product portfolio in an almost infinite variety of configurations, shapes and sizes. Presentations can be controlled directly on the wall itself, via touch-free gesture control, or from a tablet PC. Of course, if you want to think bigger, the Multi-Touch Wall can also be linked to the other Multi-Touch installations on your stand.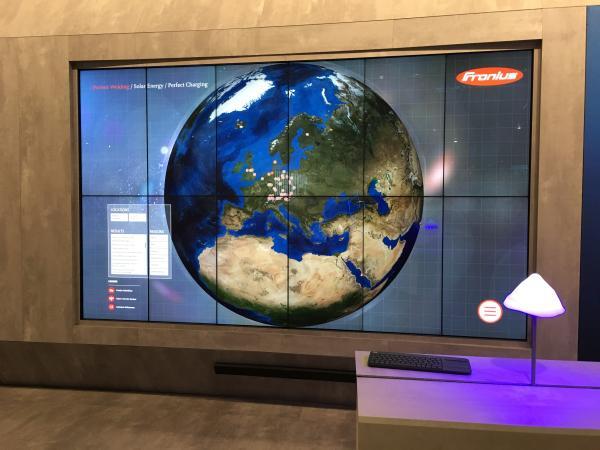 Multi-touch Scanner Table
Employee of the month when it comes to sales leads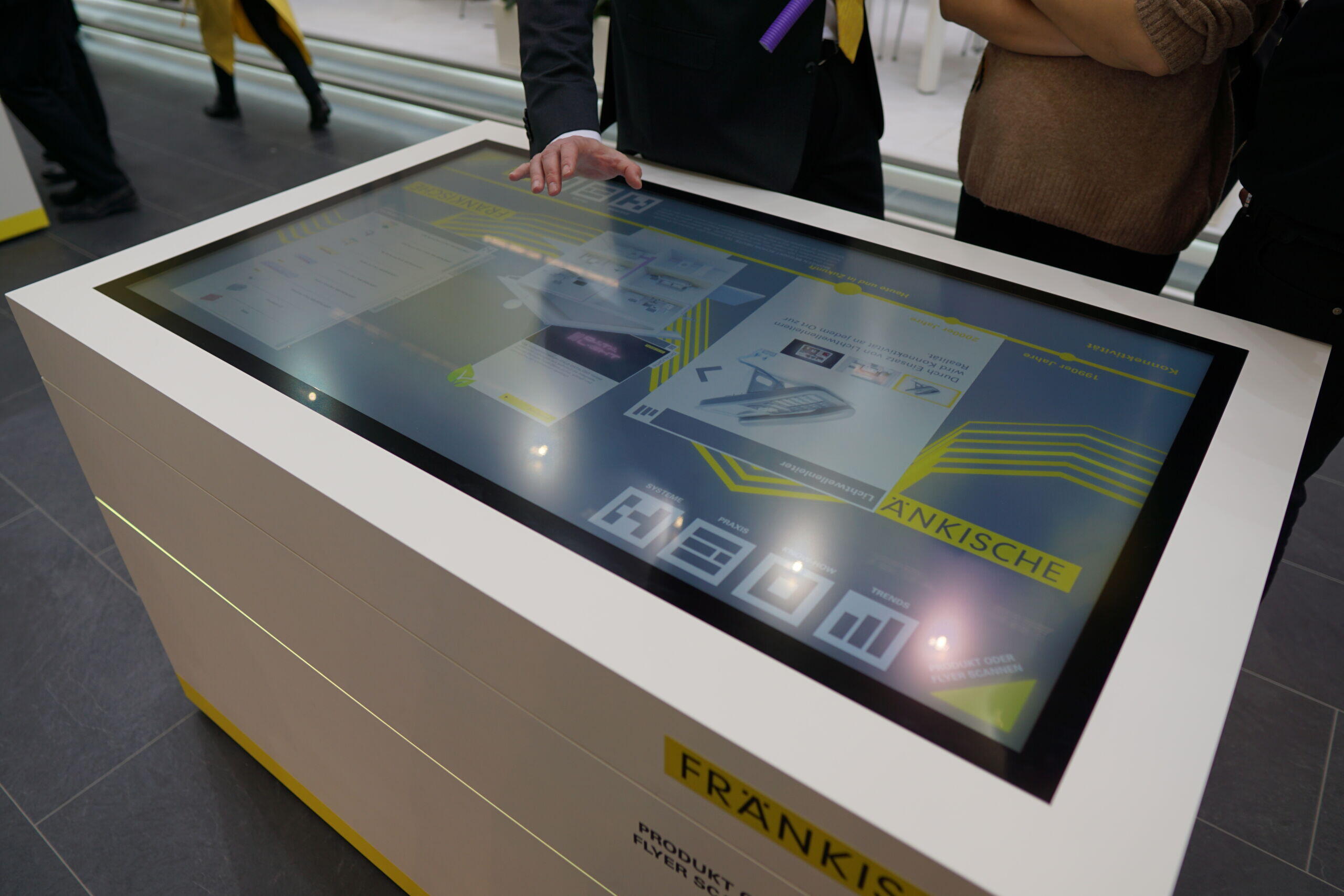 Thanks to its integrated person sensor, even the shyest visitor won't get past the multi-touch scanner table. It proactively engages with visitors and invites them to interact. Its scanner unit can recognize and read product samples, information flyers, business cards, etc., and link them to digital content displayed on the table's multi-touch surface. These features pique people's curiosity, appeal to their play instincts and leave them with positive memories of your company.
Interactive Trade Fair Wall with Projection Mapping
Visibility and attention guaranteed
Large-format projections are visible from afar, and their dynamism has a special way of grabbing the attention of exhibition visitors. And of keeping it when, in the next step, they discover their unexpected ability to control the interactive wall with their gestures and movements…
Virtual Reality Installation
Bye-bye, trade fair hullabaloo, hello, total immersion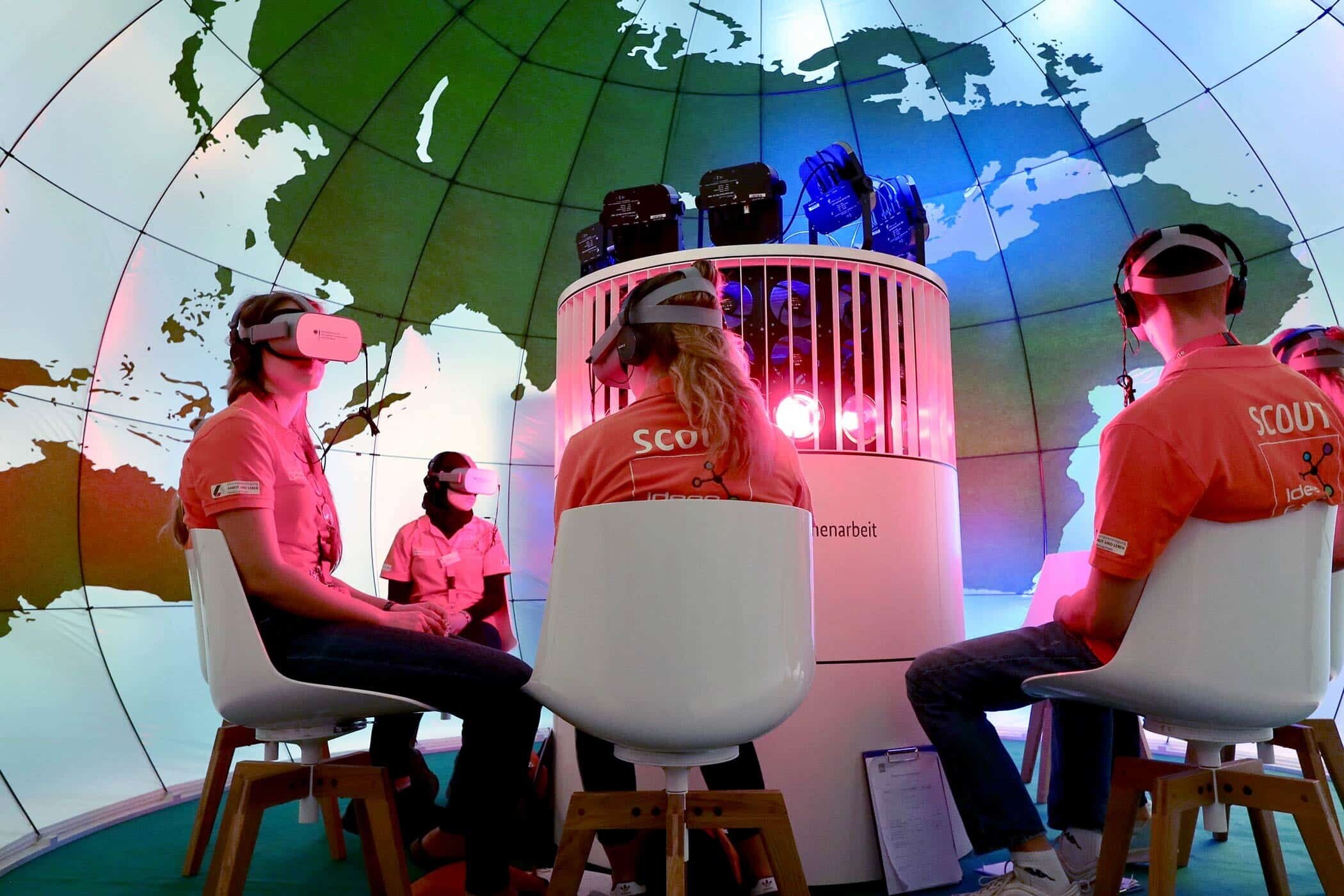 VR environments are at the forefront of interactive exhibition experiences because they offer the highest level of immersion. But expensive hardware alone is not enough – it is the content and interactivity features of the VR software that make the difference. They determine whether your visitors really immerse themselves in the experiential world on offer, or whether they just go for a dip. Fortunately, at Garamantis we are experienced VR divers.
Interactive Display Case
Touching the exhibit explicitly encouraged
No matter how the visitor turns the product in the showcase with touch gestures on the glass panels, it always remains fascinating. This is because motion-dependent lighting effects and multimedia storytelling on additional screens provide the perfect stage for the exhibit. A brilliant idea – not least because the grease-resistant glass surface of this unique interactive display case prevents unsightly fingerprints. Optionally, the showcase can also be used with touch-free gesture control.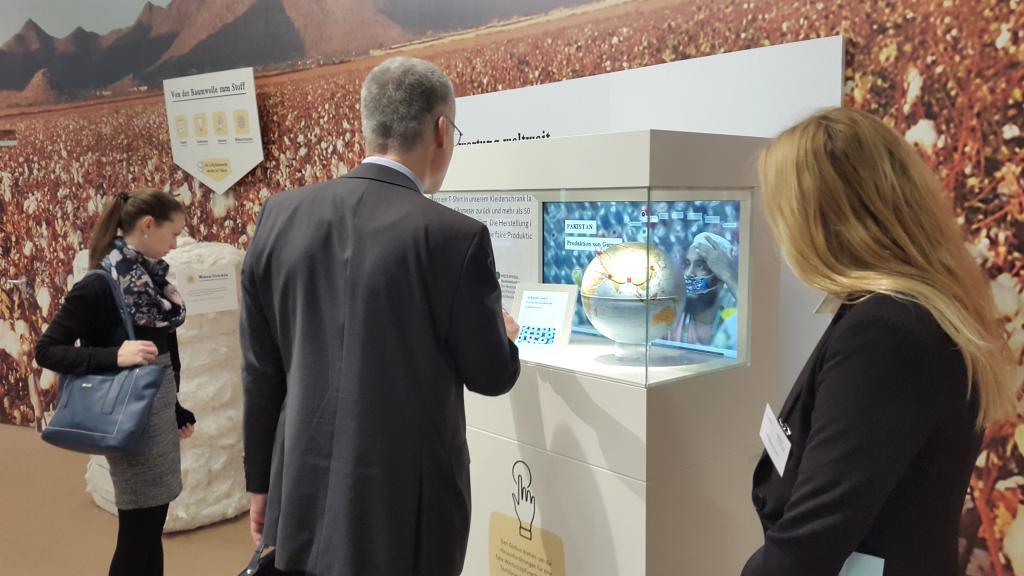 Social Media Table
Reach a larger audience than the trade show can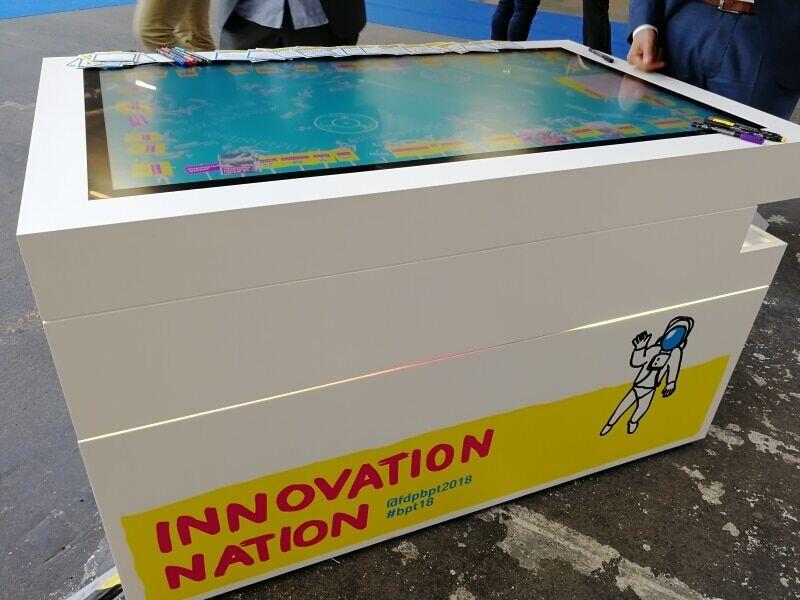 The Social Media Table's scan function offers your visitors an unusual but very convenient way to share content on social media. Thanks to this feature, the table is a digital kiosk, interactive installation and social media hub all in one – making it the perfect place for socialising activities.
And All That For Just One Trade Show?
Our trade show solutions are intended and made for a long lifespan, and we would hate to see them spend this time in a storage room. Because of that, already from the beginning we look for the best option and model for you to make sure you can put it to good, long-term, recurrent – and hence profitable – use.
Arguments in Favor of a Sustainable Use:
Convincing, no matter where you put it (except for a storage room): between trade shows, our installations can make contact and generate sales leads just as effectively in your corporate headquarters' lobby or at a Point of Sale.
The epitome of independence: our installations are capable of attracting and enticing your target audience all on their own. In other words: in order to use the installation throughout the year, you don't have to deploy staff for its operation and supervision.
A magnet not only for visitors: you might find it hard to keep your staff away from the installation, because they, too, are going to want to exploit its abilities for their own everyday business activities, e.g., as an interactive sales aid or as a showroom presentation tool.
Robust hardware: our interactive installations are anything but prima donnas. They endure transportation to far away destinations just as well as they put up with their repeated assembly and disassembly on various trade shows all over the world.
flexible content: new collection, updated content, new products, or even an entirely new business orientation – thanks to the CMS your interactive installation always remains up to date and keeps up with your creative imagination.
Why using multi-touch technology in interactive trade fair appearances is recommended
If now you're saying, "Give me just one good reason why I should turn to you when planning my next trade show?!" – here's ten: 10 reasons for using multi-touch technologies on trade shows.
By the way, reason #11 consists in the fact that we have years of experience in bringing the "Wow!" to trade shows and into their attendees' minds (and keeping it there). We would like for you to make your own pleasant experience with us. And eventually the next trade show is going to happen for sure. So let us get a head start and discuss how you can make an innovative appearance there.
Free consultation on interactive exhibition stand or event
Benefit from our experience and be inspired by innovative trade fair concepts. We will be happy to advise you individually and without obligation.
Working with Garamantis was uncomplicated, target-oriented and, last but not least, a huge success. Thank you so much for the interactive components of our drinktec trade fair appearance! We are looking forward to upcoming projects.
Thanks to Garamantis' customized software for the giant LED wall, we were able to raise Rosenbauer's presentations at Interschutz 2022 to a new visual level. At the same time, the flexible presentation system offers the possibility to modify content last minute.
The collaboration with Garamantis was once again professional and top-grade. Thanks to an excellent preparation during the critical weeks preceding the trade show, together with the Garamantis team we managed to both achieve an on‑the‑point delivery to the client and to celebrate a huge success at the LogiMAT and the WoMH trade shows. In close coordination with our long-standing partner Garamantis we were able to simplify the complex matter of energy-intensive industries and thus provide a short but poignant insight into the scope of our services to the trade fair audience. This trade show presentation generated a vast number of leads, with the first resulting orders already having arrived. We are grateful for this amazing cooperation and wholeheartedly recommend Garamantis and their tailor-made solutions.
With a cross-national and challenging project like the EXPO Dubai, having a reliable and dedicated partner like Garamantis at our side has been particularly important. Garamantis have again proven themselves as facilitators of a smooth implementation who always had innovative approaches to a solution up their sleeves. The installations were realized swiftly and rolled out in Dubai in several phases. My thanks go out to the entire team for their commitment, and I am looking forward to the next projects!
The implementation of our ideas and the cooperation with Garamantis was fun for our entire team. No request and no change request was too much and we felt understood even without many words. The final result and the visualisation of our projects made possible was successful. We are already looking forward to the trade fair visits with our new companion.
Digital spaces are also being conquered by the cultural and creative pilots Garamantis. They develop interactive installations, mobile applications and multi-touch solutions for companies and institutions. The focus is always on creative and uncomplicated use of new technologies.

Digitale Räume: Wie kulturelle Events ins Internet verlagert werden
To break the norm of car show, car marques have to integrate various interactive elements to better engage their would-be customers. At Isuzu, they managed to find new fans with Garamantis' multi-touch interactive surface where visitors could physically draw their ideal truck design and have it scanned and digitized into the virtual truck of their creation. The Garamantis team was swift and efficient in creating and optimizing the content for us. The end product is nothing short of being flawless and engaging, kudos to the Garamantis Team!
At the Green Week, visitors to the stand of the Federal Ministry for Economic Cooperation and Development can travel to Madagascar via virtual reality in a "climate dome", where the consequences of global warming can already be clearly felt.
Klimawandel hautnah
In a 360-degree video, visitors were given an insight into the living conditions and challenges of the local people via VR glasses. They not only saw and heard how the inhabitants of the African island state dealt with climate change, but also felt the heat and dry air in the steppe, or the cool ocean breezes on the coast.
Am eigenen Leib
The multi‑touch table as a part of the BMZ's trade fair appearance at ITB 2017 was a complete success. The interactive map of the world helped to rapidly attract visitor's attention to the fair stand.
Up to now, VR has been difficult in the event context, as it usually only offers experiences for individuals. The climate dome allows several people to immerse themselves in virtual reality at the same time.
Erlebniswelten 4.0 – Interaktive und multisensorische Installationen auf dem Vormarsch

The collaboration with Garamantis was refreshingly uncomplicated and perfectly target-oriented. We as an agency provided the contents and ideas, and Garamantis consummately put them into practice and developed the matching design. Our client was very pleased with the result and, with the multitouch table, had a real highlight to show at his trade fair presence.
For long-term projects like this one it is paramount to have reliable partners on board who also possess the necessary flexibility. In Garamantis we not only have such a partner, but at the same time an important creative idea giver in many a difficult project phase. From the first collective brainstorming right until the rollout at the trade fair, Garamantis always provided advice and support, and they never let the fun fall by the wayside to boot.
References