Interactive Walls – the right technologie for every application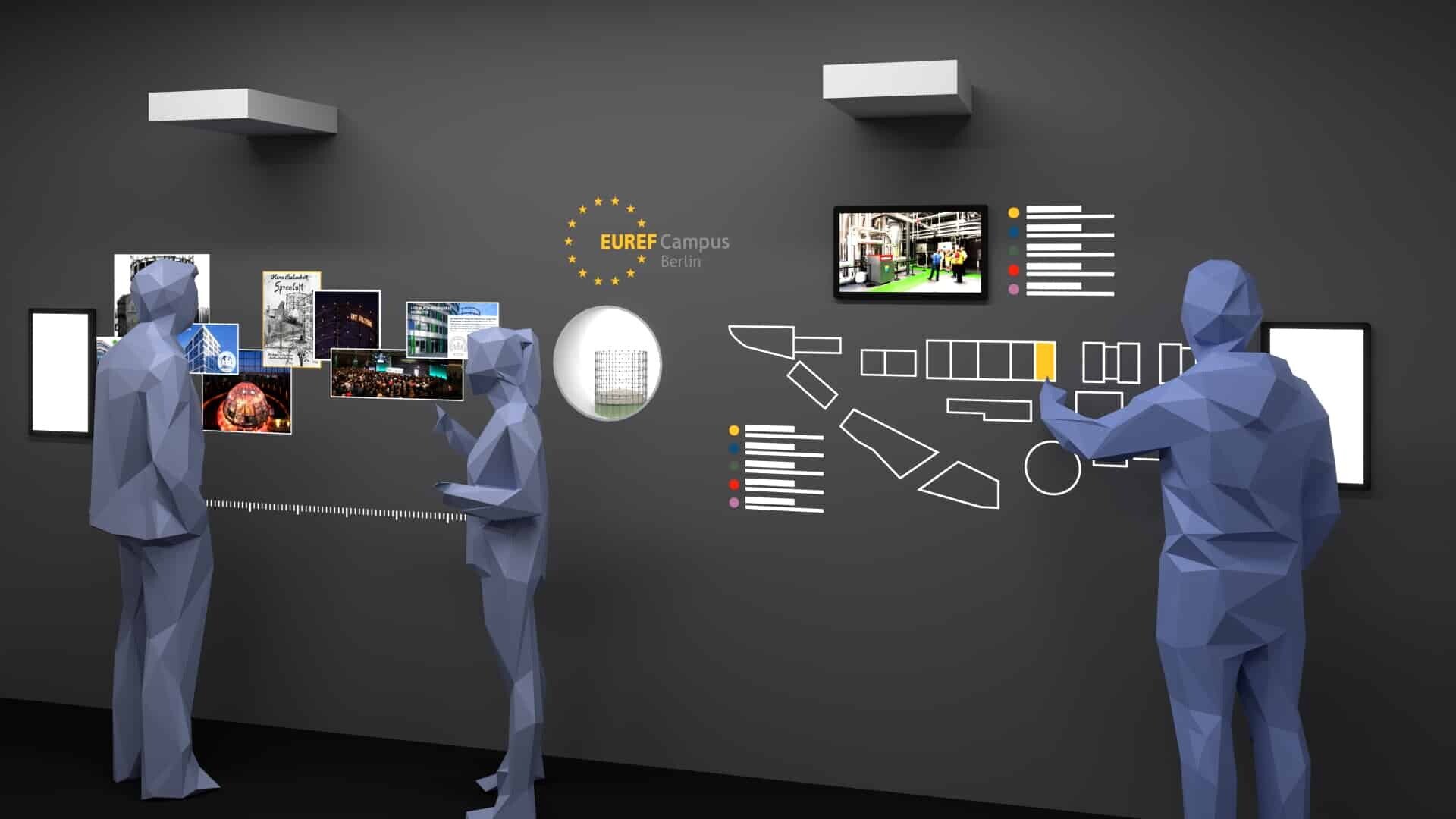 An increasing number of exhibitions, showrooms, trade show booths, or Points of Sale incorporate and use Interactive Walls. Ideally, these attract attention from a large distance, they are informative, and they also are fun thanks to their playful interactivity. What's more, they are space saving and they look pretty impressive, too. It's only logical for a business to try and make all the advantages of an interactive wall work in its favor. In order for this endeavor to not drive you up the wall, we have collected some useful advice and hints concerning conception and implementation, based on our experiences in the field of interactive wall installations.
4 Technologies for Interactive Walls
There are different ways to design and set up an interactive wall. Interactive walls can be made up from anything between a combination of analogue elements with interspersed additional interactive features, e.g., products or display cases, and a full-blown extensive interactive multi-touch video wall. The following will give you an overview of the interactive technologies available and their use.
1. LED Walls
Interactive walls using LED technologies have the highest luminosity and hence also the best remote visibility. Even in large, brightly lit, and spacious trade fair buildings they can be seen from a great distance and attract attention. Some of the LED technology's disadvantages consist in the relatively modest pixel pitch (PPI), which with a closer viewing distance becomes a problem, as well as in the high costs per square meter. An LED wall is thus appropriate for use as a beacon or eye-catcher, but it doesn't make a good user interface for interaction proper – for someone standing right in front of it, an LED wall is much too bright, and the image appears too pixelated. When it comes to interactivity features, people sensors, ToF cameras, or LIDAR laser technologies are the better choice. Check out this LED configurator by Samsung to play around with a bit yourself.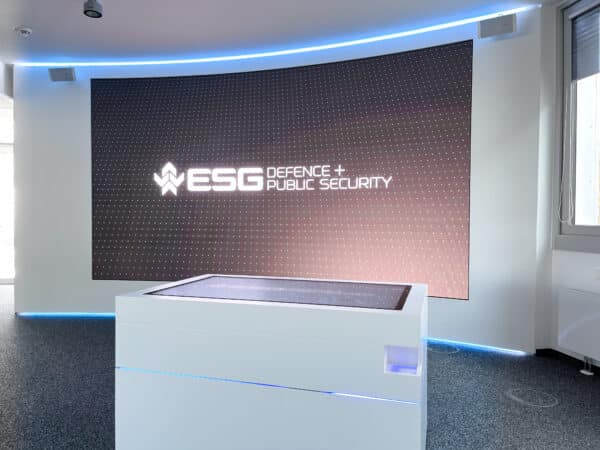 2. individual Multitouch Displays
Capacitive multi-touch displays are not only suitable for use in multi-touch tables, but they can also be wall-mounted. With regard to (touch) interactions, they are the best option available. The display's integrated capacitive sensor facilitates both precise and reliable touch-recognition, and its users can easily navigate and browse through content while enjoying the advantages of both high resolution (4K) and good luminosity. The downside is: multi-touch displays come with a frame several inches wide. This precludes their seamless and flush combination into a grid, and they can hence only be used and mounted individually. Furthermore, the available range of standard display sizes ends at 65'' (165 cm) – which doesn't exactly qualify as a "wall". There is, however, the occasional exception from the rule, and some specifications come with a size of up to 98'' (249 ) cm. Economy displays (no 24/7 operation) are available from the Japanese manufacturer iiyama.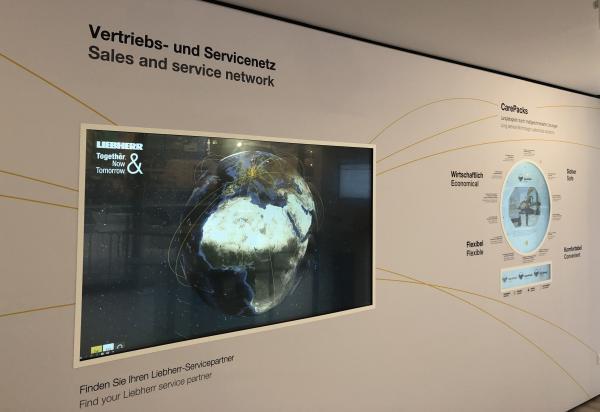 3. Multitouch Video Walls
Multi-touch video walls, a.k.a. "touch walls" or "touch-videowalls", consist of a grid of passive displays with only minimal frames ("bezel free"). By lining up displays of different sizes horizontally and/or vertically, you can create interactive wall surfaces in various dimensions and with different aspect ratios. In this case the interactive sensor is "retrofitted", for instance by superimposing an infrared frame or a laser curtain on the displays afterwards. The users' fingers break this invisible layer of light and thus trigger the touch-action. The result is characterized by high luminosity, high precision, and good interactivity. However, as regards reaching a reasonable size of the wall, unfortunately the hardware is again rather costly. If you want to fiddle around with designing a video wall a little, try this Sharp/NEC video wall configurator (touch sensors not included).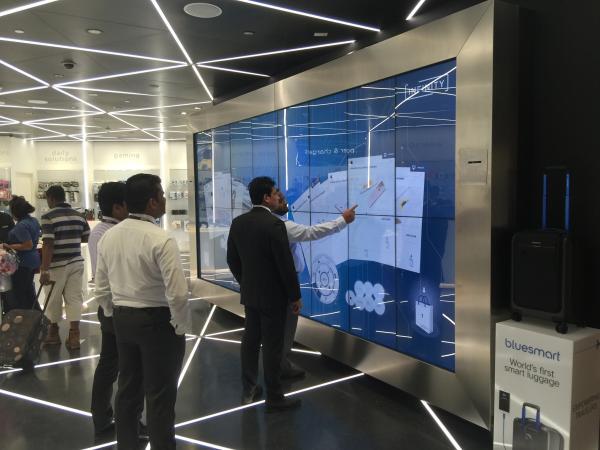 4. Interactive Wall Projections
Another option to design and realize larger interactive surface areas consists in wall projections that react to visitors' touch gestures. With a clever hardware selection, the creation of extensive interactive walls becomes possible. A particular surprise effect emerges from the projection's exact fit with the wall's real-life analogue or tactile elements, so-called projection mapping. The difficulty here is achieving the desired effect in very bright environments, which requires expensive projectors with very high light output (measured in ANSI lumen). If you want to calculate the ANSI lumens value required for your use-case, use this light output calculator as a rule of thumb.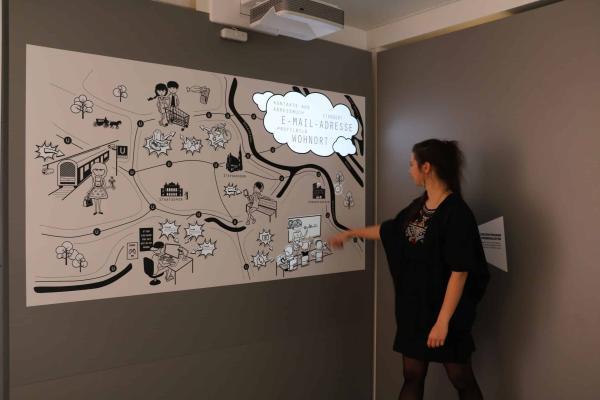 A Combination of Different Technologies – the "Silver Bullet"?
From our experience, the success of an interactive wall project stands or falls by the quality of its conception. You might therefore want to ask yourself first which effect you want the wall to have on what target audience(s), and in which environment. For instance:
attract the attention of visitors and lure them to your trade show booth
presentation surface for group audiences in a showroom
facilitate visitors' individual exploration of exhibition content
marketing and/or explanation of a business's products and services by staff members
Good news is: typically, you don't have to restrict yourselves to only on technology. Moreover, a combination often does make perfect sense and has the favorable side-effect of saving costs on hardware.
Example: The task is to convert one 5 m x 3 m (16,5 ft. x 10 ft) wall of a showroom into an interactive wall.
An atmospheric LED frame surrounding the wall takes care of its harmonious integration into the room concept. Extensive animated content or videos are projected onto the wall surface with immediate relation to analogue design elements such as wall prints and real objects/products on display. From there, individual content can be shifted seamlessly to recessed multi-touch displays for closer inspection or further processing. This example configuration doesn't use a multi-touch video wall, thereby reducing the hardware costs considerably. If paired with a sound and clever concept, this type of technology mix in an interactive wall will create a one-in-a-million experience for your visitors.
Some Tips for Planning an Interactive Wall
only as many PCs as necessary: keep the number of PCs needed for control and playback of content shown on the wall as low as possible. Ideally, only one PC is in charge of the entire wall, which keeps both costs and administrative efforts low.
as interactive as possible: a combination of different sensor technologies enhances interactivity. A camera or a people sensor can detect visitors from a few meters distance and trigger an according reaction on the wall. Short-range interactivity on the other hand is achieved through touch- or motion control.
as open as possible: the CMS should facilitate easy integration and updating of content. With little effort you thus can adapt the wall to a new application context (e.g., a different trade show) or new products.
only as expensive as necessary: during conception phase, not only the course for the project's success is set, but its budget as well. The clearer the objectives and requirements, the better you can decide on the right hardware.
as impressive as possible: even more important than the interactive wall's hardware is its content – mainly the software. Provided the concept is clever and the software is customized, even a smaller wall can have a stunning effect.
An Interactive Wall for Your Business?
We are happy to help you with free and non-binding advice concerning the options available and the benefits for your business company. We can tell you, which technologies will help you in achieving your goals and how much they are going to cost you. We're looking forward to your message!