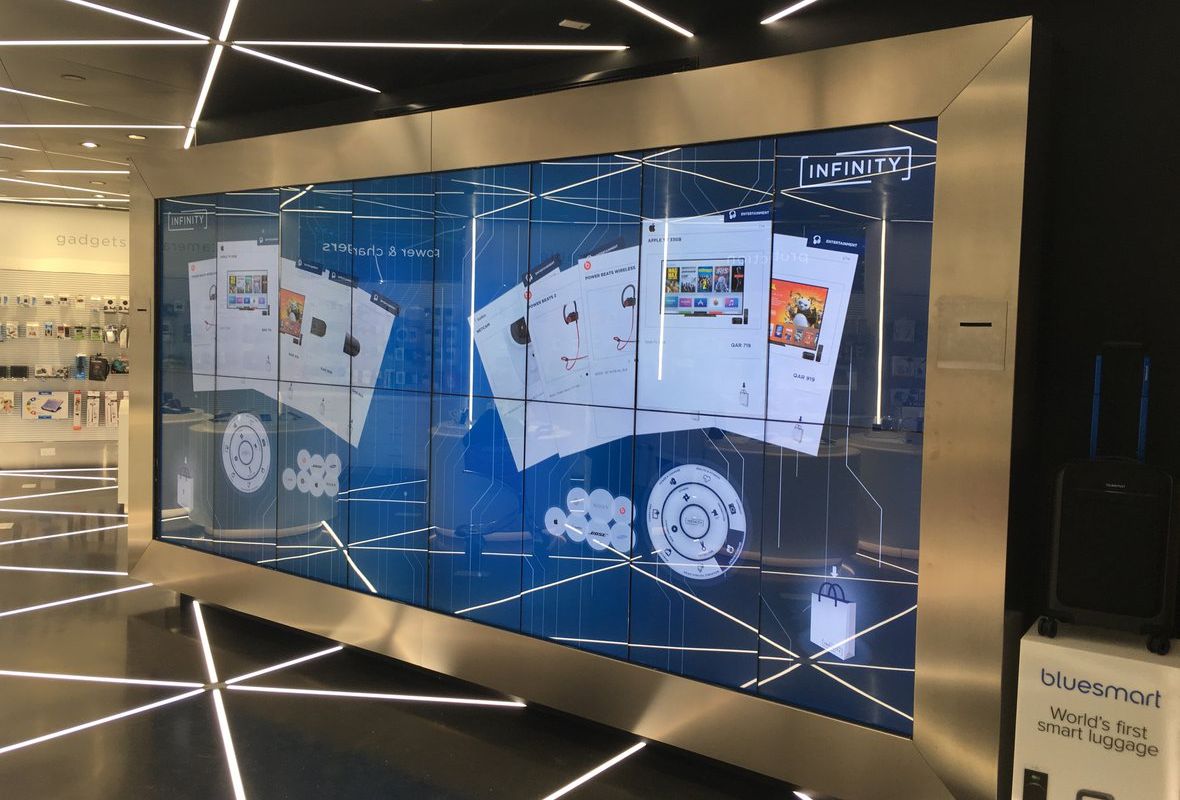 Interactive Shopping Wall
Interactive Shopping Wall with multi touch software and CMS at Hamad International Airport in Doha
Interactive Shopping Wall at the Hamad International Airport in Doha
Especially stores in airports are confronted with the challenges that limited space for display areas and storage present. At the same time, offline and online shopping are more and more blending together.
If one wishes to attract the attention of a young, technophile as well as solvent target group, and to measure up to their expectations of unlimited shopping possibilities, an interactive shopping wall can be the ideal means to achieve that goal.
On behalf of Ars Electronica Solutions and Umdasch Shopfitting, Garamantis has developed the software for an interactive shopping wall at Hamad International Airport in Doha. This installation consists of a total of 16 separate screens with an impressive overall resolution of 8640 x 3840 pixels and helps to create a lasting shopping experience for any customer. Due to its size and its position next to the aisle, the shopping wall is a particular eye catcher and initially attracts the airport visitors' attention by playing videos and computer animations. Once a person has approached, it then goes on to offer a choice of several products to him or her; the user can interact with the shopping wall via touch-gestures across its entire surface: Products of no interest can simply be deleted from the selection with a swipe, while the interesting ones can be activated with one touch, whereupon a multitude of product information, choice of color and correlated video footage appears. This makes it easy for users to relate to the products and the content in a playful way, and they can immediately fill their virtual shopping carts. If desired, a print-out version of the shopping cart's content for presentation at checkout is available at a single touch, as the shopping wall also possesses two integrated printer units.
The CMS designed by Garamantis allows storeowners to conveniently manage the entire product range and content, and on-line maintenance with constant content updates ensures an uninterrupted 24/7 operation.
The modular Garamantis shopping wall software is also designed for a number of further applications, e. g.:
photograph pin board: The user scans a QR code with his smartphone and then can upload image files from his smartphone to the shopping wall and edit them via touch-gestures
RFID-sensor: The shopping wall can recognize and process products held in front of it
smartphone upload: By means of a QR code the user can download content from the shopping wall, for instance his shopping cart, to his smartphone

Ars Electronica Solutions
Project facts
Client: Ars Electronica Solutions
Context: Umdasch Shopfitting for Qatar Duty Free
Implementation time: 12 weeks
Finishing date: August 2016
16 screen with a total resolution of 8640 x 3840 pixels
Virtual shopping basket
Two integrated printer units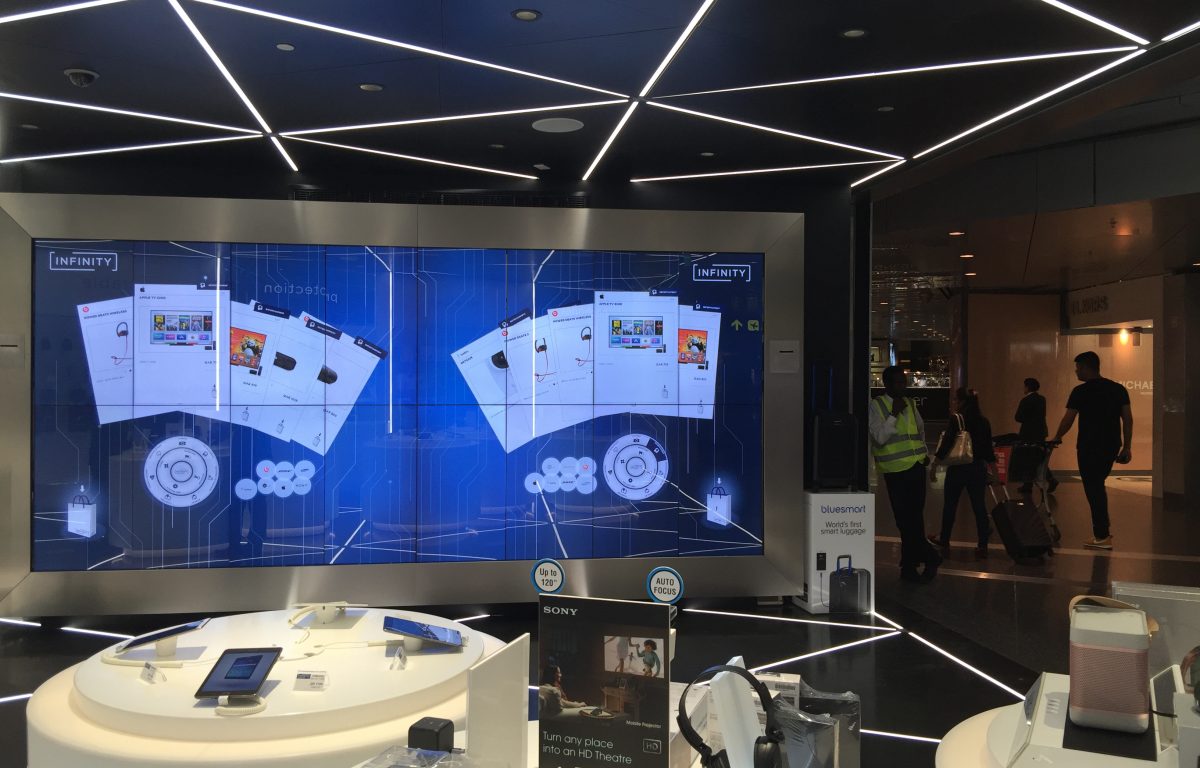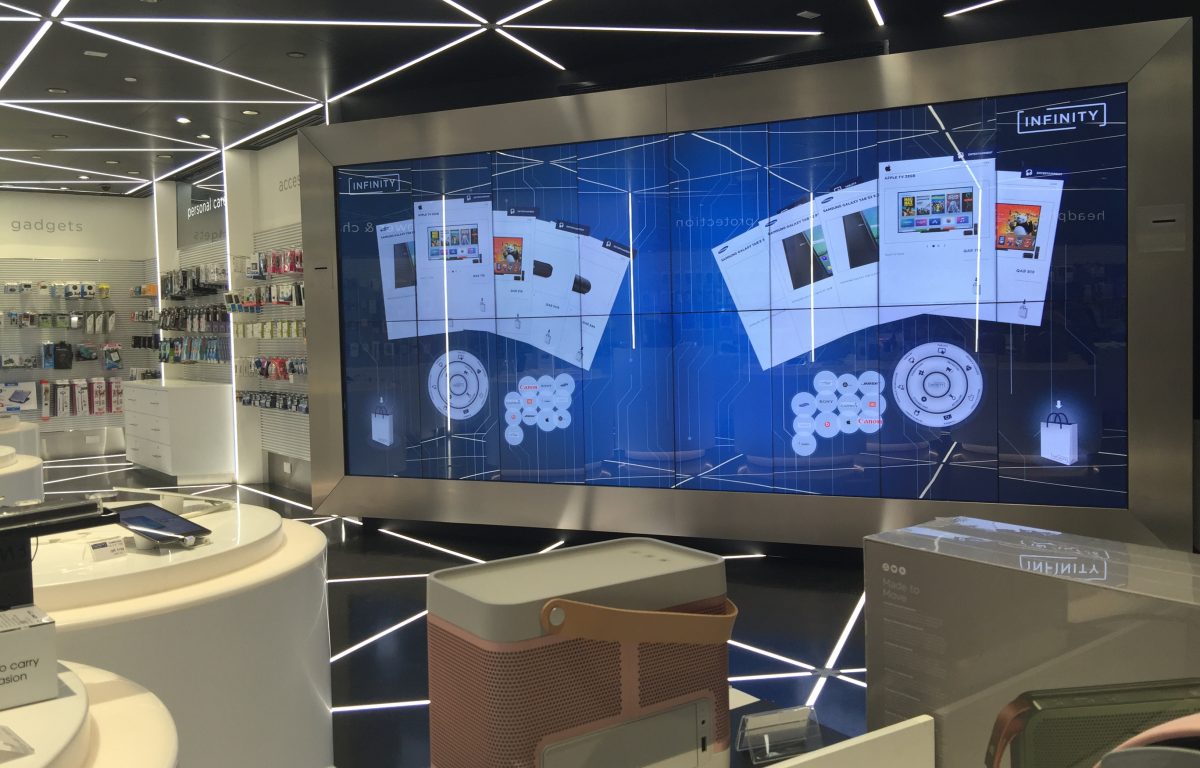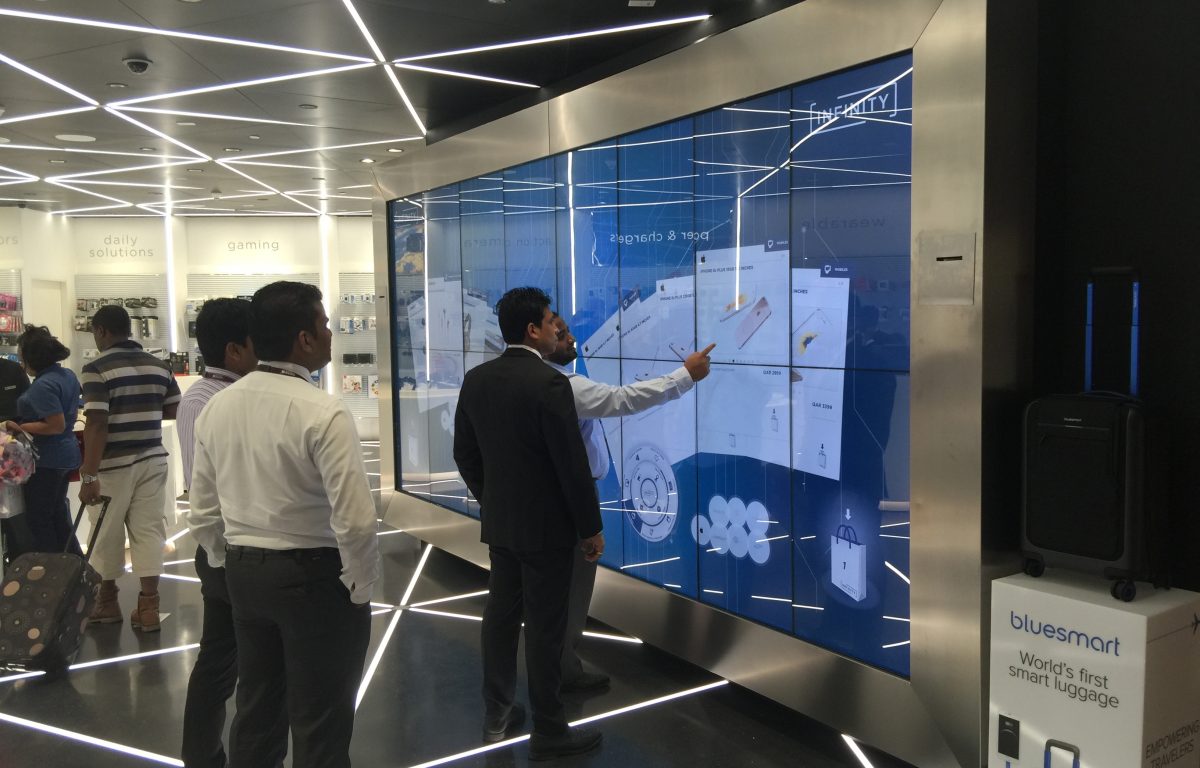 Overall, very remarkable and interesting technologies that can improve the shopping experience considerably. Via already ingrained behavior patterns, like touching or controlling with swipe‑gestures, the customer triggers information on the product or "experiences", but one can also design further product descriptions and explanations in that way. It remains to be hoped that the use of these technologies in the retail industry will increase in the near future.
Mit Multitouch- und interaktiver Technologie das Einkaufserlebnis steigern
Multi-Touch Wall
For Those Who Think Bigger. Present your company in maximum resolution and interactive finesse.