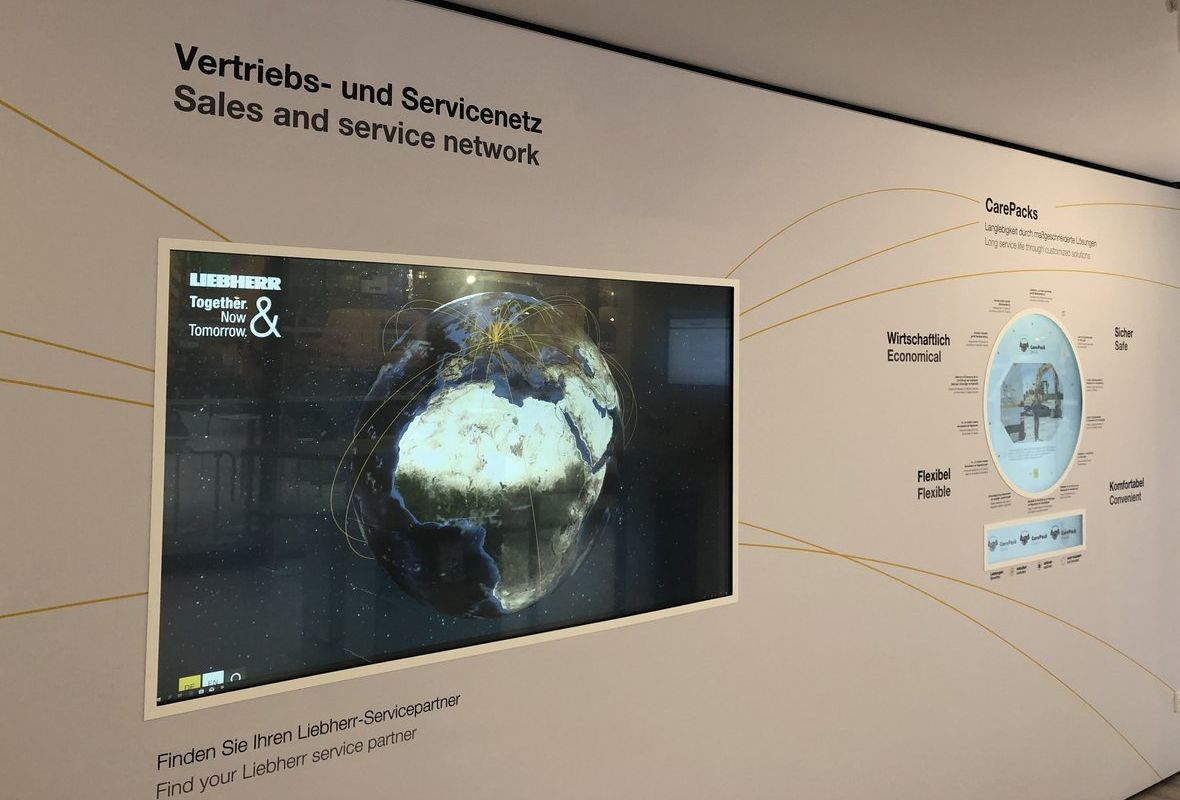 bauma 2019
Interactive Trade Show Terminals in the Liebherr "Future Pavilion"
This leading international construction machinery trade fair takes place every three years and is a veritable show of superlatives: 3,700 exhibitors and more than 600,000 trade visitors meet in Munich on the world's largest exhibition grounds.
The biggest and most important one of these exhibitors is the Liebherr company with 14,000 square meters of open air‑exhibition space. The construction machinery manufacturer presented itself under the motto 'Together. Now & Tomorrow'. Amongst the over 100 exhibits on display were novelties and product advancements in the area of tower cranes, mobile and crawler cranes, mining and earthmoving machinery, material handling, civil engineering, and concrete technology. This very exhibition space featured the largest machinery on the entire bauma trade show, which could be marveled at in numerous live shows. The assembly of the trade show stand with its several buildings was carried out over the course of almost one year.
On behalf of Ars Electronica, Garamantis had the opportunity to contribute to several interactive exhibits in a "Future Pavilion" located in the Liebherr service center: for example, the multi-touch software, control, and CMS integration used all had a Berlin provenance.
An interactive display case equipped with a touch panel and electrically switchable foil illustrated Liebherr's comprehensive refurbishment program. For this, each step of the process – starting from the old component's submission right until the installation of the new one – was explained clearly on the monitor, while the respective structural elements were either visualized or obscured behind the electric foil.
A second one of Garamantis's interactive display cases presented seven construction machines on a turntable. Visitors could select, for instance, an excavator via swipe gesture on the display case's glass surface, whereupon information on its range of application, its performance features, and equipment options was given on two monitors. As at all other terminals as well, it was possible to switch back and forth between German and English presentation mode anytime.
An expansive interactive monitor wall with recessed multi-touch screens gave visitors an idea of the span of the manufacturer's worldwide sales network and of the range of services on offer. They could playfully explore a high‑resolution 3D globe with their hands, or the globe played back prefabricated stories. A second multi-touch screen was mounted behind one round and one rectangular shaped cut out opening in the wall, which gave it a particularly striking appearance (round monitor). Here, visitors could choose from Liebherr's different "Care Packs" and get a comprehensible and animated overview of the services included.
A fourth terminal consisted in an online-store simulation using real example products, where visitors could intuitively select products and goods and obtain further related information on a multi-touch monitor. The control of this installation was realized by means of RFID stickers on the items.
Photos: Ars Electronica / Stepha Farkashazy 

Ars Electronica Solutions
Project facts
Client: Ars Electronica Solutions
Context: Liebherr Trade Show Stand bauma 2019
Implementation time: 12 weeks
Finishing date: April 2019
interactive display case with turntable, touch panel and electrically switchable foil
exhibition wall with round multi-touch screen
product recognition in the shop via RFID
central content management system and exhibition control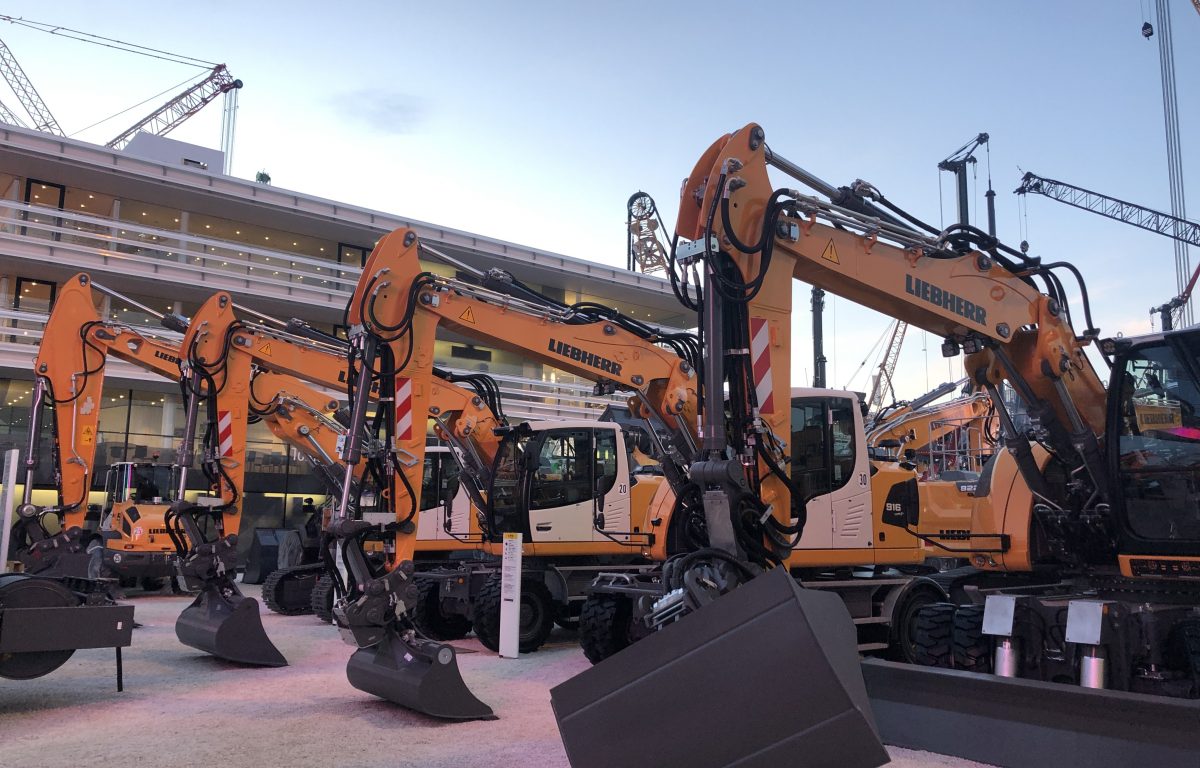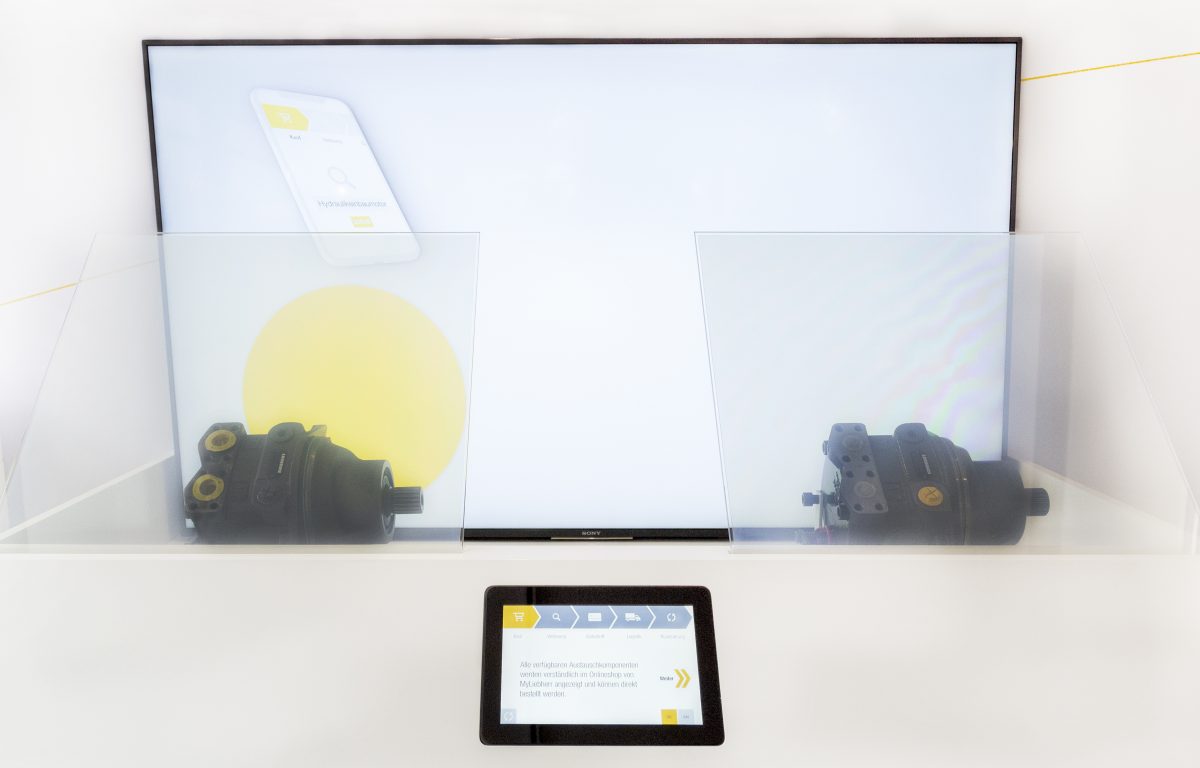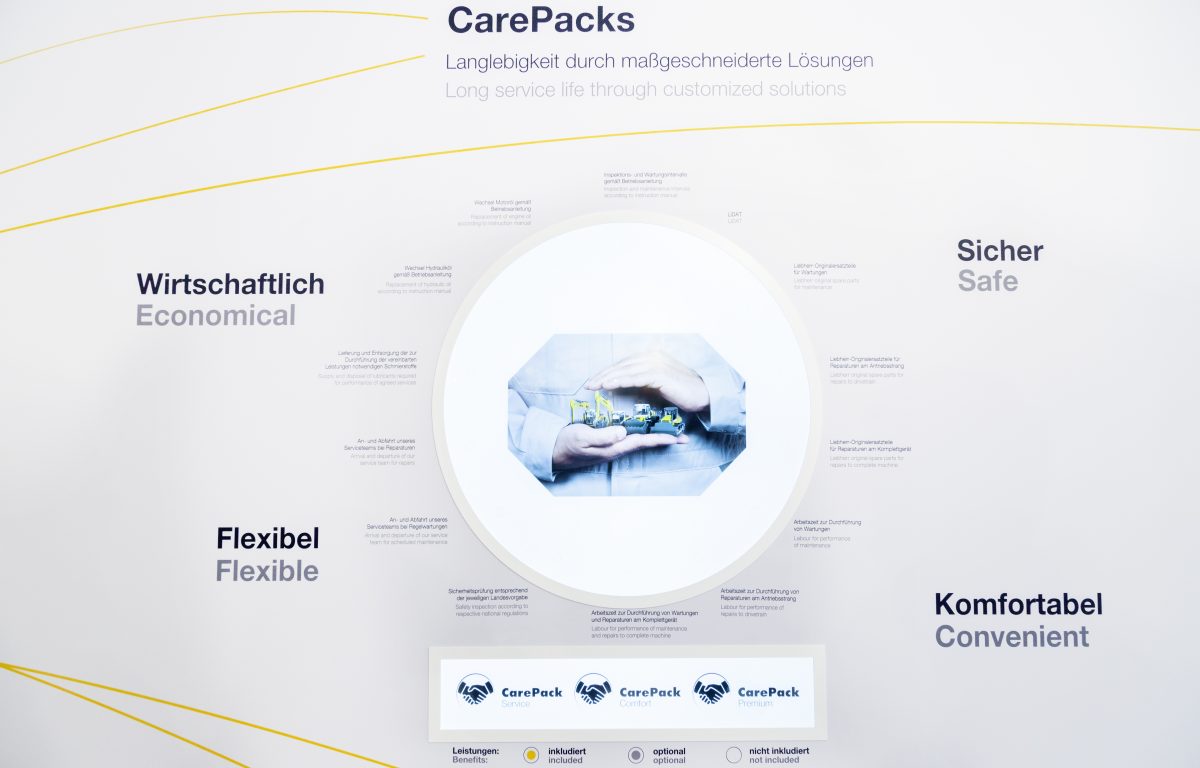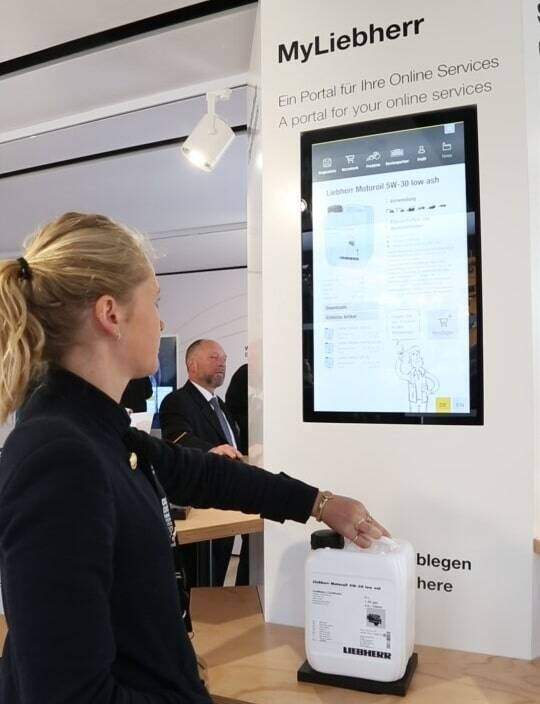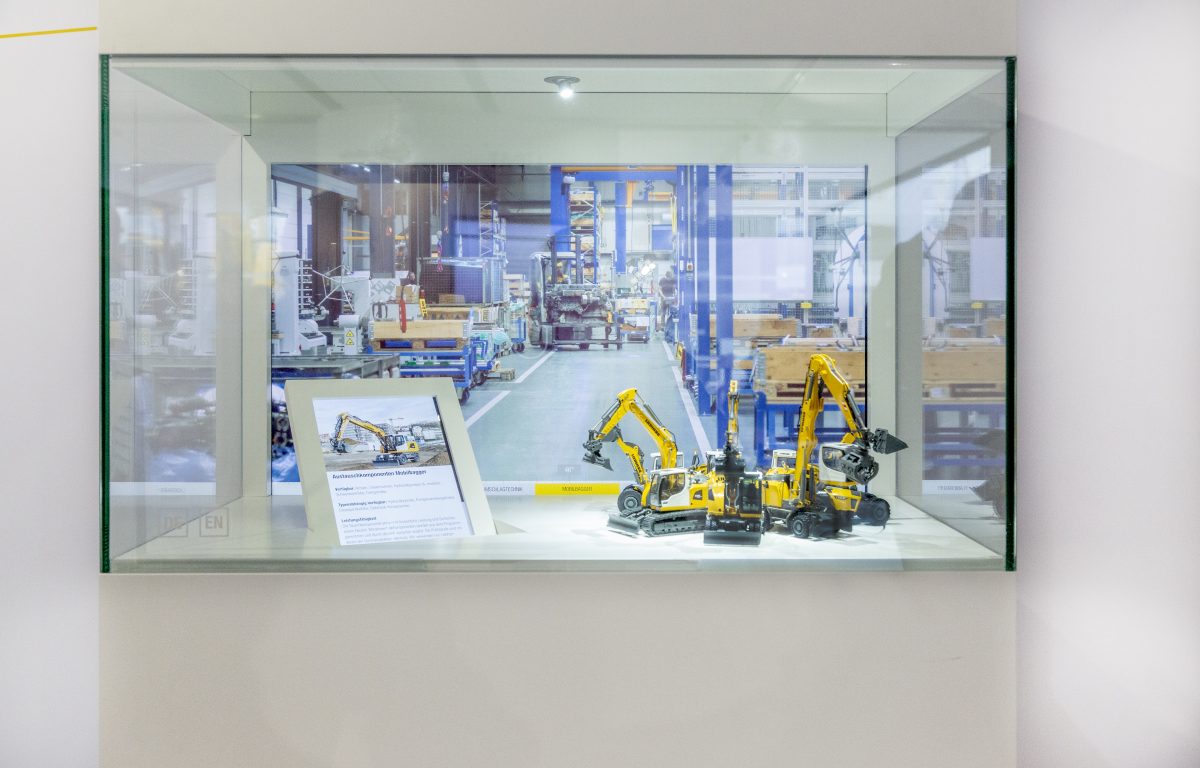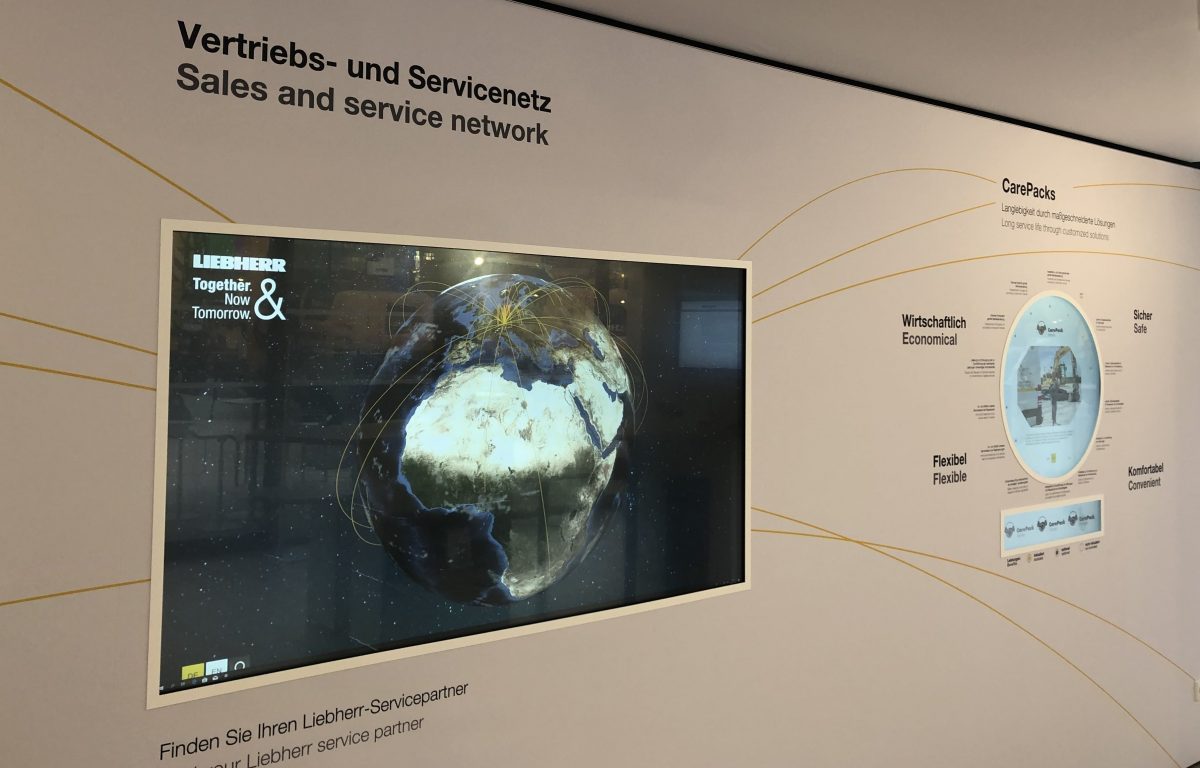 As a longtime partner of Ars Electronica Solutions, Garamantis is one of the first calls when it comes to the implementation of innovative exhibition projects. High quality and intuitive operation of the installations and software components are very popular with the customers. At the Liebherr Service Center at bauma, for example, the interactive display case, the multi-touch software and the Content Management System from Garamatnis were used. Thanks to this, the customer was able to quickly and independently fill all the installations of the service center with photos, videos and texts in different languages.