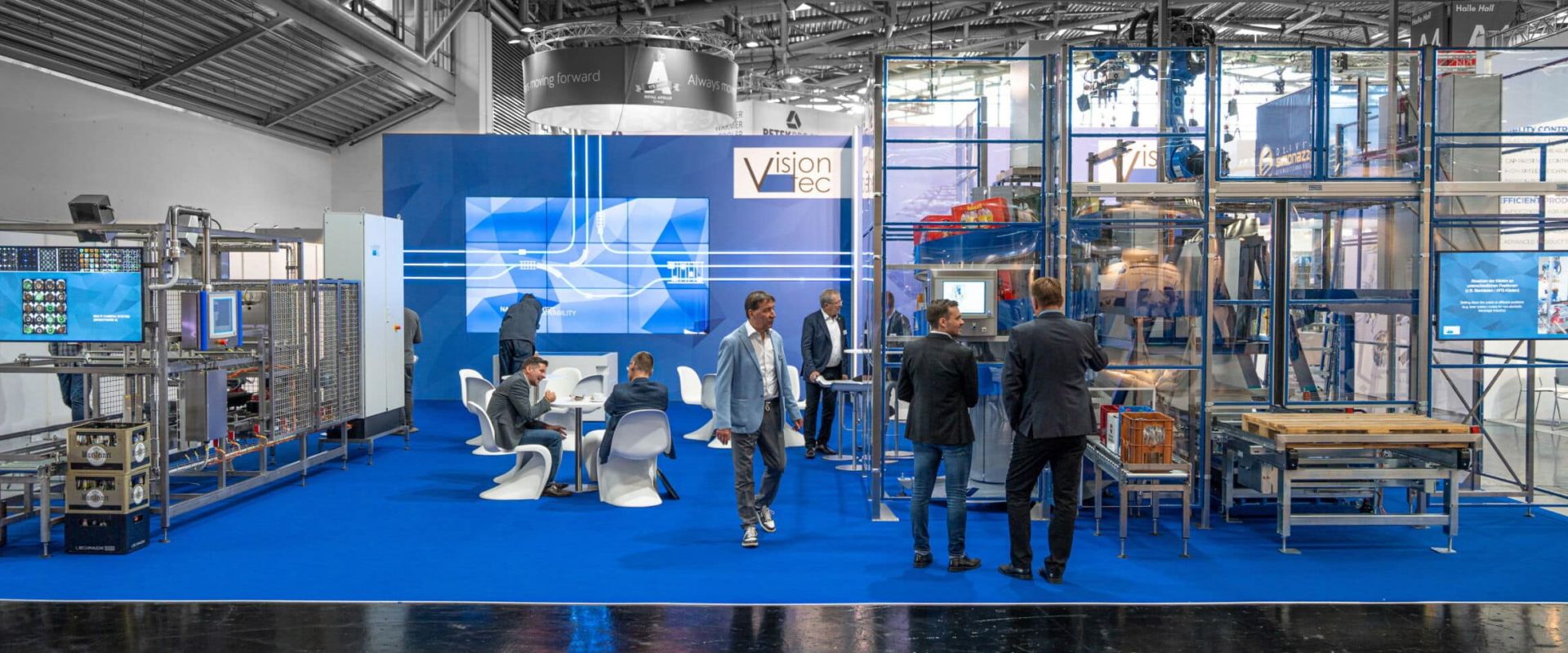 vision-tec trade show booth at drinktec
30 m2 interactive trade show wall and demonstrators
Drinktec is the world's leading trade show and summit for the beverage industry. It takes place every four years in Munich and in 2022 had about 50,000 visitors at over a thousand booths. Our client vision-tec specializes in the production of sorting and controlling equipment for the beverage industry and has become the worldwide market leader in that sector. After a forced break from all trade fair activities due to Corona, vision-tec now had a few innovations to present. For these, Garamantis set the scene with an interactive exhibition stand.
Interactive Exhibition Stand with Space for a World Novelty
The 150 m2 exhibition stand presented not one, but two special machines live and in action. With its 25m2 size and 4,7 m height, the "Chaos Cube Unloader" was more than just a visual highlight. 3D image processing and AI make this first robot‑based unloading station for mixed pallets a true worldwide tech novelty. Until now it took a human being (and his or her intellectual powers) to sort and unload pallets stacked with mixed items by hand. For this vision-tec now offers an automated solution. The second machine is a sorting system for empty drink containers that can distinguish between bottles of different brands. To convince themselves of the machine's performance, visitors could "feed" it with unsorted crates.
Remote Effect for the Exhibition Stand
For an adequate digital presentation of the impressive machinery, Garamantis' concept employed a 30 m2 large interactive wall. At the center of this presentation tool was a 3 x 3 monitor wall with a resolution of 5,760 x 3,240 px fed by a single PC. Around these monitors, 9 controllable high-performance LED strips were arranged on a 3D‑effect wall print. The combination of LED lighting and monitor wall created a striking scenario. Stylized conveyor belts transported crate-shaped light objects to the center of the wall, where vision-tec equipment like sorters, palletizers, and quality controllers waited to process them. High-resolution videos and catchphrases describing the tech pioneer vision-tec supported the performance.
Playful Product Presentation at Multi-Touch Table
When visitors approached, the multi-touch table and the wall switched to presentation mode and provided detailed explanations on the technology. This non-linear presentation targeted major international clients as well as current European clients. An interactive fluid-simulation swirled across the table's entire surface. With the touch of a finger users could make waves in it – or swipe content from the table to the monitor wall. Its size, interactivity, and visual effects not only thrilled the trade fair audience but also led to more than one sales pitch at the booth.
Live Demonstration of Machinery at drinktec Trade Fair
Extra monitors at both machines explained the processes currently happening there. The direct link between presentation system, CMS, and machine control facilitated real-time display of visual data and evaluations. Thus, visitors received immediate feedback on their interactions at these stations, too.
Vision-tec exceeded the goals they set themselves for the trade show – "remote effect", "innovative power", and "international sales". In fact, the company could celebrate the biggest trade show success in its history. For this reason, they now use this presentation set-up at their Kassel headquarters to inspire new and existing clients.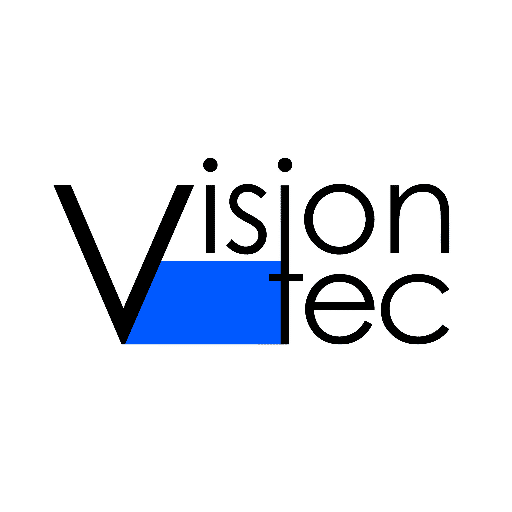 vision-tec GmbH
Project Details
Client: vision-tec GmbH
Context: vision-tec trade show stall at drinktec 2022
Time for implementation: 3 months
Project completion: september 2022
Customized software and CMS
Multi-touch table
Interactive trade show wall with LED lighting and 3 x 3 monitor wall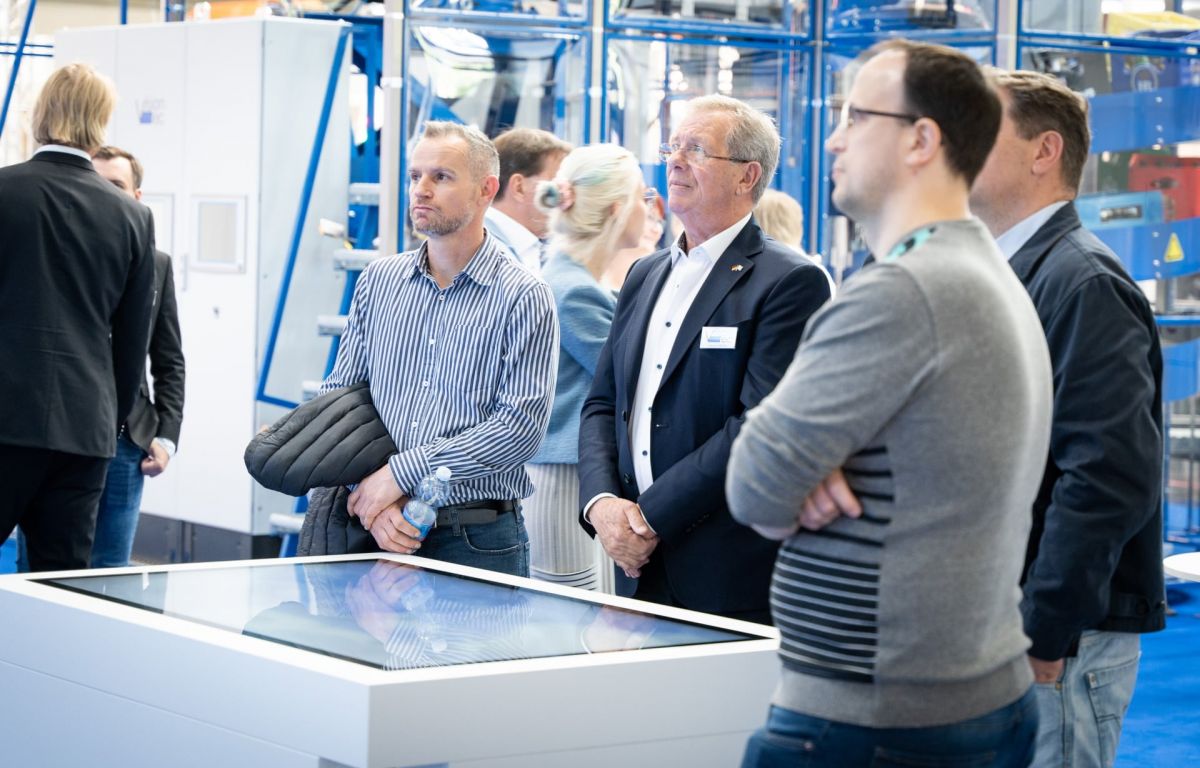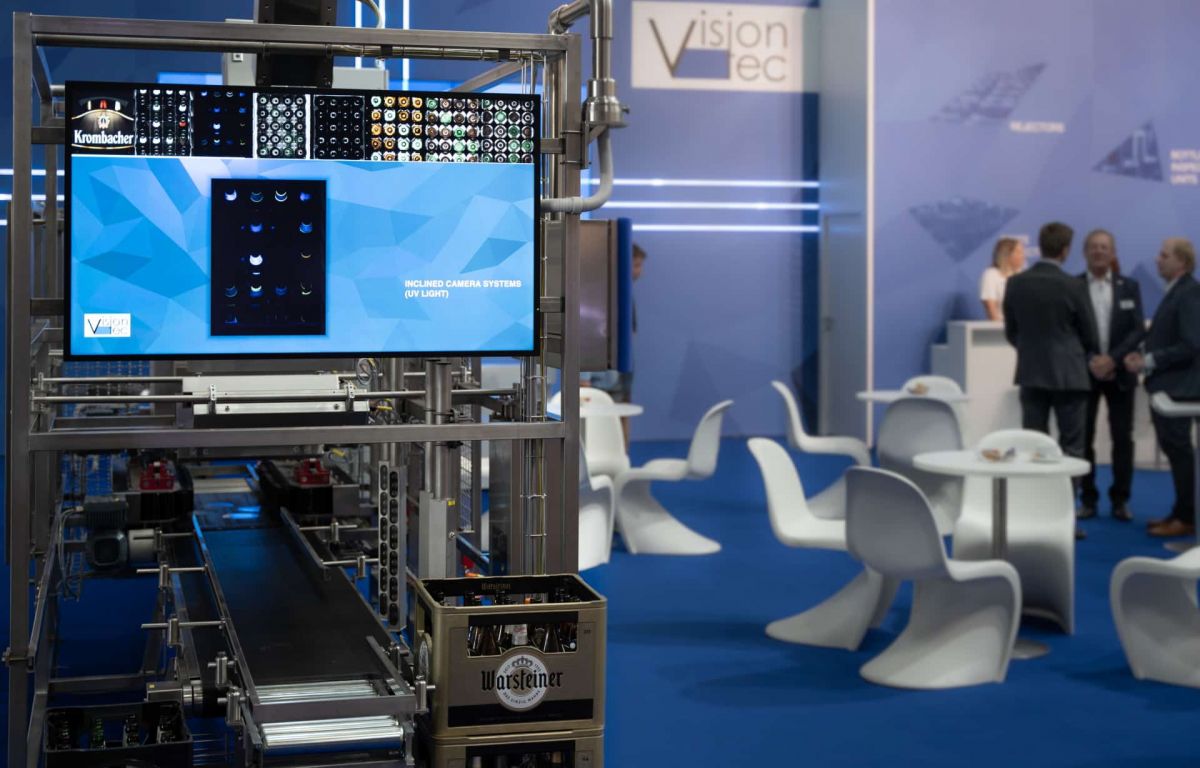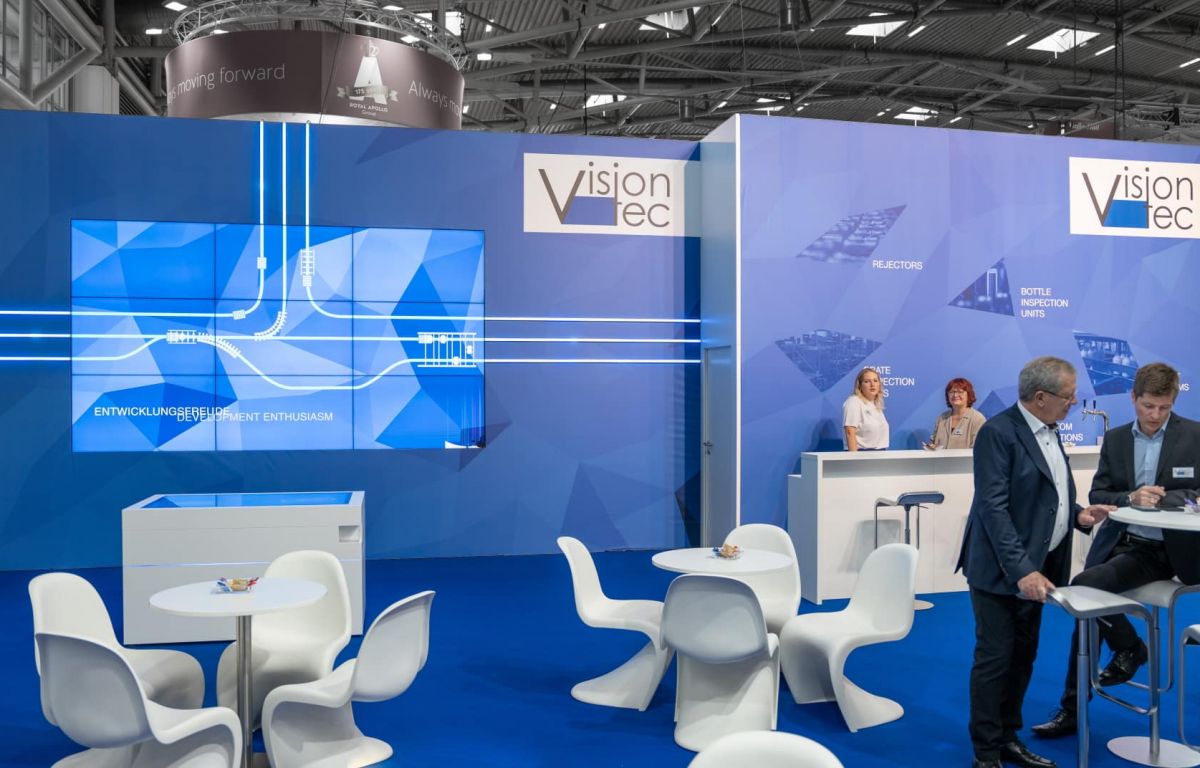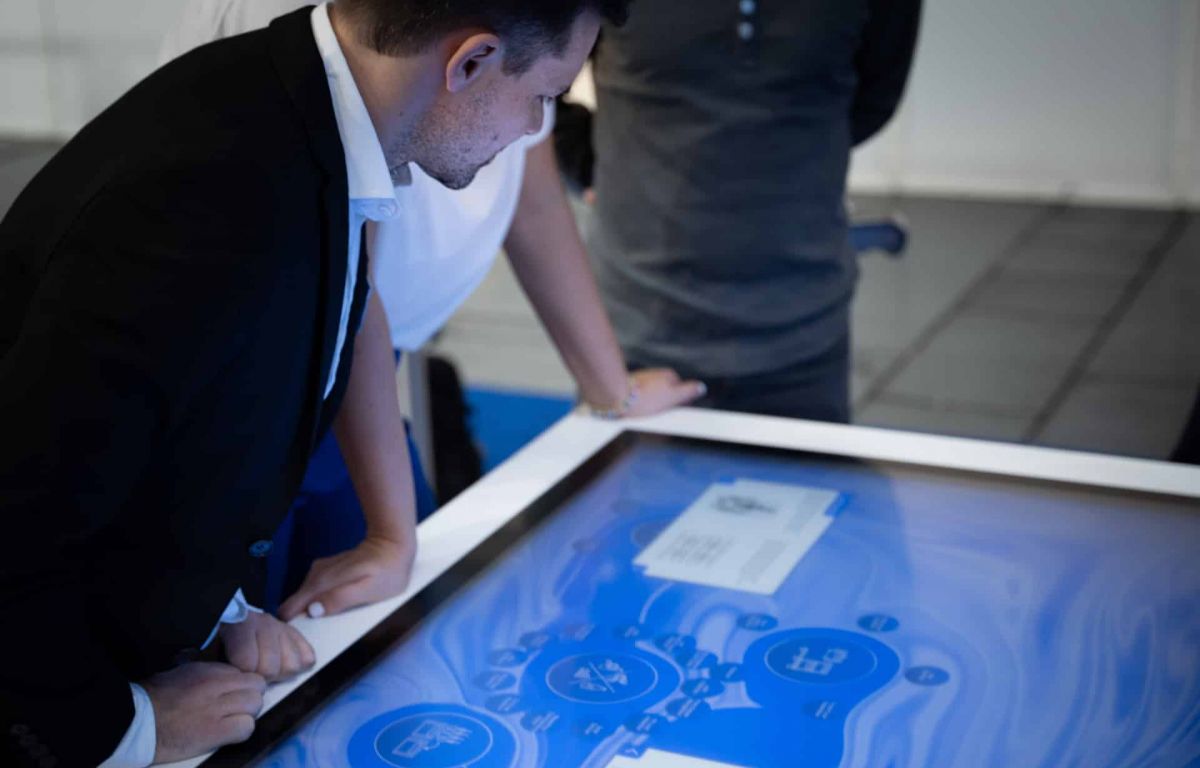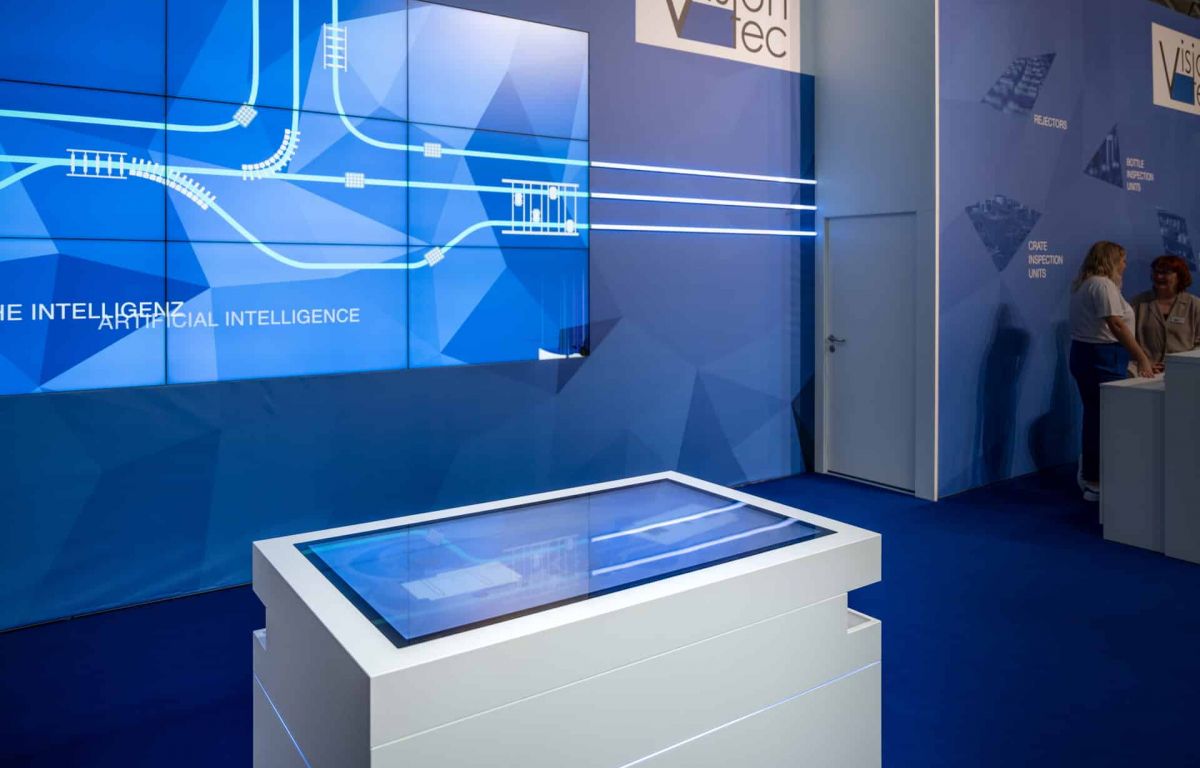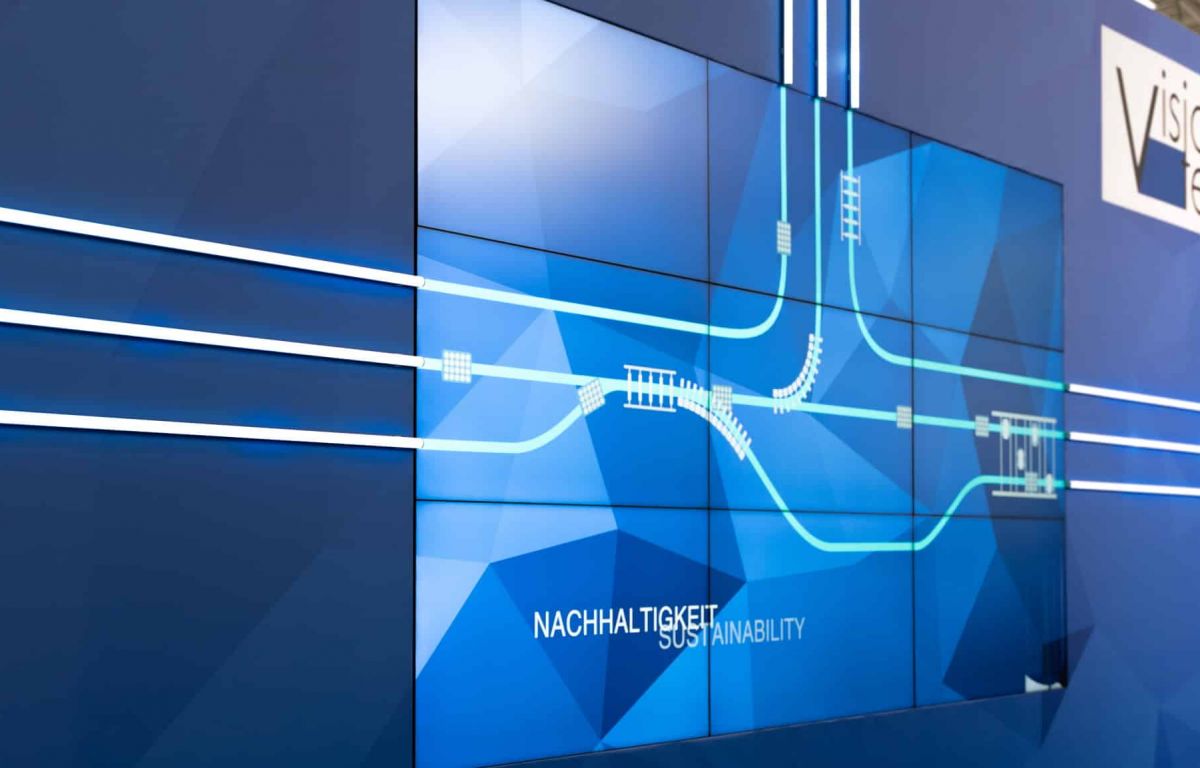 Working with Garamantis was uncomplicated, target-oriented and, last but not least, a huge success. Thank you so much for the interactive components of our drinktec trade fair appearance! We are looking forward to upcoming projects.
Multi-Touch Software
Definitely No Standard-Issue Product, Just Like Yours. Unless You Develop ISO Standards. Individual software development…
Multi-Touch Table
Not Only Recognizes the Sign of the Times, but People and Objects Too! The most…