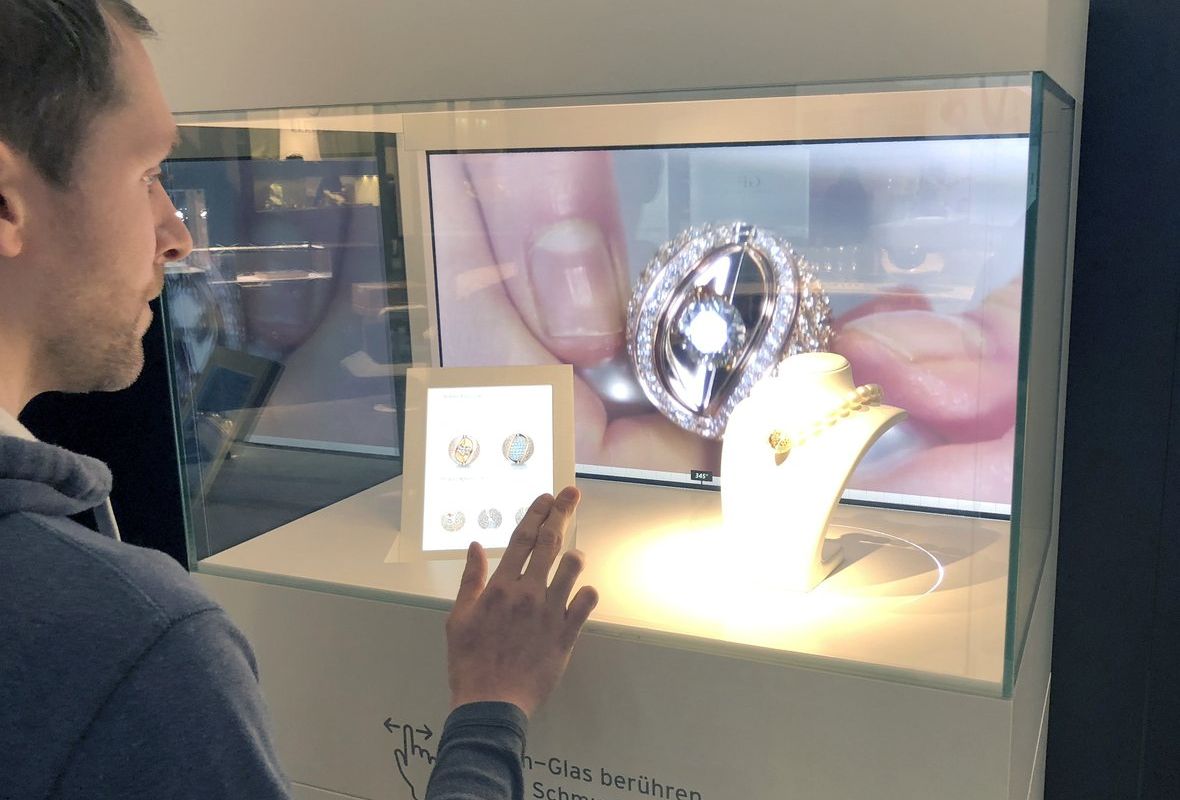 Inhorgenta 2018 trade fair
Interactive showcase shows anniversary jewelry from the manufacturer Jörg Heinz
On the occasion of the company's 50th anniversary, the renowned jewelry manufactory Jörg Heinz presents itself at the international jewelry trade fair INHORGENTA in Munich with a truly unique piece of jewelry.
The transformable necklace "Mystery Sphere" possesses an interchangeable spheroid clasp‑mechanism that allows to alter the jewel's appearance. In order to let trade fair visitors get as close to the precious piece of jewelry as possible and explore its various facets, it is now put on display in Garamantis' interactive watch showcase.
By touching the case's clear multi-touch glass surface visitors can rotate the necklace to have a closer look at it from different angles and under varying lighting conditions. Depending on the viewing angle, the integrated screen reveals different details of the unique interchangeable clasp-mechanism and shows possible alternative design options and materials. High-resolution videos playing on the showcase's background create a brand atmosphere and present more highlights of the latest Jörg Heinz collection.
In this way, jewelry presentation, digital information, and playful exploration are closely intertwined and attract booth visitors.
The collaboration of Jörg Heinz and Garamantis came about at short notice after the interactive watch showcase had been the subject of several newspaper articles in the "GoldschmiedeZeitung", the profession's key trade journal in German speaking countries. Whether the jewel industry and its clients and customers are ready for alternative and – more importantly – interactive ways of showcasing in stores and at fairs yet remains to be seen.
With its 65,000 square meters (roughly 700 square ft.) of floor space and about 1,000 exhibitors from more than 40 countries, the INHORGENTA is one of the world's most important jewelry fairs. This year, around 27,500 industry visitors from over 70 countries are expected. The trade fair booth of the old‑established manufactory Jörg Heinz (founded in 1968) is located in the central exhibition hall B1 at the Munich fair.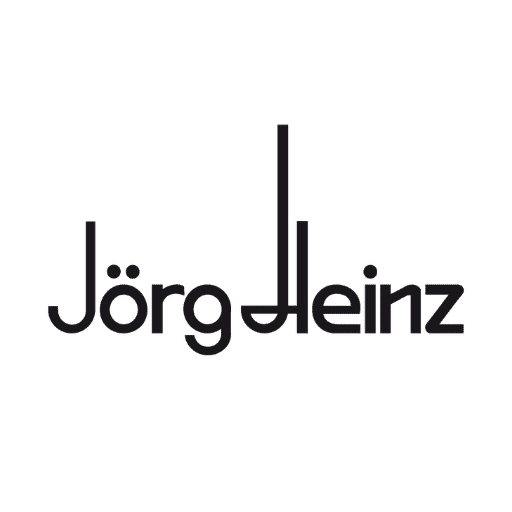 Jörg Heinz
Project facts
Client: Jörg Heinz
Context: Inhorgenta 2018
Implementation time: 4 weeks
Finishing date: February 2018
clear multitouch glass
interactive turntable
changing ambient light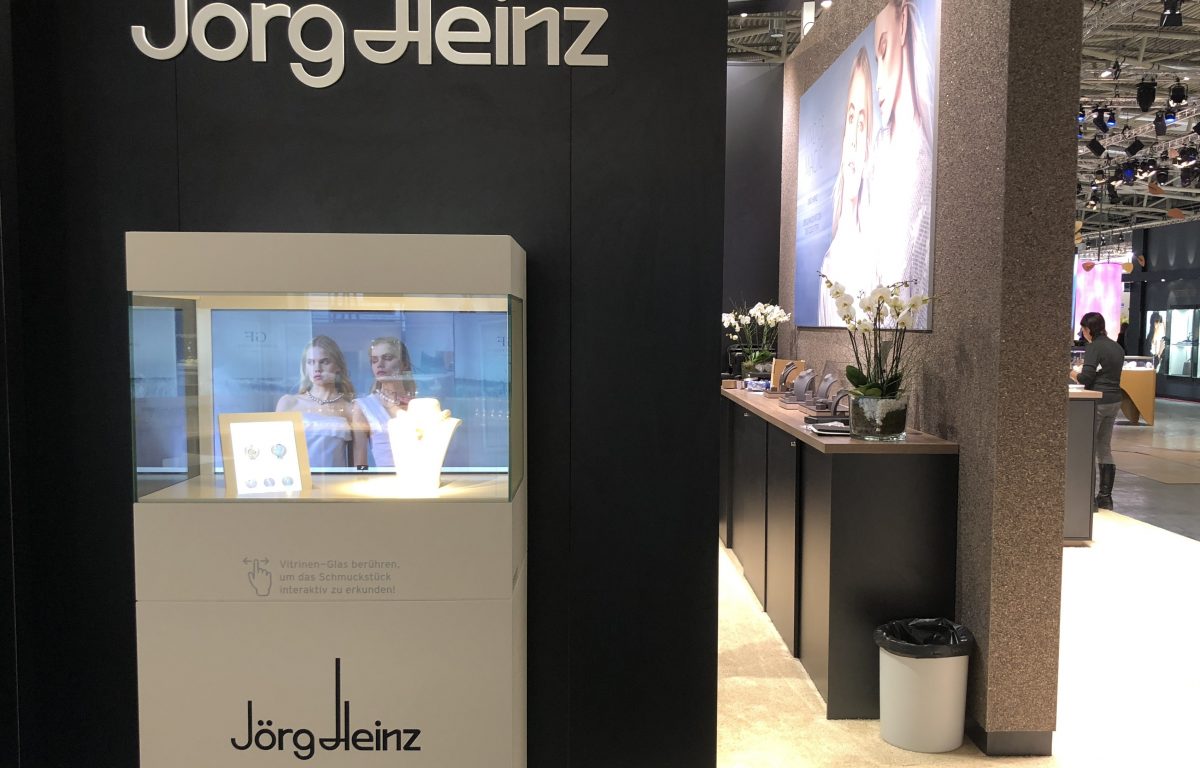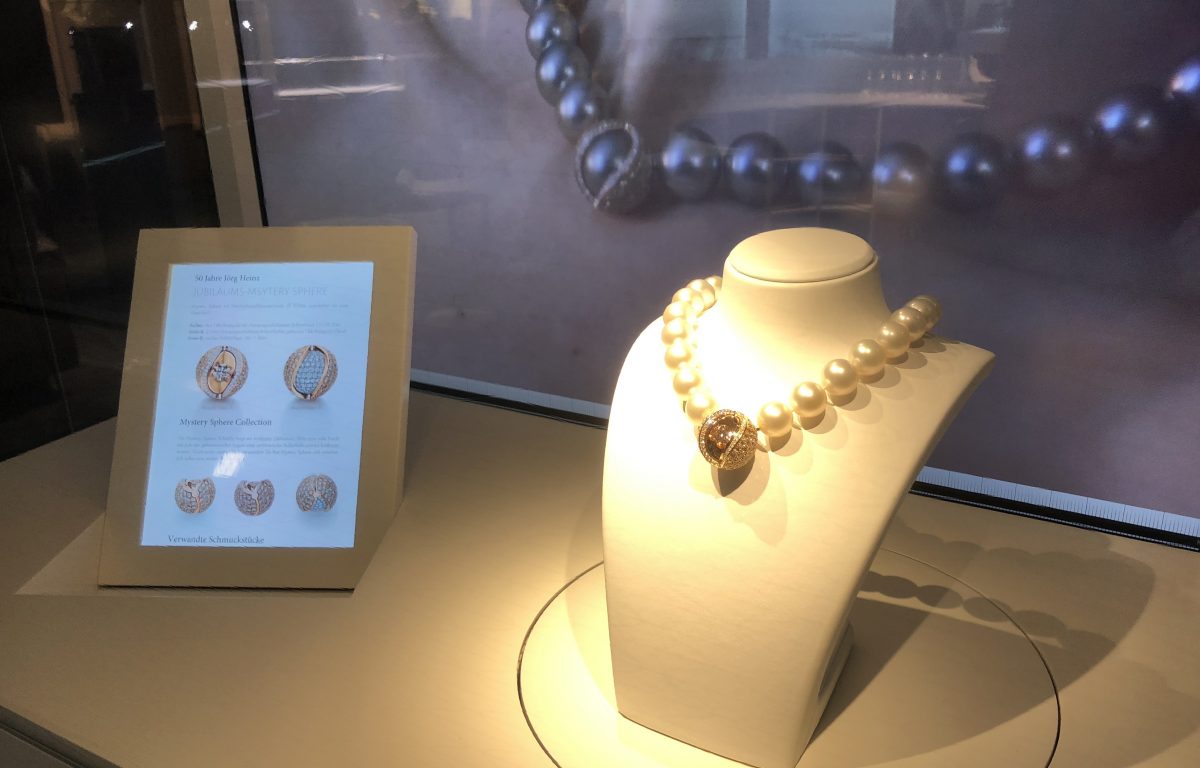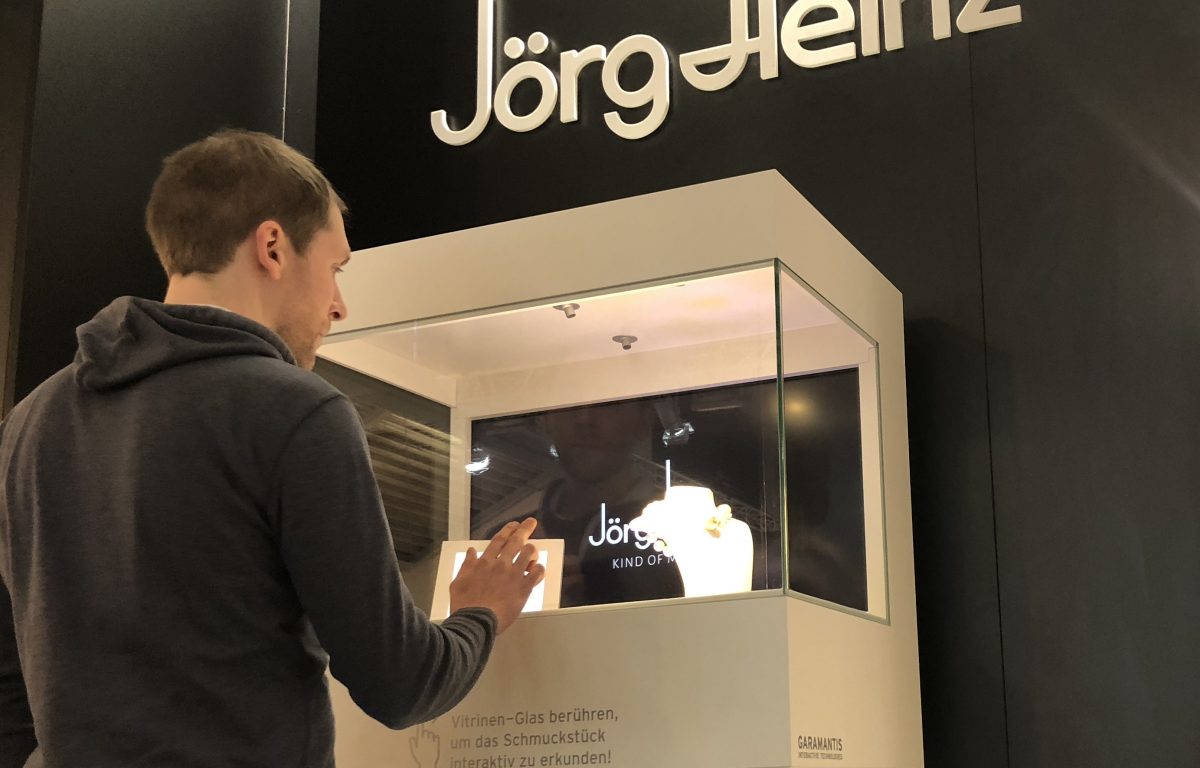 Now the company, launched only in 2014, has revolutionized the concept of a classic presentation display case. The once-passive observer becomes an active user and interacts intuitively through the transparent multi-touch glass with the exhibit.
The interactive display case by Garamantis provided the perfect platform for staging our 50th anniversary jewelry-highlight at the Inhorgenta Munich 2018. The audience was thrilled by this interactive mise‑en‑scène. Despite a very short lead time, the entire execution met the highest possible standards. Thank you very much for the pleasant and uncomplicated cooperation!
The interactive showcase by Garamantis, which responds differently to horizontal and vertical touches on the clear multi-touch glass.
Please touch
The interactive display case by the Berlin based company Garamantis is a world premier. By touching the glass you can explore the exhibited object and learn about its history.
Ein spielerischer Zugang