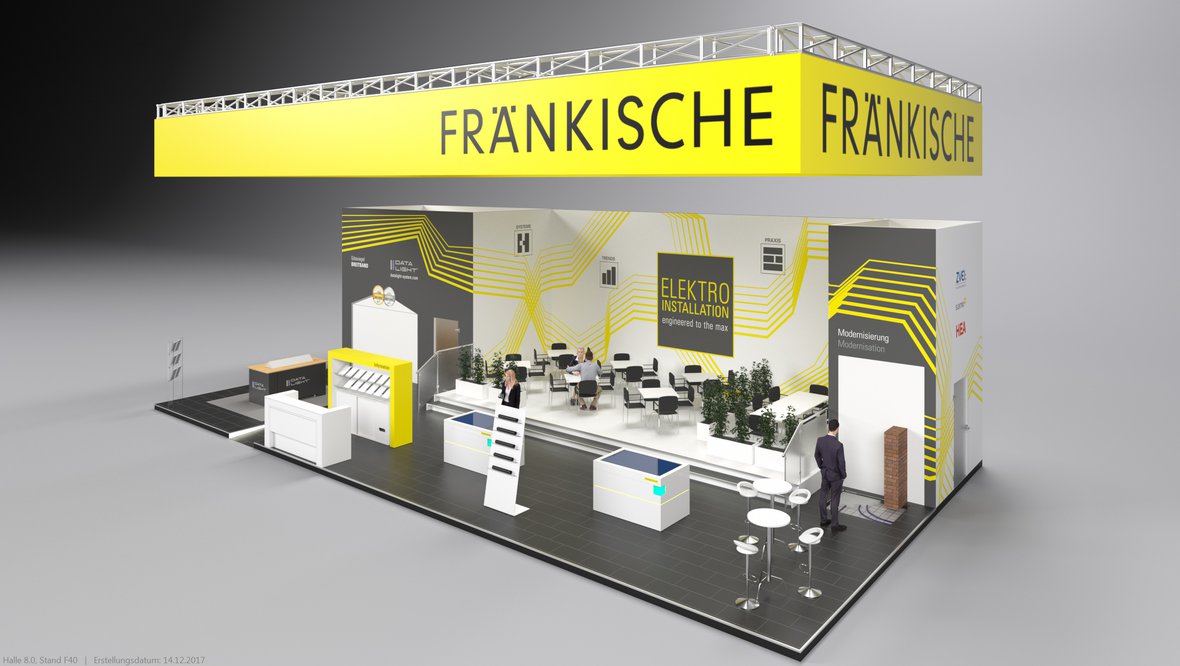 Light & Building 2018
RFID object recognition at the "Light & Building 2018" fair for Fränkische Rohrwerke
When it comes to high-quality piping for use in electrical installations and building services, Fränkische Rohrwerke is one of the leading companies worldwide. In their more than a hundred years of company history, the well-established enterprise has acquired a reputation as a manufacturer of innovative piping systems.
For the first time, at the "Light & Building" trade show in Frankfurt (March 28th–24th 2018) Fränkische Rohrwerke's trade fair presence is supported by two of Garamantis' multi-touch scanner tables. With over 2,600 exhibitors and more than 200,000 visitors, the world's largest trade fair for lighting and housing technique is dedicated to the presentation of innovative products and solutions in this field.
For the trade fair visitors – professionals as well as private – obviously the focus of attention is on the products of Fränkische Rohrwerke, and hence all product samples on display at the fair booth can be scanned at the tables. By means of 3D animations and video footage, the interactive tables then demonstrate specific options of the respective products' practical application – for instance, where and how the pipes can be installed in a building. Subsequently the user has access to further information on the respective piping system and its special features, such as manufacturing quality, certifications and ecological/environmental benefits. The tables' product recognition works via RFID chips concealed inside the product samples.
The multi-touch scanner tables can recognize info‑flyers available at the trade fair stand by their mere external appearance – QR codes or any other markers are obsolete. Also, the tables complement this "analogue" info material with in-depth information and examples of application in a digital form. Furthermore, the customized multi-touch software shows the history of Fränkische Rohrwerke on an interactive timeline where images and explanations accentuate the visualization of the company history's milestones. A large-scale depiction of a factory illustrates the high quality standards of Fränkische Rohrwerke and allows visitors to understand and examine every single stage in the quality control chain (POIs).
Their interactivity makes the multi-touch scanner tables suitable not only for visitors to browse and explore the product portfolio, but also for use as an aid to the booth staff in sales conversations: the appropriate content to answer any question a prospective buyer can possibly have is just one tip of a finger away and helps to impressively underline and illustrate the product's advantages.
By means of the web-based CMS created by Garamantis, the company and their PR agency Weigang Pro can swiftly and easily integrate new products and update additional material. This facilitates the long-term usage of the tables in the future, either at forthcoming trade fairs or in the showroom at the company's headquarters in Königsberg/Bavaria.
Picture: Visualization of the booth by Weigang Pro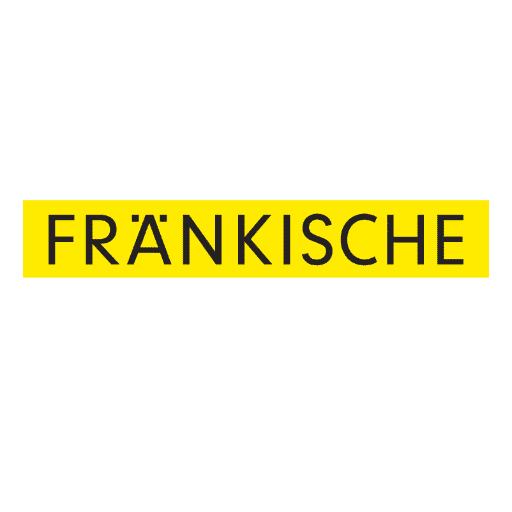 Fränkische Rohrwerke
Project facts
Client: Fränkische Rohrwerke
Context: "Light & Building" 2018
Implementation time: 12 weeks
Finishing date: March 2018
Involved PR agency: Weigang Pro
2 multi touch scanner tables
Recognition of products with RFID
Recognition of products with optical sensor
Interactive time beam
The collaboration with Garamantis was refreshingly uncomplicated and perfectly target-oriented. We as an agency provided the contents and ideas, and Garamantis consummately put them into practice and developed the matching design. Our client was very pleased with the result and, with the multitouch table, had a real highlight to show at his trade fair presence.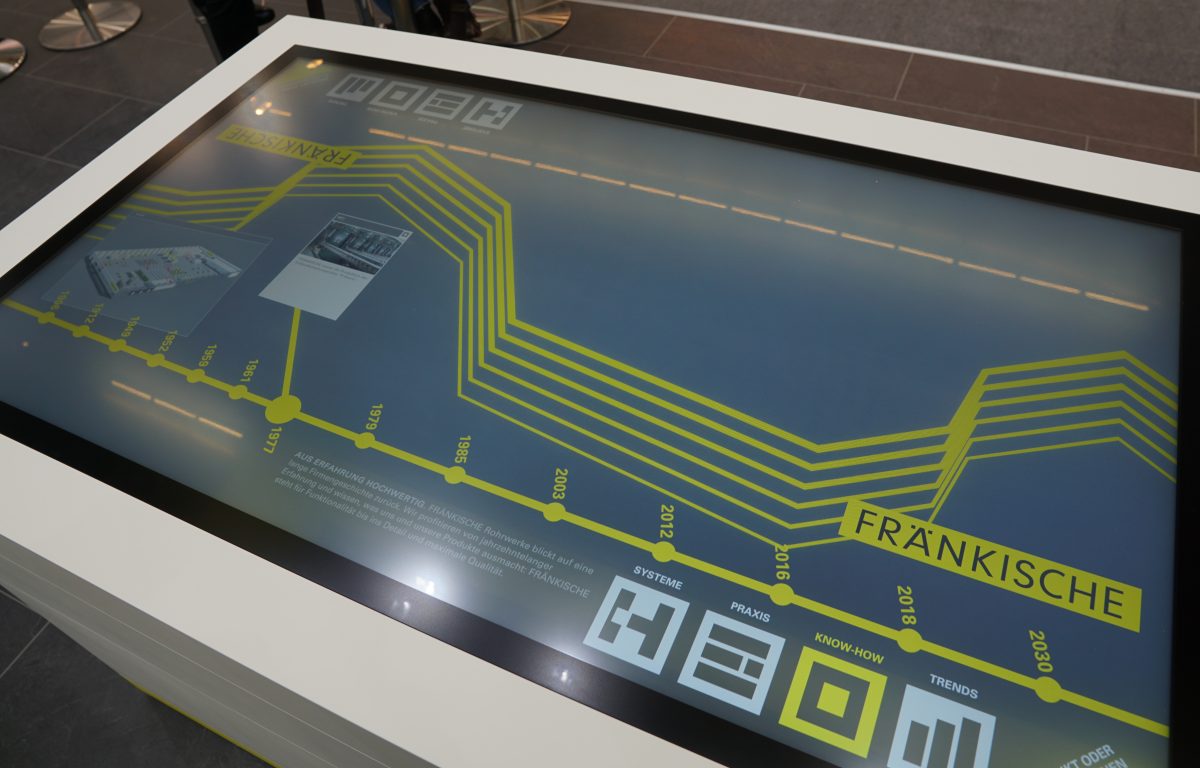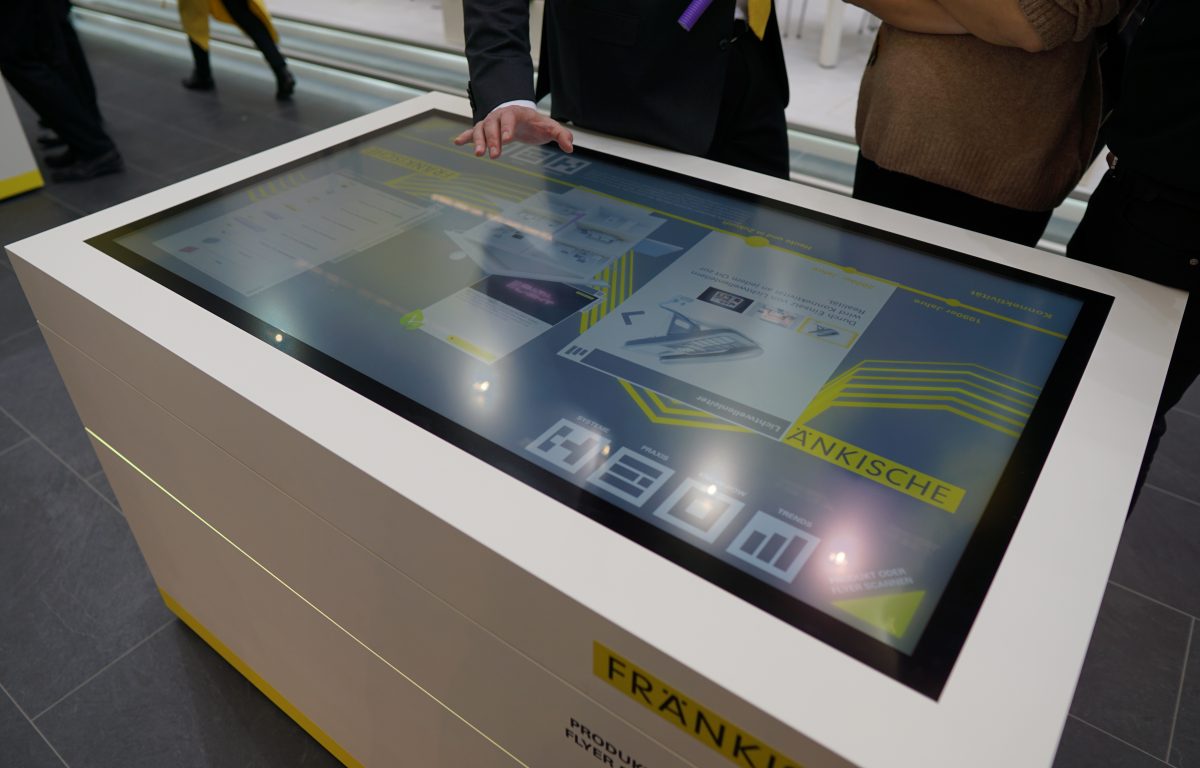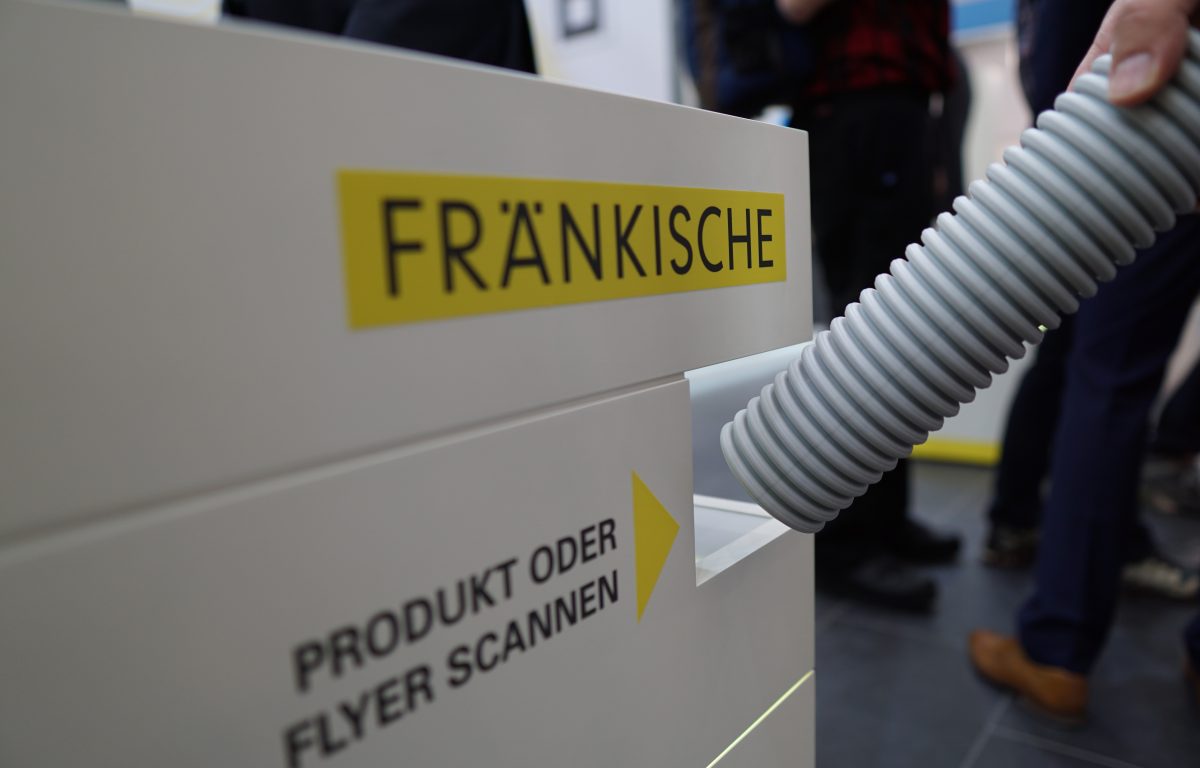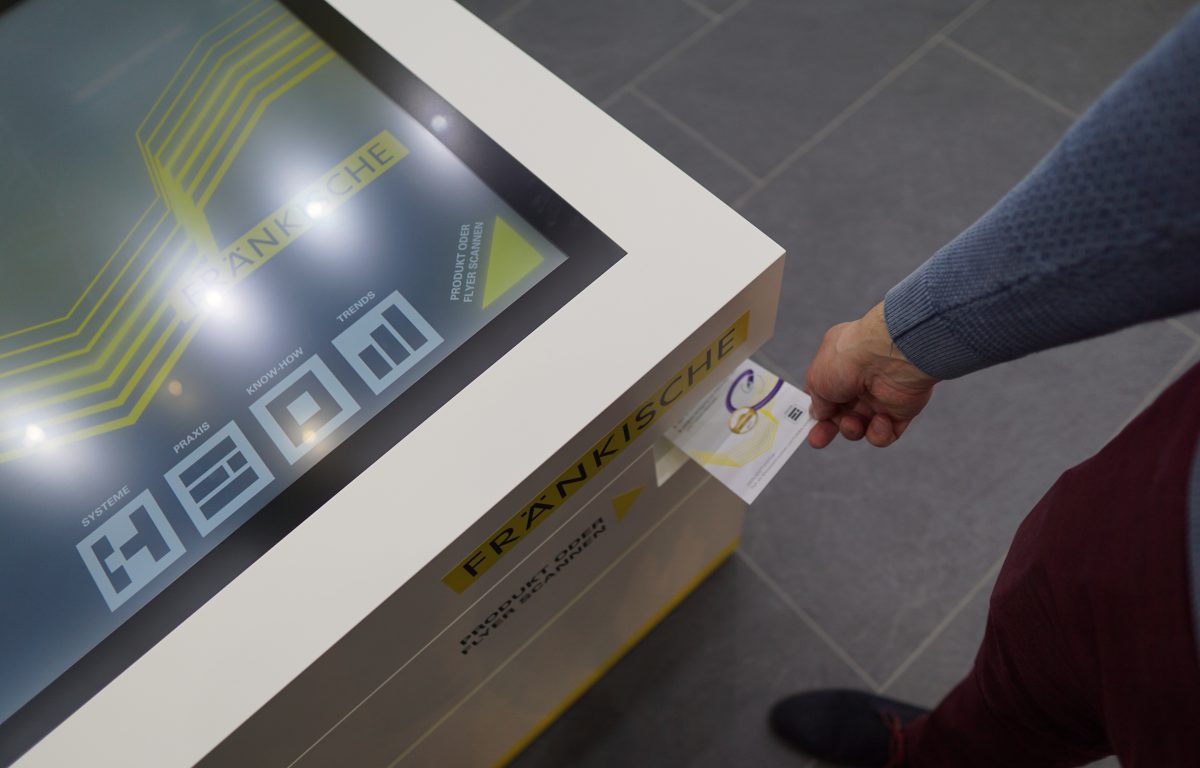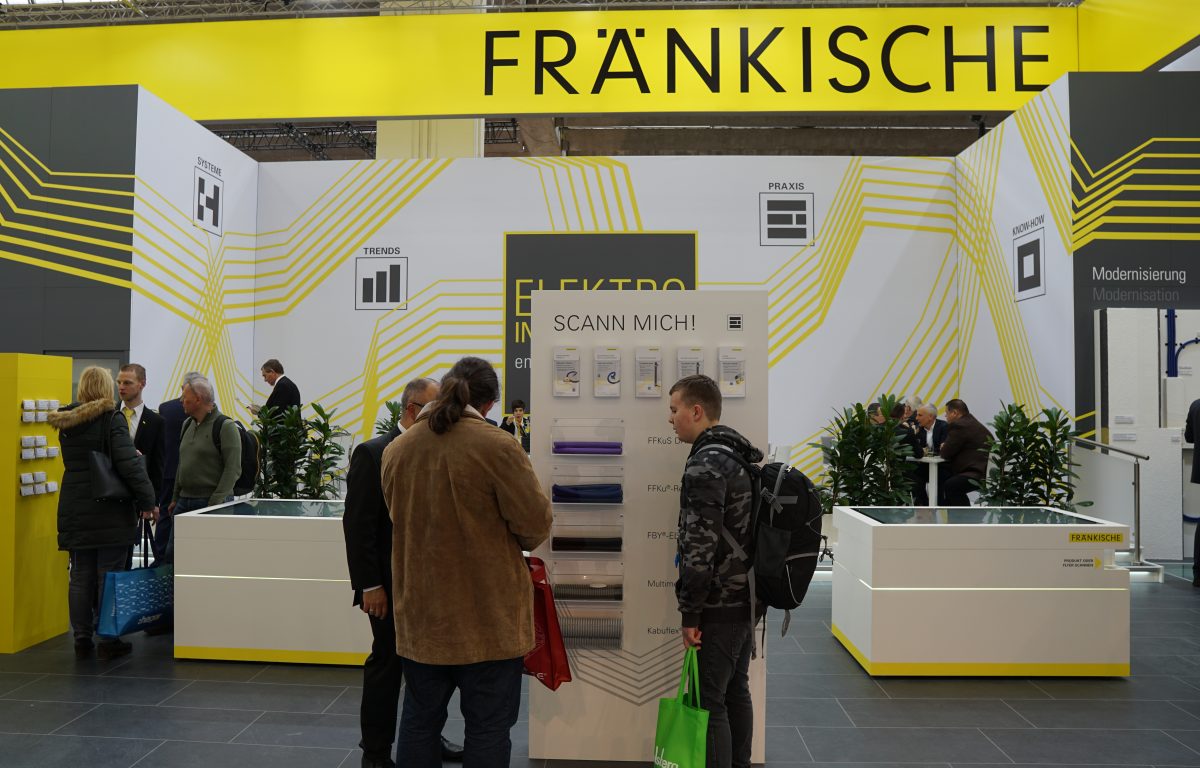 Stay informed about new Projects
Are you interested in interactive projects and new technologies? We are happy to inform you via newsletter from time to time.
If You Have A Brain Wave. And Then Another One. And Yet Another One. Easy and effortless management of your content from wherever you are.
MORE INFO »
Definitely No Standard-Issue Product, Just Like Yours. Unless You Develop ISO Standards. Individual software development in Unity 3d for a great user experience.
MORE INFO »
Not Only Recognizes the Sign of the Times, but People and Objects Too! The most innovative and interactive table on the market
MORE INFO »