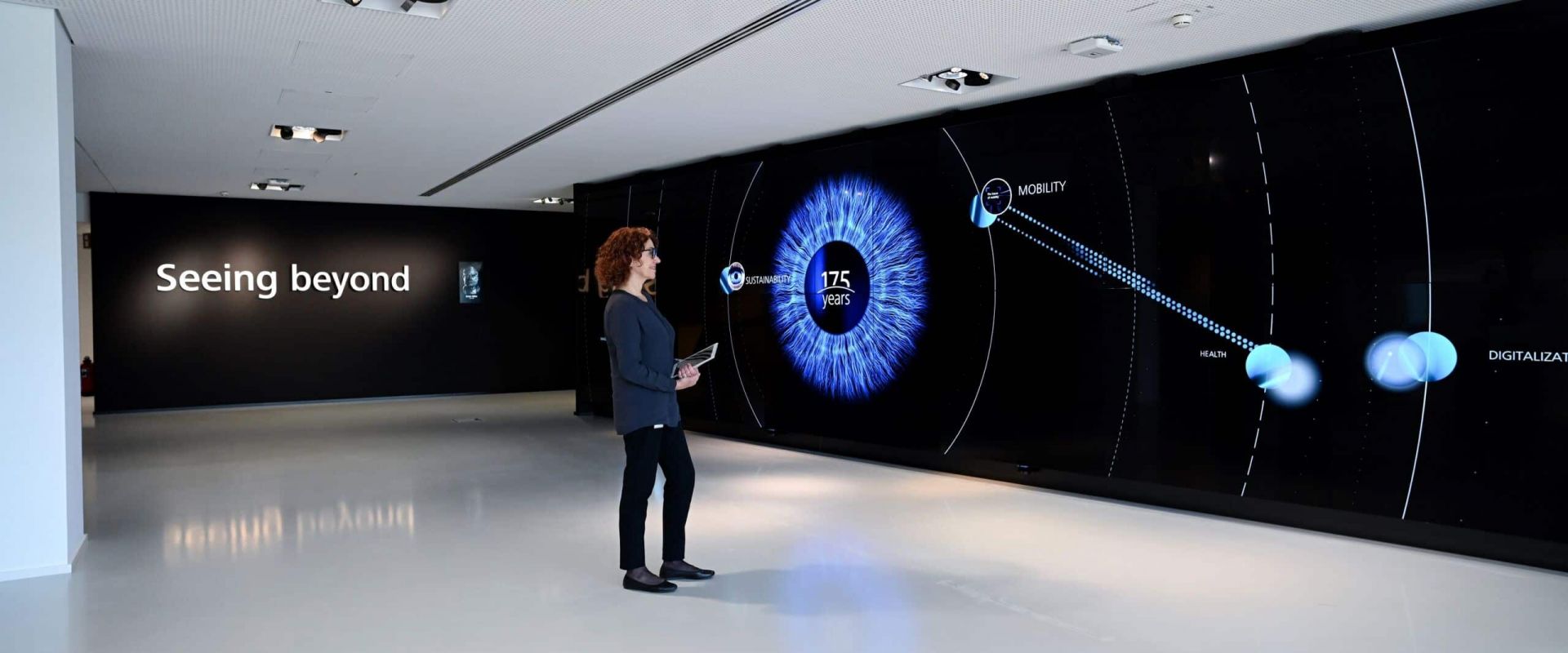 175 Years of Zeiss
Interactive exhibition shows important milestones in corporate history
The tech manufacturer ZEISS's corporate museum in Oberkochen (Baden Württemberg, Germany) offers its visitors an experience that includes more than 1,000 impressive exhibits on over 1,000 square meters. Grouped into ten topics, the museum presents interesting, noteworthy, and surprising facts on the history of development of the long-standing company's products and technologies.
In April 2022, our partner Ars Electronica Solutions enriched the ZEISS Museum of Optics with two interactive media installations. To celebrate ZEISS's 175th anniversary, those present the tech corporation's eminent milestones from past, present, and future. Garamantis had the opportunity to make their own contribution to these two interactive walls in the form of software, sensor system, and the central CMS.
Two Interactive Walls With An Unusual Concept
An interactive Milestones Wall facilitates a self-directed time travel through ZEISS's history of innovations. With its clear arrangement and design, the wall displays the most important strands of technology and milestones in the long corporate history. Visitors can slide a 55'' touch screen over its entire length of 15 meters and thus dive deeper into the timeline's historical details. Hence, this sliding monitor digitally enhances and animates the underlying analogue timeline. The position related playback of content and the seamless transition between printed wall and digital monitor afford a both exciting and informative travel through time.
And extensive interactive monitor wall consisting of 28 synced and bezel-free Full HD 55'' displays is fed with content by a total of 4 PCs. It presents ZEISS's vision of the future technological and social developments to be expected. The interaction taking place here is of a more subliminal kind – it works through the visitors' position and motion in and through the room, or via tablet PC control.
On its 2,5 m height and 10 m width, this wall symbolizes ZEISS's 175 years of history as well as their visionary outlook, at the same time serving as a mirror reflecting the exhibition room in front of it and as a window into the future. In the center of an ever-changing system of orbits and bits and bytes, a stylized iris takes, depending on and according to user-interaction, ZEISS's most important megatrends into focus.
Moreover, during corporate or public events, ZEISS can also use this large display wall with its enormous resolution as a flexible presentation display.
Photos: ZEISS, Michaela Fragner

Ars Electronica Solutions
Project facts
Client: Ars Electronica Solutions
Context: interactive corporate exhibition "175 Years of ZEISS"
Implementation time: 3 months
Finishing date: April 2022
customized software
sensor system for interactive walls
central web-based CMS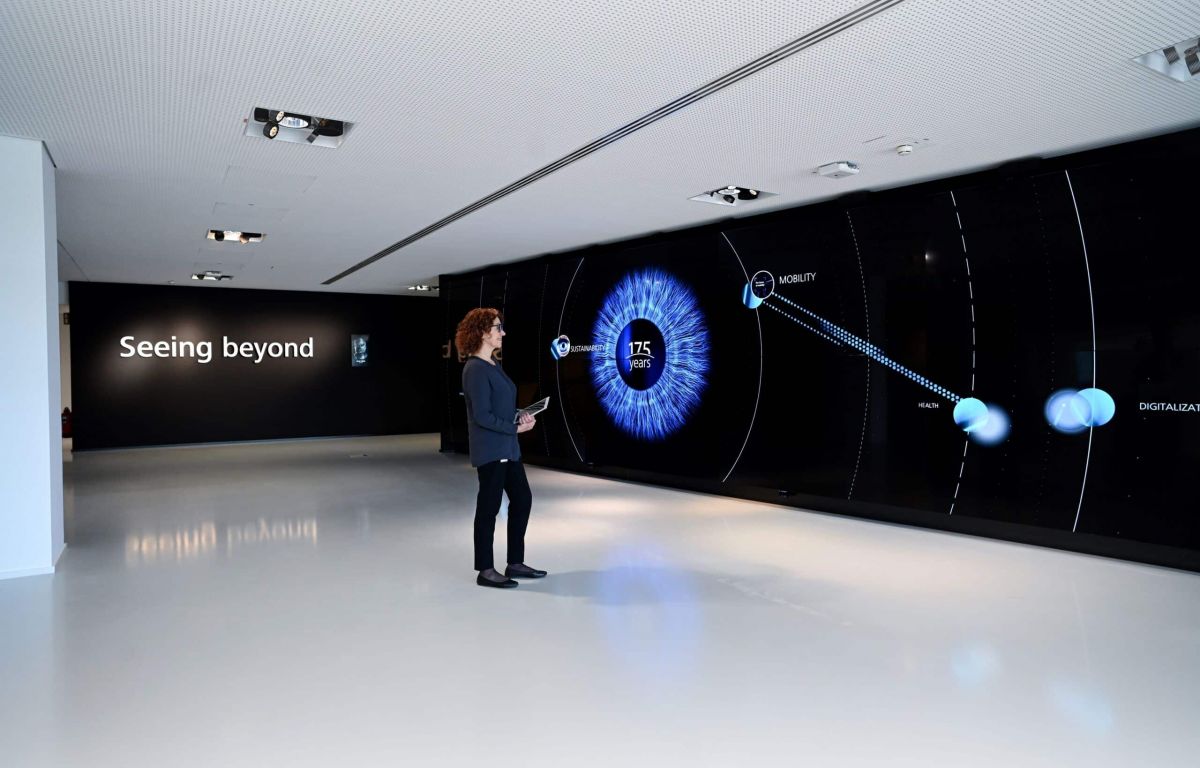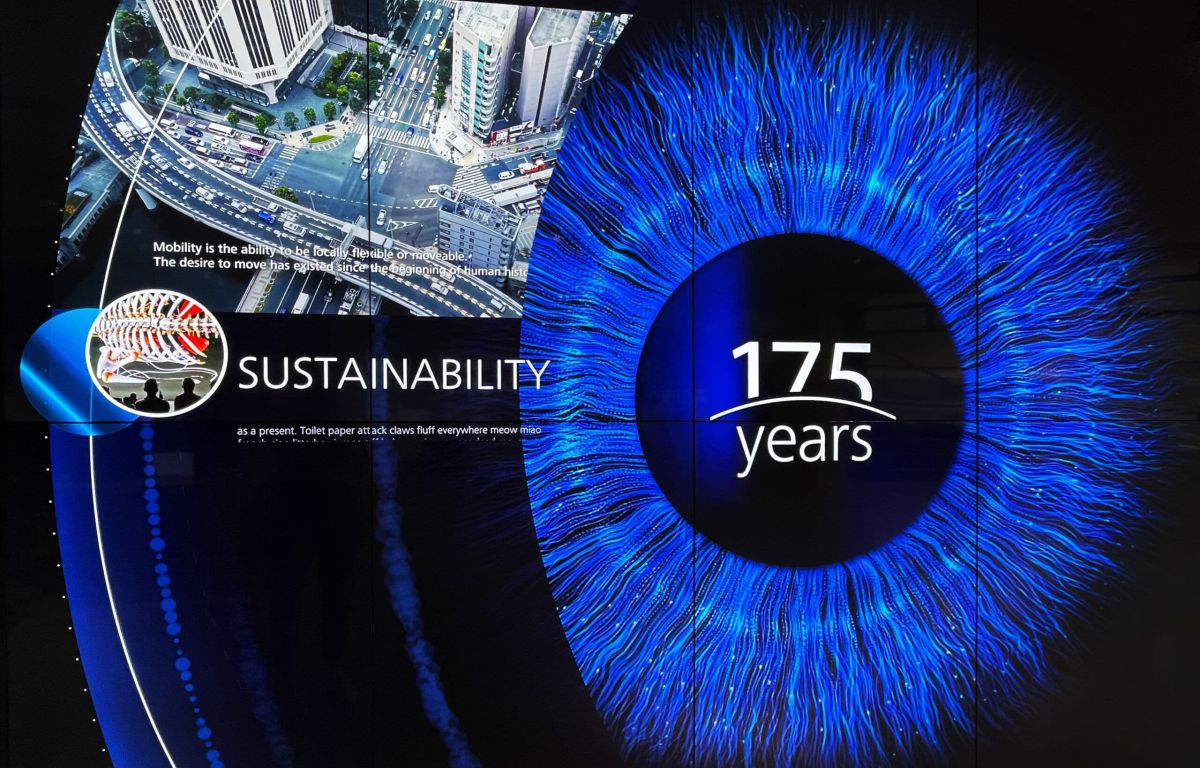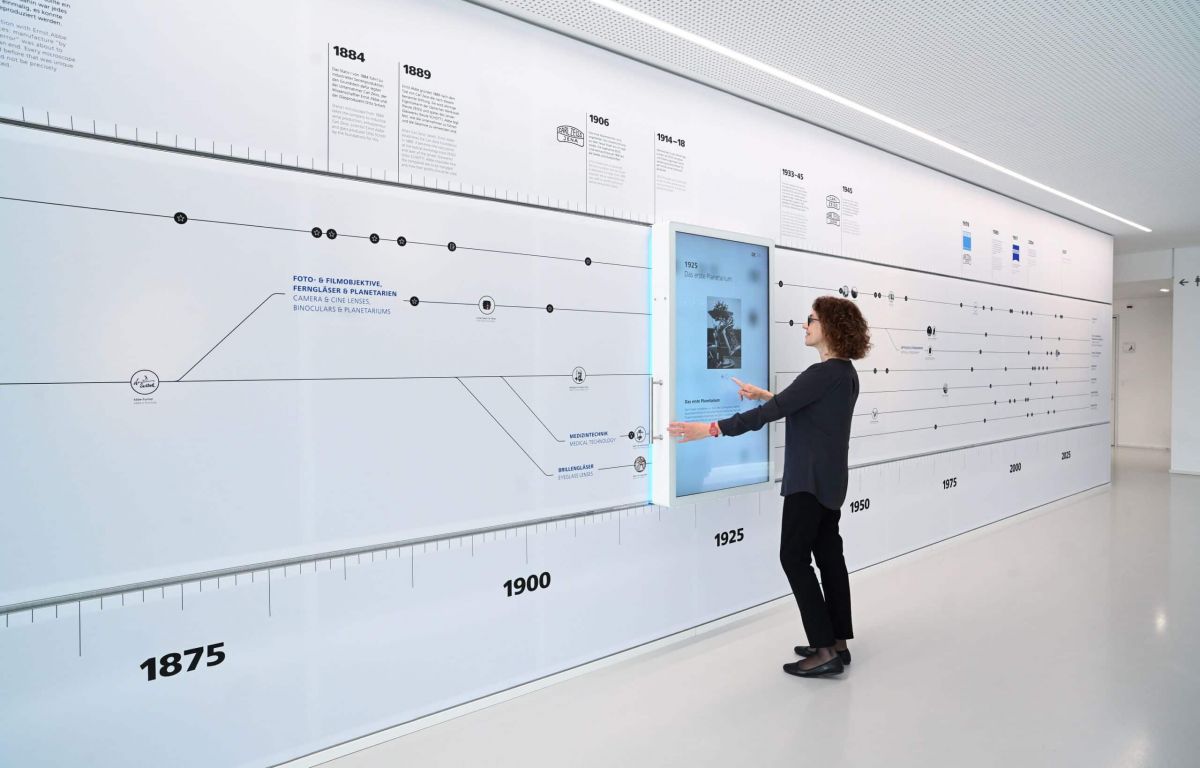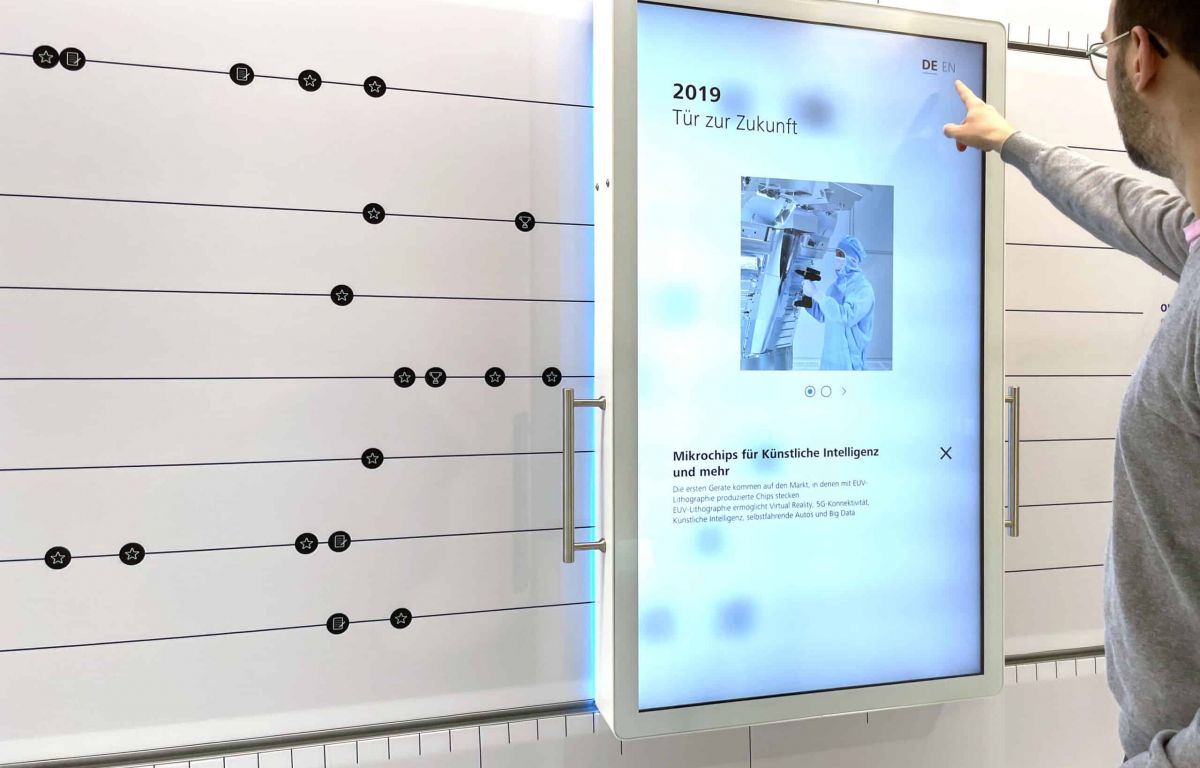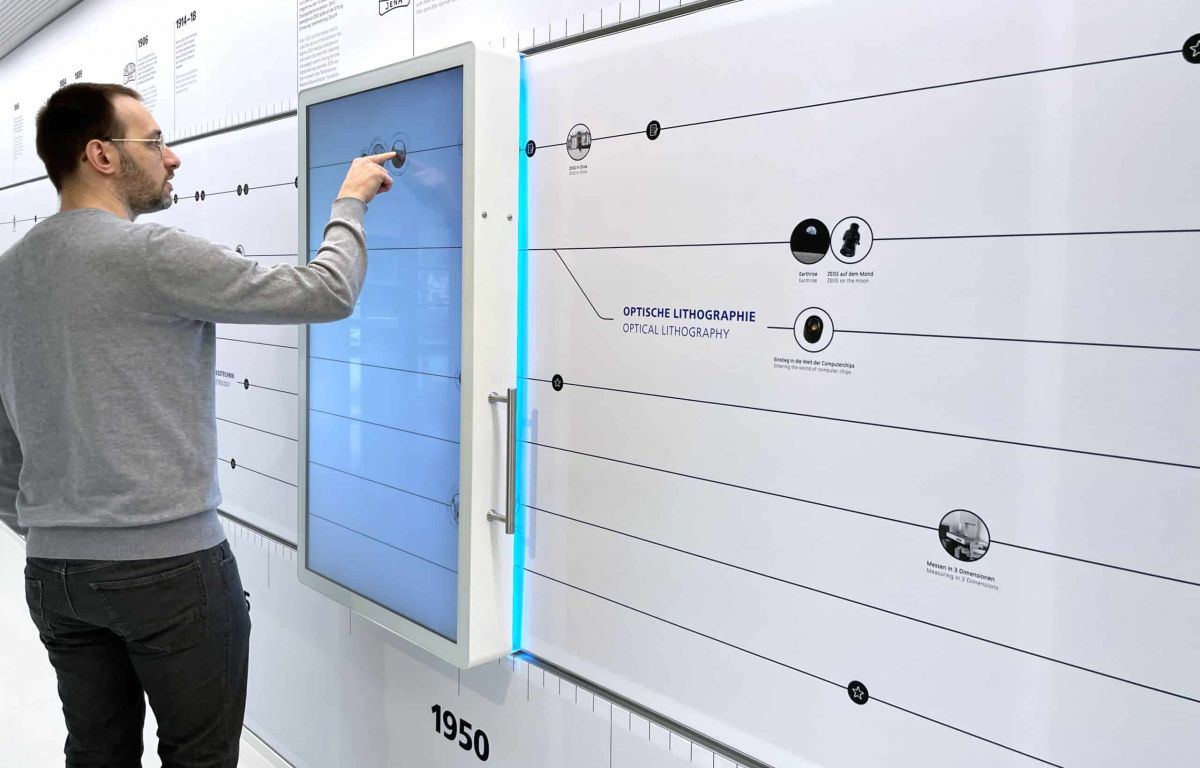 From conception to implementation, with Garamantis we had an amazing partner at our side who enabled both installations' fast and accurate realization. Through Garamantis' CMS, the installations are continuously updated. Thus, they are always up-to-date and can also be expanded with new, exciting content.