Garamantis Win German Innovation Award for Interactive B2B Showroom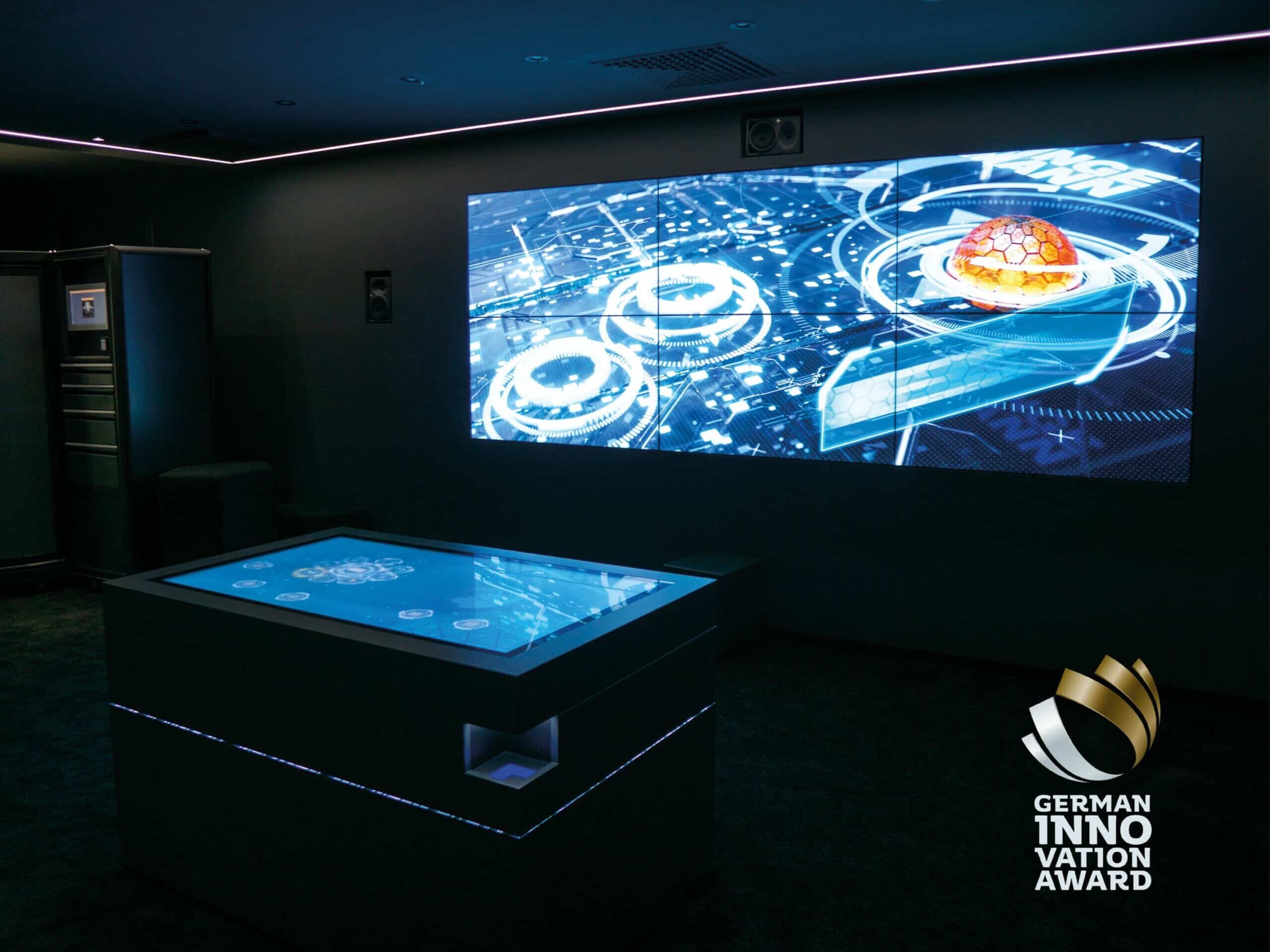 With their groundbreaking showroom "Procurement Future" for Lingemann GmbH, the Berlin company Garamantis has set new standards in the field of B2B product presentation. Now this multimedia showroom has been honored with a German Innovation Award in the 'Excellence in Business to Business' category.
Showroom Enables Immersive Experience
The prize-winning B2B showroom was conceived and realized by Garamantis at the location of the Lingemann headquarters in Brühl (North Rhine-Westphalia, Germany). Following a room-within-a-room concept and featuring a large glass front, this futuristically designed 55 m2 showroom welcomes, for instance, the company's clients, investors, or staff. As the heart and centerpiece of the room, which is kept in an anthracite color scheme, serves a Garamantis multi-touch table linked with a large monitor wall that consists of six individual 55''screens. The room's intelligent control system reacts to the guests' position and dynamically adapts lighting and audio accordingly. A short introductory film first attunes visitors to the general subject of "procurement of the future" before focusing their attention on the UHD multi touch table itself. This one communicates using the same protocol as the technology presented in and by the showroom and affords insight into the underlying IT processes. The showroom's immersive overall impression is further enhanced by 2.000 individually software-controlled high-performance LEDs as well as a 7.1. surround sound audio system.
Innovation in B2B Communication
The German Innovation Award is presented to innovative achievements that – by virtue of their added value – break new ground and open up novel approaches. In this, the focus is always on the user experience. For these outstanding innovations, the German Innovation Award offers as a valuable a platform.
Garamantis' Head of Communications Andreas Köster says: "Along with our clients, we are very happy and pleased to receive the German Innovation Award. With this showroom we were able to demonstrate just how innovative and future-oriented medium-sized businesses can present themselves – particularly in times of Corona and cancelled trade shows."