Gesture‑Controlled Products at a POS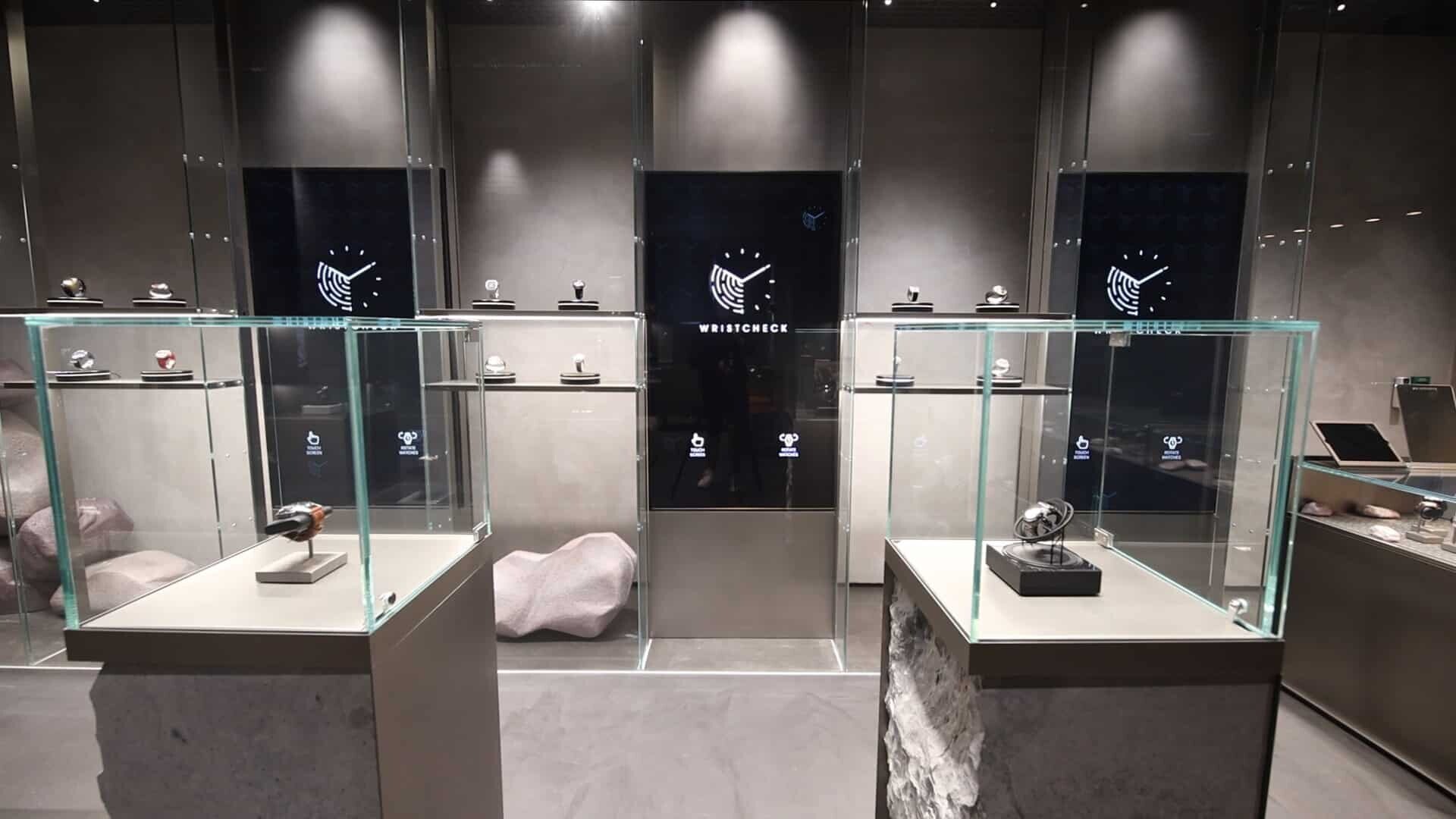 Berlin Start‑up Garamantis Realizes Interactive Display Window in Hong Kong
The Berlin-based tech company Garamantis realizes an innovative contactless shopping concept in a Hong Kong mall.
Laser-based sensor system recognizes finger- and hand gestures throughout a 21 square meters area.
12 especially designed interactive turntables show products
Customers can interact with three digital signage screens.
Berlin, April 12th, 2022 – Especially when it comes to sophisticated high-end products, everything depends on their artful and intriguing presentation at the Point of Sale. For this, the Hong Kong company Wristcheck, specializing in luxury segment wristwatches, now turns to Berlin for support: the tech start‑up Garamantis has developed a novel system that allows customers' interaction with the products on display in the shop window by means of gestures. For the first time ever, this new concept is now deployed at Hong Kong's Landmark Shopping Center.
The Next Generation of Shop Windows
The central element of Garamantis' solution consists in a 7 x 3 m large interactive display window. Framed by natural stone arrangements and three interactive screens, this large display case presents wristwatches on a total of 12 responsive turntables, especially designed by the Berlin start‑up for this particular use case.
Visitors standing before the display case's front glass panel can control these turntables with simple gestures and thus get a good view from all sides on the items displayed there. An atmospheric LED lighting concept as well as three additional 65''monitors positioned alongside the timepieces present the coveted watch models in every detail, making it conceivably easy for customers and shop clerks alike to closely inspect their minutiae.
High Tech Made in Berlin
Concept and realization of all interactive elements come directly from the interactivity specialist Garamantis' (https://www.garamantis.com/) Berlin lab. The innovative multi-user gesture control throughout the entire 21 square meters surface works with LIDAR systems: this laser-based technology recognizes and captures even the tiniest objects and movements in its surrounding and thus facilitates contactless interaction with the display window. Garamantis' specially designed interactive turntables are controlled via MQTT, a network protocol for machine-to-machine communication within the 'Internet of Things'. This ensures direct and smooth rotation and LED highlighting of each currently activated watch.
Product Presentation Made Easy By Means of Central Control and CMS
Both Garamantis' software and CMS enable fast and easy update, exchange, and rearrangement of all elements and watches in the display window: the control of the interactive display case as well as the digital screens' content can conveniently be altered and adapted through the CMS web interface. There, the position of each turntable – and accordingly which area in front of the glass panel is LIDAR-scanned – can be defined and allocated. Such a high degree of interactivity and flexibility turns a conventional shop display into a state-of-the-art interactive window on marvels of all sorts.
Innovation Already Starts With Development Phase: A Trip To Hong Kong via TeamViewer
Because Covid-19 related travel restrictions put a stop to travels to Hong Kong for all foreigners, also the on-site installation of the technical components became a first. Garamantis dispatched the entire pre-configured hardware to Hong Kong, where a local architectural firm then took over and installed and integrated the elements according to the instructions provided by a detailed documentation. Remote access and an identical test setup in Berlin enabled Garamantis to optimally aid and support the local professionals during the roll-out procedure.
The Next Generation of Interactive Signage in Product Presentation
This POS concept, designed by Garamantis in their lab on EUREF-Campus in Berlin, is highly scalable and flexible. From one or just a few turntables combined with one interactive display case to shop front windows a few meters wide and including multiple screens and turntables, anything is possible. Bigger versions of the interactive turntables can carry a weight of more than 100 kg and hence support even large objects. At their home base, Garamantis are currently evaluating the LIDAR sensors' reliable outdoor use in street-facing shop windows.
Oliver Elias, Founder and CEO: "Our aim is to establish a higher degree of interactivity and innovative interfaces in retail contexts, in order to present quality products in a more playful and experiential way. We are happy to have had a client like Wristcheck approach us who shared this vision from the start and made it possible for us to go ahead with this exiting project."
Andreas Köster, Head of Communications: "With their interactive technologies, Garamantis facilitate novel concepts of presentation for use in Points of Sale. Those enable contactless exploration of not only screens and digital content, but of the products themselves. We are always happy to receive requests and inspiration from innovative store managers."
About Garamantis:
Garamantis, established in 2014 in Berlin, designs and develops interactive exhibitions and showrooms. The focus of their worldwide collaborative projects lies on individualized software development, granting users impressive and interactive experiences at, e.g., trade shows, on special events, or in museums. Garamantis is a long-standing partner of Ars Electronica and in 2020 was the recipient of the German federal government's "Cultural and Creative Pilots" award.