Garamantis and FFT present immersive showroom for intelligent production systems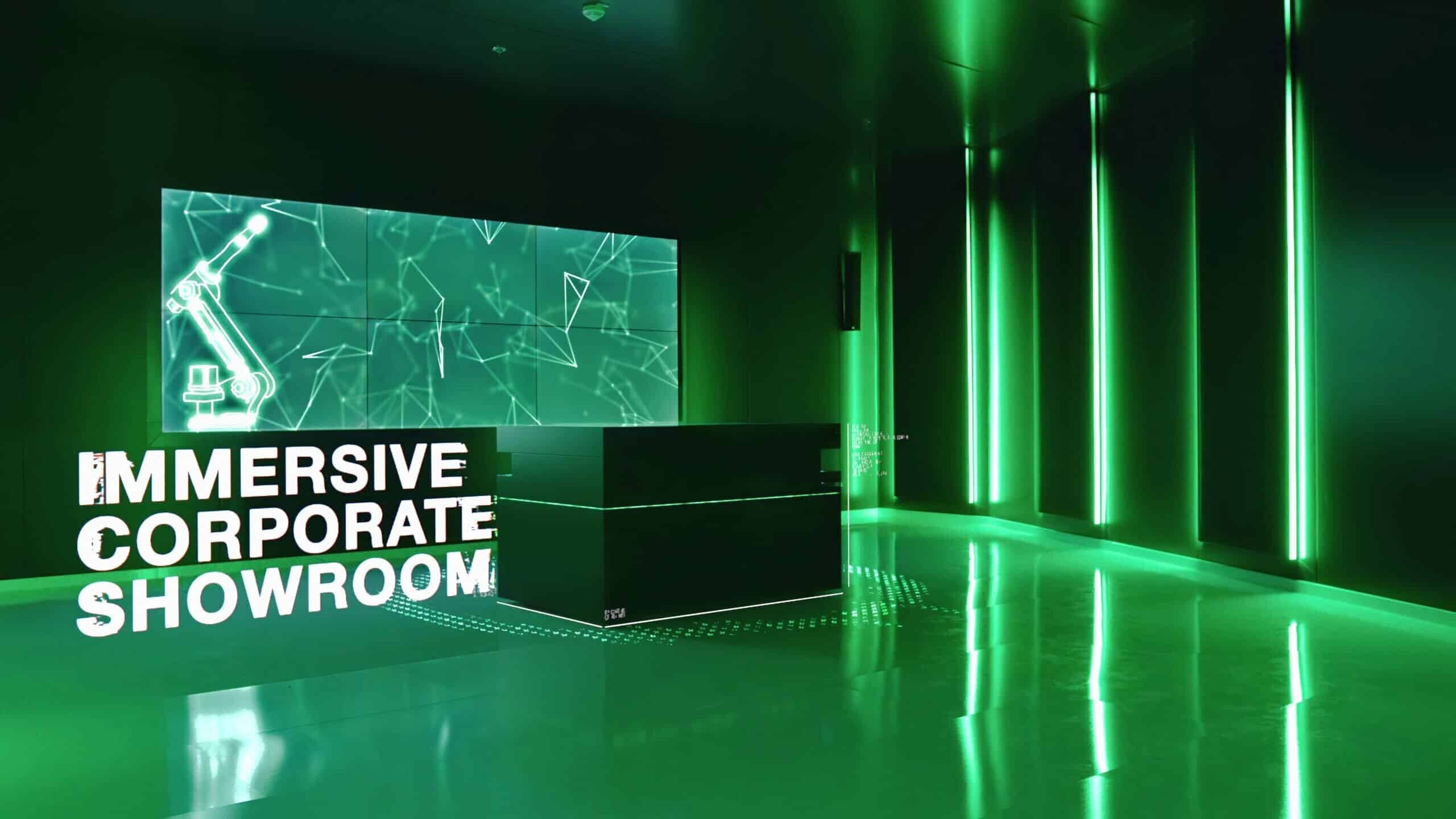 FFT Production Systems Open Their Doors to Entrepreneurs in Fulda
Fulda, February 16th, 2023 – Swipe your finger over the car production line in planning, zoom in on details in seconds and show them to your client? All this is possible today! FFT, a leading manufacturer of intelligent production systems for the automotive industry, is demonstrating just that in its new high-tech showroom at the company's Fulda headquarters. From now on it is possible to make an appointment for an exclusive insight into automated production. Berlin-based Garamantis Interactive Technologies created the digital presentation concept for the immersive showroom.
The old industrial showroom goes digital
Admittedly, the medium-sized company FFT used to have a showroom. And it contained a lot of hardware components. However, it was almost impossible to display and demonstrate the company's larger key products. In addition, updating the showroom displays with new or improved products usually required the use of expensive machinery just for display purposes.
In contrast, the new interactive showroom works at the touch of a button, presenting complex equipment and services in digital form. For example, it is now possible to 'swipe' from the large display of a multi-touch table to a large monitor wall. There, the high-tech products can be viewed in detail and the company and its customers can begin the initial planning stages for a new production facility. The immersive presentation room, designed and built by Berlin-based Garamantis, now serves as a point of contact for interested parties, customers, employees and applicants. It features an innovative combination of hardware components and digital presentation.
Exceptional design meets state-of-the-art multi-touch technology
The show-area, opened in July 2022, is located within FFT's 15,000 m2 large production halls. It consists of several rooms plus a demonstrator system offering visitors insights into innovative automation. The heart of the digital presentation is the showroom, designed and equipped with interactive components by Garamantis. Particularly striking is the interior design: charcoal grey powder-coated walls and a white high-gloss floor reflect the more than 3,000 LEDs arranged in vertical strips. The room's laser-assisted control system activates each of the diodes individually, creating exactly the right lighting ambience for each part of the presentation. Acoustically, the futuristic space is supported by custom-made sounds.
Measurable success through immersive showroom
During his visit to Germany in 2022, prominent Chinese investor Guangchang Guo, Chairman of the Fosun Group (of which FFT is a part), inaugurated the new corporate presentation suite. Since then, the showroom has already proven its positive impact on marketing and sales processes. For example, several department heads prefer to use the room for their meetings with external target groups. The room now serves as a special place for meetings with clients and candidates. It is a meeting place for experts who want to learn about the latest innovations in production technology. And new employees can use it to familiarise themselves with their employer's product range and learn about the day-to-day business of other departments. In a very short time, the new showroom has become the flagship of the global company and is very popular with the management.
FFT showroom open to visitor groups
As one of the 10 largest local companies and top employers in the Fulda region, FFT is now opening its impressive showroom to interested visitor groups. Pupils, students, network partners and entrepreneurs can arrange visits by emailing info@fft.de. In addition to the showroom itself, there is a live demonstrator, a digital twin of a real machine in operation and a VR environment.
"The showroom regularly amazes our business partners and applicants. That is exactly the effect we were hoping and aiming for. Finally, we can showcase our anything but self-explanatory innovative technology with the help of an equally innovative room concept. It makes the FFT product portfolio comprehensible for our visitors. The combination of visual explanation and hardware with the non-linear presentational approach and technology thrills our clients," says Johannes Strott, Head of Marketing at FFT.
Andreas Köster from Garamantis adds: "Our client FFT impressively demonstrates how live experiences can be used for successful B2B marketing. The fusion of real demonstrator robots and interactive presentation technology convinces the clients. We are pleased that our partners at FFT decided to combine their expertise in modern production engineering with our experience in creating immersive showrooms."
For comprehensive information on the project and 4K videos click here: https://www.garamantis.com/en/project/fft-production-systems-showroom/