Multitouch Table call for tenders – guideline and bid grid template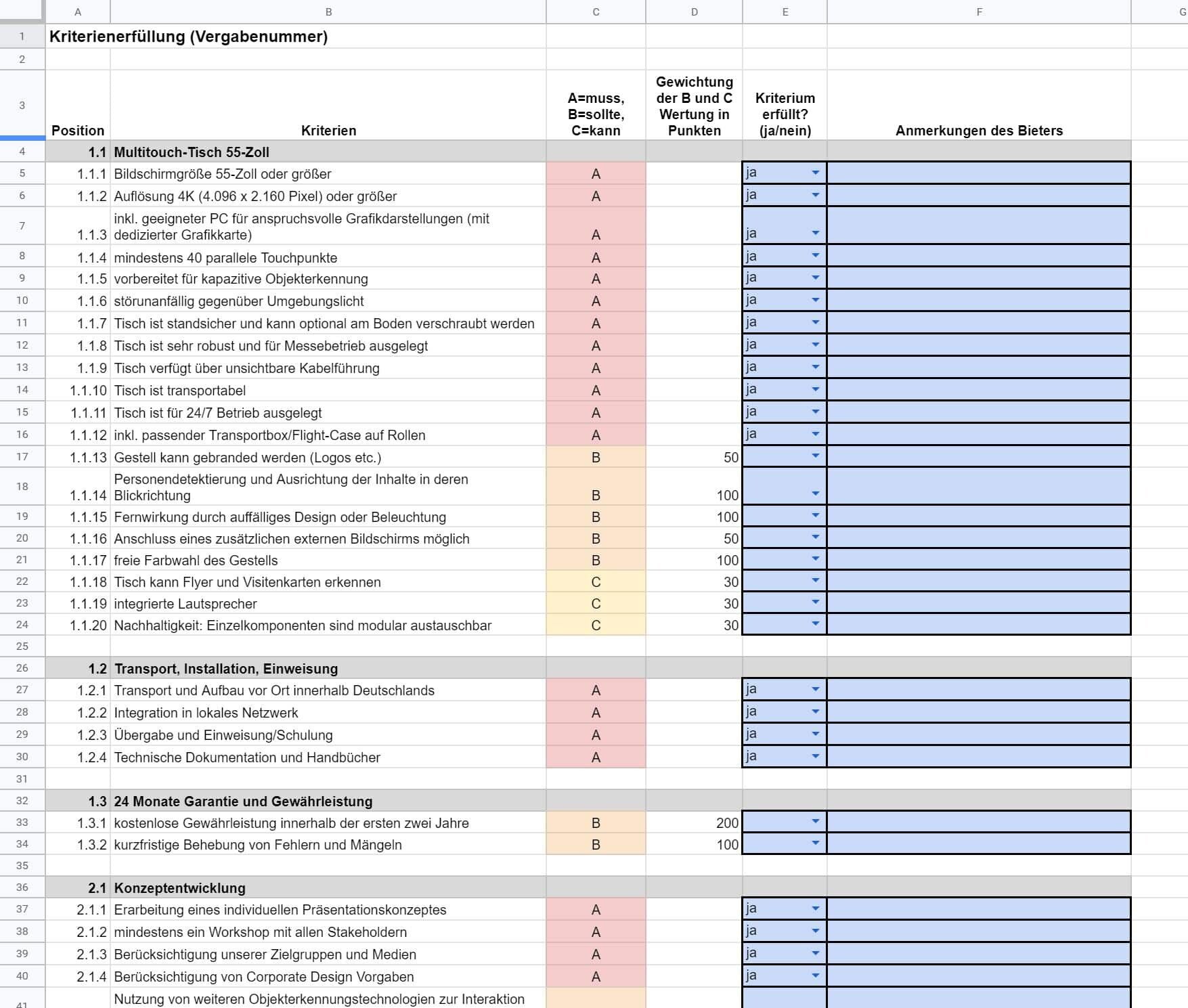 More and more often, multi-touch tables are an integral part of showrooms, demonstrators, and exhibitions of research organizations. A sometimes mandatory public call for tenders does nothing to make the complex procurement procedure any easier. One multi-touch table consists of a multitude of separate components, e. g. the hardware, the software, the Content Management System, service etc. While with regards to the project timeline, the call for bids is supposed to be set up and publicized rather sooner than later, often in terms of content still a lot of open questions remain. This article will provide you not only with practical advice but with a helpful Excel template as well, for an optimal preparation of the tendering process
When to Tender?
For public sector organizations and contracting authorities, the standard procedure is an open call for tenders, where an unrestricted number of contractors is invited to hand in bids. Within the margin of a minimum value limit, however, the contracting authority principally can choose between different reasonable tender procedures. For instance, with a restricted or invited tender, the contracting authority addresses a limited and preselected group of vendors, only allowing those to submit an offer. Usually, a call for tenders is the method of choice for contract values exceeding € 25,000.
Multi-Touch Table – What Should Be Put Up for Tender?
A multi-touch table project essentially involves the table's hardware and its software, and, if applicable, also additional services like conception, on-site installation, and maintenance contracts. Some clients try to avoid a call for tenders by procuring the multi-touch table and its software separately and thus keeping the individual costs under the relevant value limits. But also in case of a call for tenders, separating the hardware from the software and putting them up for tender as individual lots is always advisable because there is a sufficient number of vendors on the market to choose from who each are specialized in either multi-touch hardware or multi-touch software. Hence commissioning one contractor with producing the table and another one with the software development at the respective best price performance ratio is a wise thing to do.
Tender Documents – What to Consider?
An awful lot! Most likely you are not an expert on multi-touch tables and perhaps have little experience in projects involving them. Even if the planning process in terms of subject matter and content has not been completely finished yet, you should still formulate concrete requirements in your call for tenders. This way you will get offers that better match your needs and increase your project's chances of success considerably.
We have created a useful Excel Bid Grid template for a multi touch table (.xlsx download) for you that covers all important and essential key points. This template is to be regarded as a general aid and of course does not claim completeness nor correctness for each and all specific cases of calls for tenders. (In addition, it might be worthwhile taking a look into our )Whitepaper "Multi-touch Table – In 8 steps to a Successful Project")
Who Wins the Bid? – Tender Award Criteria
Another important thing to consider are the criteria according to which the contract is going to be awarded. They should be transparent, comprehensible, and of course in line with your project goal. Those criteria are named and listed in the Bid Grid and are distributed according to their relevance and weight (percentage) among the total score (100 %). Possible criteria are, for instance:
fit between offer and individual specifications – 50 %
quality and scope of services offered – 30%
bid amount (price) – 20%
We wish you a lot of success with putting your multi-touch table project up for tender, and we are always at your disposal for any further questions or a nonbinding consultation!