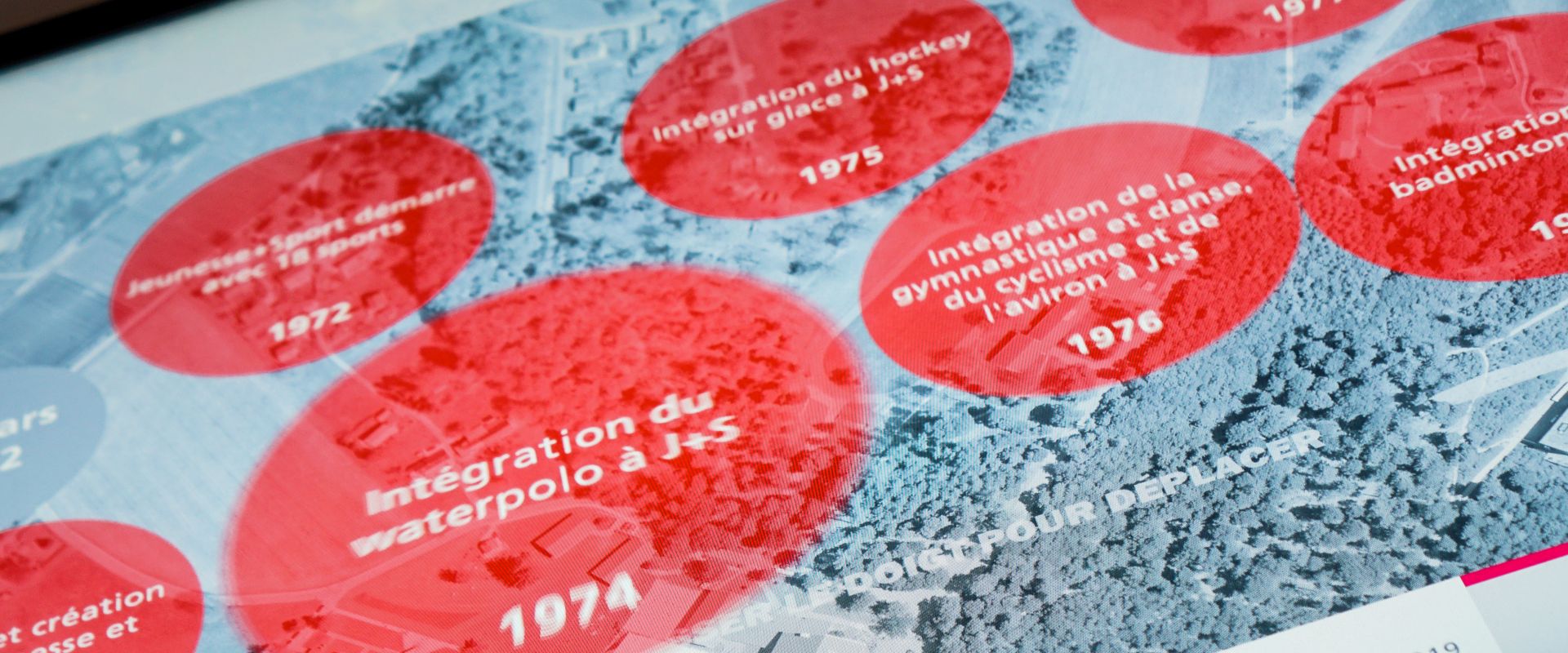 Anniversary Year BASPO
Interactive multi-touch installation for the 75th anniversary jubilee year of the Swiss National Sports Center
For the Swiss Federal Office of Sports BASPO, Garamantis have designed a customized multi touch software that brings the eventful history of the Magglingen Sports Center to life. This year the renowned Swiss sports center celebrates its 75 years history of success.
On six interactive Ultra HD monitor stelae showing dynamic timelines, 360-degree videos and illustrations with "then and now" comparisons, visitors can embark on their own journey through time. Instead of your usual run-of-the-mill frontal presentation, here they are offered an interactive experiential world.
The umbrella of Federal Office of Sports BASPO unites the key areas of Swiss sports development and promotion: education, infrastructure and sports policy, the history of which is now being presented tangibly, impressively and interactively to an international audience in an exhibition. From its original core concept – the promotion of young men's fitness for military service in this legendary sports school – to nowadays' all-encompassing sports developing mandate, Magglingen has undergone a huge process of change. This history is now brought back to life by an abundance of various content and different media, offering every visitor easy and simple access to the subjects of personal interest to him or her.
Regarding the design, the challenge was met by means of dynamic "bubbles" that move along a timeline and encourage people to touch them. Upon touch, from these bubbles all further contents unfold, each in turn inviting visitors to manual interaction and exploration. An additional requirement was the multi-touch software's versatility, in order for it to be used flexibly for different occasions or anniversaries and on different devices. Hence Garamantis' cloud-based CMS allows not only the deposit and management of any desired number of timelines, but also their display on different multi-touch stelae. All content of these timelines (videos, audio documents, texts, images, etc.) is held in the CMS in German, French and Italian language. The design of the user interface can easily and quickly be adapted according to the occasion.
The software's on-site installation was realized fast and cost-effectively via remote access. Maintenance and technical support as well are handled from Garamantis' Berlin office.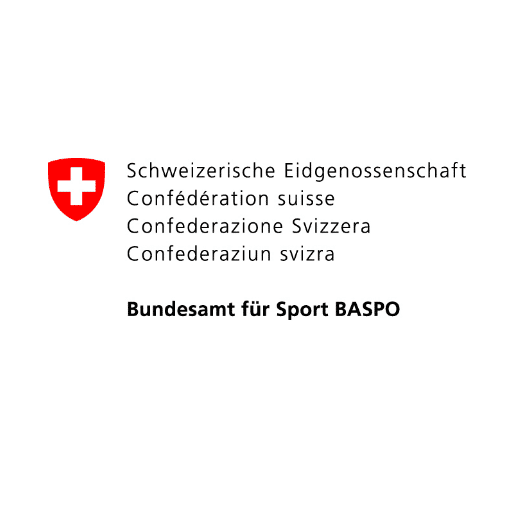 Swiss Federal Office of Sports
Project facts
Client: Swiss Federal Office of Sports BASPO
Context: 75th anniversary jubilee year of the Swiss National Sports Center Magglingen
Implementation time: 12 weeks
Finishing date: August 2019
cloud-based CMS
six interactive Ultra HD monitor stelae
dynamic timelines, 360-degree videos and illustrations with "then and now" comparisons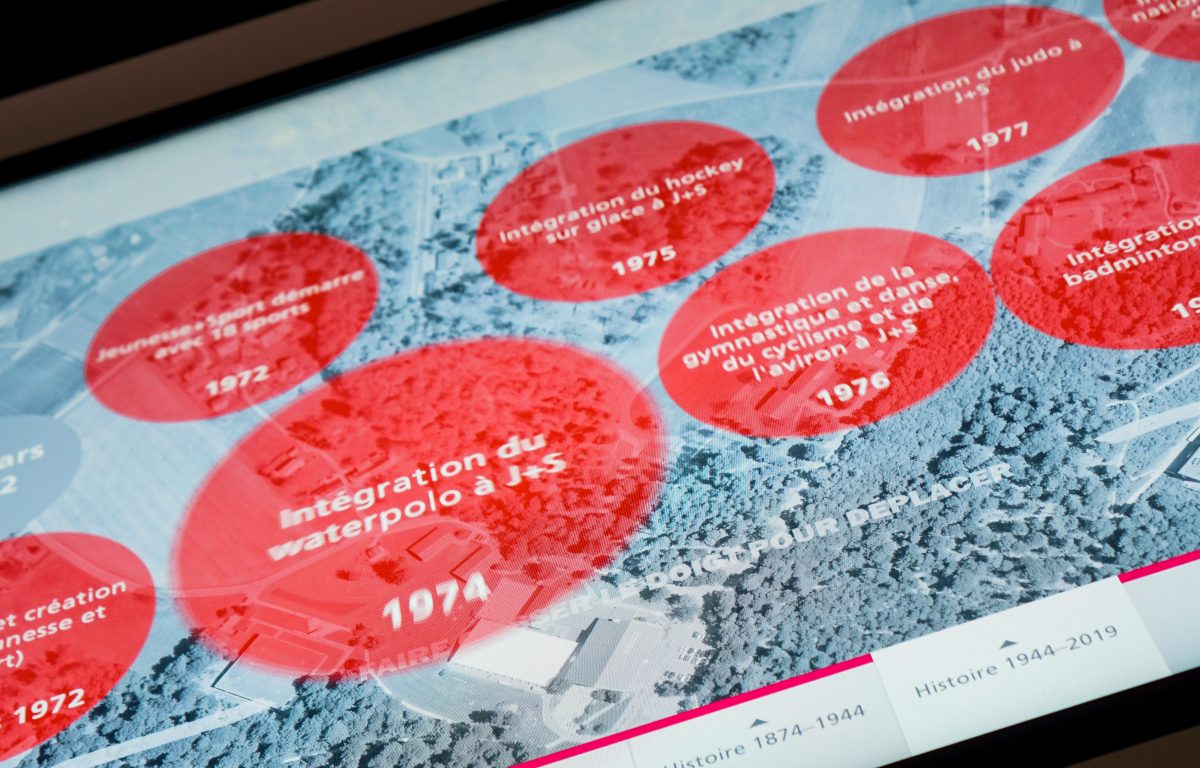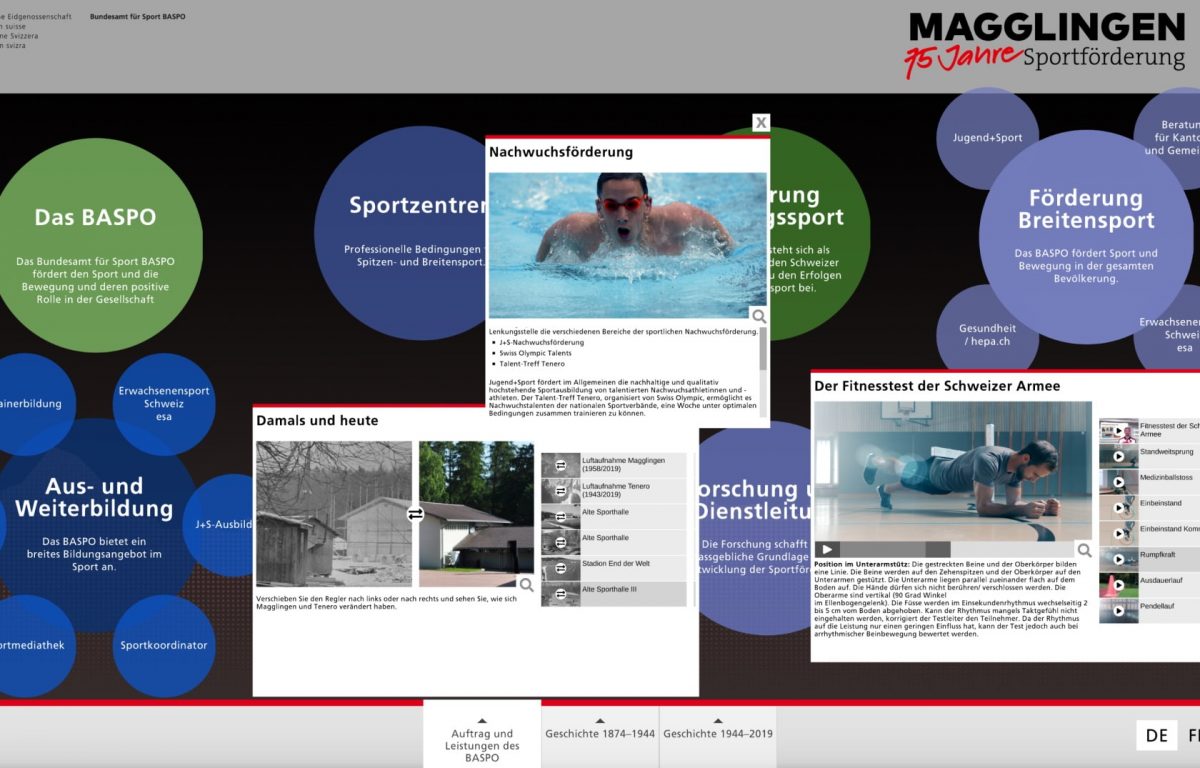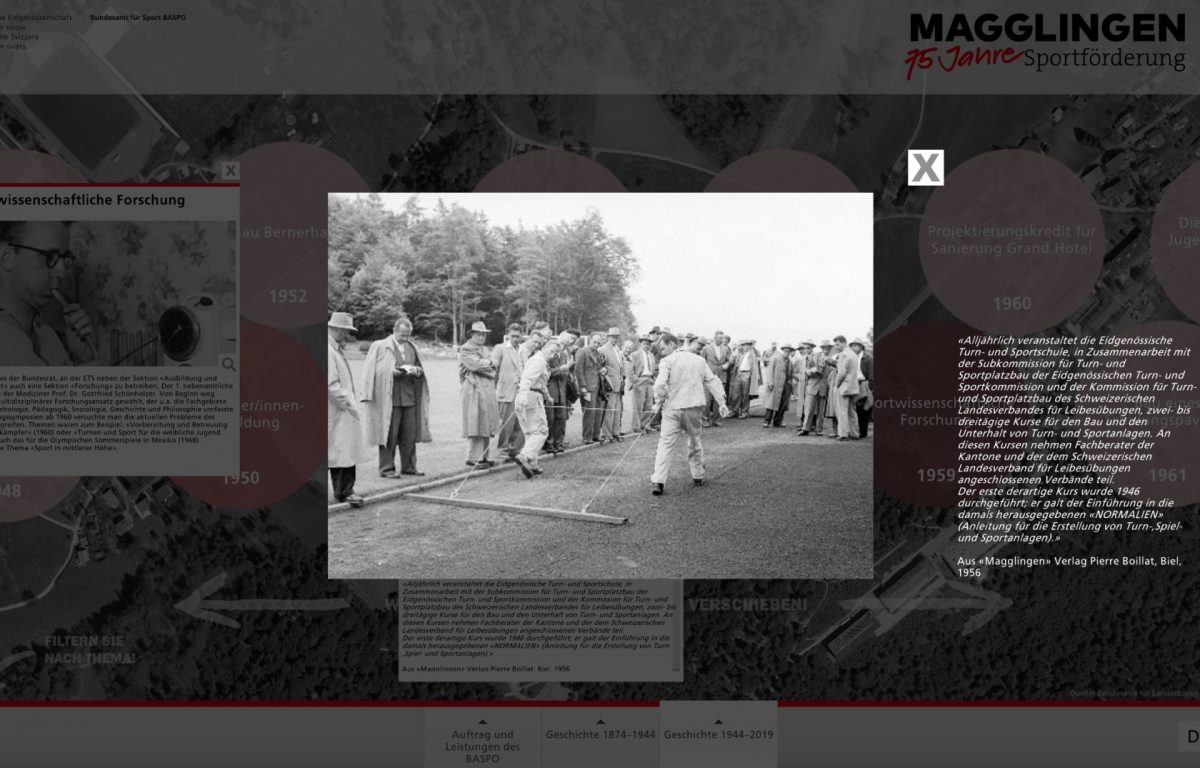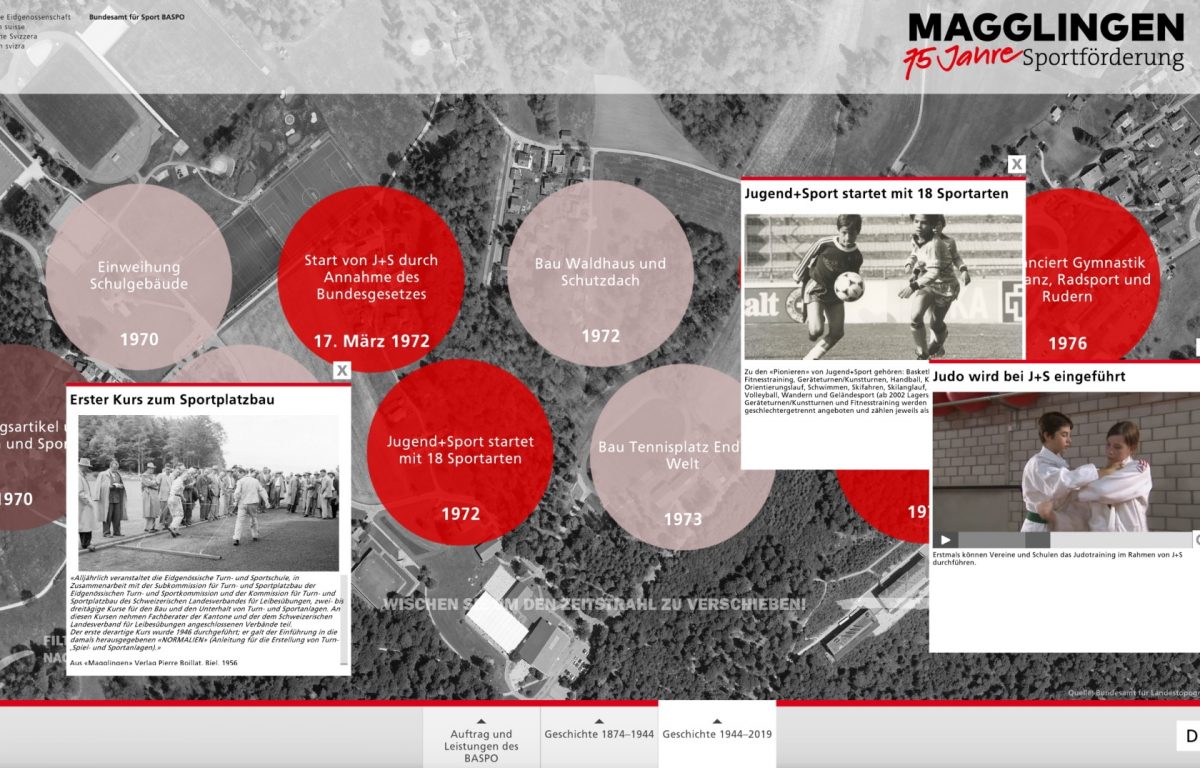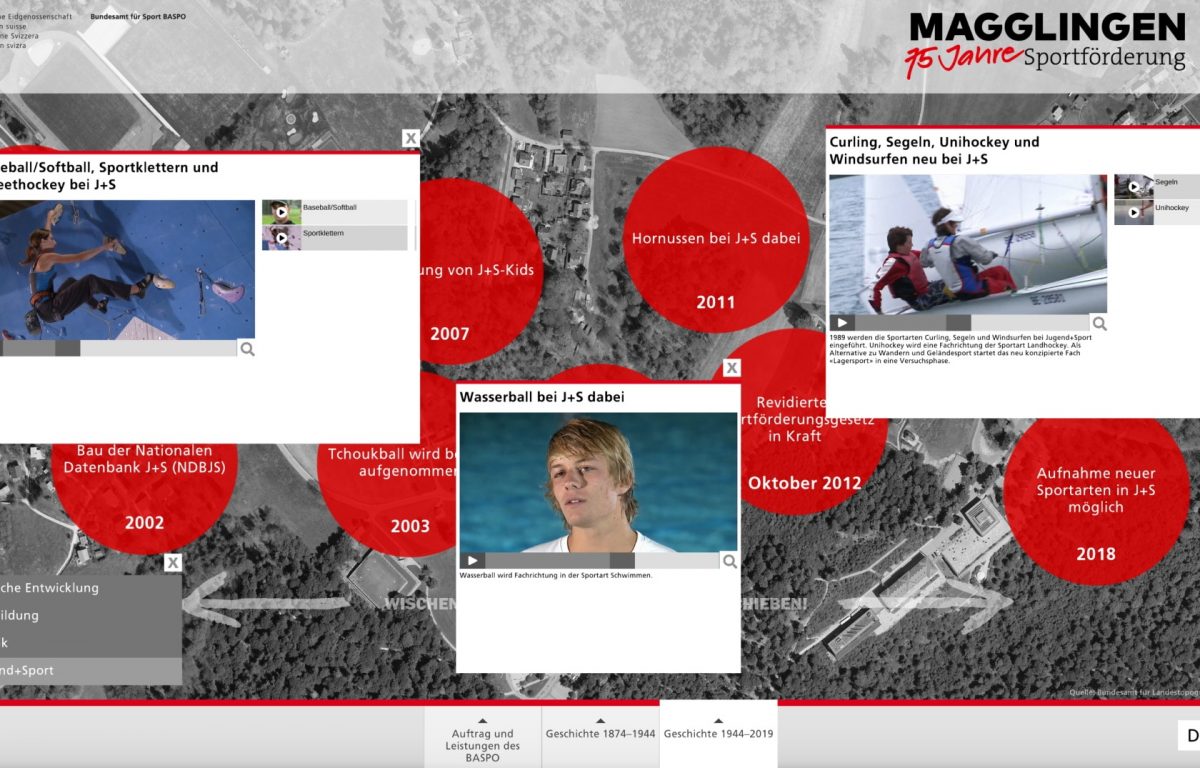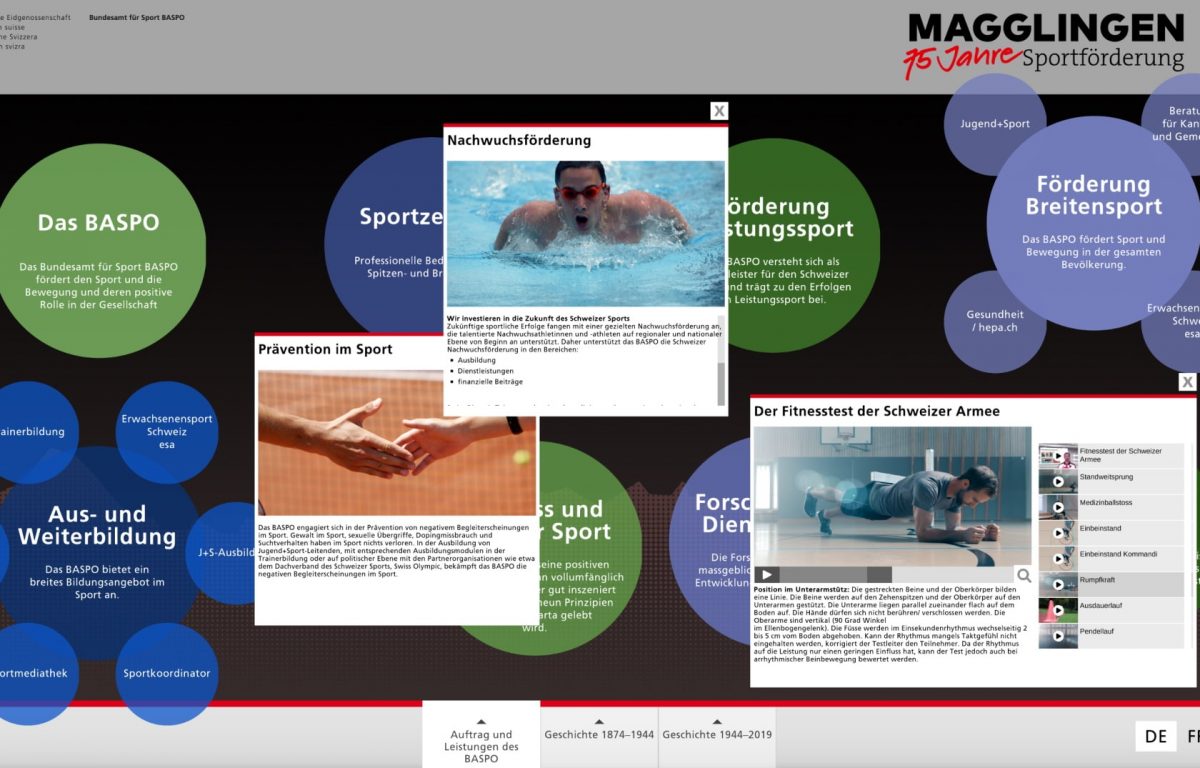 Thanks to the expertise of Garamantis, an application was created that is simple and intuitive to use. The multi-touch software gives us the opportunity to open digitized archive content for our anniversary to a wide audience in a variety of ways. The audience interacts without any problems and is fascinated by the possibilities!