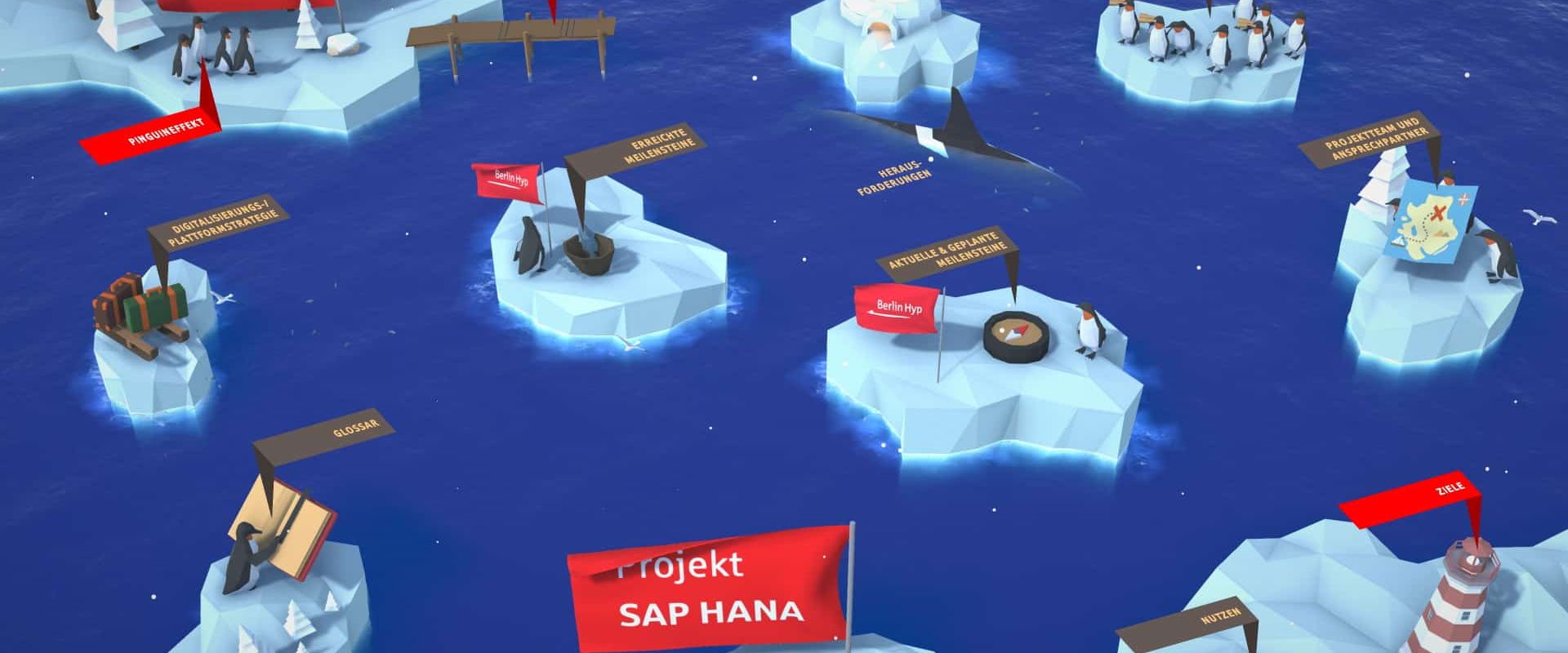 Berlin Hyp Project Presentation
A complex IT project – told as an interactive hero's journey
If there is one thing that digital transformation brings with it, it is a large number of IT-related projects. The size and complexity of the tasks are constantly increasing – which does not necessarily make them more fascinating from the outside. In fact, there are a lot of amazing projects that are speeding up all sorts of things and actually making life a lot easier. For example, being able to make an instant bank transfer from your smartphone shouldn't make you nostalgic for the days when you had to carry your bank transfer form to the bank – filled in with a pen, no less (and hopefully with all the digits in the right order).
State-of-the-art IT architecture with SAP HANA
The Berlin Hyp AG, one of Germany's biggest real estate banks, has recently achieved a similar digital evolutionary leap. As the first financial institution in Germany, the bank introduced a central financial services data platform with SSOT (single source of truth) architecture based on SAP HANA. With this step, a multitude of hitherto separate data bases, systems, and interfaces became one single system. All processes have been simplified enormously and accelerated practically to high speed – which will equally please the bank's customers and partners.
Playful hero's journey on multitouch table
To prevent dizziness and to help you keep your bearings in the details of this major project, we offer an interactive narrative on a multi-touch table that tells the entire story in the form of an exciting hero's journey: the brave Berlin Hyp penguin is the first of his kind to jump into the freezing Arctic sea, where he encounters many dangers – including project risks in the form of a killer whale – that he must avoid while jumping from floe to floe towards a lighthouse, i.e. the project's goal. At first, the other penguins are sceptical about our hero's actions, but later they applaud his achievement of the final milestone.
Of course, along the way, our penguin occasionally falls into the icy abyss of IT infrastructure and banking regulations, but you never lose sight of him in this carefully designed and animated arctic world.
The architecture at the core of this platform – SAP HANA – is still evolving, and this will certainly not be our client's last project. So not only can Berlin Hyp easily and conveniently manage all project content via a cloud-based CMS, it can also use the multi-touch software to create and present future projects.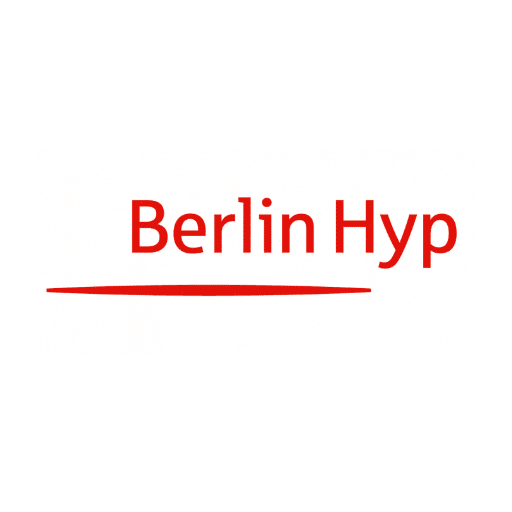 Berlin Hyp AG
Project facts
Client: Berlin Hyp AG
Context: IT project "Implementation of SAP HANA"
Implementation time: 8 weeks
Finishing date: July 2020
interactive 3D world "Antarctica"
multitouch project presentation
flexible content from cloud based CMS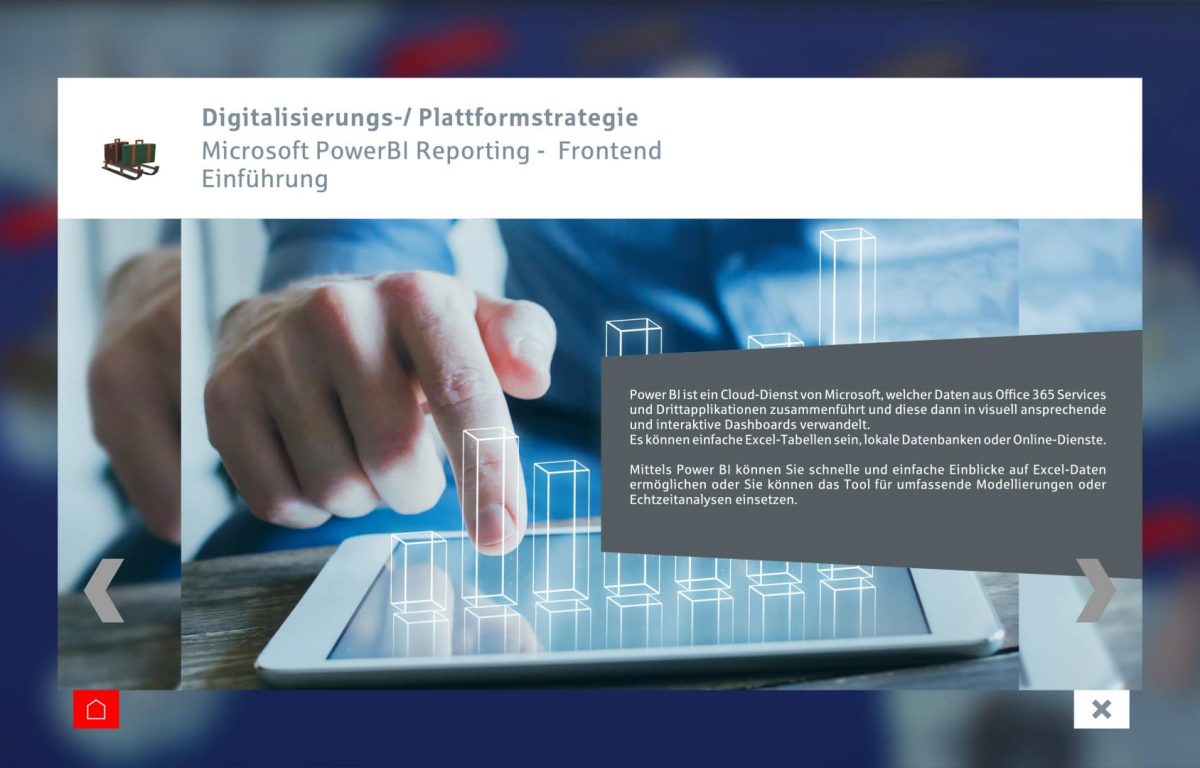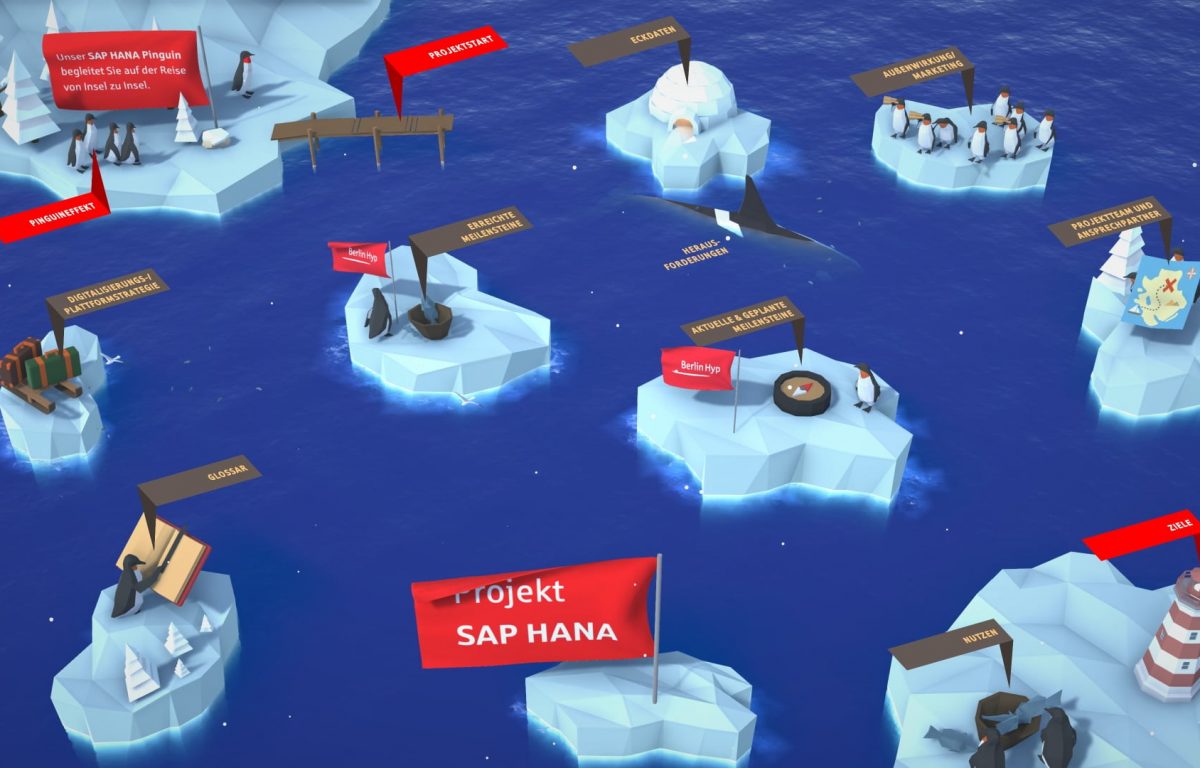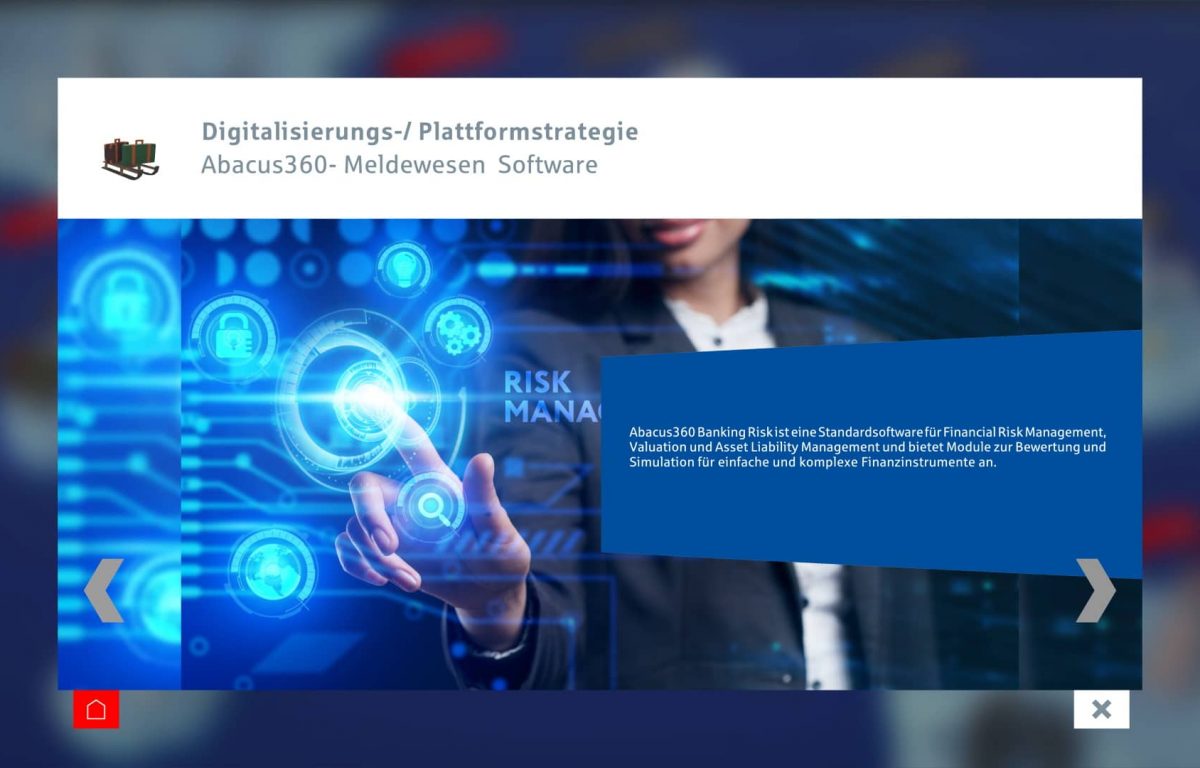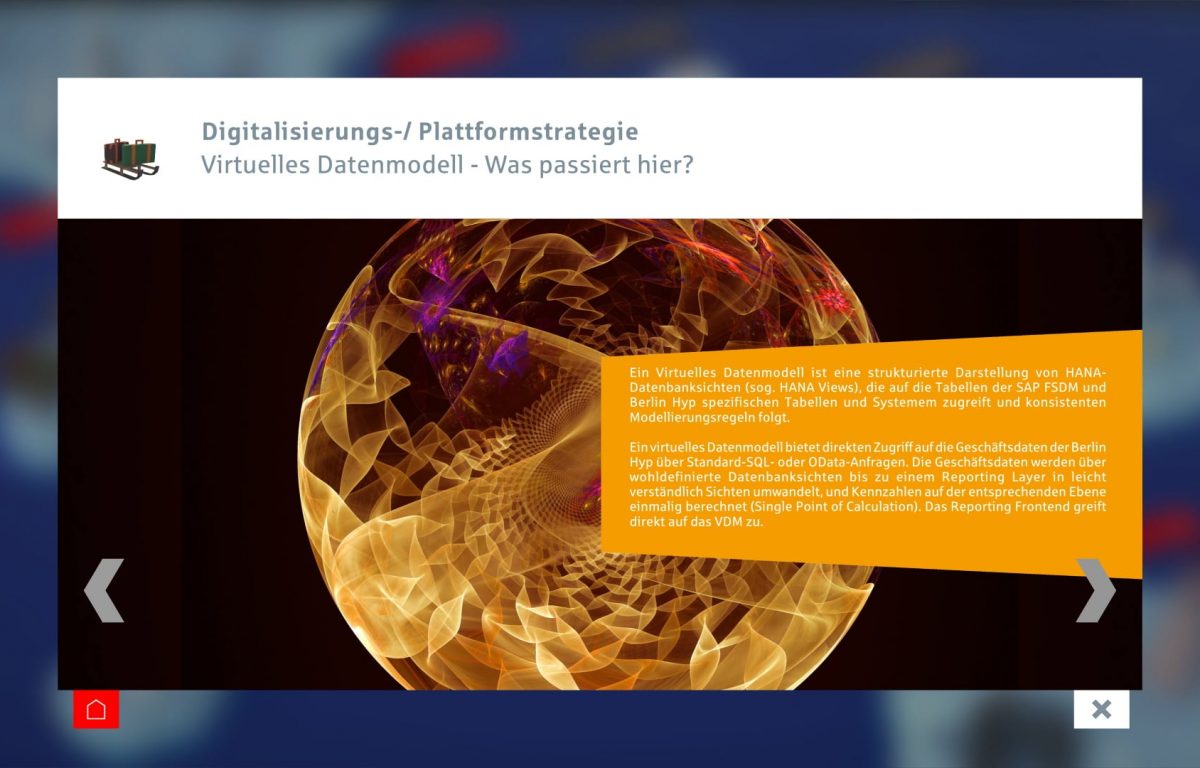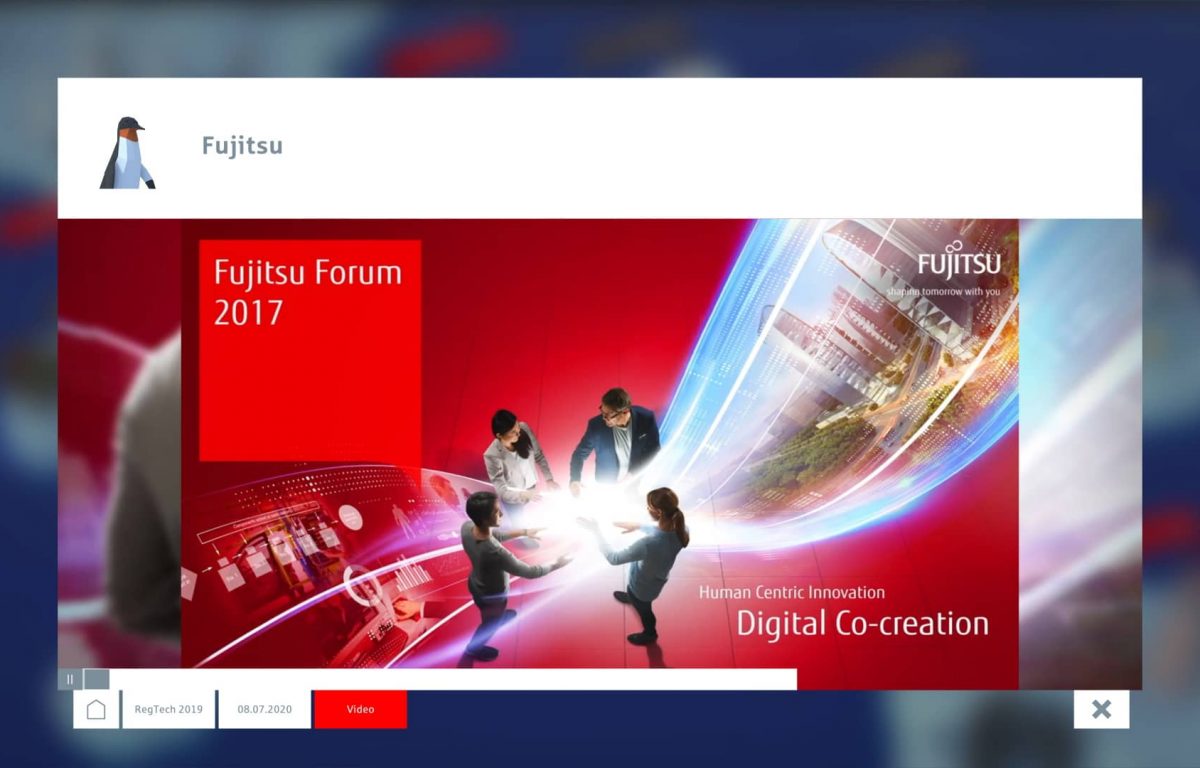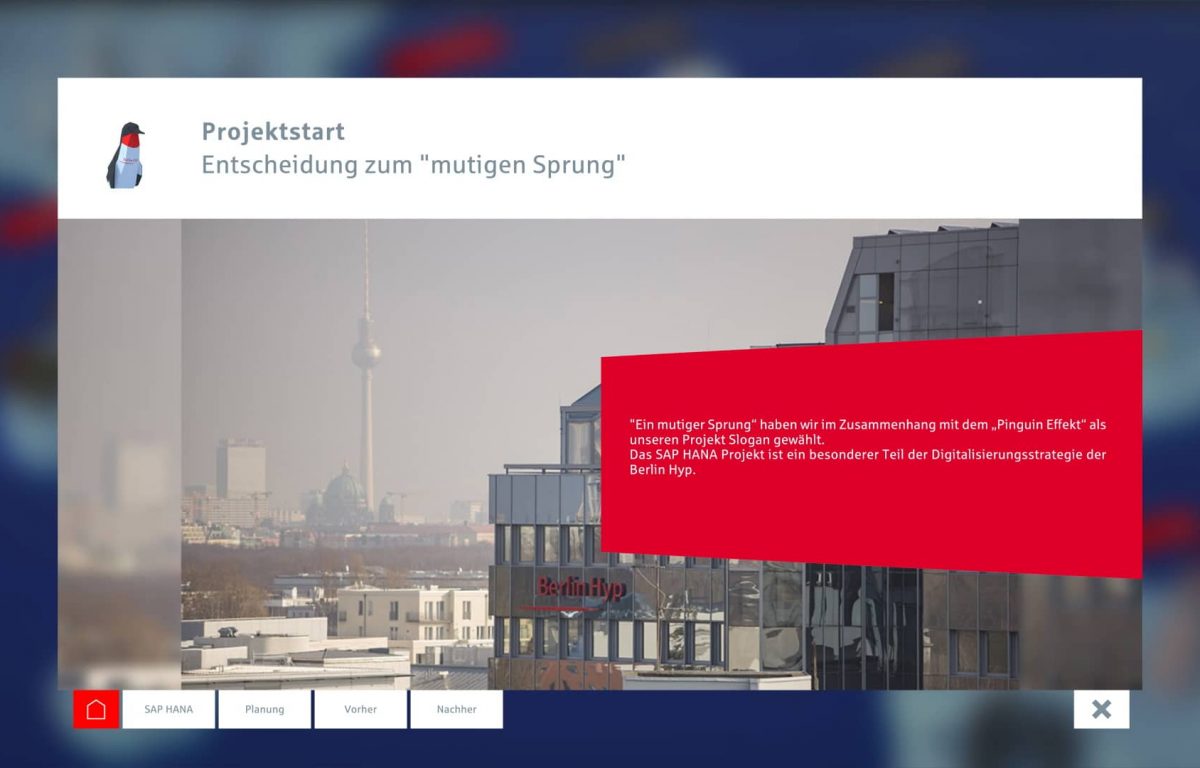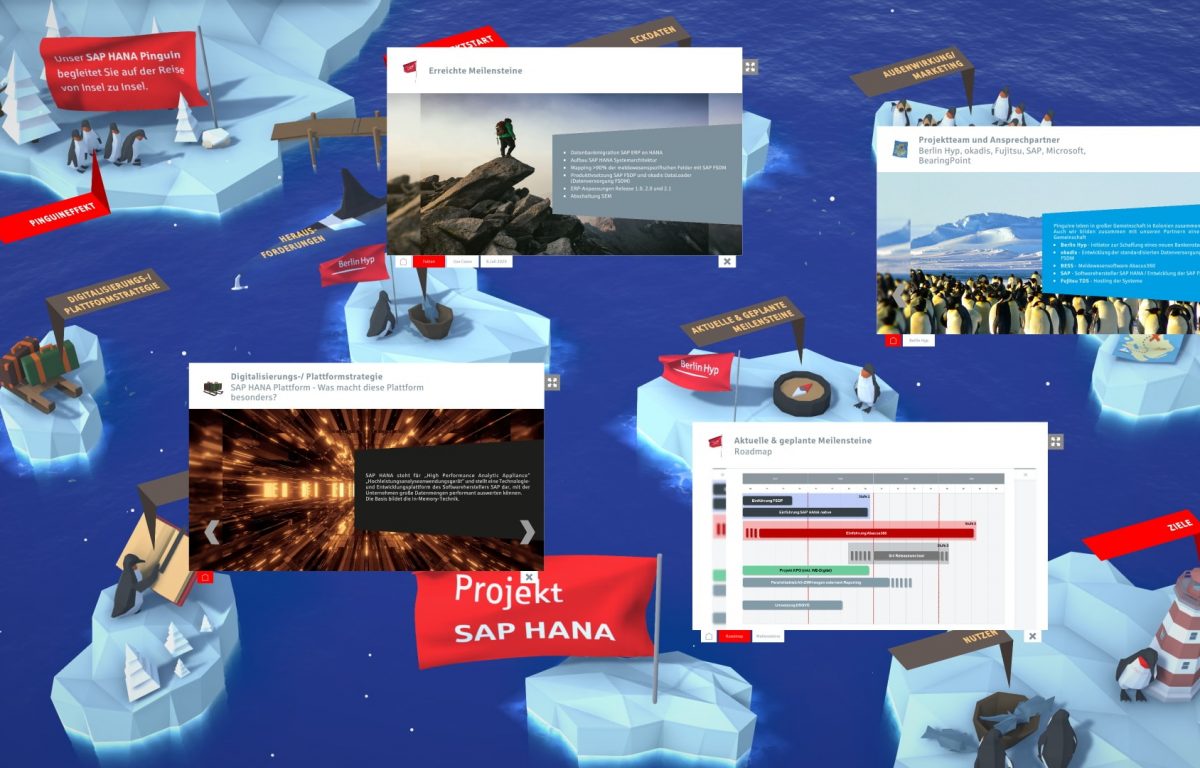 We are happy about the successful digital implementation of our SAP HANA project, which we were able to realize on the multitouch table together with the support of Garamantis. Our project symbol, the brave penguin, became a living figure in 3D animation and interactively accompanies the user of the table on his journey with the project. Interested parties are now able to acquire important project information in a playful and entertaining way.
Multi-Touch Software
Definitely No Standard-Issue Product, Just Like Yours. Unless You Develop ISO Standards. Individual software development…