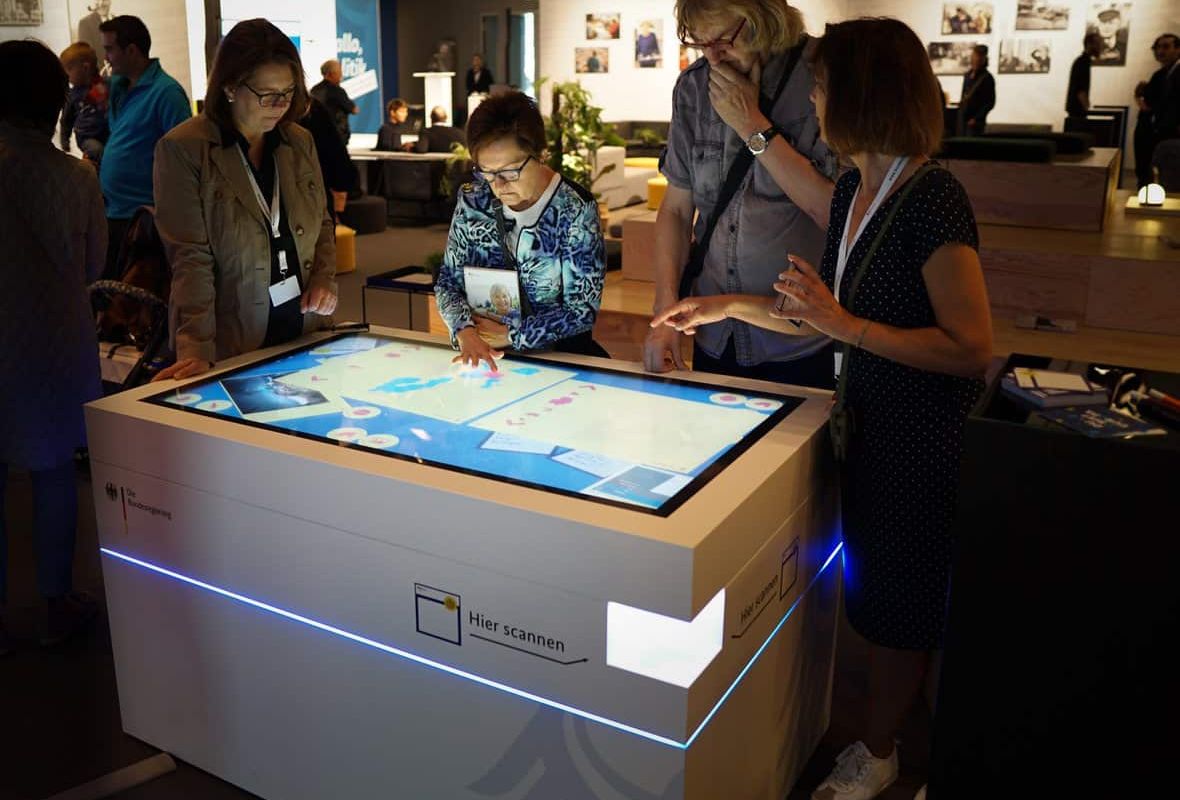 Federal Press Office
Multi-touch Scanner Tables for Open House Day of the Federal Government
The annual Open Day of the German Federal Government in Berlin has a long tradition: every year, the Federal Chancellery, the Federal Press Office and all fourteen Federal Ministries open their doors to the public for an entire weekend.
Presentation of the ministry and citizen participation at multi-touch tables
In collaboration with mediapool, Garamantis had the opportunity to interactively shape the event, which took place on 25 and 26 August 2018 at the Federal Press Office on Reichstagsufer.
Two multi-touch scanner tables gave visitors the opportunity to write down their wishes and ideas for the future of Europe on analogue postcards, which were then digitised. The suggestions were displayed on the table and later evaluated for content. The focus of this installation was on a playful and participatory approach to politics.
There was also an interactive EU jigsaw puzzle, which could be solved individually or in teams, providing basic information about each country. Visitors clearly enjoyed this playful exploration of the size, shape and location of the EU Member States, and it fuelled their ambition.
Federal Press Office active with social media hashtag #HalloPolitik
The tables also displayed the Federal Government's many online activities under the motto #HalloPolitik on various social media platforms, as well as a large information map for the Open Day with information on all the locations.
In addition to providing the multi-touch tables, Garamantis also realised an on-stage quiz for two players and a host, with the players standing at two buzzers and the host behind a presentation screen. The audience followed the game, with its questions and alternative answers, on a large screen on stage. Modular question blocks and the ability for the presenter to directly influence the flow of questions made the stage programme suitable for visitors, politicians and children alike.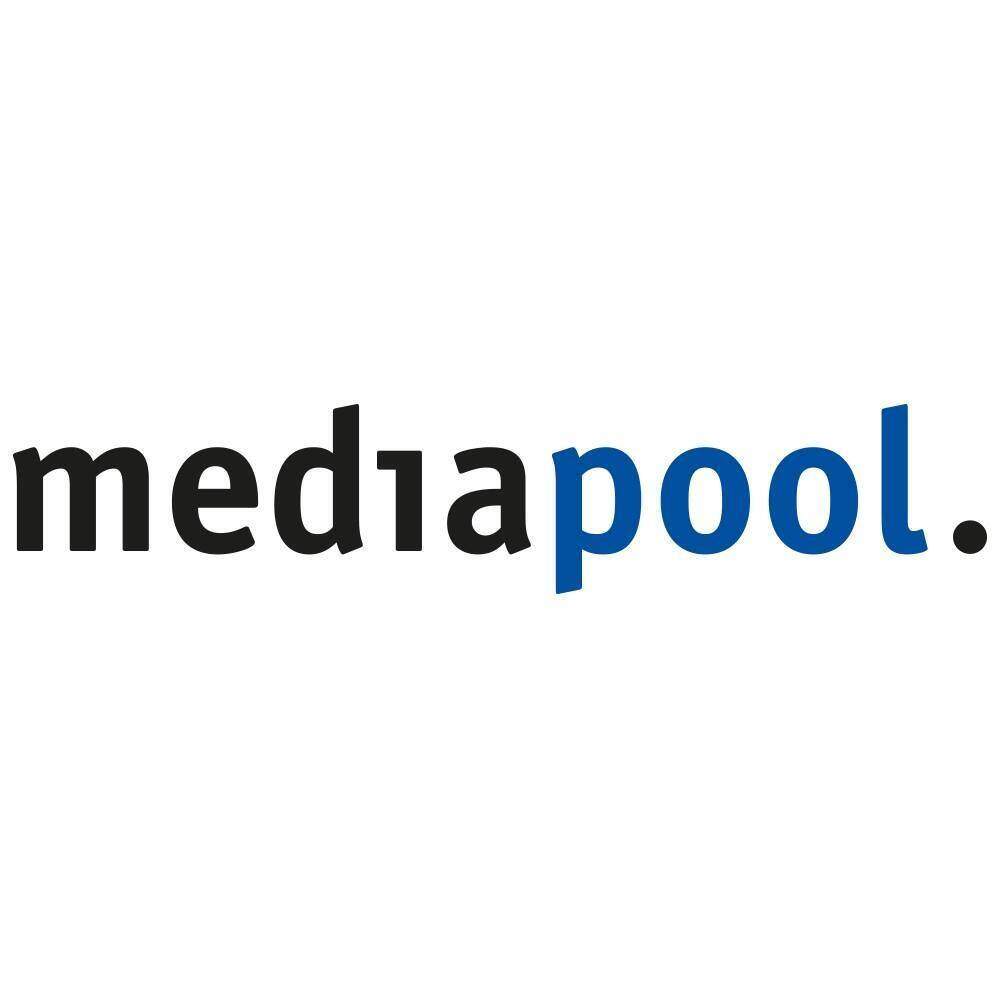 mediapool
Project facts
Client: mediapool
Context: Open House Day of the Federal Government
Implementation time: 8 weeks
Finishing date: August 2018
2 multitouch-scanner-tables
interactive EU jigsaw puzzle
on-stage quiz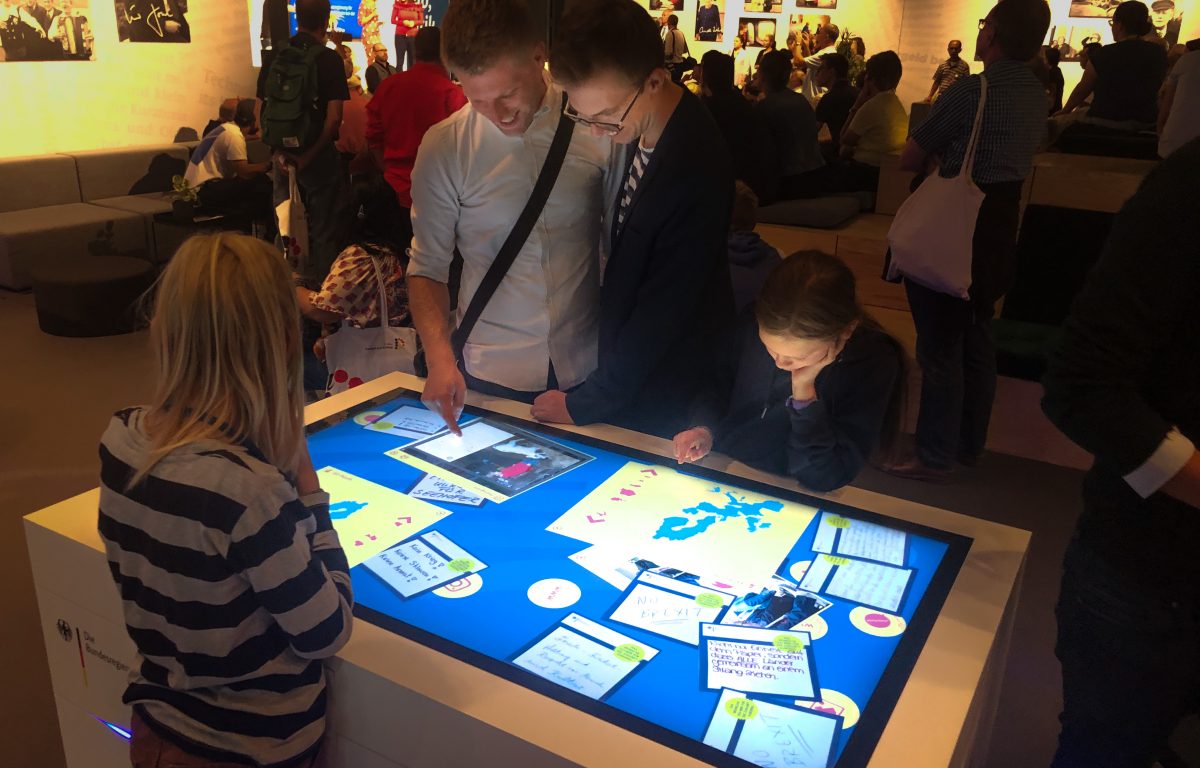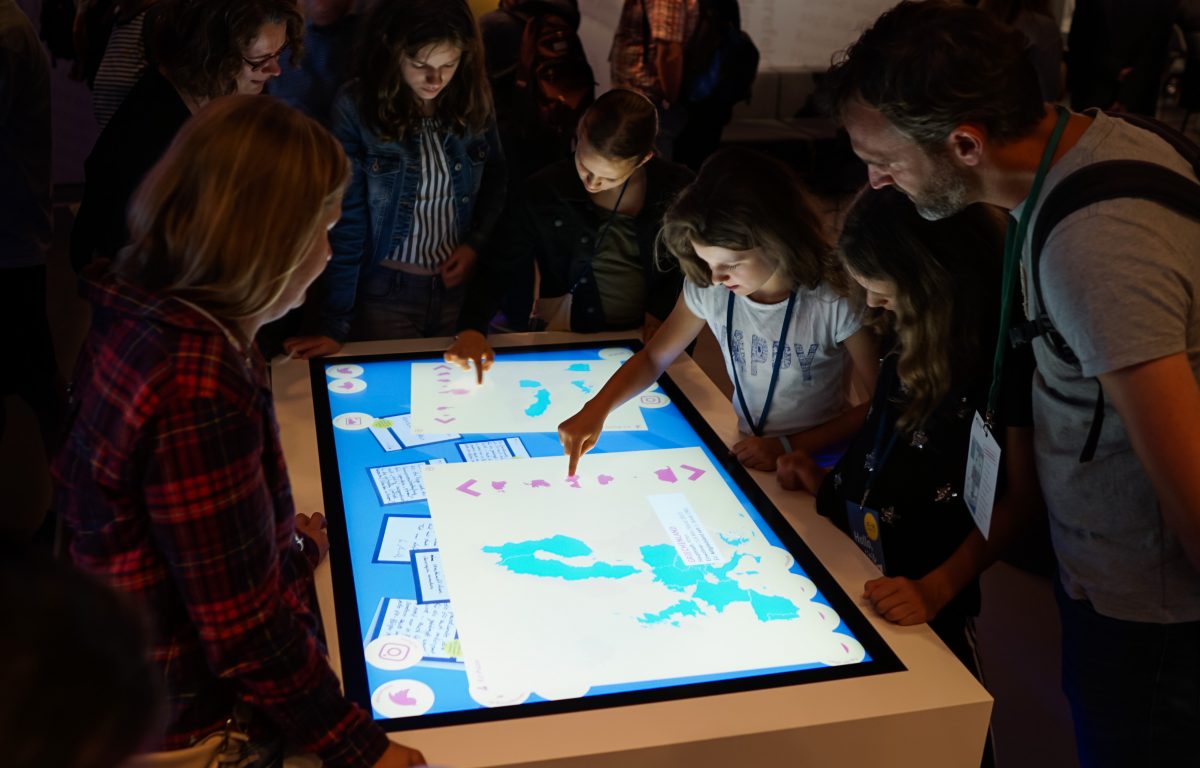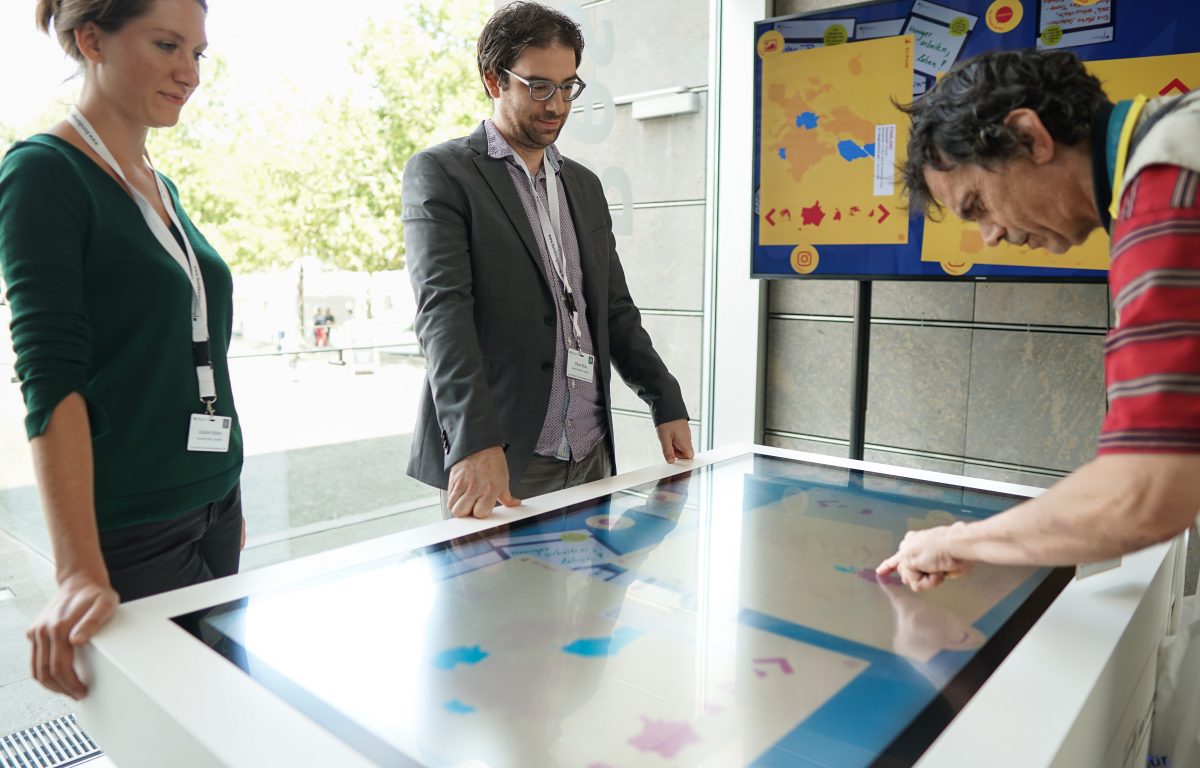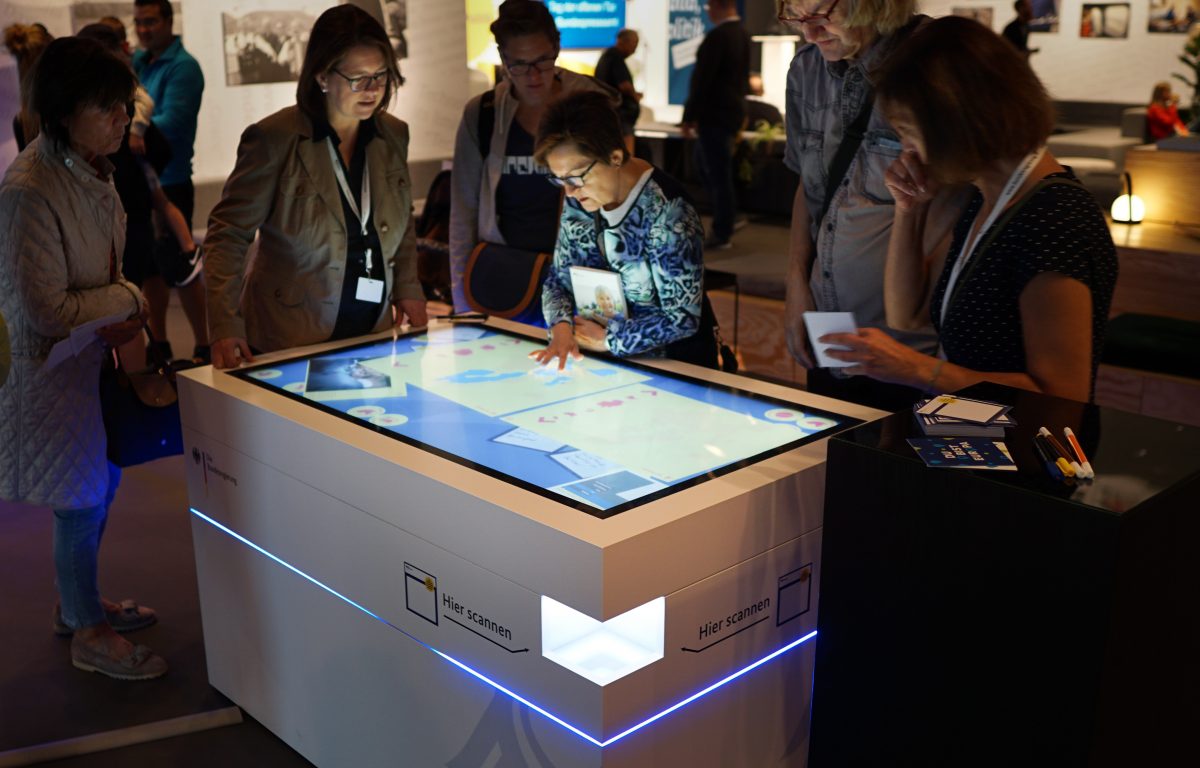 Both new developments and project handovers have worked well with Garamantis. Flexibility, teamwork and communication led to the highest level of professionalism and an optimal result for the customer.
The multi-touch table by Garamantis has turned out to be an absolute crowd puller. Especially in the diverse range of a fair a welcome attraction for the exhibition stand of the Federal Government. The applications realized on the table were performant. For short-term requests for changes and additions, the Garamantis team responded creatively and quickly. I look forward to upcoming projects with colleagues from Garamantis.