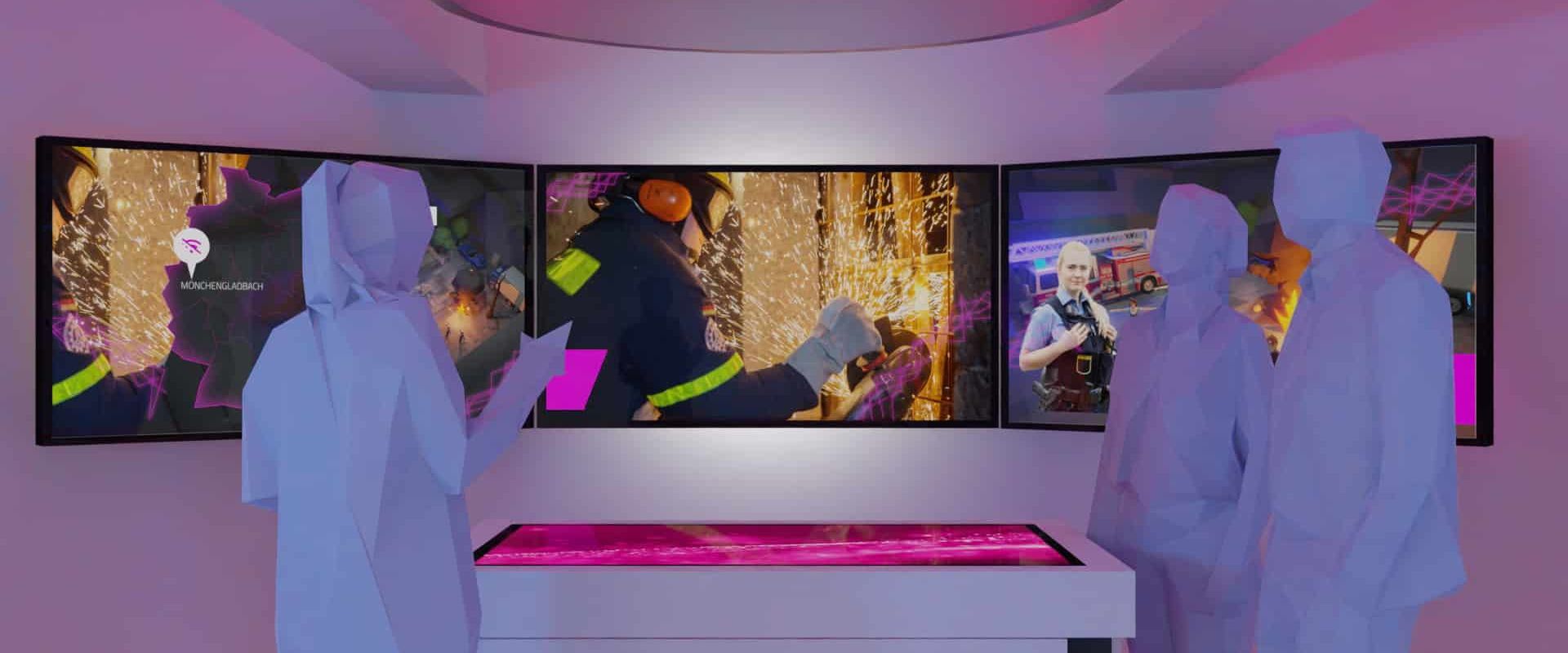 Telekom Showroom Experience
Immersive exhibition across two floors of the "Telekom Innovation Laboratories" in Berlin
In the summer of 2022, Deutsche Telekom opened an immersive showroom in Berlin, which from now on serves as the interactive stage for the company's outstanding technical performance. Under the project management of Detecon International GmbH and in collaboration with Deko Service Lenzen GmbH, Garamantis swiftly conceived and realized this showroom, using several of the most cutting-edge innovations in presentational technology in the process.
Topical Subjects in Focus
At its Berlin location in the "Telekom Innovation Laboratories", the showroom welcomes its invited guests with an informative and impressive 30-minute presentation on Deutsche Telekom's outstanding technological performance. Its focus is on the demonstration of the capability of Telekom's mobile network and on the overall potential of the 5G standard as well as its special potency for application in the currently highly relevant field of Disaster Recovery, for instance in the case of wildfires or other natural disasters.
Exhibition in Sustainable Ambient
The total area of this exhibition stretches across two floors. On the upper floor, a trilaterally glazed conference room has been converted into a showroom. In order to achieve a homogenic and compelling overall impression, Garamantis' concept involved a circular exhibition wall and foiling of the glass surfaces.
To create the desired atmosphere, Garamantis integrated an extensive light & sound concept into the design, consisting of interactively controlled LED strips and a 3D sound system. The specialists of DASDUR were in charge of the customized sound design.
Multi-Touch Table – Complex Matters, Simply Explained
At the center not only of the room itself, but of the entire presentational concept is a multi-touch table with motion sensor features that is connected to a tripartite monitor wall, giving this setup the appearance of a control center straight out of a science-fiction movie. From here, all the showroom's content, storytelling, and demonstrators are controlled. Several 3D dioramas serve to explain complex facts in a simplified and playful manner. These animated real-time scenarios are displayed on the table itself as well as on the monitor wall and underscored with atmospheric light and sound effects.
Special Screen For Special Effects
An important part in the room's dramaturgical scheme plays a more than 2 m tall, flexible screen in the center, on which life-sized digital avatars "materialize". These avatars and special effects have been designed and realized by mindconsole.
At the side of this UHD screen, several next generation smartphones are placed on interactive turntables made by Garamantis. Those are rotated and spotlit in concordance with the progression of the presentation, moreover, they are responsible for triggering bandwidth-intensive applications, such as video streaming. The flexible screen renders the actual data stream in real time, thus underlining the 5G network's enormous capability. For this and the other live demonstrations, Telekom even installed an independent 5G campus network at the site.
Other Components of the Interactive Exhibition
In addition, the exhibition includes an interactive wall projection, a light installation, a vertical multi-touch screen, all within a harmonic surrounding interior with furniture designed to complement the exhibition perfectly.
The IT components of the showroom are centrally controlled and fed with continually updated content via central CMS. This CMS not only facilitates independent and short-term updates or changing of content, but also easy personalization and preparation of scheduled presentations, for example by including the visitors' names, images, or other locations in the event.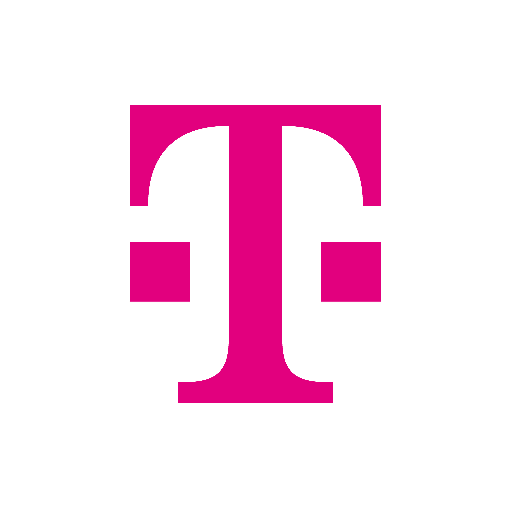 Deko Service Lenzen GmbH
Project facts
Client: Deko Service Lenzen GmbH
Context: Experiential Telekom Showroom at "Telekom Innovation Laboratories", Berlin
Implementation time: 8 weeks
Finishing date: July 2022
Conceptualization
Multi-touch table and monitor wall
Custom software development
Central control and CMS
Light and sound installations
Customized screen
Interactive projection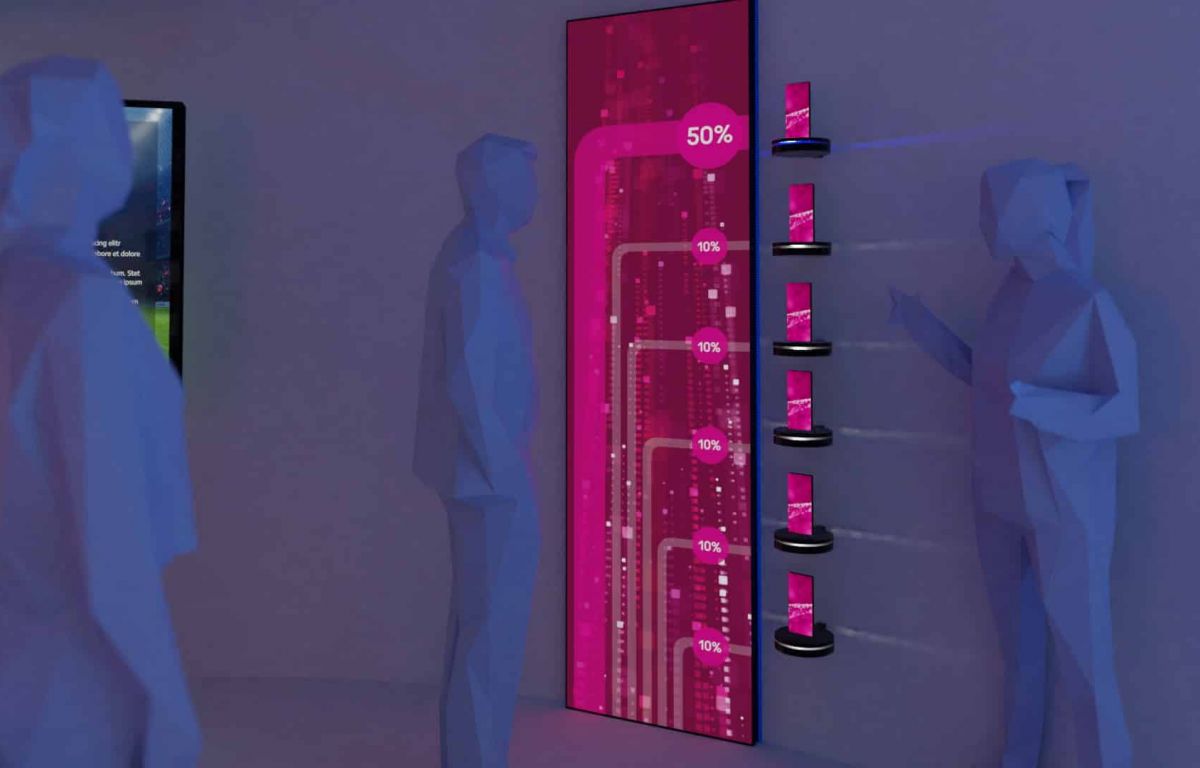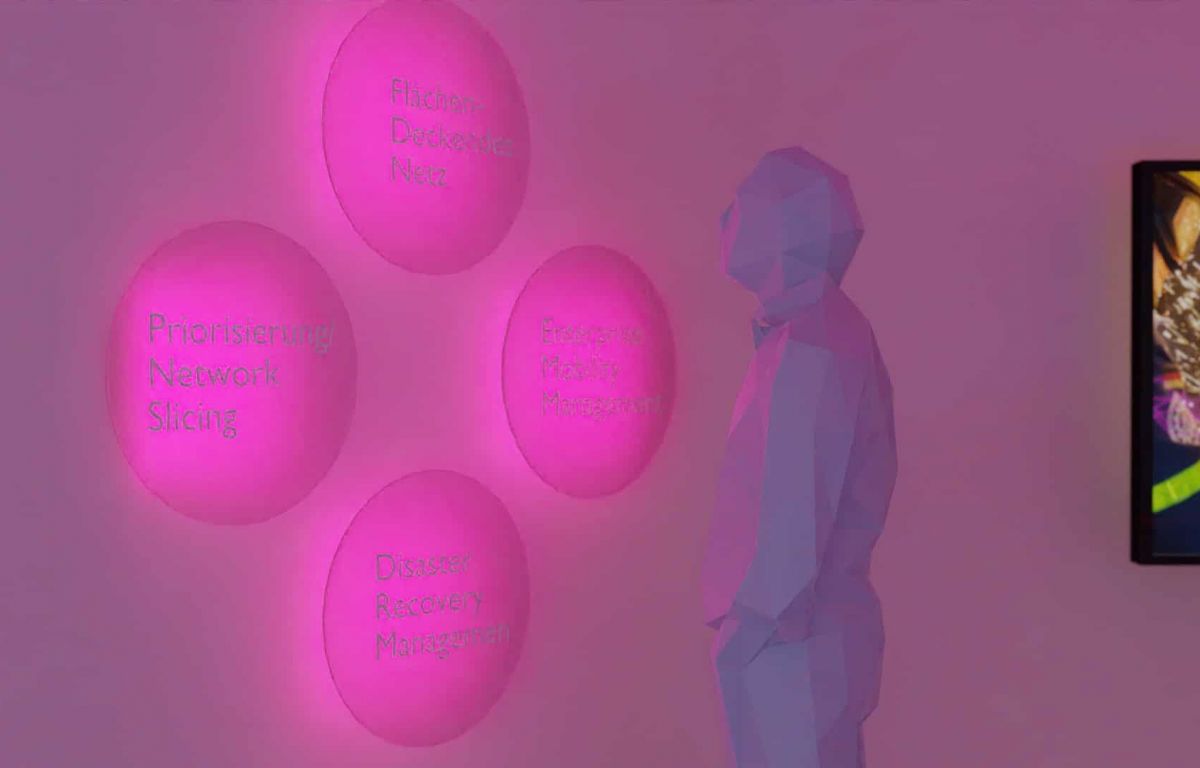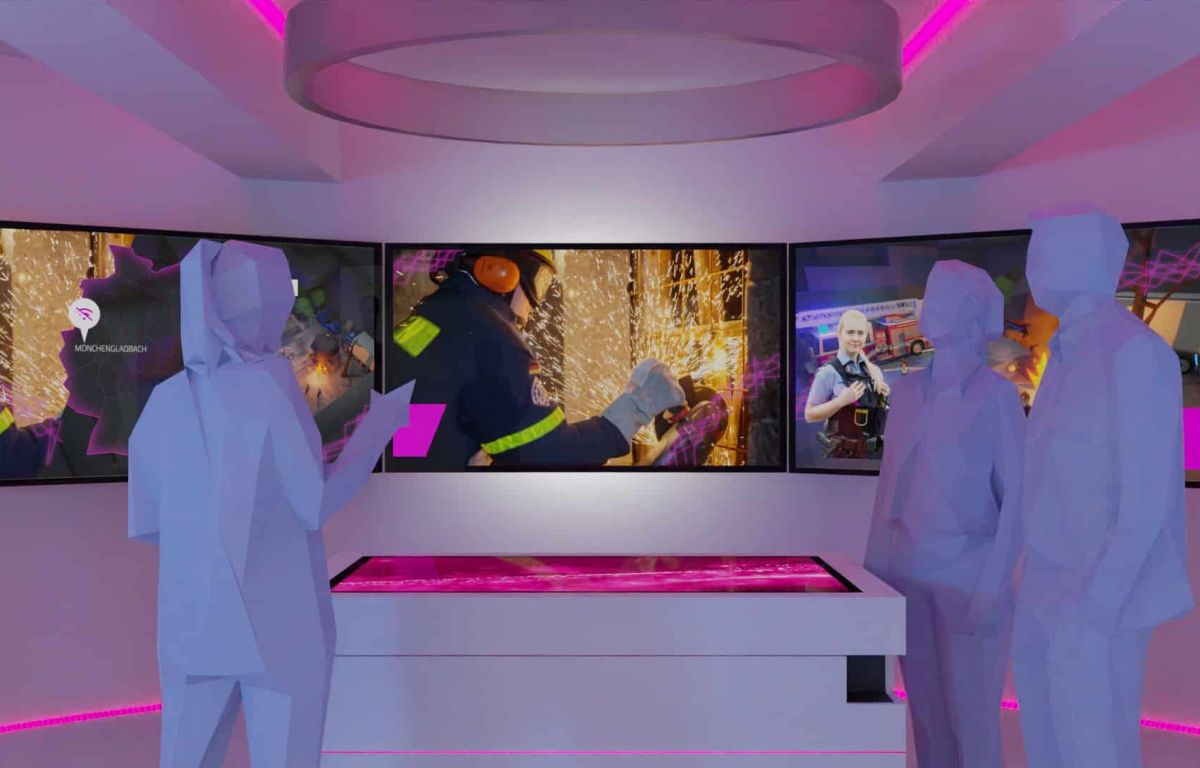 In Garamantis we have found the perfect partner for showroom design. They are gifted with a DNA that allows them to convey everything to do with digital showrooms in a customer-effective and positive way. Their designs are vivid and interactive. They create an atmosphere so dense that clients literally submerge themselves in their digital solutions. Whatever they create is characterized by their service oriented approach. At all times, the collaboration with them was dependable and based on mutual trust. In my opinion, Garamantis is THE top partner when it comes to modern showrooms!
Interactive Showroom
For those who want it all: the full package immersive digital showroom experience