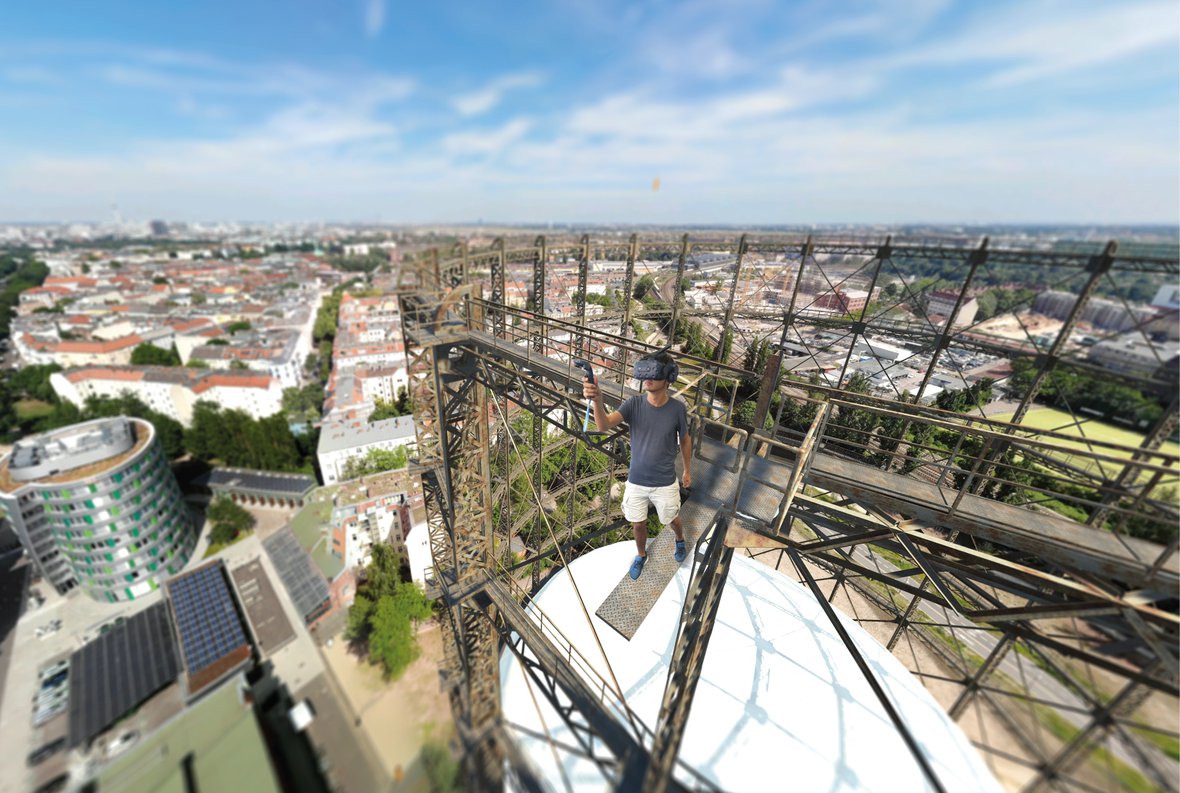 VR Gasometer Visit
Virtual tour through the EUREF Campus gasometer with HTC Vive pro
For people suffering from fear of heights, this particular Virtual Reality installation is hard to bear: at least virtually, visitors find themselves roughly 270 ft. high, standing on top of the Berlin EUREF Campus's landmark –the Schöneberg gasometer. There's a strong wind blowing, the metal platform is squeaking, and on top of all that, birds and a zeppelin aircraft zoom by just inches above the users' heads. The photorealistic representation of the environment and the integration of numerous 3D-models create an authentic lifelike impression for the viewer inside the VR headset HTC Vive Pro. Even the sense of touch is fooled by the realistic 2 square meters large replica of the actual platform – users feel the metal grid underneath their feet and hold on to the cool metal railing. Those for whom this view still isn't enough might even dare to open the metal door and step out onto the metal grille plank, and the real daredevils can try to catch EUREF stars with a net while balancing in lofty heights. Experience has shown, however, that more than half of the visitors instead prefer to stay on the narrow platform – clinging to the railing. What feels life-threatening in the VR is, of course, completely safe – in reality, the platform is just inches above the floor. Even so, this virtual tour on top the gasometer shows how the senses of sight, hearing, and touch can induce and support an alternate reality that makes visitors' hearts skip a beat (or beat faster, at least), and which they are unlikely to forget any time soon. This installation has been conceived and realized by Garamantis on relatively short notice. The software was developed in Unity, using preexisting 3D models that could be integrated seamlessly. In order to create the true-to-life image of the surrounding area and the horizon, the Garamantis drone performed a short fly-over maneuver. The technology used in this VR tour can be applied to almost any desired place in the world. Whether that place be a company's headquarters on another continent, a factory complex in the making, or an impressive production hall – the user will always believe that, in that very moment, he or she is right there.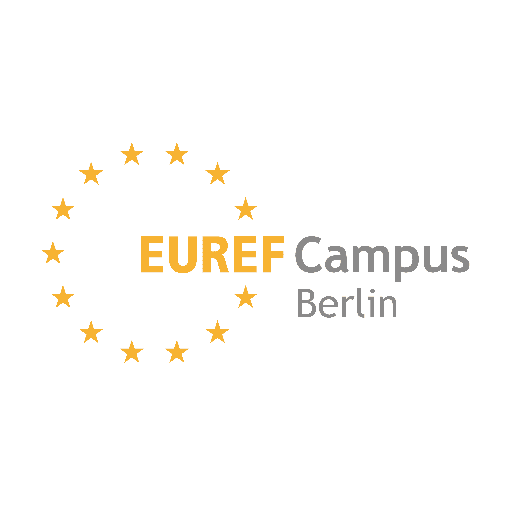 EUREF-Campus
Project facts
Client: EUREF-Campus
Context: Sommerfest 2019
Implementation period: 1 month
Finishing date: August 2019
HTC Vive Pro Headset
Implementation of 3D models as well as drone shooting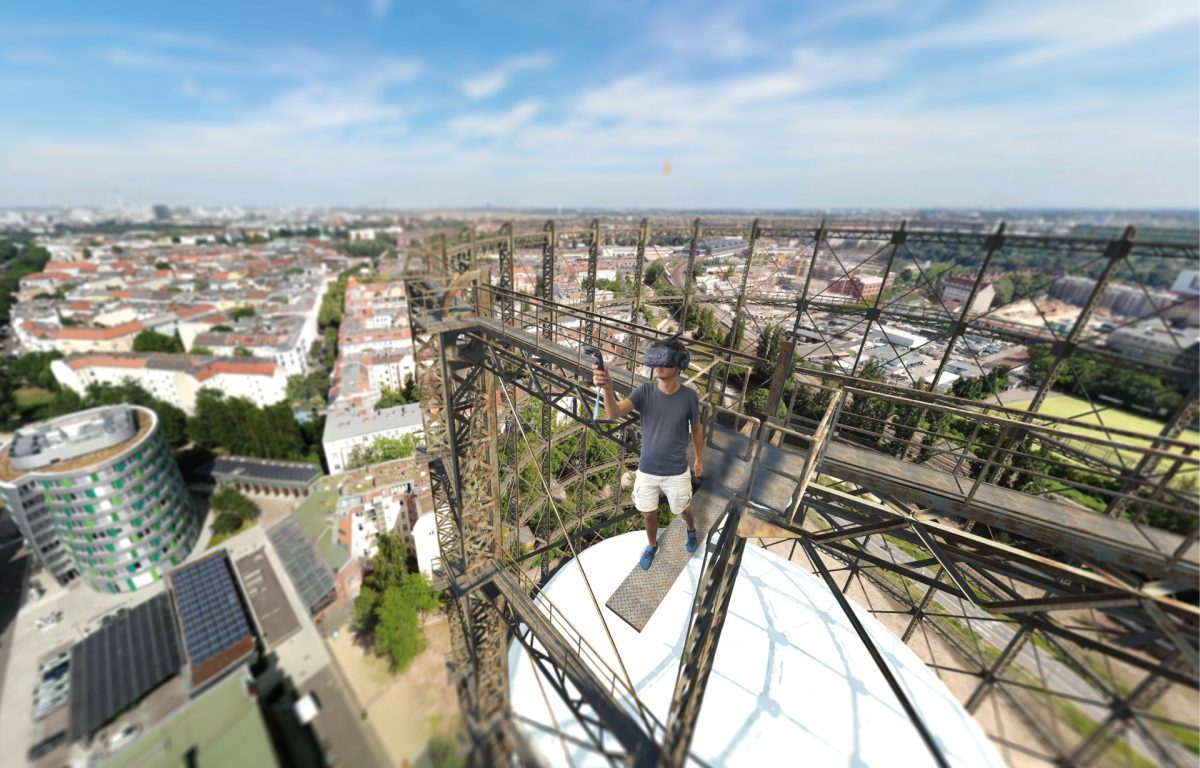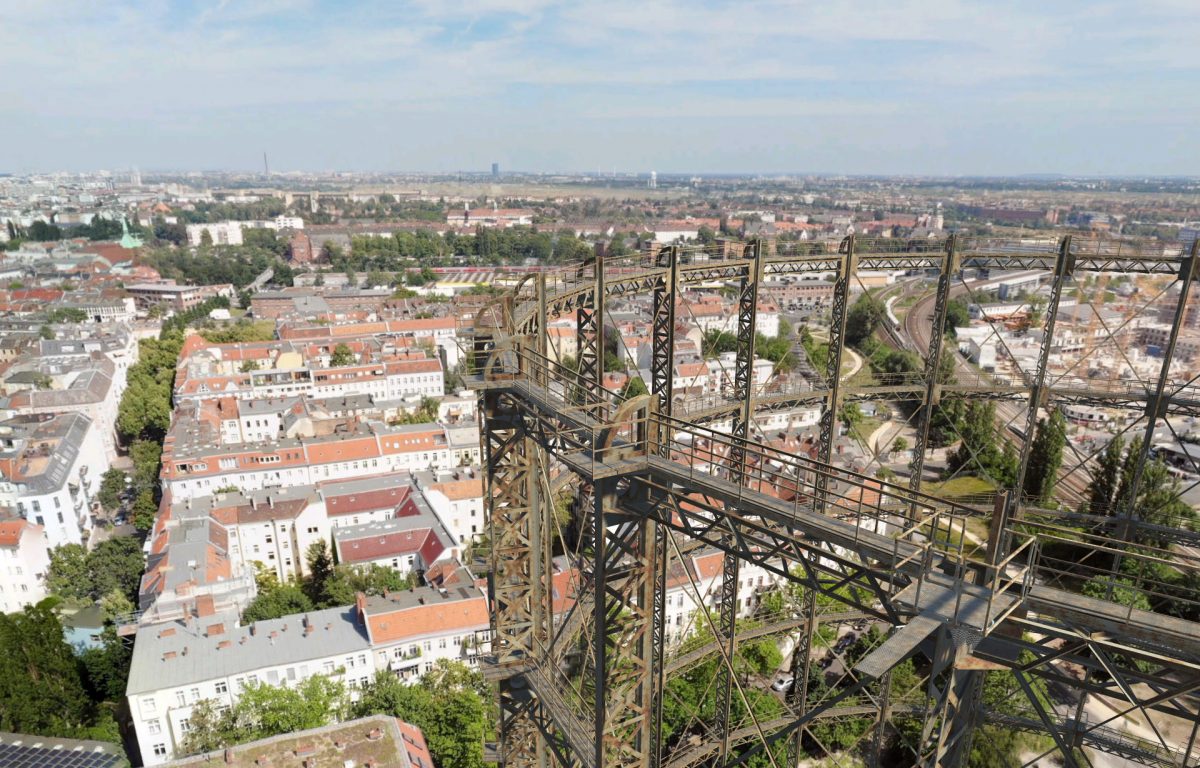 Even on the EUREF campus, the sun does not always shine. That's why it's great that our many national and international guests can go on a gasometer tour throughout the year. It's also great fun with VR glasses in the Garamantis showroom. The EUREF campus is a real future destination!
Virtual Reality
When reality just won't do. Put virtual, augmented and mixed reality to work for your…