Multitouch installations in Corian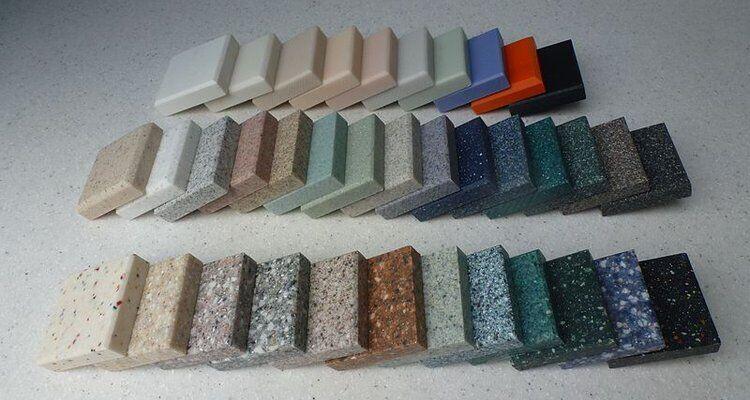 Although everyone has come into contact with the high-quality material Corian, most people are probably not aware of it. As a layman, you might describe it as "very hard and beautiful plastic" if you are not familiar with the mineral-organic composite material, which is also called acrylic stone. Due to its excellent material properties, Corian is used where a malleable and very robust, but also noble material is required: In hotels, gastronomy, healthcare, to store fitting or for multi-touch tables in showrooms. Corian is also popular in museums and at trade fairs where there is a lot of public traffic.
What exactly is Corian?
CORIAN is a mixture of natural minerals and pure acrylic resin, which was introduced to the market by the DuPont company in 1967. The skin-friendly material is malleable, impact-resistant, insensitive, non-porous and therefore easy to clean. It has a high density and is therefore significantly heavier, but also more durable than, for example, MDF (medium density fiberboard). The available color spectrum offers about 80 different shades.
Why is Corian suitable for multi-touch installations?
For multi-touch installations such as a multi-touch table, Corian is a suitable material for two reasons in particular: Appearance and durability. Modern multitouch technology blends perfectly with the aesthetics of Corian solid surface. It offers silky, seamless smoothness, a wide spectrum of colors with a slight translucency, while looking warm and inviting. The functionality of the solid surface material is hygienic, stain resistant, durable and easy to clean. So, all in all, it is optimal for a corpus of a multitouch pedestal or table.
What are the disadvantages of Corian?
Most multitouch installations are made with a corpus of MFD or metal/aluminum. Why not make it out of Corian? First, because of the heavy weight of Corian. This makes it rather unsuitable for mobile installations at trade fairs and events, but does not speak against permanent installations. The crux of the matter, as you might have guessed, is the price. The price for a Corian corpus is significantly higher than for MDF or metal, and the advantages of the material should be weighed against the additional cost, depending on the area of application. For some years now, there have also been other suppliers besides DuPont that offer very similar materials at lower prices.
Making the right decision on the construction method for multitouch tables
For any planned multitouch installation, the choice of carcass and its material is crucial to the overall effect later on. For high-end and durable installations, such as a corporate showroom or museum, investing in Corian often makes sense. It's best to consult an expert with experience and weigh the pros and cons for your installation.