Transportable Multi-Touch Showroom – Take Your Presentation To Where Your Clients Are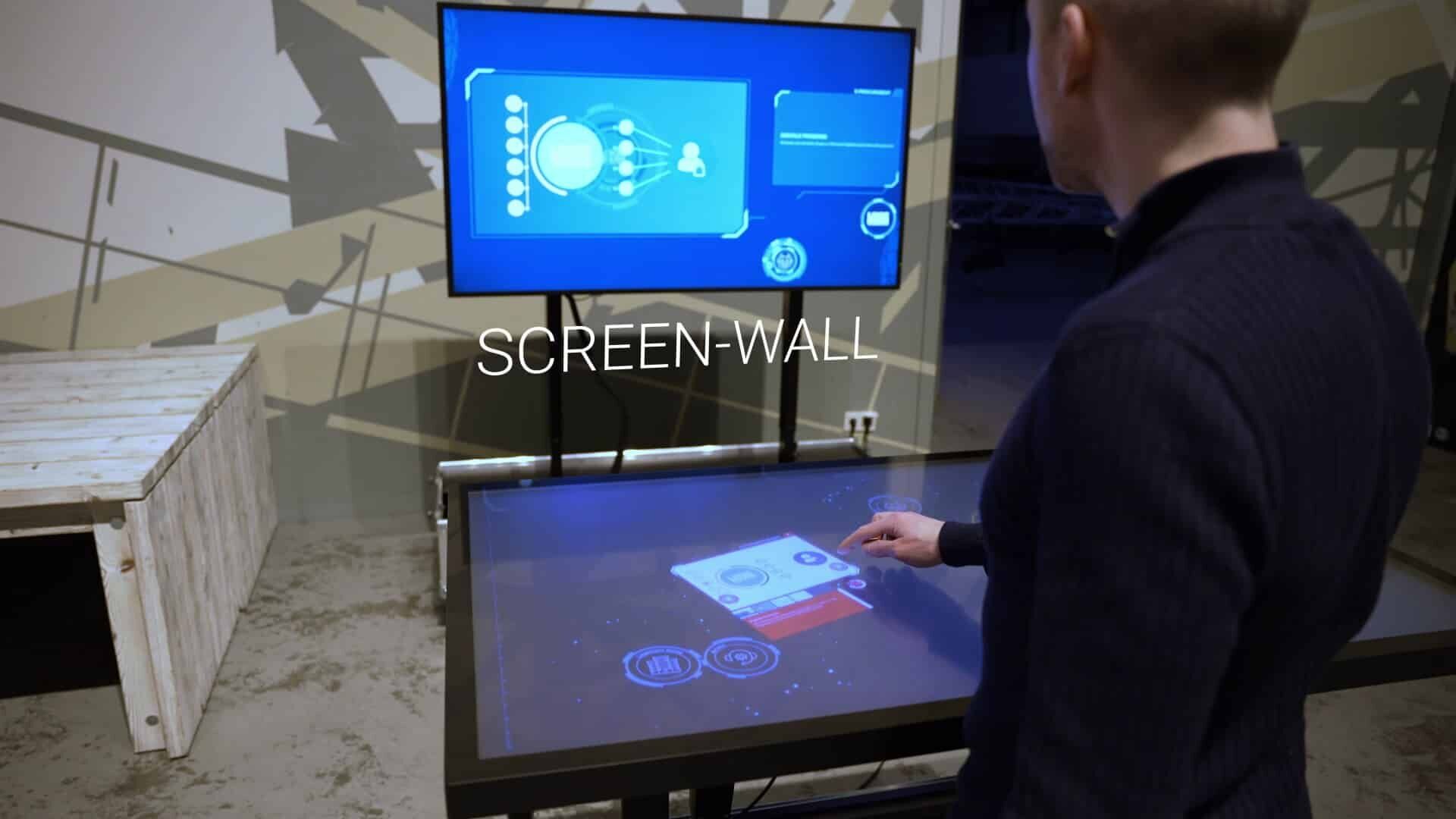 A popular saying in marketing and sales goes "Fish where the fish are," and it is popular for a reason: knowing your target audience is essential. As is always having the right bait at hand. If there's no way for you to guarantee that your target group comes to you, then – you guessed it – you better be mobile yourselves. In this case, your bait takes the shape of an impressive transportable multi-touch showroom that you can bring anywhere you want.
Multi-Touch Showroom Travels Business Class:
Easy Transport and Quick Setup
This transportable multi-touch presentation system consists of two wheel-mounted flight cases. To complete its setup on-site is going to take you all of three minutes:
open flight-cases and connect to power supply

lift the monitors

press the "on" button – done!
Plug and Play: Mobile Multi-Touch Showroom for Your Sales Department
Experience the true meaning of "compact": this mobile showroom consists of a height adjustable and tiltable 55'' multi-touch table and a 65'' monitor wall. Both are interlinked via Wi-Fi and present your content and message by means of their ultra-high resolution multi-touch software.
Just as flexible as your sales staff: at the table, you can introduce and explain your products or services interactively, without being tied to the rigid linear structure of a traditional presentation. Instead, you can – depending on your target audience's curiosity or requirements – simply swipe content off the table … and onto the monitor wall, with just one gesture. No missing shortcut or link, no jerks and jolts, and you can relax, for you have a range of different media at your command for your sales pitch. Because yes! we also included a sound-system. And an LED-lighting system is optionally available, too.
Individualized Multi-Touch Software for Your Business
The indluded presentation software is customized especially to your company, and the user interface (UI) lets your content shine forth – in your corporate design, in high resolution, animated, and with a maximum of responsiveness. Because this showroom's flexibility does not stop at content matters, we also provide a web-based CMS, which enables you to conveniently and independently change or update product details or references anytime. And in real time, too: thanks to wireless communication, all content is immediately synchronized. Which leaves you to the most important matter at hand: sales activities that couldn't be closer to their target group if they tried.
Optimized for Your Journey: Example Configuration of a Mobile Multi-Touch Showroom
Even though the mobile multi-touch showroom is our most compact interactive solution so far, what you get from us by no means is an off-the-rack product. We make sure that you will receive a hardware and software combination optimized and honed exactly to your demands. This also includes an individual assessment and evaluation of your content and requirements as well as an individualized concept.
Example Setup: A Tailor Made Solution for Our Client Lingemann
2 high-grade flight-cases on wheels

electrically height-adjustable and tiltable screens

integrated sound system and Wi-Fi hotspot

powerful PCs with dedicated graphics board

55'' UHD multi-touch display (table)

65'' UHD display (monitor wall)

web-based CMS

customized presentation software (Unity3d)
No matter whether at this point you still have a lot of open questions or already have a fully-formed idea in your head – we are happy to help you in your endeavors with free and non-binding advice – from mobile showroom over international trade-fair presence to an entire corporate roadshow. And we come to your side loaded with not only state-of-the-art solutions but with lots of experience as well. Just give us a call, and we are ready to unpack!