Multi-touch Table price – what costs to expect? [2022]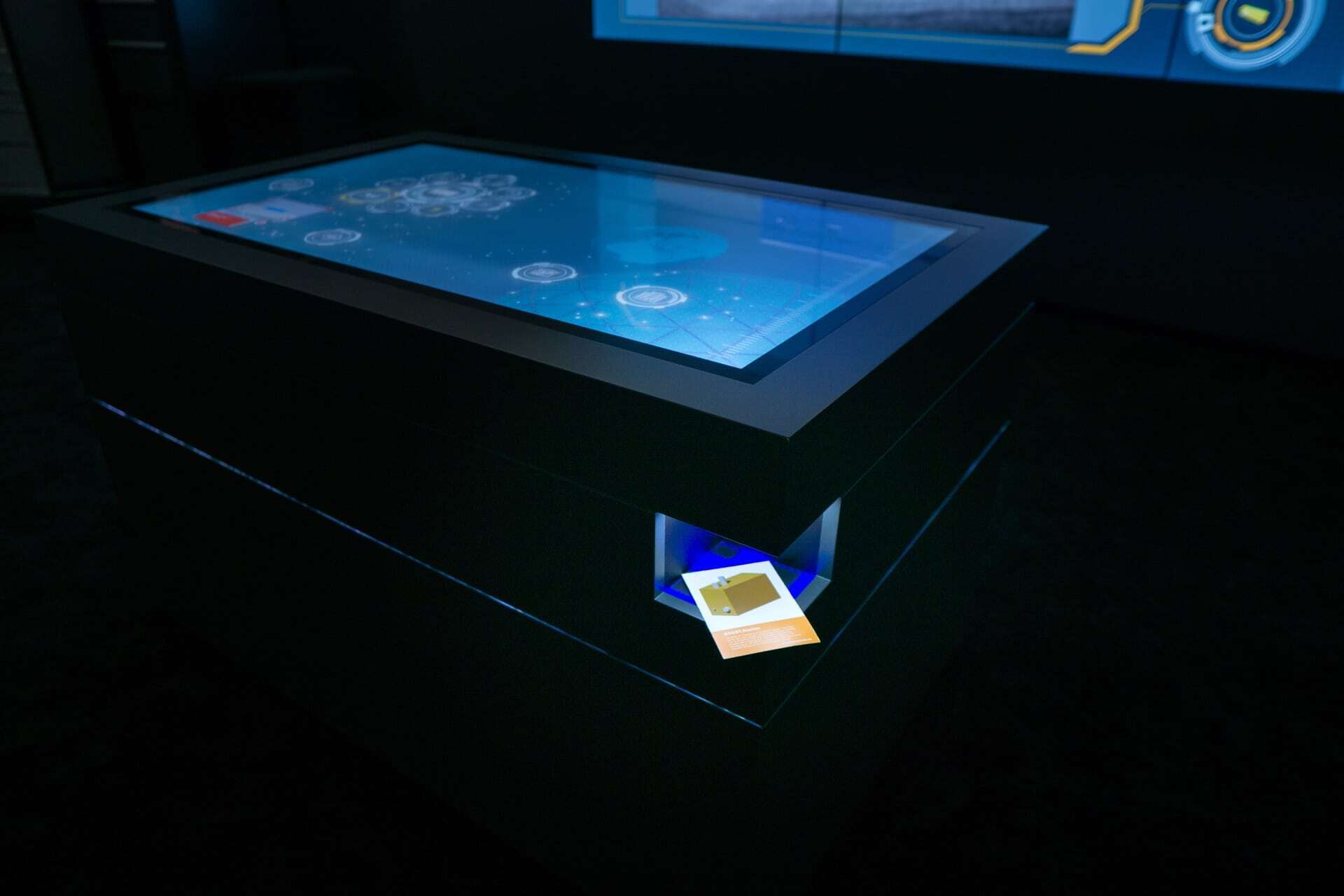 In showrooms, trade show and event contexts, multi-touch tables are becoming increasingly popular as an instrument to present companies and their products both innovatively and interactively. But you probably would like to get an overview of the typical multi-touch table price range first. What budget to you need to calculate for the purchase of the hardware?
A multi-touch table can be a rewarding acquisition, without any question. However, for you to be able to judge that, its costs – and whether those are in reasonable proportion to the desired effects – are indispensable key figures.
In all probability, your first online search has resulted in the following insight: the market is confusing, and definite information on prices of high-grade multi‑touch tables is not readily available online. In addition, the number of different technologies and configurations is seemingly endless. What's more, the price range for the hardware is extremely wide and at first sight, between 1,000 € and 30,000 € anything seems possible. Of course, now you can contact each provider individually to inquire for an offer, or you can make an entertaining guessing game of your budget plan. The more reasonable approach, however, is to first define your requirements exactly and in your subsequent research focus on those criteria with a substantial impact on the price.
One obvious and sadly unalterable factor in that is the considerable increase in hardware prices since the onset of the Corona pandemic. Particularly PCs and multi-touch screens today are considerably more expensive than they used to be. The following price orientation already takes this development into account.
6 Criteria That Determine The Price Of A Multi-Touch Table
Knowing the following aspects that are critical for the price of a multi-touch table will help you to better estimate the necessary budget.
Multi-touch screen size
The bigger, the more expensive
Of course, a 43'' screen that allows only a maximum of 2 people to work simultaneously is cheaper than a 65'' screen accommodating 4 and more users at the same time. 55'' screens offer the optimal price-performance ratio (in terms of size in inches and pixel density). Currently the most affordable screens available on the market are made by Japanese company Iiyama – prices start at less than € 2.500 (before tax) for a basic Iiyama "ProLite Multi-Touch Display" 55'' screen.
Screen resolution
Aspire for UHD
Here we could go on and on about the relation between a multi-touch table's pixel density and its typical viewing distance, but we keep it short instead: Full HD monitors with a resolution of only 1,920 x 1,080 px are outdated and have been for a while now. The long and short of it is: the user sees the individual pixels. Therefore, you should concentrate your search on models with Ultra HD resolution (3,840 x 2,160 px)
Number of parallel touch inputs
The more complex the application, the higher the number of required touch points
The number of possible parallel touch inputs the "table-top" can recognize and process is a crucial quality factor. Budget models with particularly low-priced sensors (such as the Iiyama models) can recognize about 15 touch inputs at the same time. That may be enough for a basic application running on a relatively small screen, but for four pairs of hands or capacitive object recognition, it is not. High-end quality sensors like the ones formerly made by 3M recognize between 40 and 100 parallel touch inputs.
Integrated PC
Save on costs anywhere but here
With multi-touch tables it's the same as with any PC or Laptop – it's all about speed and reliability. There's no bigger obstacle to an immersive experience than a "jerky" display or an application that crashes. The PC should at least be equipped with an i5 processor with sufficient RAM, SSD hard drive, and dedicated graphics board. Particularly with mini-PCs integrated into the screen itself caution is in order, as those usually fail to meet these requirements.
Table Corpus/Frame
How high do you want to set your design standards?
It's the corpus or the frame, respectively, that turn a multi-touch screen into a multi touch table and unite PC and screen into an integrated interactive terminal. In this context you should carefully weigh aesthetic and practical aspects: how exceptional and "beautiful" is the corpus supposed to look? And how mobile or transportable does it have to be at the same time? In any case, the table must be stable, durable, and without any visible cables. But keep in mind: design is more than just a "nice to have" – in the end, it is the looks that may attract many users. There is, however, a price tag on that, primarily depending on the materials used – common materials available on the market are metal, MDF, and Corian.
Customization and Service
How unique is your project?
There are both budget "off-the-rack" multi-touch tables and pricey individualized (e. g. regarding form, color, various object recognition technologies) models. Depending on the technologies used, a table can offer its users additional modes of interaction that go beyond the usual manual touch inputs. Your minimum demand in terms of customization should be that the table blends in seamlessly with your corporate identity.
With the service aspect on the other hand, it is all about your comfort during planning and implementation and your satisfaction with the outcome. The decision depends on your own expertise in the matter: are you happy with taking over the hardware from the logistics company and assemble it yourself, or will you be needing professional on-site installation and training?
Of course, there are many more adjustment screws you can turn in terms of hardware costs (e.g., 24/7-certification, screen contrast and luminosity, quality of the surface glass), but for now these 6 criteria already will be useful in shrinking the immense price range to a manageable size for budget planning.
With Which Costs Should I Calculate?
Prices for a professional multi-touch table suitable for use in trade fair or business contexts usually are between 17,000 € and 25,000 € (before taxes). Hardware like this is built for 24/7 operation, so no unpleasant surprises are to be expected. Multi-touch tables beyond this price are typically highly individualized special orders, and cheaper models are viable options only for semi-professional use with low user‑frequency.
By the way: the price range mentioned above does not yet include the multi-touch software! Looking for suppliers who offer all-in-one packages including hardware and software may therefore be worthwhile in order to optimize the overall price-performance ratio. For you to be able to better assess the different multi-touch software providers, we have summed up the crucial criteria in this checklist.
Be Aware Of "Bargain" Offers For Multi-touch Tables
If you check the Chinese platform Alibaba.com, you will find multi-touch tables for 1,000 €, and at a purportedly "high quality", too. However, in products like these only the cheapest of Full HD screens are used, which allegedly achieve a "4 carat (!) resolution" by means of interpolation. What sounds too good to be true unfortunately is: touch‑recognition in models such as these operates with an outdated infrared (IR) technology, and optically as well as technically speaking, the hardware seems to belong to another (long gone) era. If you want your business to make an innovative impression, you are well advised not to accept this offer.
Conclusion: You're About To Make A Large Investment. Treat It Like One.
Before you rush off into a challenging and probably overwhelming research, define your demands and specifications as exactly as possible. Be aware that the decision for the purchase of a multi-touch table is an important investment in the future. Its result is supposed to convey your Corporate Identity and be a cutting-edge and unique representative of your business. To be able to actually achieve this goal justifies the extra effort of seeking professional advice beforehand and also requires enough time for decision-making.
If you already consider this article helpful, you will be surprised at how much more useful you are going to find our personal and individual (and cost-free) consultation. We speak from our long experience, and we are happy to share it with you.
Download Our Free Whitepaper
If you are currently planning a multi-touch table project, our Whitepaper "Multi-Touch Table – 8 steps toward a successful project" supports you in that endeavor. Useful checklists and instructions guide you through the process, starting with conceptualization over hardware and software selection to an intelligent Content Management.
Infographic: Multi-touch Table price