Outfitting an interactive showroom: small budget – big impact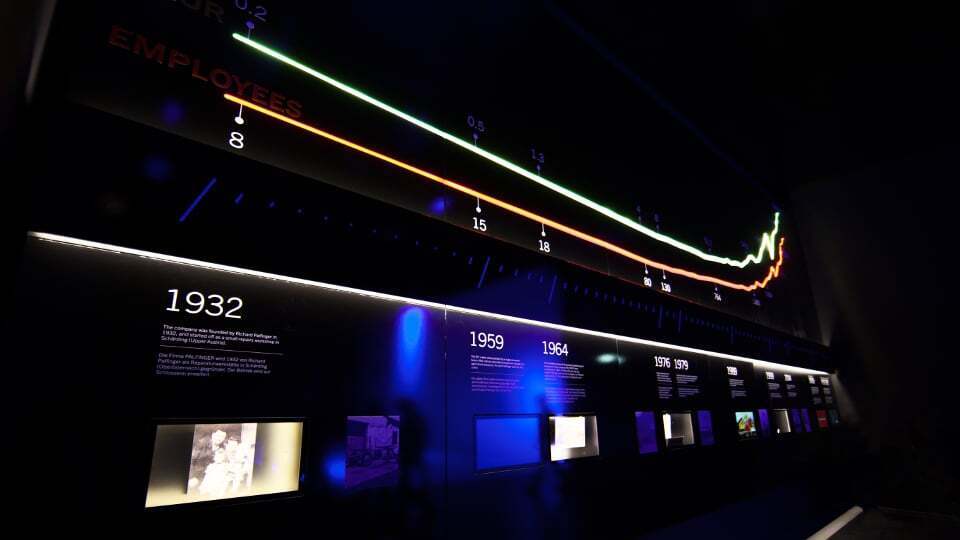 The fact that they are usually limited is an inherent vice of budgets. On the other hand, especially when it comes to a showroom, its true value only becomes apparent and perceptible when you can actually stand in it, which is why companies usually opt for a functional basic version as a starting point. This 'minimum viable product' can always be improved and expanded later on, as more experience and/or new funds become available. It makes a lot of sense to think ahead about the different configurations and levels of sophistication of the various elements and aspects of a showroom, and where you can cut corners without compromising the overall experience.
Interactive showroom elements and scalability
From 'small, but clever' to 'seriously wow'
Using 8 room elements in interactive showrooms, we give examples of what a simple to high-end station might look like.
| | | | |
| --- | --- | --- | --- |
| Room Element | Basic Solution | Upgrade | Premium Solution |
| 1. empty wall | large spotlit wall print | projection/screen | interactive projection or multi-touch wall |
| 2. lighting | individual 'smart' LED spots | smart lighting system | individualized lighting concept |
| 3. sound | stereo speakers | 5.1 sound system | customized audio/sound concept |
| 4. interactive screen | suspended/mounted multi-touch screen | multi-touch table | interconnected multi-touch installations |
| 5. display case | standard display case + tablet PC | display case with semi-transparent monitor | interactive display-case |
| 6. sample products | standard exhibition | digitally enhanced (w/ monitors, AR, etc.) | interactive presentation |
| 7. models | simple | 3D and interactive spotlights | sophisticated models w/ interactive projection-mapping |
| 8. monitor wall | single multi‑touch screen | small affordable monitor wall w/ passive screens and IR or LIDAR touch | large wall w/ high-quality monitors (for 24/7 operation) and touch- and gesture control |
This blog entry is an excerpt from our comprehensive whitepaper "Successful Planning and Realization of Corporate Showrooms – A guide from HOW to WOW". If you would like to receive the whitepaper free of charge, please write an email with the subject "Whitepaper Showroom" to info@garamantis.com.