Maintenance and Support for Interactive Exhibitions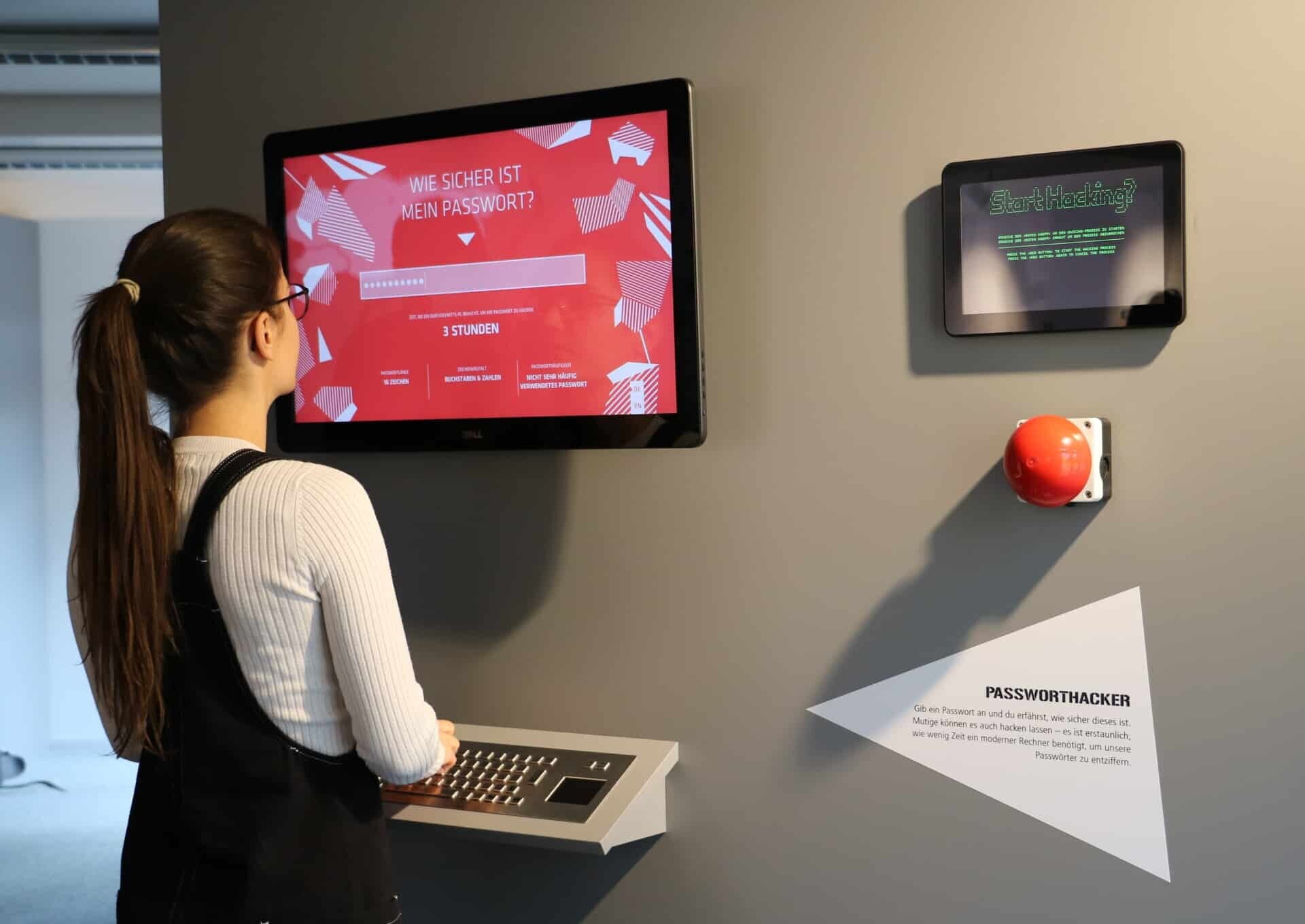 "All systems go!" is probably all you want to hear when your interactive exhibition or showroom opens. And that's exactly the way your audience should see it. The secret passwords to an installation's smooth operation may sound less than magical, but they keep your exhibition up and running at all times. Those words are 'low-threshold maintenance' and 'fast support'.
Possible Problems in the Operation of an Interactive Exhibition
If your exhibition has been carefully planned and implemented, potential weak spots are designed to be sturdy and robust. This includes components typically under a lot of strain, like much-used exhibits, which for that reason consist of high‑quality hardware components. Why then do you need "maintenance" or "support"? Well, we have gathered some experience there …
5 Common Errors and Problems with Interactive Exhibition:
Unexpected behavior: With complex installations and exhibitions, it may not be possible to test every conceivable use scenario in advance. As a consequence, odd behavior or undesirable reaction of software or control systems may occur only when they are already in full operation. A maintenance contract ensures quick and uncomplicated resolution of such problems.
Hardware defects: Even among high-quality IT components for professional use, there is the occasional "lemon" that suddenly fails after a few years. That can be a PC-component, a monitor, or an adapter. If possible, a support contract with the manufacturer should cover such hardware defects. This way, on-site repair or exchange works quickest. If you use many identical components, it may be wise to keep spares or replacement parts on stock as a precaution.
Problems after power failure: In principle, a power outage should not affect a robust IT system. If afterwards an incorrect boot-sequence of the components causes problems, a restart of the entire exhibition via central control often helps. However, power failures or surges can also permanently mess up interactive systems. In that case, fast help is of the essence. Tip: To prevent such incidents, you might consider using a UPS (uninterruptible power supply) in your exhibition.
Content Management issues: The exhibition's central CMS should be self-explanatory and fault-tolerant. But people in charge of the content of an interactive exhibition still need low-threshold access to support in case of questions or problems. It can always happen that a defective file ruins the layout of an entire interactive station. Also, other technical problems may occur. Ultimately, the content of your exhibition should be up to date at all times. And that requires confident CMS maintenance without fear of contact. With a support who has your back, this fear will disappear all by itself.
Set-up and dismantling at trade fairs: In the case of mobile exhibitions and showroom, quality support is even more in demand than it already is. Don't underestimate the stress at such events. You'll be working in unfamiliar surroundings in perhaps less than ideal conditions. And maybe you'll be working with a team of complete strangers – new employees, co-workers and service providers. Trust us, you will not regret having someone competent at hand to turn to with technical concerns who knows what to do and can help immediately.
Scheduled software and firmware updates: In an exhibition context all automated software and firmware updates (e.g., Windows updates) are disabled. After all, you would not want a surprise installation process to cloud your target audience's experience with a progress bar. Also, an update can cause unwanted side‑effects in the interaction of the components. Nevertheless, regular security updates and firmware updates of hardware components are indispensable. Only you should postpone those to scheduled maintenance dates. (Regardless of this, exhibition networks are always kept separate from productive IT systems. This way, any outstanding security update can have no negative effect on overall security.)
Saving Costs on Maintenance and Support
At best, your service provider for the interactive exhibition also offers maintenance and support. This ensures commitment and clear responsibilities. As long as you're still a long way from a finished exhibition, the bid item "maintenance and support" may seem like a good option to cut costs. In fact, it is the one thing that will ensure the smooth operation of your unique representation. And from this point on, you will put too much thought and work into it to put it at risk.
Ultimately, you have to reconcile two things: running costs as low as possible and your exhibition's 100% functionality.
Our recommendation: keep the monthly fixed costs as low and the contract period as flexible as possible. If necessary, on-site maintenance is then billed on a time and material basis (local read-out of error logs, updates or system check-up/clean-up.)
Also keep an eye on the duration and scope of the warranty offered. Experienced providers are confident of their system's reliability and will accommodate you on this point. What you need in any case is easy access to support.

Interactive Exhibitions – Help with All Questions and Troubles
No matter where the problem lies – your support must be available by phone and email. And that means at least during your exhibition's or showroom's opening hours. An international presence may require a contact who can assist you in several languages and across time-zones. If your problem cannot be solved through communication alone, a short-term remote system maintenance (for instance remote access via TeamViewer) can be life-saving. Luckily, only in the rarest of cases the on-site replacement of faulty hardware is necessary.
A maintenance and service contract regulates the included and excluded services in detail. Before you sign the contract, pay attention to the granted response and resolution times (the so-called SLA or Service Level Agreement).
One last advice: deposit the support contact information in as many places as you can! Write it down in the exhibition manual, put it into the smartphone and the wiki, stick it to the exhibits themselves, you name it. When it feels excessive, you are on the safe side.
Any Open Questions?
Then try our support – no strings attached! Because the first consultation is free of charge.