Interactive Foyer – guaranteed to impress your guest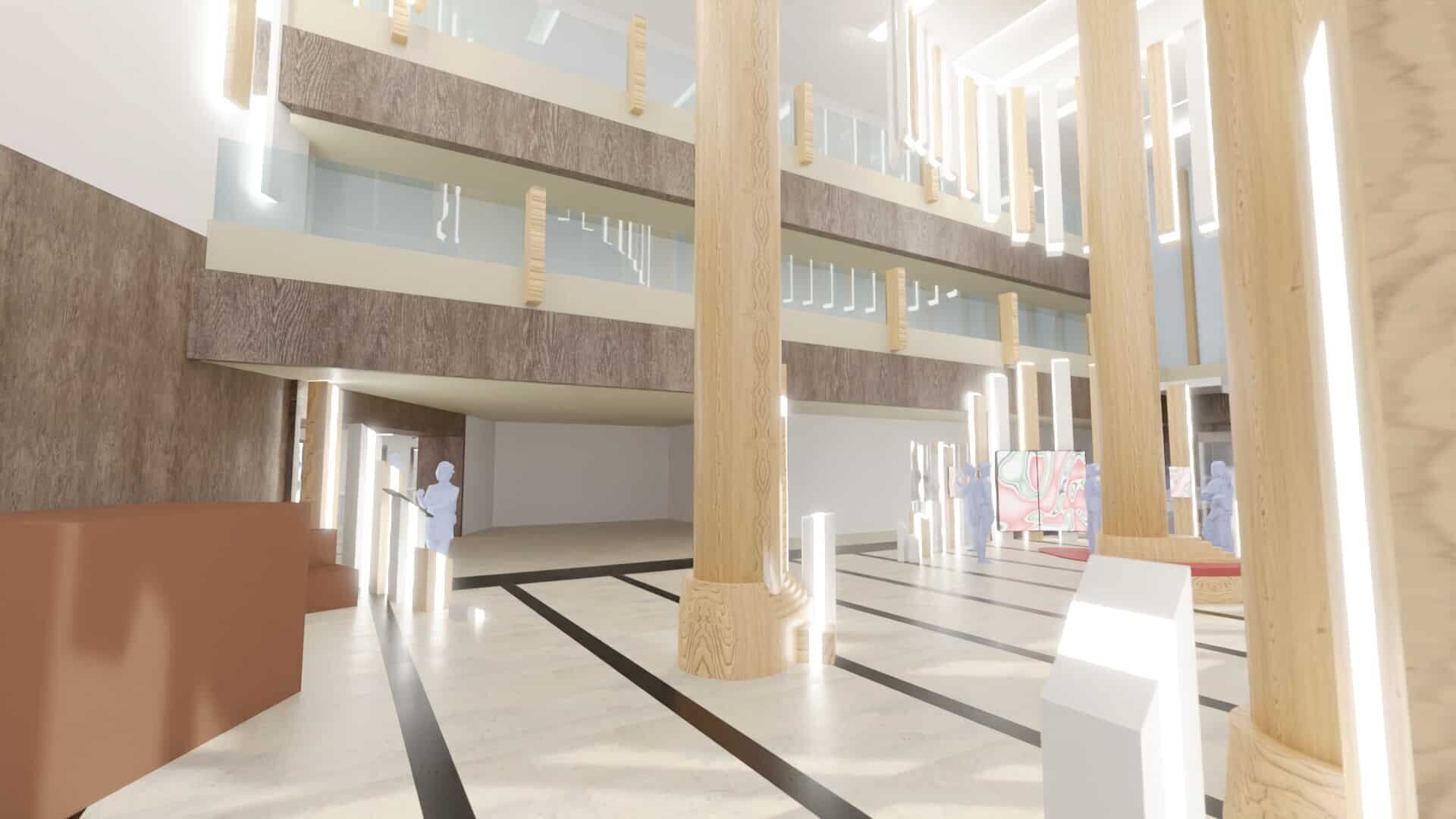 What is the first thing your co-workers and visitors see when they walk through the doors of your company headquarters? It is the impression they are going to carry with them through every room. Your lobby is a much too highly frequented spot to leave it to aseptic boredom. Or to a Ficus plant, for that matter. Instead, it should welcome your visitors in a way that represents and merits your business's key qualities. If now you're thinking "innovative", "unique", and "intriguing", you might want to read on.
Now Trending: Corporate Headquarters as Experiential Space
It's exactly where you open your doors to your visitors that their interaction with your company starts. So why not begin the customer journey with an interactive experience? When it comes to the design of their foyers, corporations, large companies, but innovative medium-sized businesses as well increasingly count on digital and interactive elements. And justly so! High ceilings, columns, glass fronts, and high-quality materials make an impression. But interaction makes it last. Which types of interactive lobbies there are and what benefits they offer you'll learn here.
3 Types of Interactive Foyers
Interactive Corporate Exhibition in the Entrance Area
Use your foyer to make visitors actively engage with your company. And give them a good reason to do so. Room-filling timelines, for example, can tell your company's story in an entertaining way and invite visitors to explore it. Or you can set a stage for your best-selling products – with multi-touch installations you turn the entire lobby into an interactive exhibition. One that certainly will not gather dust. Active engagement not only increases the length of stay, but it also facilitates emotive touchpoints with your corporate identity. Independent exploration makes any time spent waiting fly. But you can also use your lobby specifically for guided tours. For you to remain flexible, we recommend linking your digital stations to a central Content Management System (CMS). This will allow you to adapt them to your various expected guests with just a few clicks.
Been there, done that: With the "Styriaversum", our Partners Ars Electronica Solutions have realized the design of the entrance area at Austrian media corporation's Styria Media Group AG headquarters.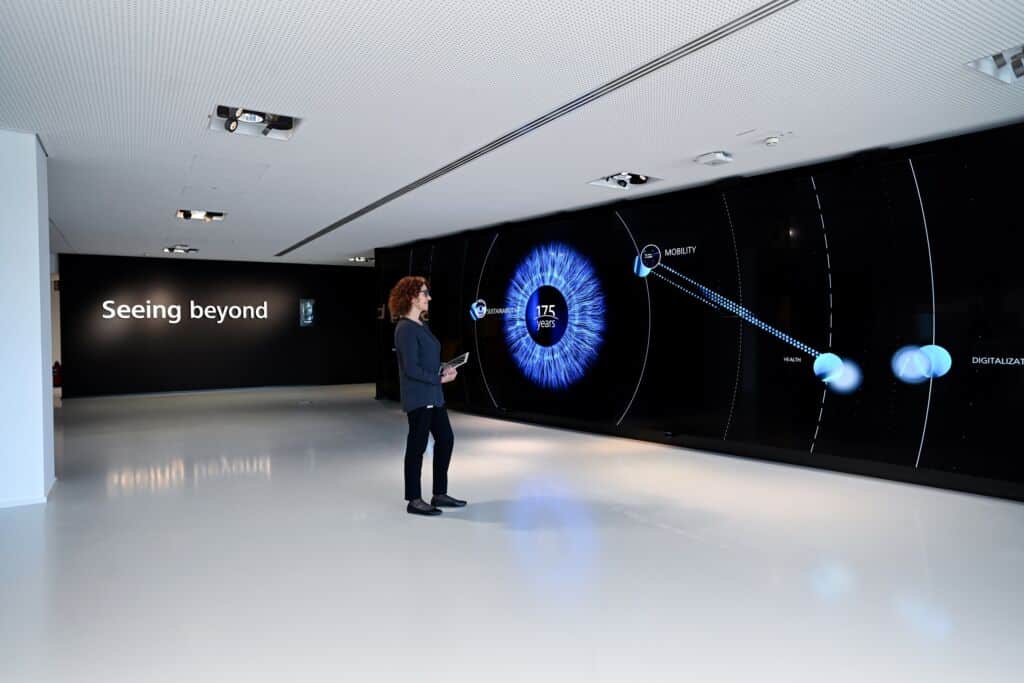 The interactive corporate exhibition at the museum of tech corporation ZEISS in Oberkochen presents eminent milestones in the company's 175 years history on an interactive monitor wall.
Digital Centerpiece of Business Foyer
Instead of using multiple exhibition elements, of course you can also state your point with a single centerpiece. This one should be of appropriate size and possess digital features, such as Augmented Reality, touchscreens, or projection mapping. Because with interaction comes enthusiasm. Don't talk at your visitors, talk to them – through gestures, touch, and positioning. In that respect, consider your centerpiece as a work of art. And design it that way. Its outline can be static, but it may be dynamic as well, for example in a kinetic installation with moving monitors. Get your inspiration from your own brand and product universe! It is important, however, to always keep in mind the object's timelessness. That not only goes for your centerpiece's aesthetics, which should harmonize with the general environment of your lobby. Also make sure that you can adapt and update its digital content, anytime. Because your interactive installation should be able to keep up with the pace of innovation in your company.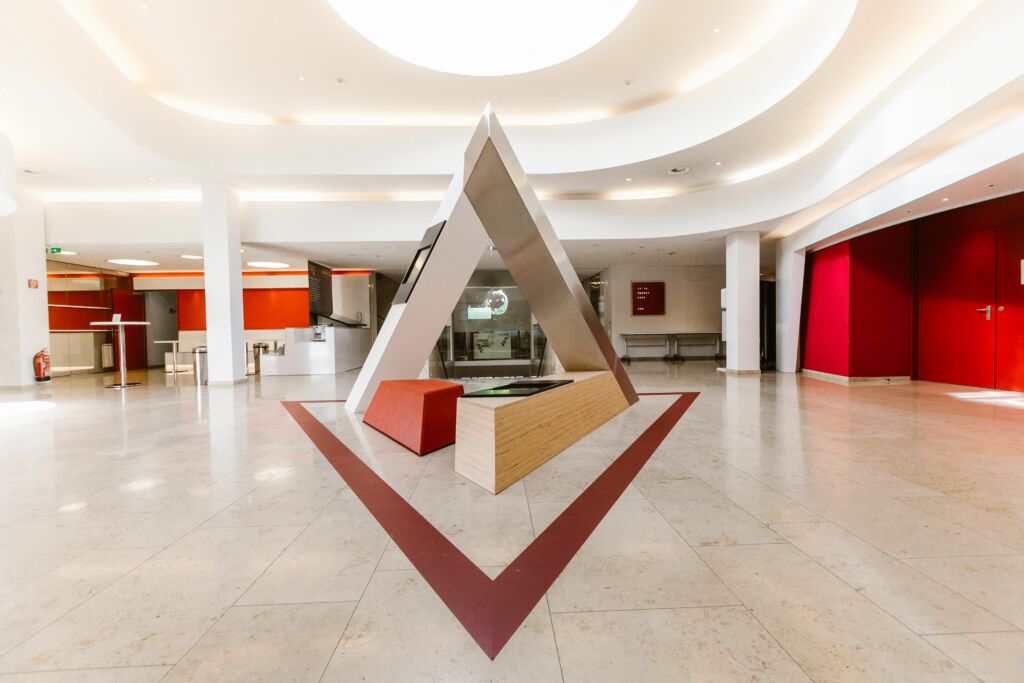 The interactive exhibition on 100 years of corporate history at Austrian Standards' Headquarters also includes an interactive elevator.
Immersive Foyer with Room Projections
If upon entering your premises visitors are supposed to immerse themselves completely in your world, that world better be as expansive and spacious as possible. Room-filling, immersive wall and floor projections turn your lobby into a veritable visual experience. One worthy, we might add, of being underpinned with a matching ambient sound concept. This kind of digital dramaturgy you remain flexible: The entire visual world can be adapted, changed, or updated via software. Since this option can do without any actual physical implementation, you are completely free in designing your experiential world: artistic, playful, abstract, or concrete with specific thematic corporate content. Through sensorics your foyer can even react to your visitors: the projection changes and adapts according to where they walk along or where they stop, thus encouraging exploration. Such an immersive foyer is guaranteed to thrill. Which, in all fairness, cannot exactly be said about the expenses for the necessary projectors …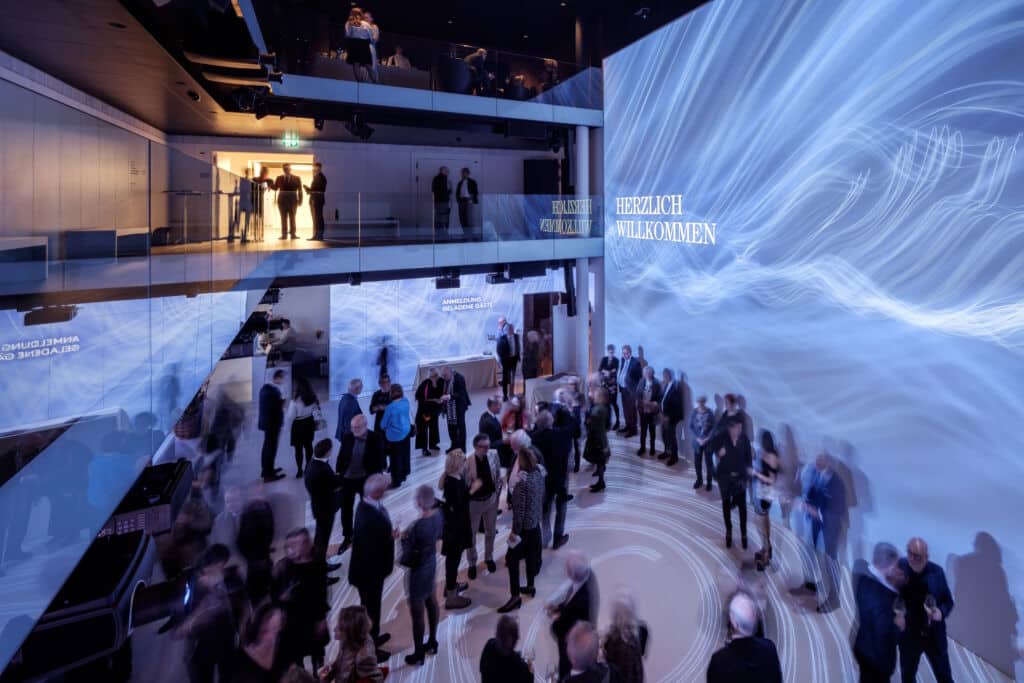 Room-filling 4K projections and 3D sound inside the immersive multi-media projection space at Neuro Campus Hotel in Switzerland.
Technology and Controlling: An Interactive Foyer's Prerequisites
Regardless of the kind of interactive installation you choose, making a digital foyer innovative and interactive requires some techn(olog)ical preconditions. Among those are:
technological infrastructure: floor outlets, connections, mounting options
separate room to house hardware and network
digital control: timer-controlled start and shutdown function as well as a central CMS to activate and/or modify digital storytelling and content
continuous maintenance: Keep in mind the large number of visitors who are going to frequent the foyer! Nothing spoils the fun as quick and effectively as a failed LED panel or an off-kilter projection.
From the Classic Foyer to the First-Class Foyer – How To Go About it?
One thing is indisputable: the lobby of your corporate headquarters should make an impression. It may well be the first one your visitors get. This early touchpoint may already decide on whether your brand is perceived as mind-numbing or breath-taking. Whether your corporate identity is a mere marketing prop or represents your way of life. In almost every company's self-image, nowadays innovation and digitalization are a given. Hence it all comes down to finding your own unique way of implementing them.
Consult with the experts! Get an idea of what is generally possible and what is feasible in your particular case. We are happy to provide you with inspiration and advice in a video presentation. In it, we show you how other companies do it, discuss approximate timelines and budgets, and point out potential pitfalls. We open our virtual doors to you, and we promise you that: you won't be disappointed.