People Sensor – Multitouch Innovation for Exhibition Stands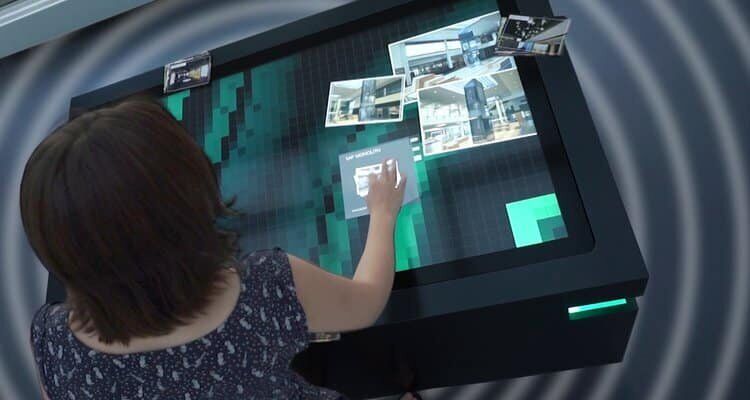 Multitouch installations such as multitouch tables are real visitor magnets at trade shows. They invite trade show visitors to interact and engage in a playful way and at the same time allow exhibitors to place their content in a targeted manner. To further increase the remote effect of multitouch tables and attract the attention of a maximum number of trade show visitors, we have integrated another innovation into our Garamantis multitouch tables: A people sensor
Multitouch table recognizes people in its environment
Thanks to the sensor, the table recognizes people within a radius of up to six meters and can, for example, attract their attention via light or sound and virtually "invite" them to join it. In this way, more contacts can be reached and idle times reduced even with an unfavorably positioned booth. In the statistical usage evaluation of our table, we were able to see a very strong increase in the frequency of use. The distance at which the table addresses trade show visitors walking by or standing nearby is freely configurable.
Multitouch software benefits from innovative sensor
Even if several people are already standing around the table and interacting with it, the people sensor brings advantages for interaction. After all, the multitouch software knows exactly where active and passive users are currently standing and can, for example, rotate videos or texts to their line of vision. A user can push or hand over digital content on the table to another user, resulting in a particularly intense user experience when interacting.
Interactive sensor technology
Garamantis multitouch tables use sensors that constantly scan the environment to create an accurate picture of the space and potential users. The people sensor is not only variably configurable, but also very precise and robust. Trade show visitors are so often amazed at how naturally the multitouch table responds to them. By the way, the new technology does not change anything at the trade show. The multitouch table can be set up and dismantled just as quickly as without the sensor.