How brave are the participants of the Communication Congress 2018?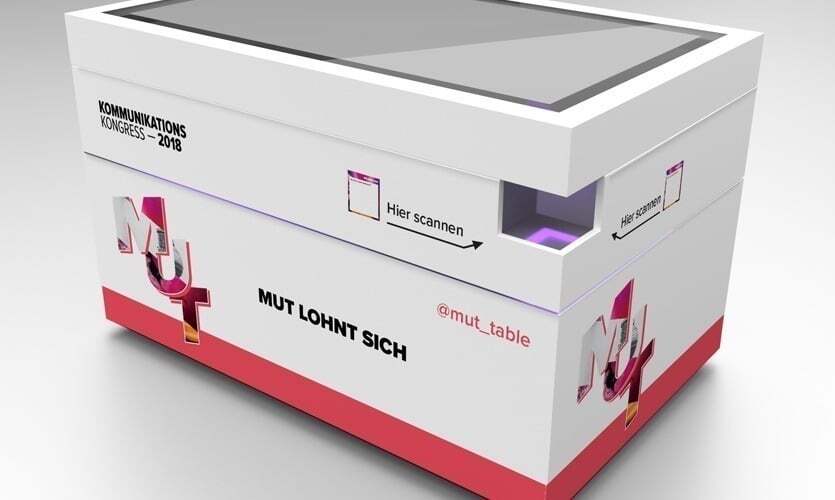 In Berlin, 1,500 participants and more than 150 speakers discussed courage in communication in around 100 sessions. An interactive installation by Garamantis asked participants to find out how courageous they were and are, and sent their experiences out into the world via Twitter.
The Communications Congress 2018 2018 took place on 27 and 28 September at the bcc (Berlin Congress Center) and is the leading and trendsetting specialist congress for press officers, PR managers and communications officers in Germany. As an official partner, Garamantis supported the event with a multi-touch scanner table on this year's focus topic #courage.
Interactive multitouch scanner table at the Communication Congress
The table asked participants about their biggest personal #CourageMoment, when they last took a risk professionally and who they think is a courageous role model. Participants were then asked to write, stick or draw on an analogue card and show it to the table. The table then automatically generated a tweet from the scanned card and distributed it using the @mut_table account and relevant hashtags such as #KK18.
As the Communication Congress was packed with parallel sessions and different formats, the Garamantis interactive table also clearly displayed the programme schedule and kept attendees informed. Communication managers who did not know the multitouch scanner table from re:publica or other events were able to see its unique features for themselves.
We were delighted with the good cooperation with our colleagues from Quadriga and the brave participation of so many visitors – we'll be back next year!
"The cooperation with Garamantis was to our complete satisfaction. The concept was implemented with great attention to detail. The table was a successful support to bring the participants into contact with the congress focus topic."
Felix Stache Congress Partnership Quadriga Media Berlin GmbH