10 reasons for using multi-touch technology at trade fairs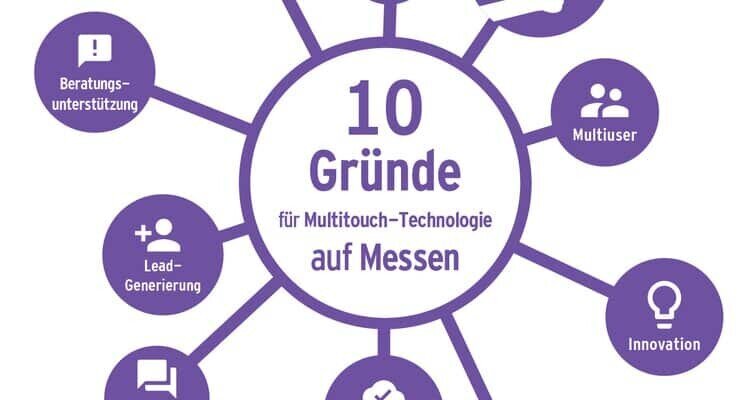 There is hardly any business enterprise not on the lookout for a real brainwave when it comes to designing their upcoming trade fair appearance. After all, all exhibitors want to stand out from the crowd and present their booth as a genuine eye‑catcher for visitors. Therefore, an increasing number of companies use transportable multi-touch installations at trade fairs. These are the 10 key advantages multi‑touch technology holds over more conventional trade fair equipment like display cases and leaflets.
Eye‑catcher
Multi-touch screens can be seen and noticed from a great distance and, due to bright and animated image material, attract visitors' attention already from afar. This effect is amplified by an appealing display mounting, e. g. in the form of a multi‑touch stela or a large multi-touch display wall. By means of a simple wood casing, for instance in an unusual shape, the displays' appearance becomes even more striking.
Interactivity
The arguably most crucial advantage of multi-touch technology lies in its interactivity: trade fair visitors touch the displays and interact with content in a playful way. They are already familiar with the usual gestures like swiping, activating, enlarging, minimizing, etc. from using their smartphones and thus have fast and easy access to the content they are interested in. With the help of a gamification approach or branded games, the fun factor of the trade fair booth becomes even higher.
Multiple users
Multi-touch devices are designed specifically for multi-user application. Just one single 55″ multi‑touch table allows four people to "work" simultaneously and show and "hand over" content to each other. Hence, the multi-user approach facilitates a shared experience and at the same time is efficient in terms of the hardware required.
Innovation
On trade fairs as well multi-touch technology is catching on more and more. With every year that passes the hardware becomes more affordable, and visitors at trade fairs have virtually stopped taking note of any "passive" booth only offering print flyers. As of now, however, on most trade shows multi-touch technology is still the exception rather than the rule, and visitors are grateful for an innovative distraction – provided that the software and the content shown are good!
Visitor magnet
We all are familiar with the human "herd instinct" that becomes apparent on trade shows as well: nobody is likely to stop at a booth surrounded by gaping void. In general, people are drawn to the busier booths, the ones already frequented by a lot of people. A booth with one or more multi-touch tables usually is such a visitor magnet – with the help of games and entertaining means of interactivity.
Combination of online/offline content
A multi-touch device is not intended to entirely replace classical means of PR like info flyers or brochures – it is supposed to complement and support them in a useful way. For example, a multi-touch table equipped with object recognition can recognize print flyers and then show corresponding video footage or 3D models. There is practically no limit to the depth of information, and the technology can redirect prospective buyers to the appropriate websites.
Up-to-date content
If the multi-touch installation features a web-based CMS, its content can be kept up-to-date and even be linked to the company's product/content databases. Hence adapting the multi-touch installation's content to a particular trade show and/or a specific target group becomes a fast and easy task, which helps to optimally support the respective trade fair concept.
Lead generation
The primary purpose of most trade fair booths is to generate new business contacts, which is exactly what a multi-touch table can achieve, for example by means of interactive competitions or lotteries. Another reason for a visitor to enter his or her contact information into the device is the desire to obtain further information or mailings to his or her email address. An ideal way of handling this is with a multi-touch table's object recognition feature: a business card‑scanner makes it conceivably simple for a visitor to leave his digitized contact information.
Sales pitch assistance
All the abovementioned reasons for using multi-touch technology at trade fairs increase exponentially in power when applied in combination with trained booth personnel. A sales adviser can take a prospective client through the conversation supported by multi-media content and flexibly react to the individual's interests by quickly producing the matching information. For a visitor, this will turn an ordinary sales pitch (and the technology used in the process) into something to remember.
Analyzation and evaluation
Thanks to the multi-touch software's comprehensive evaluation tools it becomes easy for a company to later quantify the success of their trade fair appearance in a subsequent evaluation. From the number of user interactions or of contact data left by users up to the identification of the most popular content, everything can be analyzed exactly – and optimized accordingly for the next trade show.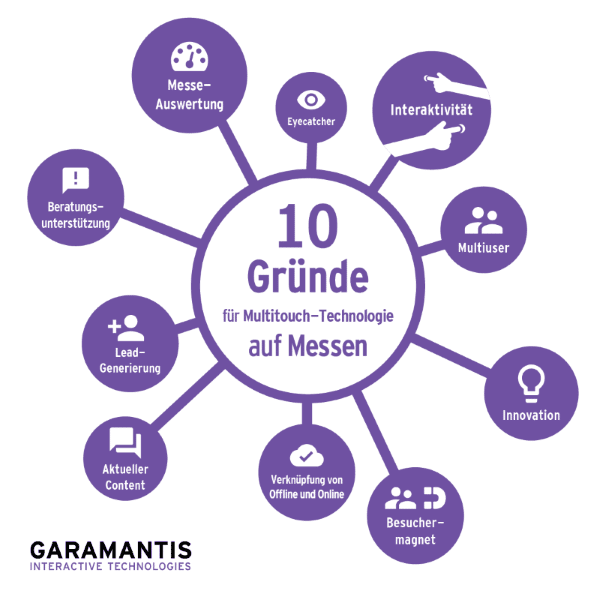 Surprise your visitors with an interactive trade show concept at the next business fair! We are happy to give you comprehensive advice on the available options and the possibilities they hold. Read more about Trade Shows and Events here.