Interactive installations: Garamantis launches two products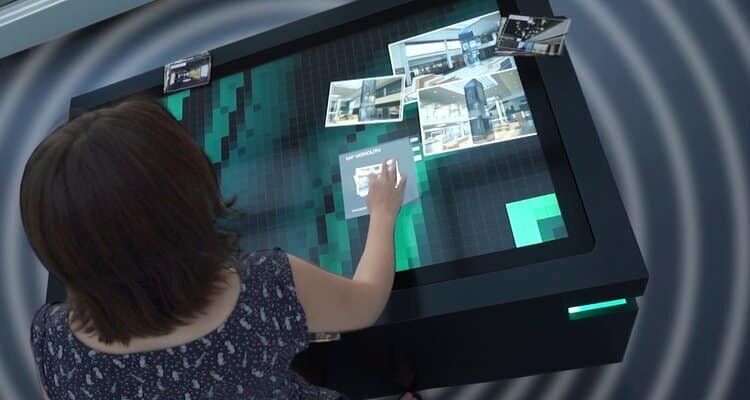 Multitouch table with real object recognition and interactive showcase with 100% transparency
With the multi-touch scanner table and the interactive showcase, the technology start-up Garamantis is launching two novel products on the market for media installations. Users, for example in museums, at trade fairs or events, experience simple and intuitive access to technology and content. Garamantis was founded in Berlin in 2014 with the aim of creating interactive installations, experiences and product worlds.
Next generation multitouch table
Multitouch solutions for parallel interaction of multiple users on one screen have existed for more than ten years. However, there have been comparatively few product innovations in this area since then and the technology has barriers to use due to conventional single-user software. This is precisely where the Berlin multi-touch specialists come in. The multi-touch scanner table has innovations such as a people radar that can locate users at a distance of up to six metres. In combination with the natively developed multitouch software, Garamantis was able to achieve fundamental improvements in usability: For the first time, the table now knows where which user is at the moment and in which viewing direction the content has to be aligned.
Optical object recognition implemented
Another innovation is the optical object recognition of the multi-touch table. While conventional multi-touch solutions usually do without a scanner or only work with unsightly barcodes or QR codes, the Garamantis technology relies on image recognition via high-resolution cameras. In this way, the table can "learn" any print products but also real products and link them to digital content such as videos and web content. As soon as the user shows it these objects again, the table presents the appropriate content and invites interaction.
A typical application scenario at a trade fair is when a visitor shows the table a flyer and immediately receives more detailed information about the product or can sign up for the appropriate newsletter.
Interactive multitouch showcase
The second new product from Garamantis is an interactive showcase for product presentation or for displaying exhibits in museums. The amazing effect for the user: he or she touches the glass surface of the showcase and turns the product, which is located on a turntable, by means of a touch gesture. High-resolution monitors arranged in the background embed the product in a dynamic 360° panorama and show it in its natural environment. Unlike conventional digital display cases, which often only achieve a light transmission of 15%, the Garamantis display case offers a 100% unobstructed view of the product, keeping it in the foreground at all times.
About Garamantis
The technology start-up Garamantis was founded in Berlin in early 2014 and develops unique interactive installations. Custom software development is the focus of their worldwide projects to give the user an immersive and lasting experience in interaction. Garamantis is a partner of Ars Electronica, which is one of the most important and renowned media art institutions worldwide with around 200 employees.