Market volume of $1.5 billion for interactive tables expected by 2027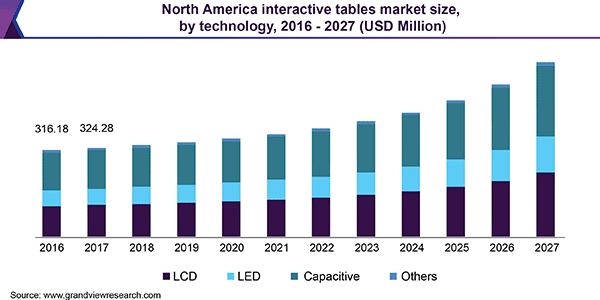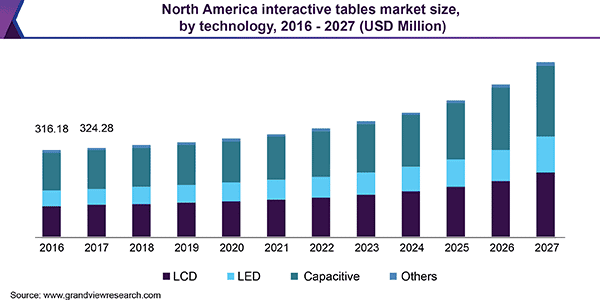 According to a study by Grand View Research, the global market for interactive tables is expected to reach $1.5 billion by 2027 and grow at an average annual rate of 7.2% over the forecast period. The increasing use of multi-touch technology in the education sector is expected to be a strong driver for the market. Growing demand for digital classrooms where students can collaborate for collaborative learning is expected to drive market growth in particular.
Key facts of the study:
The market is expected to grow significantly in the coming years due to the increasing importance of gamification in the education system and the introduction of interactive desks in the hospitality industry.
The capacitive monitor segment had the largest market share in 2019 due to superior touch technology.
In terms of screen size, 32- to 65-inch tables will have the largest market share in 2019 and are in high demand in various sectors because they are mobile and easy to transport.
The interactive table market in North America is expected to grow significantly due to the large number of restaurants using interactive technology and the strong presence of touch table solution providers in the U.S.
Key players in the market include Box Light Corporation, DigaliX, eyefactive GmbH, Garamantis GmbH and HORIZON DISPLAY, LLC.
The study "Interactive Tables Market Size, Share & Trends Analysis Report" was conducted by Grand View Research, a market research and consulting company based in the USA.