Multi-touch Table – Choose a Supplier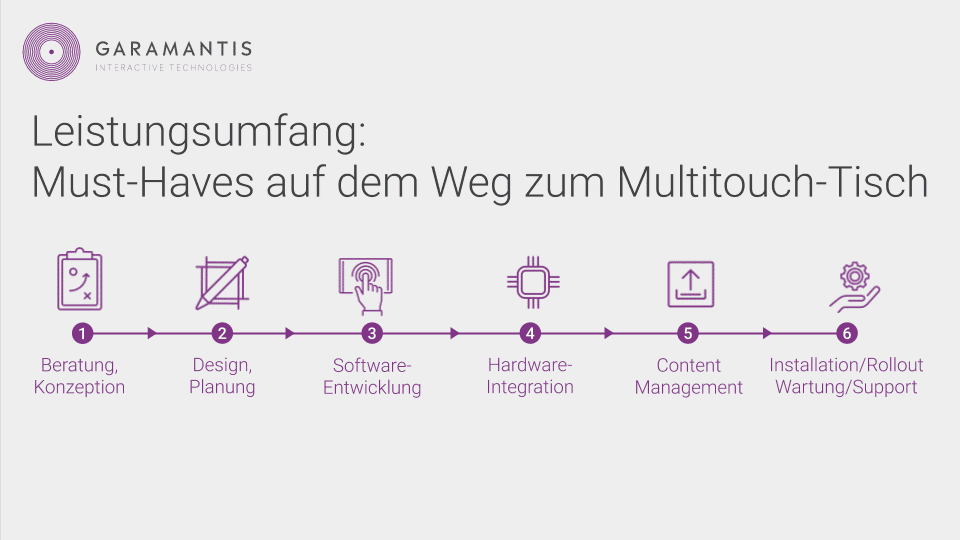 The multi-touch table market is a complex one, to say the least, and might seem confusing. You'll find suppliers who offer standardized products (for a marginally lower sum), but in your research you'll also encounter those who offer full-range customization. Overall, the market divides into three different types of service providers:
Online stores: Some providers specialize in bulk-sale of raw hardware components for multi‑touch tables, which –by virtue of economics of scale – come at a low price. Buying online is the best choice for agencies who have their own in-house multi-touch software development team, or for hardware retailers.
Full‑service providers: These specialize in interactive installations like multi-touch tables and do not just provide the hardware but offer complete solutions. They are the best address to turn to for businesses and organizations wishing to realize a one-off, but highly individualized project.
Agencies (advertising/ event/ live communication agencies, etc.): Sure, these too offer multi-touch tables, if required, and in order to do so they either collaborate with the previously mentioned types of providers or build their own product. Maybe you even already have a trusted agency that supports your company in all aspects?
Scope of Services: Essential Must-haves on the Way to a Multi-touch Table
To enable proper judgement on the different suppliers' suitability for your endeavor, we break down the project into its separate components. Between yourself, an external service provider, and said multi-touch table supplier, you should be able to have each of the following steps/stages covered:
concept (modes and options of interactivity, use cases, target achievement, user experience)
design (user interface, 3D modelling, corporate design)
software (standard or customized software, modular extensibility)
CMS (input and management of content, data interfaces)
hardware (build/model, touch screen, individual components)
installation (assembly, set-up, and integration on-site, testing)
service and support (instruction, training, helpdesk, maintenance)
project management (schedule monitoring, constant coordination, documentation)
"Supplier" checklist
Internal and external labor

Which parts/components of the project do you want the provider to cover, and which ones is your company or your agency going to contribute?
How flexible, communicative, and accommodating is the supplier?

Rating matrix

What ideas, suggestions, and approaches does the provider come up with for your project?
What are his credentials?
What timeline does the provider guarantee?
After first contact, how would you rate the provider in terms of grades?

Bid amount

Does the estimated price fit into your previously set budget?
Once all required must-haves and essentials are covered, is there still a margin for one extra or the other?
Tip: A successful multi-touch project requires intensive cooperation. Put the "pros and cons" list aside for a moment and listen to your gut feeling: is this a "match" that is going to work out for the necessary close collaboration on your project?
Tip: Ask for personal contacts to verify the credentials or check on LinkedIn or the like for other people's experiences from collaborating with your shortlisted supplier(s).
This blog entry is an excerpt from the comprehensive white paper "In 8 steps to a successful multi-touch table project". If you would like to receive the whitepaper for free, please send an email with the subject "whitepaper" to info@garamantis.com.