Shadowgram presented at the VW Digital Lab opening in Berlin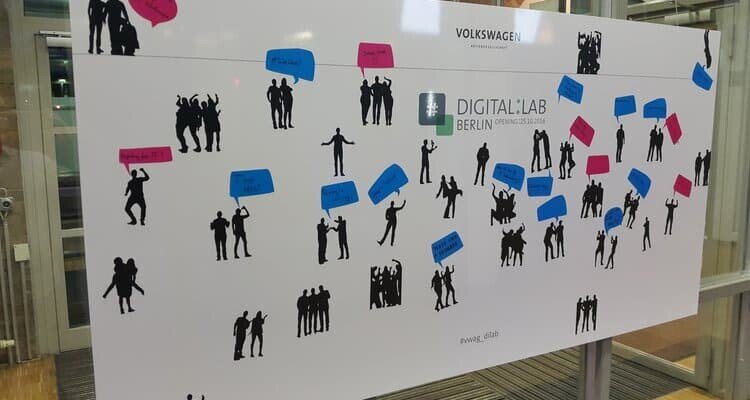 On 25 October 2016, the Volkswagen AG Digital Lab was officially opened in Berlin and Garamantis was on site for Ars Electronica with an interactive installation.
Participants in the opening included the Parliamentary State Secretary to the Federal Minister of Transport and Digital Infrastructure, Dorothee Bär, and the Chairman of the Board of Management of the Volkswagen Group, Matthias Müller. In the VW Digital Lab, software experts from Volkswagen are working together with US software specialists on a digital ecosystem that offers new mobility services as well as services related to the connected vehicle.
Interactive installation "Shadowgram"
We managed the Ars Electronica mobile Shadowgram installation there, which was very popular with guests from all over Germany and the US. The Shadowgram takes a shadow image of one or more people and creates a silhouette sticker from it in a few seconds. Guests could take the sticker with them or use it to immortalise themselves on a blackboard on site and leave messages for colleagues and guests via speech bubbles.
The Shadowgram installation is great for tradeshow displays and events, as it playfully invites guests in, demonstrates technical capabilities, and at the same time creates a content outcome at the event. The installation can be rented from Ars Electronica.