New interactive social media table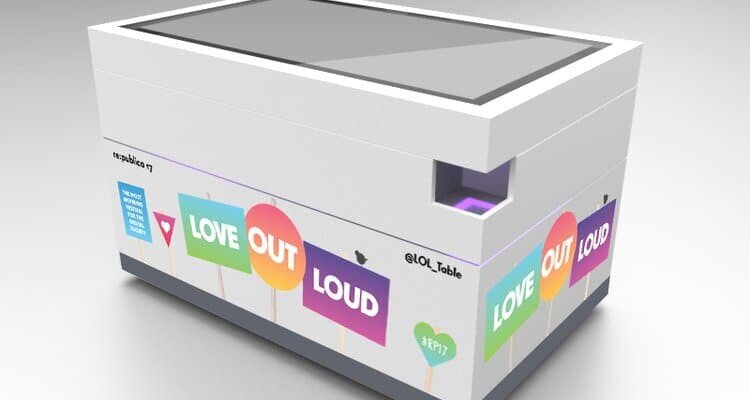 Interactive technology at trade fairs and events
The multitouch table from Garamantis detects potential users at a distance of up to six meters and draws their attention with the help of its LED lighting. As soon as a visitor approaches, he is greeted with a message on the table's high-resolution 4K display.
This is made possible by a people sensor in the table that detects the exact location of all users. Next, the table prompts users to create an analog card that matches the event, for example with greetings, feedback or a small drawing. Users can thus create and design together at the 55-inch table without using their smartphones. They then place their cards in one of the table's scanner niches for a moment. Immediately afterwards, the interactive table has already prepared a tweet with an image from the analog input, which is sent using a touch gesture. Of course, the user can still adjust the 140 characters beforehand, add hashtags or mention other users. The entire process is so simple and intuitive that even visitors without any prior knowledge of social media can spread their own individual messages via Twitter in no time.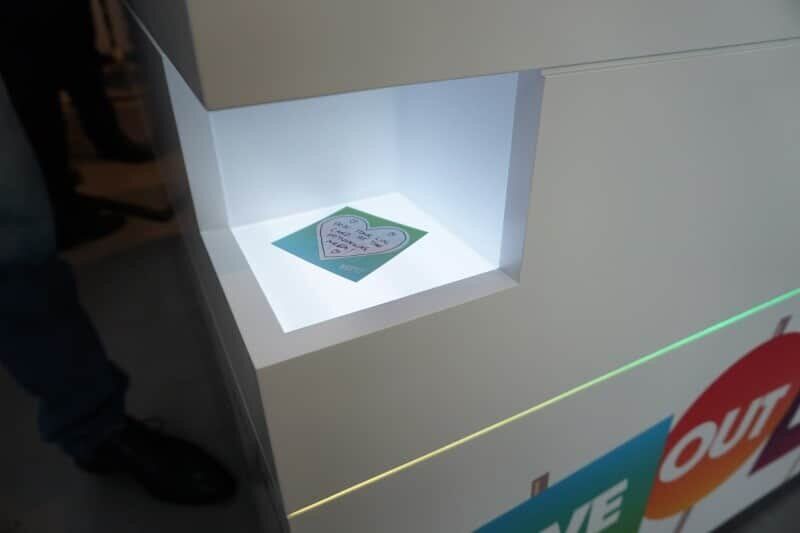 Baptism of fire at re:publica in Berlin
The Social Media Table was presented for the first time at Europe's largest digital conference, re:publica, from May 8 to 10, 2017. In the Networking Area, re:publica partner Garamantis presented its Twitter table, where visitors could also find out about sessions, speakers and the conference map. The focus, however, was on the live Twitter connection where the table displays tweets with the event's hashtags on the one hand and converts analog maps into tweets on the other.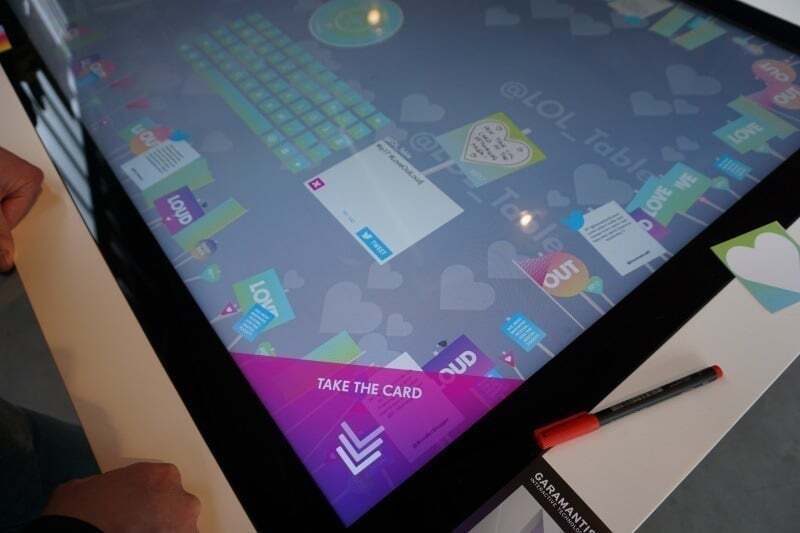 The audience at re:publica is certainly among the most experienced and critical social media users in Germany. Visitors were consistently enthusiastic about the intuitive application and the novel link between the analog and digital worlds. Several hundred cards were lovingly designed according to the re:publica's motto "Love Out Loud!" and provided with corresponding hashtags. Users were also surprised to find that the table also recognizes other items, such as flyers, and displays matching images and videos with program information.
Andreas Köster from Garamantis is pleased and relieved by the successful conference: "We are of course happy that our Twitter table went down so well at re:publica! The beauty of this interactive installation is that all the technology fades into the background. Visitors simply experience a smart table that welcomes them and helps them playfully get their creativity out into the social media channels. It's just fun to watch and even more fun to participate yourself."
Event marketing tool now available
The social media table supports Twitter as well as other open platforms such as Facebook. Garamantis, a company specializing in interactive installations, is now offering the table in a full-service package for companies and event agencies planning, for example, an employee or customer event or a trade show booth. For this purpose, the table itself, including the card stand and cards, is adapted to the respective corporate design. In addition, Garamantis provides suitable social media accounts, transport and on-site instruction. A subsequent success evaluation and reach measurement round off the event package.
"We can fully customize the social media table for an event within 14 days and set it up anywhere within Germany. Our customer pays an attractive fixed price and can present itself with an interactive installation that its employees or customers have certainly never seen before in this form," Köster concludes.