Showroom Design – Interior Design and Furniture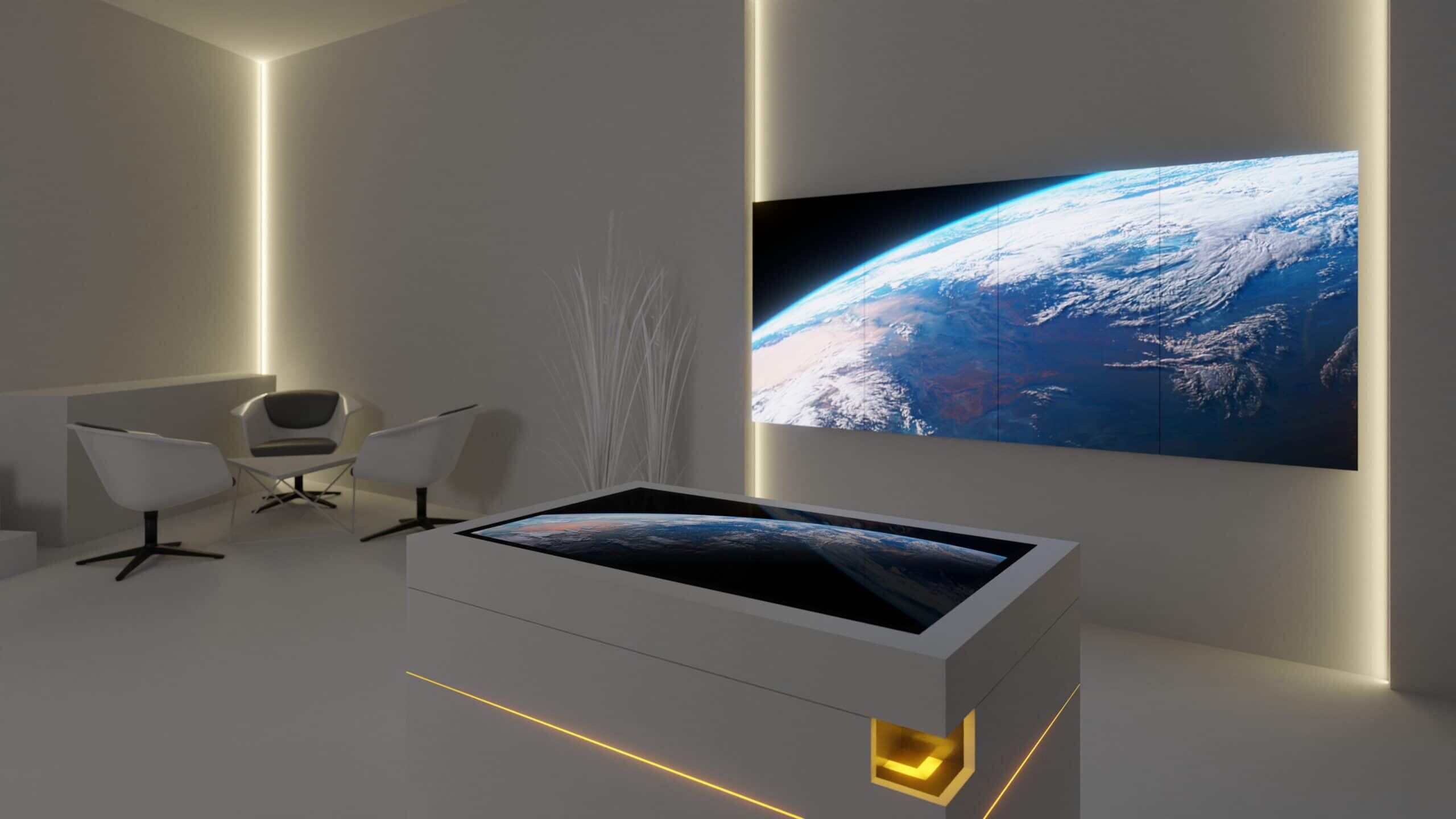 A holistic showroom design is important for the atmosphere of the room. Besides the interactive elements, the interior design and furnishing play a major role.
Assuming you're not actually working for a global corporation, most likely your Corporate Identity guideline will only provide rudimentary and vague directives – if any – concerning the way your CI is supposed to translate organically into interior design or furniture, even. Think of this as an advantage: you can take your time deliberating various possible ways a room like that can (re)present your company and consider them carefully. In doing so, either interpret the existing CI guidelines to work in favor of a harmonic overall concept, or just create new ones! Provided you're not an interior designer yourself, it's best if you turn to someone who is for help in this endeavor – those people are experts in translating immaterial values and characteristics into furniture and room design. And usually, they come up with aspects to consider you yourself would have never even thought of!
Elements to keep an eye on:
color scheme (light/dark, smooth/textured, color spaces, contrasting colors/color blocking, etc.)
form (rounded/angular, symmetrical/asymmetrical, (child) safety/accessibility)
material (wood, glass, acrylic/natural stone, steel, coated/lacquered surfaces, material mix)
light (direct/indirect, ambient lighting, warm/cold light temperature, white/colored lights)
Examples for 'look and feel' with respect to the effect:
asymmetrical shapes with rounded-off corners evoke dynamism and vigor
downward-tapering elements, transparency/translucency, and light coloring schemes suggest lightness
massive, heavy elements and metal surfaces imply quality and value
clear formal vocabulary, minimalism, and user interfaces convey modernism
A mood board helps with the showroom design
Get your inspiration from places that you yourself find appealing, no matter if that be a museum, an Apple genius store, or your favorite bar. Or ask Google, Pinterest, Instagram and Co. what they come up with regarding your search keywords. And lastly, create a mood board as a collage made up from your wishes and ideals, so you can share your vision and your design role models with all stakeholders and experts involved.
Tip for showroom design: less is more
An unobtrusive, but appealing look that attracts attention without being overpowering or overchallenging the eye often is the best choice, provided it's not a Dalí exhibition you're planning, that is … In most other cases, however, the rule applies: give the actual stars in your showroom – the digital and interactive elements – all the space and quiet they need in order to fully exert their performance powers.
Design example: ESG Showroom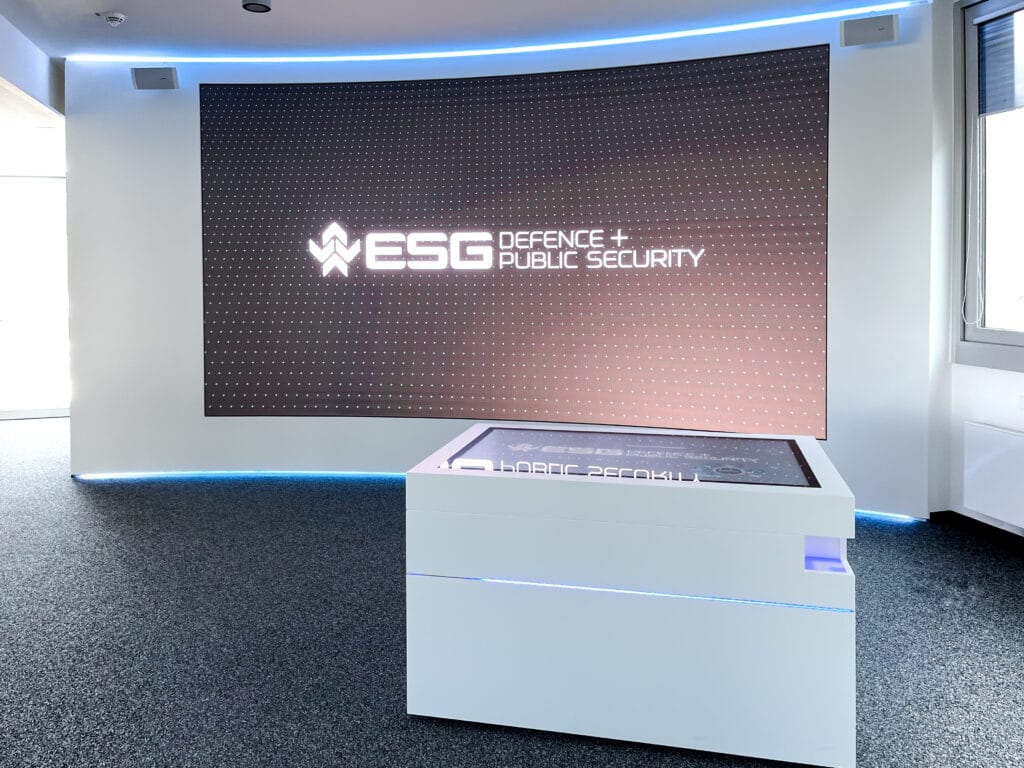 One of the central elements of the flexibly usable room is a multi-touch scanner table in combination with an LED wall. The dominant material is pure white lacquered wood. In contrast, dark carpet is laid out. Interactive elements stand out with LED lighting in the corporate colours. More information
Design example: Lingemann Showroom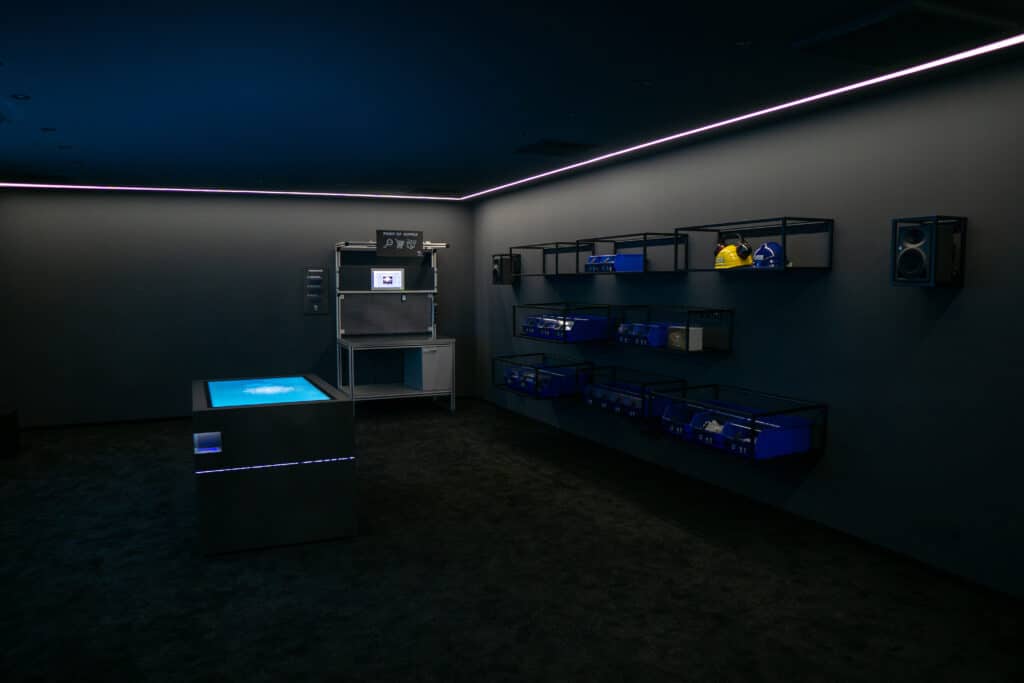 The entire showroom is in dark anthracite: Walls, ceiling, floor and wall shelves. The LED lighting and all the screen surfaces stand out in stark contrast. Nothing in this immersive space should distract from the products and interactive stations. More information
This blog entry is an excerpt from our comprehensive whitepaper "Successful Planning and Realization of Corporate Showrooms – A guide from HOW to WOW". If you would like to receive the whitepaper free of charge, please write an email with the subject "Whitepaper Showroom" to info@garamantis.com.