PoS marketing
Innovative ideas for the digital upgrading of sales locations
Stand out from the crowd: interactive solutions for your store or point‑of‑sale
For a stationary local shop to stand its ground as a viable alternative to e‑commerce and online trade and even attract new customers, the exploitation of the full potential digitalization has to offer is highly recommended. Various ways of interactive product presentation give customers a considerably better understanding of a product and its features. Their playful and intuitive occupation with an object of merchandise increases their interest in the product and hence their willingness to buy it, and you want your customer to remember the purchase as an experience of a special kind. The benefits of innovative and interactive product presentation at a PoS are, for instance:
playful and exciting approach to your products

optic and haptic buying incentives

 interactive ways of product presentation and configuration

exceptional equipment for a flagship store
Increase your customers' readiness to purchase: interactive product presentation at your store
Shop window: a customer's first contact with your store is a crucial point. The storefront window hence must arouse a potential buyer's interest enough for him or her not to pass by, but enter instead – or at least linger for a moment to have a closer look. This is exactly what an interactive storefront window can achieve by attracting people's attention from afar and piquing their curiosity.

Merchandise presentation: Items just lying around on the shelves are in themselves not particularly appealing to any potential buyer. Many customers, though, first like to be left alone to browse through the goods on sale and inspect them closer. This is where you can score by offering them comprehensive information on your product: interactive display cases and multi-touch terminals allow them to retrieve descriptive and persuasive product information in a way you yourself can design and optimize, down to the last detail.

Product selection and configuration: It is not very likely that you will be able to keep each and every product in all its possible variations and configurations on stock at all times. You can still make the entire product range available to your customers to browse and playfully explore – and with a higher user involvement and better user experience than in an online store. Shopping walls and "magic mirrors" combine the best of online and offline at your PoS for your clientele.

Shopping experience: When it comes to the innovativeness of a PoS, consumers' demands nowadays by far exceed the mere purchase of goods – the time they spend in your store and the act of dealing with the products on sale itself should hence have all characteristics of a truly extraordinary experience. Enhance the quality of your customers' stay by means of interactive gaming terminals and innovative technologies they will enjoy trying out and exploring!
Full Service: we turn your store into an eyecatcher
Garamantis expands your PoS with specifically selected interactive highlights and develops custom-made prototypes, e. g. for your flagship store. No matter what the details of the project are – we take care of conception, technical planning and implementation. You can rest assured that in the end the software matches your targeted customer group as perfectly as the CMS matches your products and procedures. In the scope of a full-service custom-made solution we are happy to collaborate with any third party of your choice, for instance an agency or a professional shop-outfitter.
Setting the scene for products and persuading customers – our interactive PoS solutions
Garamantis provides customized solutions with matching tailor-made software for virtually any product, store, or PoS. Here are just a few examples of possible use cases to inspire you and give you an idea of the practical implementation.
Attracting attention with an interactive storefront window
An interactive window display is activated through the presence of spectators: it reacts to the movements and behavior of potential customers. With the help of laser systems and ToF cameras that cover a pre-defined area in front of the interactive storefront window and are linked to its control unit, the following effects become possible:
mannequins or products set on a turntable turn towards the spectator 

interactive digital signage screens are activated and respond to the customer's movement by displaying animated content 

the digital content displayed in the interactive window adapts itself to the respective viewer's gender, age, and other features
By integrating touch-foils, multi-touch screens or light curtains into the shop-window control, even more interactions from the outside become possible for a potential buyer:
turning, moving and altering the products on display 

interaction through smartphone and social media integration

 24/7 selection, configuration and purchase of products, even outside of business hours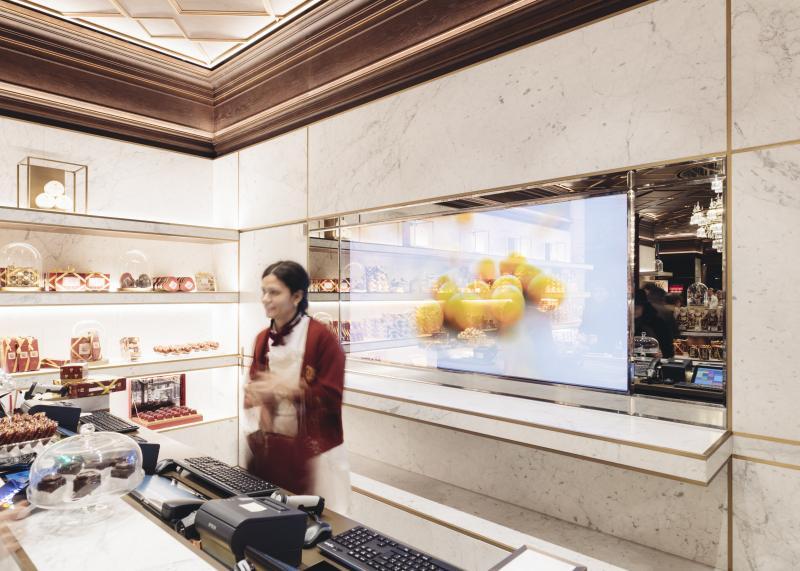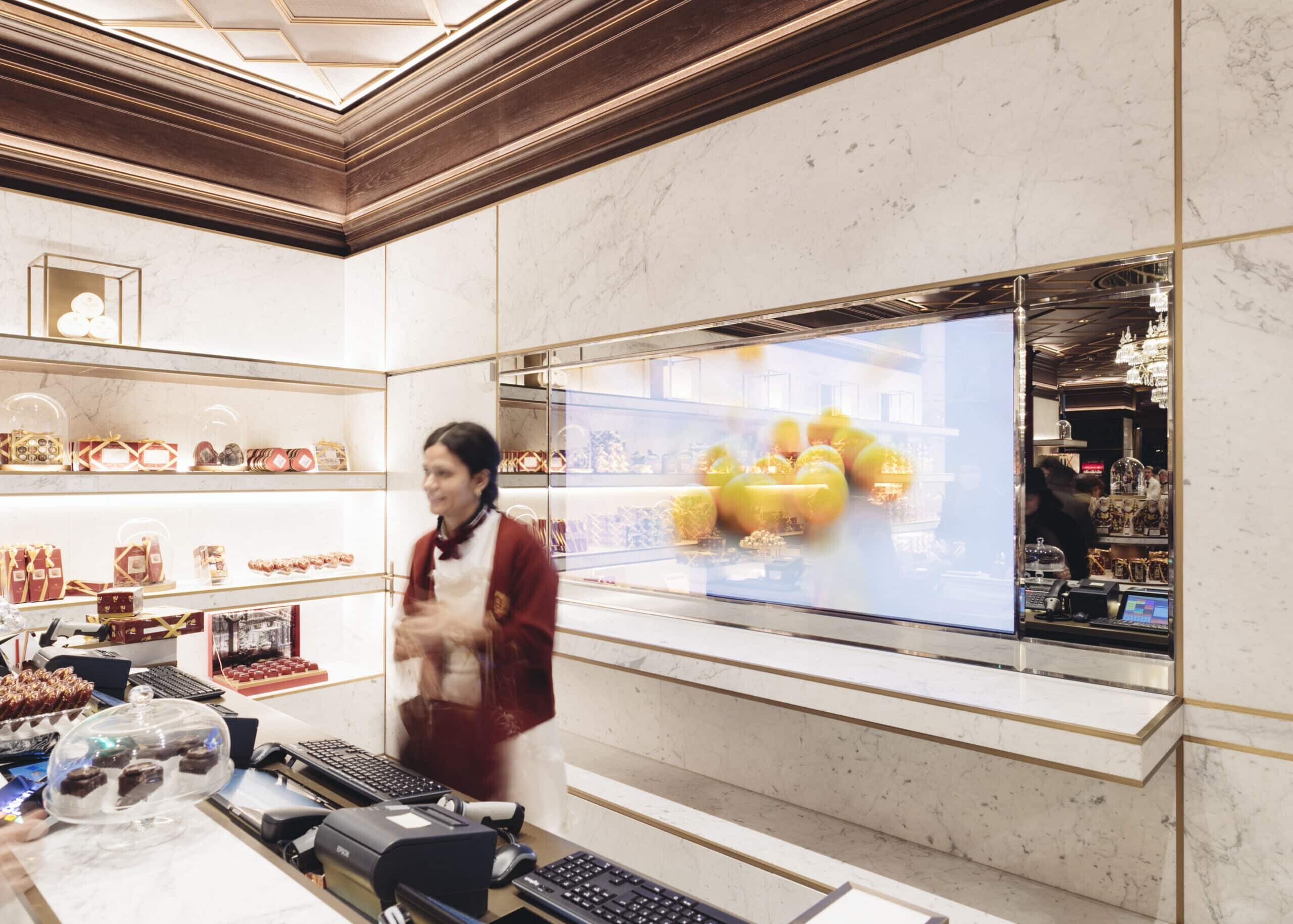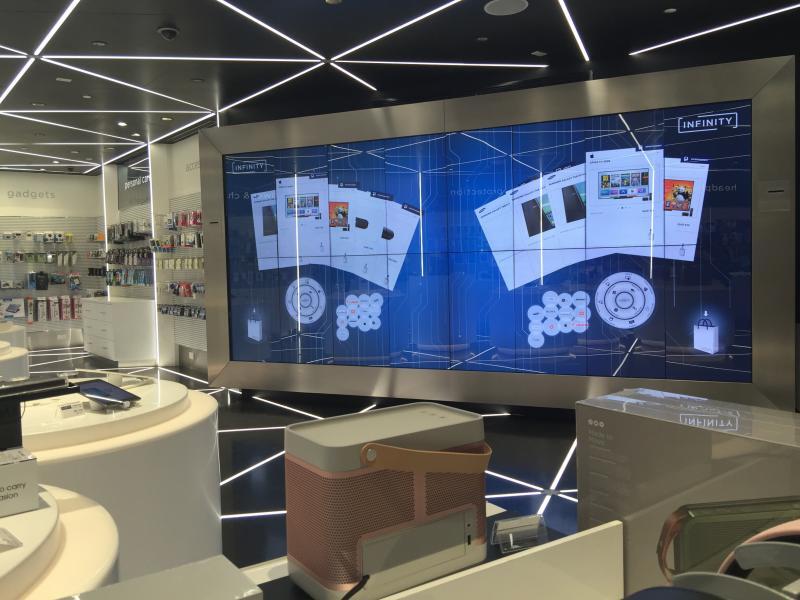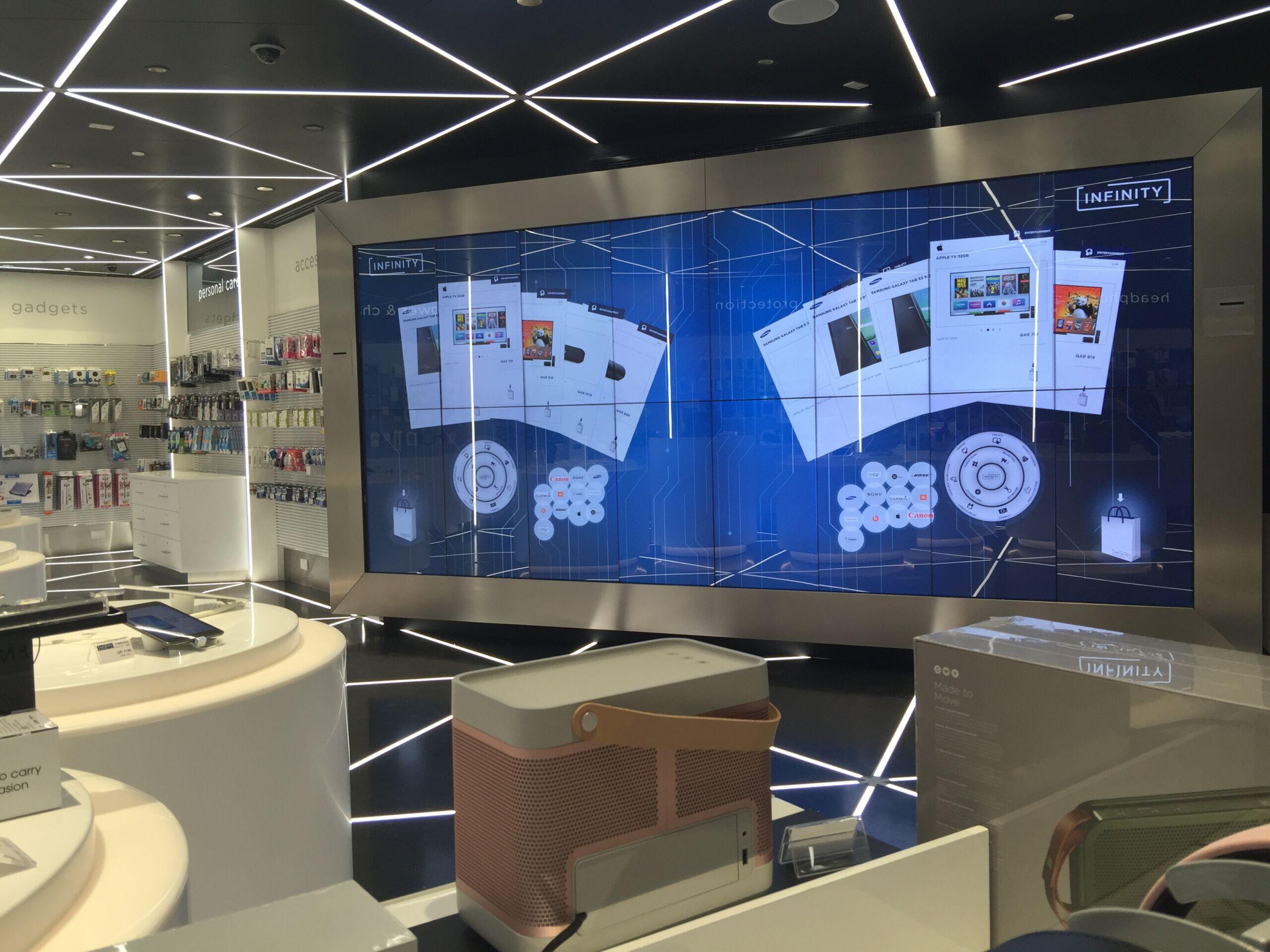 Draw all eyes on you and your products – with a multi-touch shopping wall
The beneficial effects of a real multi-touch wall with custom-made software for your shop are:
eyecatcher effect even from the outside through size and luminosity

display of product-related animated content and video footage in idle mode

interaction and action for one or more customers at the same time

automatic product recognition (optical or RFID)

self‑service information, configuration and purchase

integration into your online store, inventory management software or employee information system