7 key success factors for your interactive showroom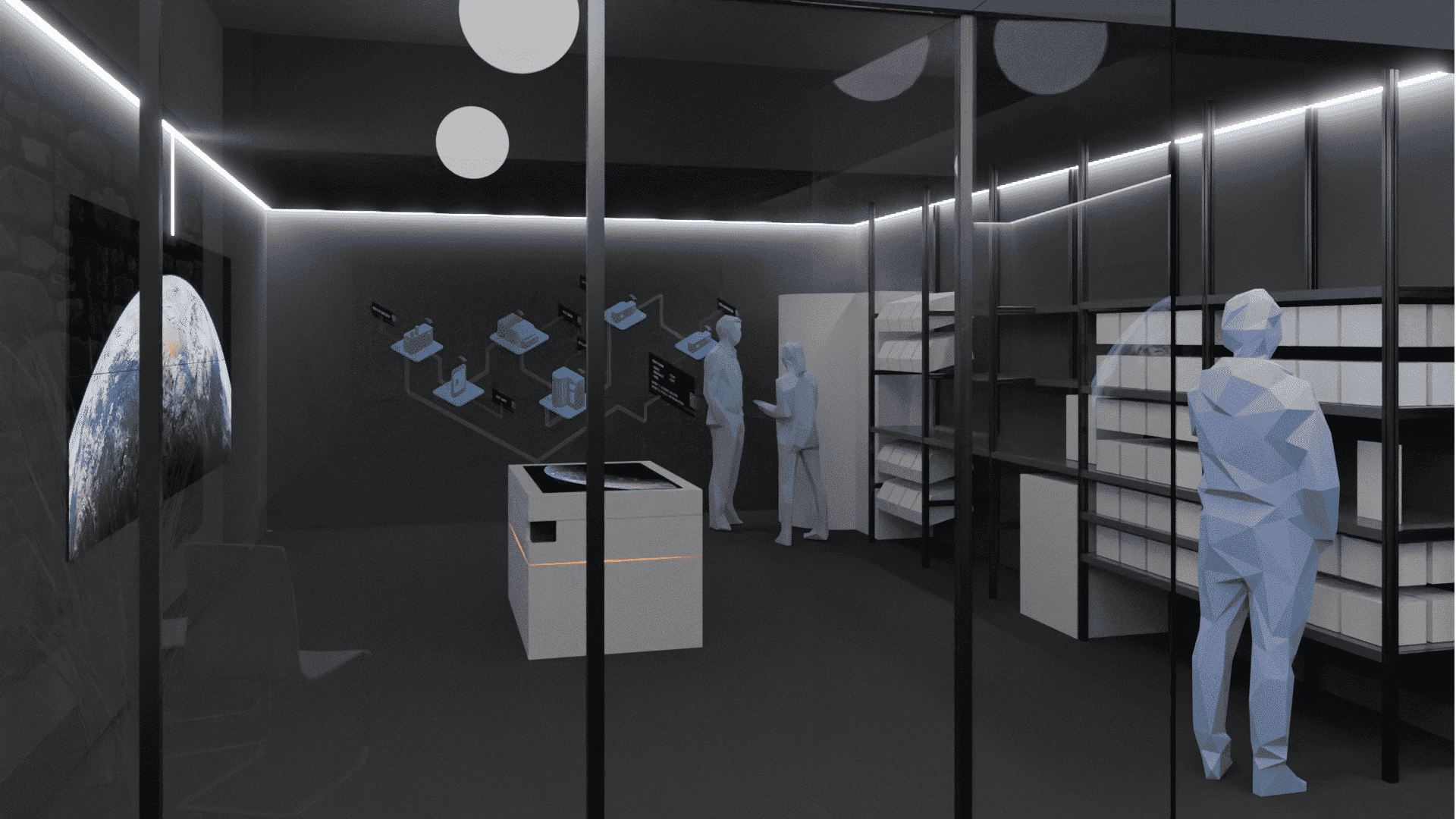 Way back then, showrooms basically used to be airy depots hosting various products. Nowadays they are the doorway to the very heart of your business: your corporate identity. They constitute experiential spaces connecting your brand with your (potential) customers and clients by means of fascination – provided, of course, that you know how to put this powerful marketing and sales tool to effective use. To put you on the safe side, this article sums up seven key success factors for exactly that.
A successful interactive showroom allows visitors, potential clients, or investors to dive into your business's brand world. And ideally, it leaves a permanent positive impression in their memory. Especially when it comes to B2B product marketing and selling, there is hardly any touch point more important on the way from lead to client.
No matter if we are talking about an entirely new room or just a refurbishment or remodeling, considering the following 7 factors in its planning and realization will help you to turn your own showroom into a successful multi-media interactive highlight.
Integrated concept: sure, you yourself already are thrilled with your own products. Now in the next step you should find out how to equally thrill your visitors.
A clever and well-designed concept not only is the basis, but your guideline, too, for the long-term success of your future showroom. You should hence take your time for planning and conception and collect input from co-workers and outside experts. Keep questioning your corporate perspective – in other words: the rut you are in – and adopt your target group's perspective instead:
What is it your visitors want to see, experience, and discover really?
How can your key corporate values and your products' relevant USPs be conveyed in a target-group‑oriented way?
Phrase a guiding creative principle to repeatedly check the architectural and the content-related design of your showroom against as you go. This process should involve co-workers, who are more likely to think analytically and figure-driven, as well as creative 'libertines' who focus more on emotional and aesthetic aspects. The first always keep an eye on the customer journey and on conversion, the latter on your visitors' figurative goose bumps. Start by brainstorming freely and unrestrained and play different ideas through in your head with various target groups in mind – over and over. As soon as you hear a 'Wow!' from each and every one of your imaginary visitors – or better yet, if they fall silent from amazement – you'll know you're on the right way and can start planning the details.
Direction to, not distraction from your product.
Technically speaking, today (almost) anything is feasible in and for an interactive showroom. But is it expedient, too? At all times, the center of attention should be on your product or your services; interactive technology is supposed to merely support, assist, and explain – but in doing so, it should keep a low profile. After all, it is your product you want to sell, not the showroom itself (that's our job, remember? 😉).
The question is thus: How can your showroom set the stage for your product or your service to leave a lasting impression? Visitors should be able to see, touch, and interact with your product as much and as often as possible. The more intense, immersive, and surprising this interaction, the higher the involvement and consequently the probability of success. Create touchpoints in every sense of the word!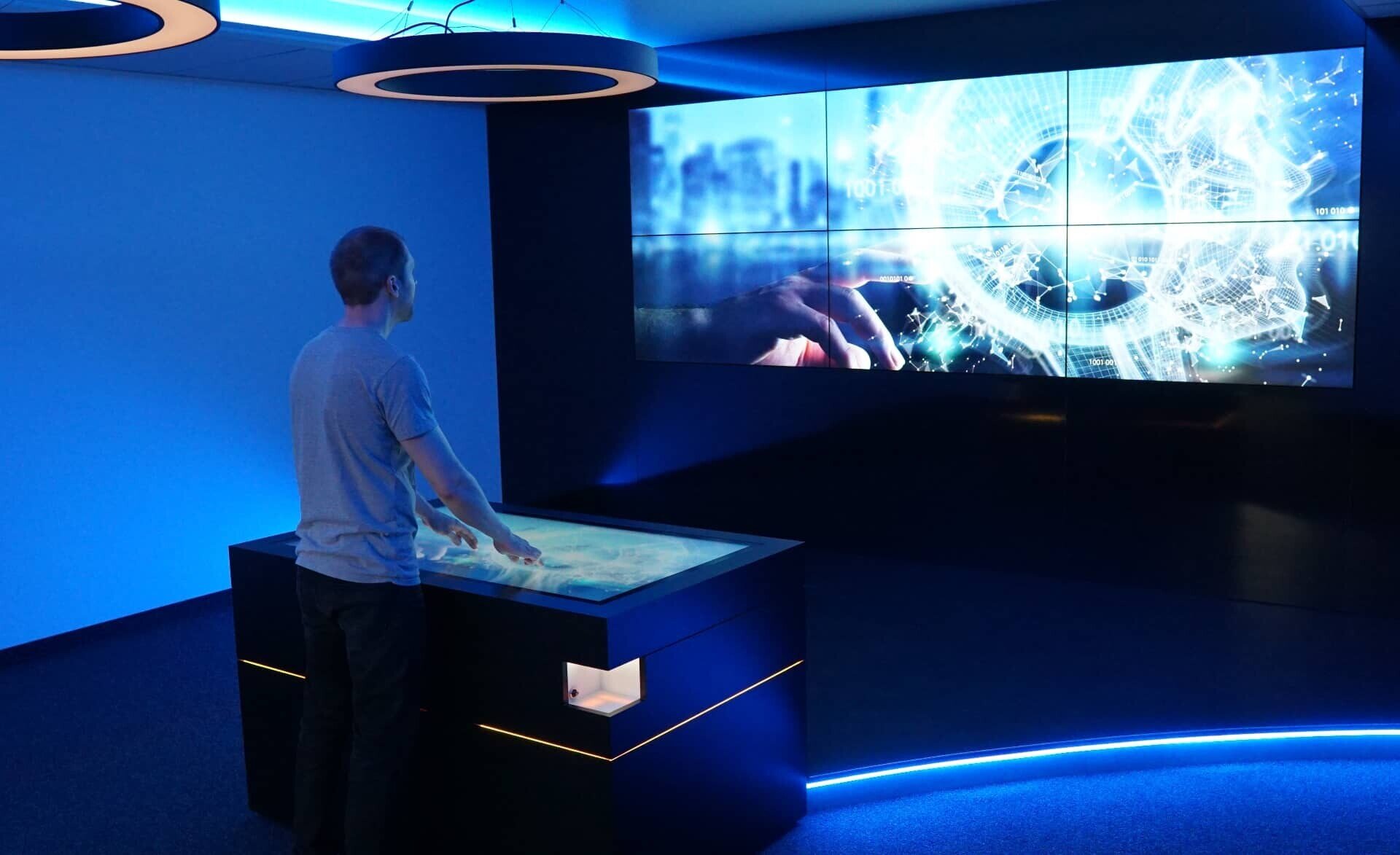 Services and intangible products can be turned into something tactile when using the right technology. Here's an example of an interactive showroom turning an AI into an experience.
Multi-media storytelling: tell your product's story the way you want it to be passed on.
Think of someone's visit to your showroom as a play in several acts. Being the director of this play, you better leave nothing to chance – from the first on-stage appearance over the unexpected dramatic turn right down to the final curtain and last round of applause. What kind of story do you want to tell?
For instance, what happens when someone enters the room? Does the showroom greet its (or rather your) visitors? It can, for example, "sense" their presence with its motion detectors and welcome and instruct them with a low-key light and sound effect. Welcoming text messages played out on screens or projections are possible as well.
Also, you should ask yourself: which interactive terminals/stations can and shall be visited, and what digital content do you (have to) provide for the different target groups?
Possible interactive stations in your showroom are:
interactive display case(s): display your products impressively, but safe from harm behind multi-touch glass. You set the scene, define the atmosphere, explain manufacturing processes, or provide extra information by means of additional monitors.
monitor walls: whether equipped with touch recognition or tablet-controlled, a monitor wall is ideal for presentations of the (very) different kind. You can also use them as an impressive (and pretty large, too) prop for showing video footage or high-resolution 3D models in the background.
interactive walls: this integrated combination of interactive display cases, wall prints, projections, and wall-recessed monitors allows you to present your company, its history, and its main lines of business in a way both extensive (spatially and content-wise) and diverse.
Augmented Reality stations: revolving or swiveling monitors are only one of many examples of how your visitors can interactively explore their real environment through digital extra information.
Virtual Reality stations: In some cases, VR headsets or a projection filling the entire room can contribute to your storytelling as well.
multi-touch table(s): being the jack‑of‑(virtually)‑all‑trades among interactive installations, multi-touch tables often make ideal central interactive terminals for an interactive showroom. They can display any kind of content imaginable, they can interact with objects, products, and people, and they can be used as product configuration tools.
Integration and networking between interactive terminals and stations: think of your showroom as a well-balanced organism.
Visitors are supposed to perceive your showroom as a coherent and intelligent unit (or entity), and as a homogenic and state-of-the‑art … well, room. This also implies interconnection and integration between all exhibits and terminals as well as the sound and lighting system. Already simple effects like smart spotlighting of objects on display contribute to the overall experience. And so does a low-key interaction feedback by means of sound or a change in light color or intensity.
For example, an individualized product configuration performed at the multi-touch table can be visualized by means of projection mapping on the product blank itself. Or content on the table can be cast to (and on) the monitor wall for enlarge- and enhancement … and so on and so forth.
The options and possibilities are so manifold there is no way you will get bored in the planning phase. And neither will your target audience in their visit to your cleverly integrated showroom.
The showroom's technical planning: ensure the hardware makes both itself indispensable and the underlying infrastructure invisible.
Professional technical planning and conception and selection of the right hardware components is not only integral to the quality of the future overall experience, but also important with respect to the costs – mainly the ones you can save.
Take for example a monitor wall: Which dimensions, what resolution, what spacing between monitor frames is possible and feasible through efficient use of your budget? How can control of an entire monitor wall with just one single PC be achieved? And what features and mechanisms are essential for cheap and easy maintenance? In general, any interactive showroom involves a multitude of power and network connections and cables. Are all the required sockets, outlets, and plugs available at the intended location? Or can they be retrofitted, also in case of future enhancements and refurbishment? At best, you manage to hide the more mundane aspects of the experience – the veins, sinews, cartilage, and bones of the organism, if you will – so well that visitors will focus their attention on what's on display rather than on conspicuous cable work.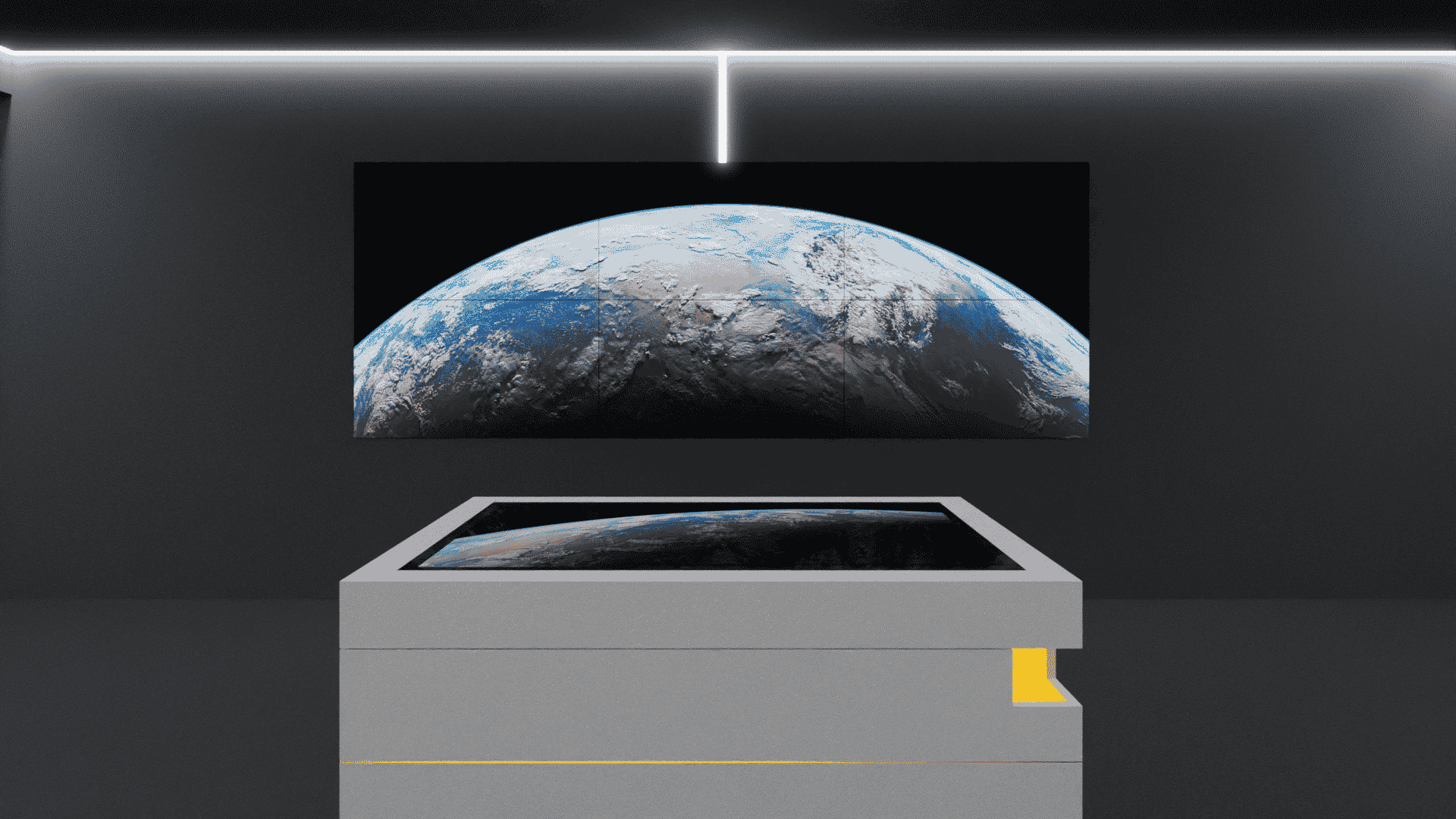 A dream team for any corporate showroom: multi-touch table linked with a monitor wall (6 monitors) for striking and non-linear presentations.
Intelligent control: get a firm grip on your showroom. With a tablet PC.
"Can anyone go turn on the showroom, please?" – In conception and technical planning, you should also spend a thought or two on your showroom's easy and efficient control in everyday operation.
Ideally, the entire showroom's start-up and shutdown, including its lighting and sound system and all its terminals and peripheral technology, should happen automatically at a single press of a button or just one keystroke.
The optimal choice for that consists in a central controlling device, e.g., a tablet PC. On this device, sales personnel or speakers can also configure and adapt the content of the presentation or add a welcoming message including the client's name and business logo only minutes before a presentation, or they can spontaneously play out matching digital content on the interactive terminals during presentation.
With large-scale exhibitions, a central control also makes work easier for in-house IT development or administration – they can detect any technical problems in advance of an unfortunate (if obvious) system failure, or they can fill the terminals and stations with entirely new digital content.
Central CMS: up-to-date and relevant content at a keystroke.
The central Content Management System is located at the interface to the showroom's central control. It is where you upload and update all your showroom's digital content, for instance new products, testimonial projects, or additional languages. At the same time, it allows you to bundle content into target-group-oriented pre-sets, so you can play out the content tailored to your staff's and co-workers' interests in one minute, and to those of your investors in the next.
Furthermore, a central CMS facilitates real-time updating of the showroom. This way, you can present visions and products digitally that physically do not even exist yet.
Your showroom is one of those things that physically do not even exist yet?
Then how about starting to create your own vision of an interactive showroom right now?! We are happy to assist and advise you in taking the first steps and join you in thinking about how a showroom can support you in achieving your corporate goals – whether these be a sales increase or reaching a new target audience. If you like, from us you will get
a rough conceptual outline including all required project steps
provisional calculation of costs
graphic visualization (rendering) of your future showroom
content-related support concerning all questions about your project
– free of charge and non-binding.