Interactive Showroom – how to impress your visitors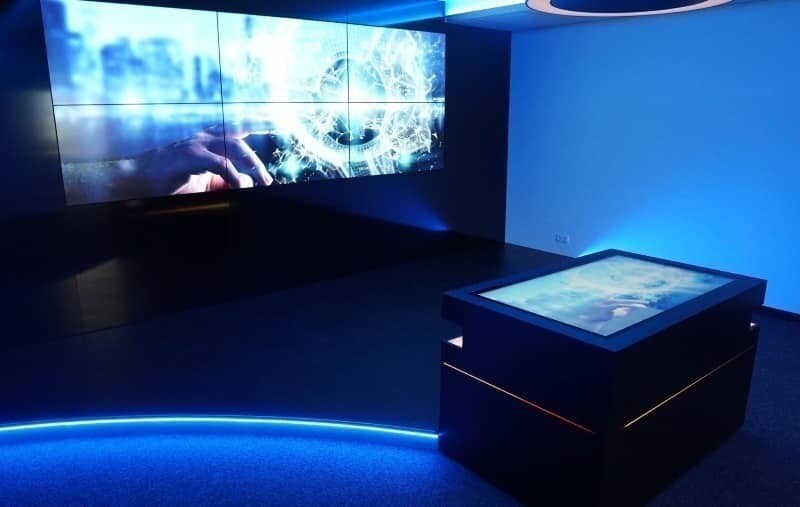 Do you want to present your company and its products and services to your business partners, clients, and investors in a way that is both impressive and uses cutting-edge technology? Welcome among the modern trendsetters, because a growing number of business corporations and organizations upgrade their premises with an interactive showroom. Especially when it comes to presenting and explaining intangible and complex products and services, a room like this can be extremely helpful; but for the presentation of either very small (e.g., intricate precision clockworks or jewelry) or very large (for instance, industrial manufacturing systems) – and therefore difficult to present – objects as well, an interactive showroom opens up a whole new world of possibilities.
By retrofitting a pre-existing room or through the integration of various interactive modules into a new room concept, even problematic cases like these become easier to grasp and more accessible thanks to multi-media support. Now clients and business partners can venture on their own interactive explorational tour through your products and services. With a multi-touch installation, you no longer have to launch into lengthy, but still theoretical explanations of your goods, instead you can leave the stage (and the talking) to the main character –your product.
Interactive Table Takes Control – Over An Entire Showroom
For use in a corporate interactive showroom an interactive multi-touch scanner table is particularly suited as it assumes both the role of central information hub and of product presenter. Moreover, by means of its interactive features like people sensor and through its integration with the room's monitors and the light and sound system, it can manage the central control of the physical exhibition space and thus scenarize the presentation itself in a very striking manner.
Imagine the following scenario: as soon as you and your business partner enter the showroom, the table's integrated sensor detects your presence and identifies your exact location, turns on the light, and first greets you by playing a short film, a voice message, or atmospheric music before launching into the product presentation itself. Depending on what it is that's on display in this showroom – concrete and palpable objects or intangible services – the table can add to and support your presentation in various ways or even take over completely.
When you use the showroom for presenting moderately sized and physical products, your visitors can also take these objects and hold them to the table's integrated scanner unit, whereupon the table-top displays a freely rotatable and scalable 3D model of it. In addition, it shows helpful extra information and spotlights different alternative product configurations on display in the showroom.
Even incorporeal products or ones too over sized to fit into a regular showroom become accessible and perceivable with the help of a multi-touch scanner table. If your business, for instance, sells motor blocks for utility vehicles, industrial production lines, or piping systems, a 3D representation on the table, which clients can enlarge and rotate, is the best possible surrogate for the "real thing". What's more, thanks to the table's interactive features clients can encounter the products "on eye level" by exploring them on their own terms and with a gamification approach addressing the human instinct to play.
Exhibition Space With Surprise Effect
Another interactive component suitable for upgrading a pre-existing showroom is the interactive display-case. This exhibition gadget doesn't take much space and highlights precious and small-scale products such as jewelry or watches on its built-in turntable, which is controlled from the outside through swipe gestures on the display-case's clear multi-touch glass surface. The display case as well is equipped with a person sensor and hence is able to proactively react to – and interact with – people in its proximity, for instance by changing the light or addressing and greeting them with a voice message. A surprising and pleasant effect like this creates a solid foundation for the viewer's positive attitude towards the product.
By means of the dynamic lighting system consisting of individually dirigible spotlights the viewer him-/herself can shed the best light imaginable on the object on display, and without actually touching it they can turn it every which way and take a look at it from all angles and directions. The background monitor shows an adaptive 360° panoramic backdrop and adjusts to the position of the turntable-tray and thus provides the ideal tool for harmonically embedding the product in a larger brand world – even on a limited space. By means of an additional monitor and its pre-installed audio system, this display case offers the viewer on-demand audio-visional extra information, enlarged details of the exhibit, and additional explanations. In short – this interactive device can not only replace other means and tools of product presentation, like PowerPoint presentations, video play-back on large monitors, or print catalogues, it also actively reaches out to your clients and visitors and makes immediate contact to encourage them to engage more deeply – but with fun and enthusiasm –with your product.
Virtual Reality And Immersive Showroom
If with your showroom you're going for the ultimate wow effect, you can enhance it with VR technology. VR technologies are, on the one hand, relatively expensive to buy and their usage by visitors and staff requires training and personal assistance; on the other hand, they facilitate a maximum degree of immediacy and engagement with the product for the visitors.
This technology as well is basically suitable for products of all shapes and dimensions, but it can best realize its full marketing potential if you're selling products that first have to be custom-made upon special order, or when even your product prototypes are of a size that prohibits their handy physical presence in your showroom – e.g., entire buildings.
Clients wearing a VR headset immerse themselves completely in your product's universe: in a VR environment, they can roam the intricate cogwheels of a precision clockwork too tiny to perceive with the naked eye in the real world just like they can wander through the rooms of their home-to-be or test their future living room that's been equipped virtually with their own real-life furniture. Additional VR-controllers add an extra fun-factor to this already striking experience, because they allow visitors and clients literal first-hand interaction with their environment and to explore everything to their heart's content. Your clients can, for instance, configure the object of their desire according to their requirements and put it together themselves (a house, a piece of furniture, etc.). Or they can pull the levers of a machine they intend to buy and watch what happens and how their future implement works in (near) reality.
These are just some examples to give you an idea of how interactive technologies can enhance and upgrade your showroom. Interactivity adds significant value not only to the mode of presentation, but to the products themselves: your clients' and business partners' self-motivated and playful direct engagement with your range of products and services creates a longer-lasting impression than mere observation or explanation.
Here are some examples of how other companies and organizations already apply interactive technologies in a presentational context, which you may find inspiring:
Procurement Future Showroom
Interactive showroom of Lingemann GmbH
ifesca Future Technology Center
Showroom makes artificial intelligence sensually perceptible – visually, acoustically and haptically
ESA Showroom Hyperwall
ESA Showroom High-Resolution Screen Wall consisting of 9 monitors is controlled via tablet computer
Interactive Corporate Exhibition MED-EL
Tangible interface software in the "Audioversum" of MED EL World, Innsbruck, Germany
If you're curious now, contact us and together we'll come up with the right showroom solution for your specific use case. If you want to enter the planning phase right away, check out the 7 Key Success Factors For Your Interactive Showroom here.