Multi-touch Table – Plan Content Management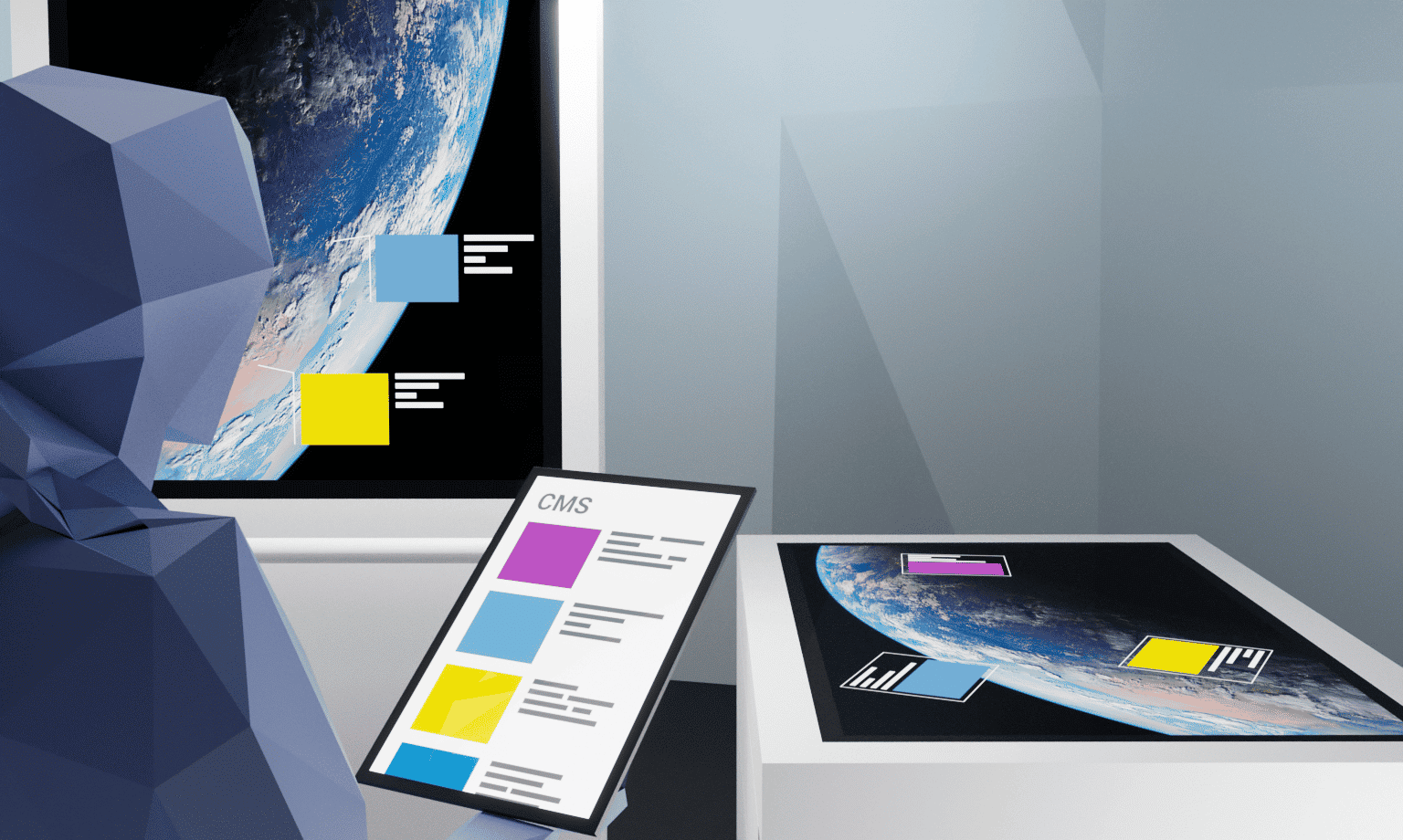 Which content do you need, and where does it come from? Up to this point you've been thinking a lot about how your multi-touch table is supposed to communicate with you and the world in general. Now it's time to take a look at what it has to say! Check the suitability of the content you already have for use in an interactive experience on a multi-touch table. It might need some modification and adjustments, and even producing new content may be necessary. A full-service provider is going to support you in that from an early stage on, in conception as well as in implementation.
Plan the Content Management:
Intended target experience: Let your thoughts run wild – what would be the ideal content for your target audience?
Inventory: Which of the above does already exist, in which quality, and where?
Target/actual state comparison: Where does the big gap occur? And what new content is worth investing in?
Content management: Who can assist you in obtaining, producing, and integrating the content during this project?
You should also take into consideration the type and format of your preexisting content. You're going to present it to users "spoilt" by content of the highest quality – and accordingly discerning and impatient. If your multi-touch table doesn't manage to engross them from the get-go, maybe your competitors will.
Qualitative ranking of different media for multitouch projects with descending suitability:
3D models: With real-time capability? Perfect!
videos: very good, preferably in Full HD
infographics/diagrams: if they're individually made and aesthetically pleasing, always a nice eye-catcher
photographs/images: always fine, preferably in Full HD
text: here the rule applies: read less, see more.
PDF/PowerPoint: only in case of emergency, please.
For subsequent management of your content, a web-based Content Management System (CMS) is essential. This CMS should enable you to perform changes and updates of content by yourself – at all times and independently of the provider. The best choice here is a web-based user interface for managing your content in combination with local data storage on the table itself.
Checklist for a Content Management System
Access options: Can you only access and alter your content through your local PC, or can you do that from wherever you happen to be (web-based)
Roles and rights: Can you allocate access authorizations, so that only trained staff can perform substantial changes?
IT security: Does your IT administrator green‑light the data hosting?
Internet connectivity: Always keep the availability of internet access (or lack thereof) at large public events like trade shows in mind. Does your multi-touch able run and function offline as well?
Complexity and necessary training efforts: Is the CMS's user interface self‑explaining enough? Does the provider offer training programs or instructions?
Tip: A good CMS takes the work off your hand. Its user interface only displays those input fields and options that you really do need. At the same time, it focusses on receiving your content input, which then is processed by the software and integrated into the design scheme of the table's user interface. In short: easy input and update, homogenic appearance.
This blog entry is an excerpt from the comprehensive white paper "In 8 steps to a successful multi-touch table project". If you would like to receive the whitepaper for free, please send an email with the subject "whitepaper" to info@garamantis.com.