Interactive installations at trade shows and exhibitions – overview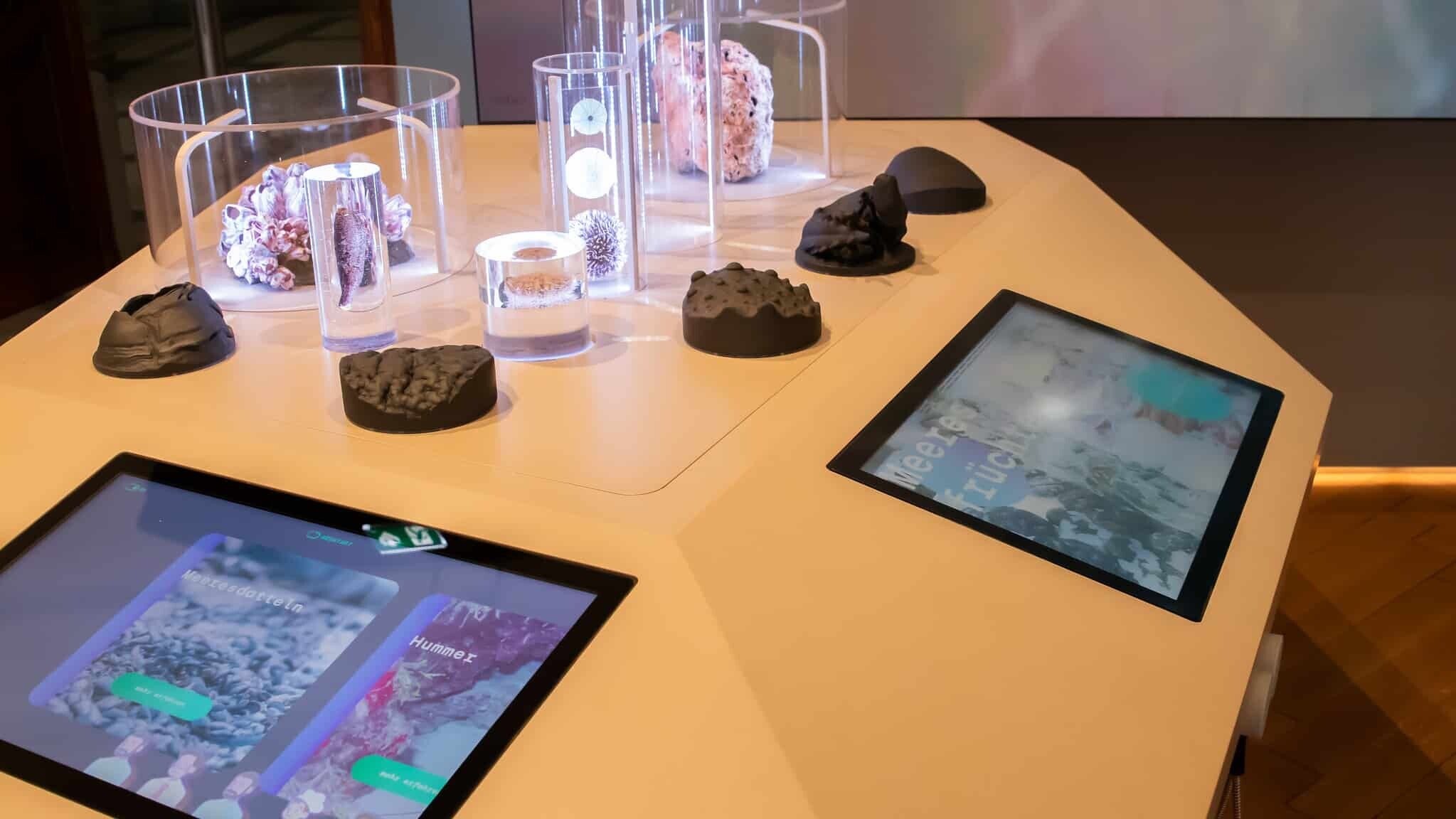 Learn here how interactive installations support effective and efficient business communication and what you should consider when planning one.
At an event, have you ever been addressed by an interactive table asking you for your business card? Those of you who regularly attend tradeshows or art exhibitions might currently notice an increase in organizations' use of digital interactive installations to reach out to their target groups.
What Is an Interactive Installation?
Definition: an interactive installation is a mostly digital, voluminous, stationary, and also frequently site‑ or situation‑specific technical construction serving a communicative and/or artistic purpose. With respect to business communication, those are, for instance, multi-touch tables, interactive display cases, or interactive projections.
Those installations typically are controlled not via input devices such as a computer mouse or keyboard, but rather by intuitive modes of interaction like motion or gestures, by means of objects, or by their users' movements in space (i.e., in the room). The term interactive in that case refers to the user not just being a passive beholder, but instead taking immediate influence on the installation and receiving direct feedback from it.
Interactive Tables with Multi-Touch Technology
One example of a popular and frequently used interactive installation is the multi-touch table. Its concept unites the traditional basic features of a central piece of utility furniture with up-to-date modes of interaction through touch gestures on its multi-touch surface. Being able to recognize and process up to 80 parallel touch inputs, a multi-touch table at the same time is also a multi-user installation. Its users can view content like images, text, videos, and 3D models, move it freely across the surface as well as change and activate/deactivate it. Integrated object recognition modules increase the touch-screen's interactivity even further: here users interact with the table by means of objects, like sample products, paper cards, or haptic markers. Additional fun in using a multi-touch table is achieved by virtue of installed games or playful approaches in presentation (a.k.a. gamification). Multimedia elements like light and sound effects address additional senses and accentuate the overall impression of a gamified interactive installation.
Examples of Interactive Installations
But how can companies put the numerous options of interactive installations to concrete use on trade shows and exhibitions? First of all, an interactive installation often is an eyecatcher with a certain remote effect. That is to say, by means of its mere outward appearance it enhances your trade show booth's remote visibility and attractiveness. A multi-touch table can also partly take over the role of booth staff by proactively welcoming visitors (with visual and/or audio signals) and then suggesting to them different topics and content to choose from. An object recognition module for instance provides the user with multimedia information on a product he or she places on the interactive tabletop. Here, a clever connection between analogue and digital is achieved that holds a certain surprise effect for visitors. Furthermore, the table can ask visitors to leave their business cards, which are captured by integrated cameras and then displayed digitally on the table. Now users can use this digitized business cards to sign up for a newsletter or enter a raffle. All this goes to show that an interactive installation is an ideal means to achieve the classic goal of a trade show, namely, among others, to generate business contacts.
The Benefits of Interactive Installations
A multi-touch table is a good example of how it is possible to successfully attract the attention of a trade show audience, point them to specific content or subject matters, and encourage their active participation. Thus, visitors not only receive the intended communicative message, but they will also remember it and later associate it with a positive experience.
Compared to the traditional trade fair booth with only analogue and passive content, interactive installations can help in the implementation of an innovative and playful concept, at times even resulting in less demand for support or consultation by booth personnel.
Visitors find interactive installations so attractive and enjoyable because they themselves can select and influence the content. Business companies, on the other hand, can feed the installations exactly with the digital content that optimally serves their communicative goals. The better and the more intuitive the implementation of user guidance and gamification, the more fun it is.
The Downside of Interactive Installations
It is always advisable to carefully weigh the possibilities that modern tradeshow and exhibition technologies hold against their costs and potential disadvantages. This also involves realizing that an interactive installation in a sales or consultation process can never, ever, truly achieve the quality of personal communication. It can, however, aid and support this communication in a targeted way. For instance, with a digital presentation along which the booth personnel can lead their sales pitch and guide the visitor.
Also, a technical construction alone is no substitute for a sound communication concept and management. Rather, the installation must be cunningly and seamlessly integrated into the preexisting communicative concept of the trade show booth. This can be hard for companies with little or no previous experience in interactive modes of presentation. You should hence seek advice and look for support beforehand.
Some companies shy away from the relatively high initial investment in an interactive installation. But in the longer run, those installations reveal themselves as particularly economical: the hardware can be used for years. In that long-term use, a CMS that allows the company to update and adapt content to different purposes and target audiences provides the necessary flexibility.
Interactive Installations According to an Individualized Concept
Good planning and clever integration provided, an interactive installation constitutes an effective and efficient instrument of communication for businesses and organizations. It possesses the potential to turn visitors into active users and to enthuse them about a company's concerns and content.
Benefit from Garamantis' rich experience and reach out to us for free and non-binding advice, and we will introduce you to new possibilities of using interactive installations in your business's favor.